LV Premier – Medlar – Bandit [Wolf Music]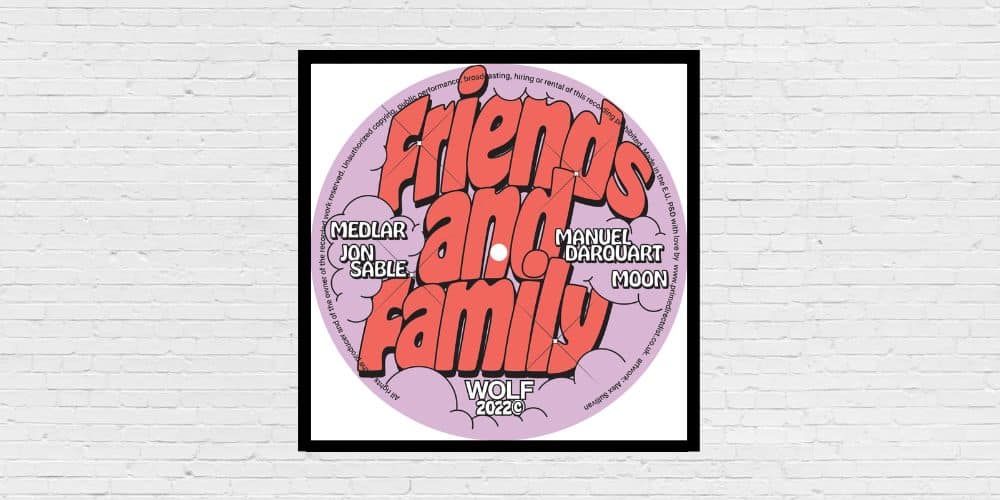 LV Premier – Medlar – Bandit [Wolf Music]
Wolf Music is a label where the family ethos is deeply ingrained, heavily supporting the scene and the artists around them. Their latest EP stays true to that ethos combining two of the labels heavy hitters with two label debutants. Step up Medlar, Manuel Darquart, Jon Sable and Moon for Friends & Family, an EP packed full of stellar deep house and broken beat. It's a real testament to the strength and depth not only of the Wolf music roster but also the scene in 2022.
Our premier from the EP is Medlar's deep techno tinged roller Bandit, South London machine soul at it's finest. A classic vibe.
Up next is Manuel Darquart whose Keep It Dxy remixed by Don Carlos on Wolf Music was a real high point of 2021. His contribution to the EP is Euphoria a delicious slice of modern dream house with it's glorious synths and lazy hypnotic groove.
Over on the flip are two new comers to the Wolf stable, Jon Sable and Moon. Jon Sable's Infinite Care is a broken beat slice of synth heaven, warm and intricate, it's a thoroughly pleasurable slice of music.
Moon meanwhile shows why the scene is so excited by this relative newcomer with Handmade, a throbbing slice of electronic edged modern hip-house featuring rock solid bars from Tamu.
Another utterly outstanding EP from a label which really can do no wrong at the moment.
Grab the EP via: https://www.phonicarecords.com/product/various-artists-friends-family-ep-pre-order-wolf-music/180570
For more info please check:
Medlar Facebook: https://www.facebook.com/medlarhouse
Medlar Soundcloud: https://soundcloud.com/medlar
Medlar Instagram: https://www.instagram.com/medlar_
Medlar Twitter: https://twitter.com/medlar_
Wolf Music Facebook: https://www.facebook.com/wolfmusicrecordings
Wolf Music Soundcloud: https://soundcloud.com/nysoul
Wolf Music Instagram: https://www.instagram.com/wolfmusic/
Wolf Music Twitter: https://twitter.com/WOLFMusic
Love this? Check out more from Wolf Music HERE
Like what you hear? To help support LV Online buy us a coffee via Ko-FI. Click HERE
Tags:
Deep House
,
medlar
,
wolf music