Le Visiteur's Top 10 King Street Sounds Classics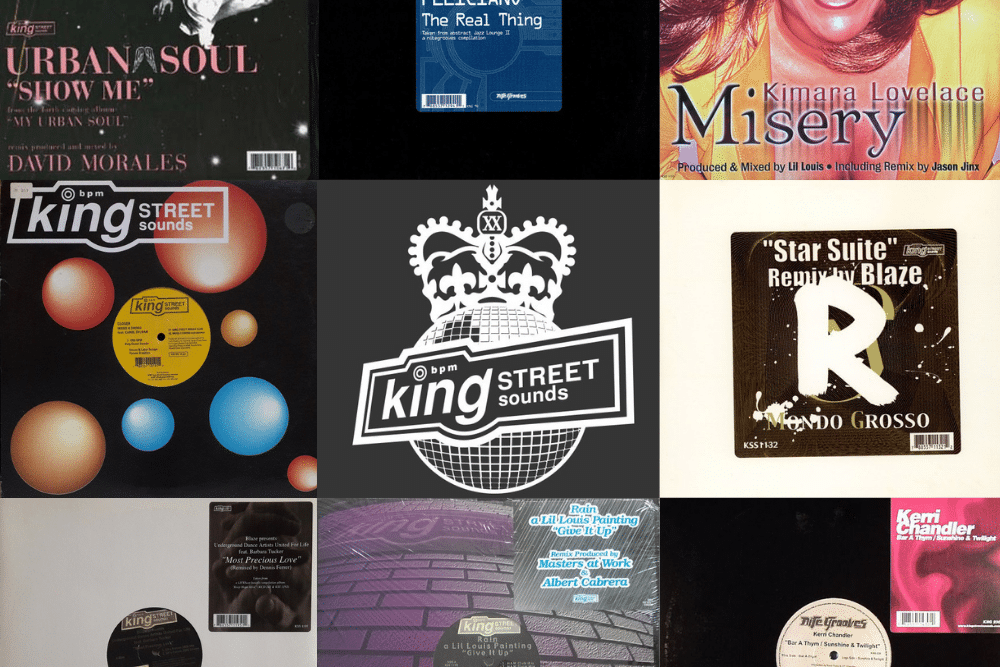 Le Visiteur's Top 10 King Street Sounds Classics
Like what you hear? To help support LV Online buy us a coffee via Ko-FI. Click HERE
Founded by Hisa Ishioka in 1993, New York's King Street Sounds is one of the most influential House labels on the planet alongside it's sister labels Street King and Nite Grooves which cover the deeper, techier and jazzier ends of the genre. Inspired in part by Larry Levan and named after the location of legendary New York City night club Paradise Garage King Street has been behind some of the house music's key releases from a who's who of the most revered producers in the genre. Along the way they have worked with Kerri Chandler, Dennis Ferrer, Louie Vega, Danny Tenaglia, Blaze, Dennis Ferrer, Joeski, Joe Clausell, Ron Trent, David Morales, Mateo & Matos, Roland Clarke, Dj Pierre, Stephanie Cooke, Barbara Tucker, DJ Spinna, Dimitri From Paris, Larry Levan and many more in a roll call of house music. The three labels have weathered all the ups and downs that the music industry have thrown their way over the last nearly three decades to still be one of the labels pushing the scene forward in 2021.
As well as continuing to break a never ending list of new artist artists King Street continues to release tracks with many of house music's legendary artists whilst being hugely successful in completely re-invigorating their back catalogue with some incredible remixes of their classic tracks.
King Street was one of the labels which really inspired me on my path to becoming a DJ and likewise it has been a huge influence for many of our favourite DJ's. We recently asked our network of DJ friends to give us some of their favourite ever tracks from across the three King Street labels. It was a huge list which we combined with our own favourite tracks and then whittled it down to 10 stand out tracks below.
King Street also invited our editor Le Visiteur to dig deep into the their back catalogue and put together a mix of some of their classics from across their three labels for their Deep House Paradise series of mixes on Youtube. You can check the mix above. You can check out the full tracklist below and please give it some love over on Youtube xx
King Street's back catalogue is as immense as their legacy. We could quite easily have come up with any multiples of different Top 10's all of which would have been packed with incredible genre defining music. The tracks are in no particular order only the way they landed in our notes so make sure you check through the whole list. We hope you enjoy our choices and it inspires you to delve into their catalogue to find your own gems. We will be back with a second King Street feature later in the year discussing how the label has evolved over the last decade.
Le Visiteur's Top 10 King Street Records Classics
1) Kerri Chandler – Bar A Thym (Nite Grooves, 2005)
Going in hard right from the start with a bone-fide classic of house music, this was a track which came up time and again in our recent DJ poll. Bar A Thym is a quintessential Kerri Chandler club track. With it's huge drums, in your face cowbell and hypnotic undulating filtered synth top line, which ebbs and flows across the track. Bar A Thym is pretty much the perfect track for those peak-time moments, just add a dark basement, a strobe light and lots of smoke for maximum intensity. If you have the dancefloor in the palm of your hand and are looking for that track to take the party off to into the stratosphere then this is the one to drop. Sheer unadulterated club bliss!
2) Mood II Swing – Closer (Swing to Mood Dub) (King Street Sounds 1995)
Another track which came up multiple times in our poll was Mood II Swing's classic Closer. It's a track with a long list of remixes but the Swing To Mood Dub was the one which came up every single time in our poll. The loopy "pick me up" vocal, the bounce of a bassline and of course that earworm Sax riff all play off perfectly with some great drum programming and layers of vocal loops. It's a melting pot of exactly how to craft a track which will still sound as fresh in another 25 years as it did when it was released. House music genuinely doesn't get much better than this.
3) Mondo Grosso feat. Monday Michiru – Star Suite (Shelter Vocal Mix) [King Street Sounds, 2001]
Mondo Grosso is the pseudonym of Japanese producer Shinichi Osawa who crafted some pretty incredible music in the 90's touching on the garage end of house music. His breakthrough was perhaps Souffles H which was released on Nite Groove but this track, which saw Blaze on the remix, is just downright incredible with it's stunning spoken word vocal, funky ass shaker of a bassline, brilliant trademark Blaze drums and superb harmonies in the chorus. This is an undeniably beautiful piece of music.
4) Rain A Lil Louis Painting* – Give It Up (MAW Club Mix) (King Street Sounds, 2001)
Lil Louis meets Masters At Work, what is there not to love about that collaboration. Give it Up is very much a track of it's time with the soaring, soulful lead vocal, the classic live bassline, guitar licks in all the right places and those haunting key stabs and atmospherics. Listen to this one through headphones, it's a glorious production with plenty of depth and warmth.
5) Tears Of Velva – The Way I Feel (Original 4 Daye Mix) [King Street Sounds, 1993]
If you are looking for a track which typifies the energy of 90's house music The Way I Feel is right up there. Those loopy synths, thumping club drums and a vocal which floats across the track and which has more hooks than your local fishing gear superstore all combine perfectly for a track overflowing with drama. You might not be surprised to find out it's a Kerri Chandler production. Originally released in 1993 there are also a couple of excellent Kerri Chandler remixes from 1997 which toughen things up ever so slightly. This one just rips it up on a big club system.
6) 95 North – Now it's time / Find A Way To Believe [Nite Grooves, 2005]
Ok so I'm cheating a little here as this is clearly two different tracks but it's is the same 12″ so we're all good. Now it's time and Find A Way To Believe are Two huge disco sampling looped up club gems right from Doug Smith and Richard Payton under their 95 North alias. They were a duo who continually dropped blistering club tracks across the house spectrum touching on disco, deep house and vocal garage right through the 90's and the 00's. They were true experts of sample culture and their drum programming was always absolutely outstanding.
7) Urban Soul – Show Me (Def Club Mix) [King Street Sounds, 1997]
Right from the first chords stabs you just now that this track is going to be both huge and seriously intense. Written by Roland Clark and remixed by David Morales, it's a bit of a dream tag team of producers. Featuring keys from Joey Moskowitz he was one of the most in demand players of the period and worked with some of the finest underground producers of the era including Frankie Knuckles, Junior Vasquez, Masters At Work, Shep Pettibone and of course David Morales as well as some of the era's biggest pop stars including Madonna. Indeed the keys are the focal point of the track, surging and incessant they provide the background foil for Roland's stellar vocal performance which is both urgent and soaring. Show me is a huge track which has firmly stood the test of time and still sounds incredibly fresh.
8) Kimara Lovelace – Misery (Lil Louis Extended Club Mix) [King Steet Sounds, 2000]
Kimara worked extensively with King Street towards the end of the 90's into the 00's creating some memorable releases which also included chart smash Circles. Misery is perhaps her stand-out moment as far as standing the test of time is concerned coming courtesy of a Lil Louis remix.
Similar to Lil Louis own track Rain which we covered above the live bass from Gene Perez on Misery gives this one an enveloping feel-good warmth and lends plenty of energy which Kimara harnesses with her stellar vocal performance. Add in those incessant key stabs, soaring strings, wah guitar licks and the evocative breakdown and Misery quite rightfully earns a place in this top 10.
9) Frankie Feliciano – The Real Thing (Ricanstruction Mix) [Nite Grooves, 1998]
A bit of change of tact from all of the big vocals and main room tracks across the rest of the list. Frankie Feliciano recorded this track at MAW studios where he successfully laid down a track which still easily ranks as one of the finest Jazz edged house tracks to ever make it out on wax. The rubbery live bass from Jonathan Maron, the stunning easy going but ever so funky percussion from Anthony "Starvin T" Cordero and the outrageously brilliant sax from David Jansen, it's the perfect combination or artists all perfectly in tune with each other. The Real Thing is infused with love, depth and warmth with a stellar arrangement and mixdown from Frankie.
10) Blaze Presents UDAUFL Feat. Barbara Tucker – Most Precious Love (DF's Future 3000 Mix)
Only very rarely does a record break out of the underground house scene to become a crossover chart success across the globe. Released in 2004 Dennis Ferrer's incredible take on Blaze's Most Precious love is one of those rare beasts. Taking the spacey percussive Garagey vibe of the Original mix, ripping it apart and turning in what is arguably one of the finest remixes of all time he would help set Most Precious Love off on its way to a place in the house music classics pantheon. Featuring vocal legend Barbara Tucker who delivers a quite stunning lead vocal performance it would be almost omni present in clubs and on radio across the globe over the next couple of years. Most Precious Love rose to the top of the Billboard dance charts in the US after a sixteen week climb providing Barbara with her 6th Number one before landing at number 17 in the UK charts courtesy of a licensing deal with Defected Records and a Freemasons remix.
From those incredible lead vocals and wonderful harmonies to the hooky cello's providing the bass drive, the rock hard club drums and the 'Bom bom' vocal hook it's just a undeniable piece of music which quite rightfully earned it's chart successes and continues to be re-invented time and again for whole new generations of clubber with a steady stream of new remixes landing regualrly.
For more info please check:
King Street Facebook:  https://www.facebook.com/kingstsounds
King Street Soundcloud: https://soundcloud.com/kingstreetsounds
King Street Instagram: https://www.instagram.com/kingstreetsounds
King Street Twitter: https://twitter.com/kingstreetnyc
King Street on Traxsource: https://www.traxsource.com/label/44/king-street-sounds
Deep House Paradise by Le Visiteur – Tracklist
1) Kimara Lovelace – Misery (Lil Louis Extended Club Mix)
2) Neal Conway – Gonna Luv Ya
3) Mood II Swing – Closer (Swing to Mood Dub)
4) Stephanie Cooke – Everything (95 North Deep Jersey Mix)
5) Agora Rhythm – New Hope (Deep Inspiration Mix)
6) Arnold Jarvis – Special kind of love (Jazz-n-Groove Primetime Club Mix)
7) DJ Pierre – What You Do
8) Nick Jones Experience – As I Take You Back (New Jersey Deep Club)
9) Urban Soul – Show Me (Def Club Mix)
10) Bassmental – Just Wanna Be With U
11) 95 North – Find a way to believe – club mix (95 North Club)
12) Dimitri From Paris – Dim's Jazz (Latin's In The House)
13) Mateo & Matos – Revelation (Let Us Pray)
14) Kerri Chandler – Yellow (GA' Heal My Heart Edit)
15) 95 North – Now it's time (95 North Club)
16) Tears of Velva – The Way I Feel (Original 4 Days Mix)
17) Overtown – Satisfaction (Long Ass Mix)
18) Kerri Chandler – Bar A Thym (Original)
19) Urban Soul Pres. Roland Clark – President House (Acapella)
20) Kerri Chandler – Grass Cutter (623 Kaoz Club Mix)
21) Dennis Ferrer – Change the world (Main Mix)
Love this? Check out more Top 10's HERE
Tags:
95 North
,
Blaze
,
David Morales
,
Dennis Ferrer
,
Fankie Feliciano
,
kerri chandler
,
Kimara Lovelace
,
King Street Records
,
Lil Louis
,
masters at work
,
Mondo Grosso
,
Mood II Swing
,
Nite Grooves
,
Roland Clarke
,
street king
,
Urban Soul