Lea Lisa Talks Kerri Chandler, Body & Soul, Glenn Underground & Her Keys Of Life EP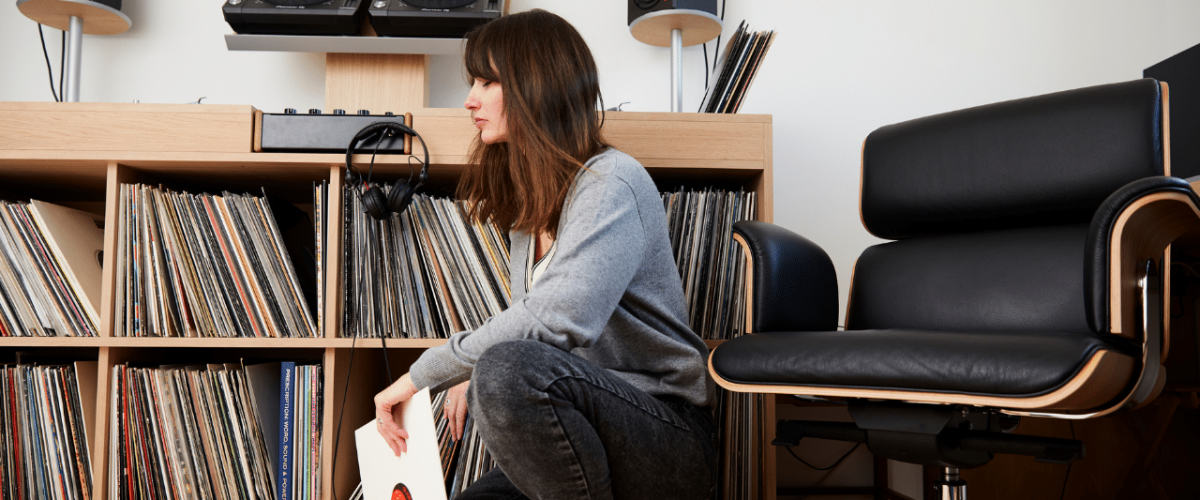 Lea Lisa Talks Kerri Chandler, Body & Soul, Glenn Underground & Her Keys Of Life EP
Like what you hear? To help support LV Online buy us a coffee via Ko-FI. Click HERE
Lea Lisa has been working the House scene since the 90s, but this lady doesn't like to shout. Her subtle French elegance is as noticeable in her manner as is it in her super slick productions. Tight friends with Kerri Chandler for over twenty years, since they days there on the same agency books, she since shared a stage with Glenn Underground at the Polaris festival who loved 'Keys Of Life'. Asking him to remix it seemed like the natural thing to do. Lea Lisa's integrity, honestly and loyalty shines through in this interview. As she is about to drop her new EP on Phonica sub label Karakul, she talks to The Insider.
Lea also recorded this outstanding mix for us.
Where are you from Lea? Where did you grow up? Where are you based?
I am originally from the south of France, but I lived in Lyon for about 10 years, 3 years in Toulouse where the Innerdisc store is located and now in Switzerland in Lausanne for 14 years.
What was the music scene like in the place that you live, pre Covid? Is there great record shop? A great club? A great radio station?
The Swiss scene has always been very active. At that time when I was in Lyon, we moved to Lausanne because there were particularly good parties, there was also Laurent Garnier who had a residency, Mandrax too. Nowadays, there is a beautiful scene and excellent festivals like Polaris, the Folklor Club where I play regularly. Radio Couleur 3 is an institution. A record store I recommend is YouDooright Records where the selection of vinyl is eclectic, and the boss is a fine connoisseur. , Check their insta HERE.
Your style is deeply rooted in the sounds of US house, Detroit, Chicago, and NYC. When was your House baptism?
I started to go out very young, around 16 years old. At the beginning of the 90's, there were very good parties with Italian & American DJ's, I was immediately attracted by this underground scene, this culture. In 1998, I went to mix in New York, and I discovered this very exciting New York scene. I was getting the promos from Strictly Rhythm, Nervous, and I was buying my records at Dance Tracks, Satellite Records and I was dancing at Body & Soul. I came back to France with the idea of developing this music and having my own parties a little later.
Who were the DJ's you were first listening to?
Ron Trent, Laurent Garnier, Kerri Chandler, Dj Deep, Joe Claussell, François K. They all inspired me a lot when I started. Djing is an art, as a Dj, we must be able to give emotion, to take people on a journey.  I take a very cerebral approach to this job. I am incredibly involved, and I mix every day at home, I am always looking for records that surprise me. In the early days, we had to be able to play at all hours and be diverse. Today, if I want to play Disco, House, Garage, Techno, Broken, I have no limits, I will say that the only problem is that we are often booked for two hours, whereas I would like to play 4 or all night long!
When did you start producing and DJing?
I started mixing more than 25 years ago but it became my job in 1998. Production, I started, around 2007, with software like Reason or Logic. I took Mao lessons at that time for 1 year to get familiar with it.
Would you say you a club person? If you were not DJing, would we find you in clubs?
Of course! When I went to Body & Soul, more than 20 years ago in NYC, there was a real culture around dance, they understood everything, the name is so well chosen, it is a real slap in the face. I like to dance, often for hours. House music is an incredible energy, a music of sharing, of communion, of emotions, of trance states, it's in my DNA.
What clubs have you played in around the globe?
I toured a lot from 1999 to 2007, I did big tours in Asia, Russia, everywhere in Europe. I had an ultra- satisfying life as a DJ by traveling and meeting people for years. I was in the same agency as Kerri Chandler, Blaze etc. We shared the same passion and often the same scenes. I then stopped and took a break for a few years because I wanted to enjoy my second child. This was before the era of social media, so I started my first Facebook page only in 2014.  I still have a community from before 2014, that are loyal to me; artists, music lovers and of course the current generation of new music lovers that have discovered my music now.  I'm glad to be back in earnest since 2018.
You are connected to the INNERDISC online store. What is your affiliation there?
It's Fred's project, my best friend. He's one of the people who inspired me a lot musically.  When he first launched his online shop project, 7 years ago, I immediately wanted to be part of the adventure. Then the physical store opened. I'm here as a backup, to support him in the development, the communication, the projects to come which are numerous, the decoration. The fact that I am geographically far away is not a problem.
Your release on Wolf Music remixed by Kerri Chandler, was very impressive. Do you plan to release again on the label?
When they asked me to do this record, I really wanted to do something special. It was a real pleasure to work for Stu & Matt and to offer Kerri this project. It would be great to do a record again. We just need to have the right project that brings us together.
You released on Chez Damier and Jorge Caiado's Inner Balance Recordings. Tell us about that release?
Jorge Caiado is a person that I appreciate humanly and artistically, he is a very professional person. It's a pleasure to work with him. He is also a record dealer. I particularly love this project because a big part of me is in this record following the death of my father. Jorge and I are also fans of Agnès who is Swiss, honestly this guy is a legend! I know Agnès, he is such a fun guy.  I suggested him to do a remix.  He is a rare production talent.
Kerri Chandler recently invited you onto his Beatport Residency. How did that happen? What is your relationship with the Kaoz Theory chief?
He is a friend of 20 years, someone who possesses a rare loyalty in the business. He has always supported me as an artist, he knows my involvement and dedication to this music. He sent me an audio on WhatsApp. It's as simple as that.
As a woman in a world of male producers, how do you feel? Have you ever felt held back because you are a woman in music?
I think there will always be sexist comments, but honestly, I have very often been encouraged rather than criticized.
What do you observe about the music industry towards women? If you had the power to change one thing, what would it be?
Long debate, I believe that it is necessary to put the music back in the centre of this debate.  There is a business around the Dj or the female DJ which did not exist at my beginning. We were there by passion, now it is a business where there is a lot of money with people who choose to put forward the image rather than the music. It is valid as much for women as it is for men. There is a very superficial side to this business. I've stopped watching what's going on. I just do my job.
What advice would you give to young female DJs and producers coming up?
You must work hard, be curious, and keep the main objective in mind, to enjoy yourself. If you do this for the glory, you will be disappointed, success does not make you happier and does not fill anything.
You have your own radio show 'No Boundaries'. Where can we listen to that? What is the music concept?
I would like to thank Dean from Universal Rhythms for writing to me and asking me to be part of this Radio residency. You can listen on www.universalrhytms.net. I also post on my soundcloud: www.soundcloud.com/lea-lisa. I wanted to develop a show where I could play everything without constraints, hence the name of the show. My record collection is eclectic, as a DJ, I really like House, but I'm an old school DJ, and a radio show is a personal space where if I feel like playing a techno or disco set, I do it. Each show is built on memories, influences that I have had for many years. I simply start with a record that inspires me and I build my set with that feeling.
Your keys Of Life EP is coming out on Phonica sub label Karakul Records. How did that happen?
I had just finished this single, and I could see myself releasing it on a UK label, I love mixing in this country, the record shops are great, and I have known the Phonica shop and their labels for so many years. Sharon Andrews, who I had already worked with on the Wolf Music release, put me in touch with Simon and Alex from Phonica.
Glenn Underground is an incredible remixer to get on board. Are you friends?
Glenn, it's already a few well filled boxes in my record collection, so I'm a fan of his work. We were booked on the big stage at the Polaris festival. I was testing for the first time, Keys of life on an audience. Glenn came to me and asked me what it was. I can tell you that it really made me happy. I told him it was one of my songs. I stayed on stage to listen to his set, talked to his brother and then I thought it was cool to offer it to him and that's how it happened.
Talk us through the EP 'Keys of Life'?
I wanted to do a peak time piece with a lot of energy, musicality, and a piano solo that makes you smile. I believe that in these difficult times, we all need it. Hence the title.
Do you have a particular production process that you follow?
Often there is a main instrument, a piano or violin solo or a bass line and then I build on that. I don't spread myself too thin. If I start, I finish the project. Some songs I worked on for a year. It's sometimes hell but I'm persistent. I prefer quality to quantity, as I don't think about career, I don't have pressure to release records.
What are you working on in the studio right now?
I'm going to start working on a remix, and then I'm going to enjoy the nice days, in Switzerland we have less constraints related to Covid. I need to get out of my studio and enjoy. We will see this inspiration after the summer.
What other projects should we look out for with Lea Lisa in 2021?
For the fall, I have an incredibly special project that will be different from what I'm used to doing. I'm joining a very nice booking agency as well. It's all very exciting. I'm looking forward to meeting an audience again, traveling again, seeing my friends abroad. Back to life!
Grab the EP via: https://www.phonicarecords.com/product/lea-lisa-keys-of-life-feat-glenn-underground-remixes-karakul/172027
Love this? Check out our House playlists HERE
For more info please check:
Lea Lisa Facebook: https://www.facebook.com/Djlealisa/
Lea Lisa Soundcloud: https://soundcloud.com/lea-lisa
Lea Lisa Instagram: https://www.instagram.com/lealisamusic
Karakul Soundcloud: https://soundcloud.com/karakulrecords
Karakul Facebook: https://www.facebook.com/PhonicaRecords
Karkakul Instagram: https://www.instagram.com/phonicarecords
Tags:
Body & Soul
,
Chez Damier
,
glenn underground
,
Inner Balance
,
Jorge Caiado
,
Karakul Records
,
kerri chandler
,
Lea Lisa
,
Phonica Records
,
wolf music