Marcel Vogel picks his Top 10 Gospel House jams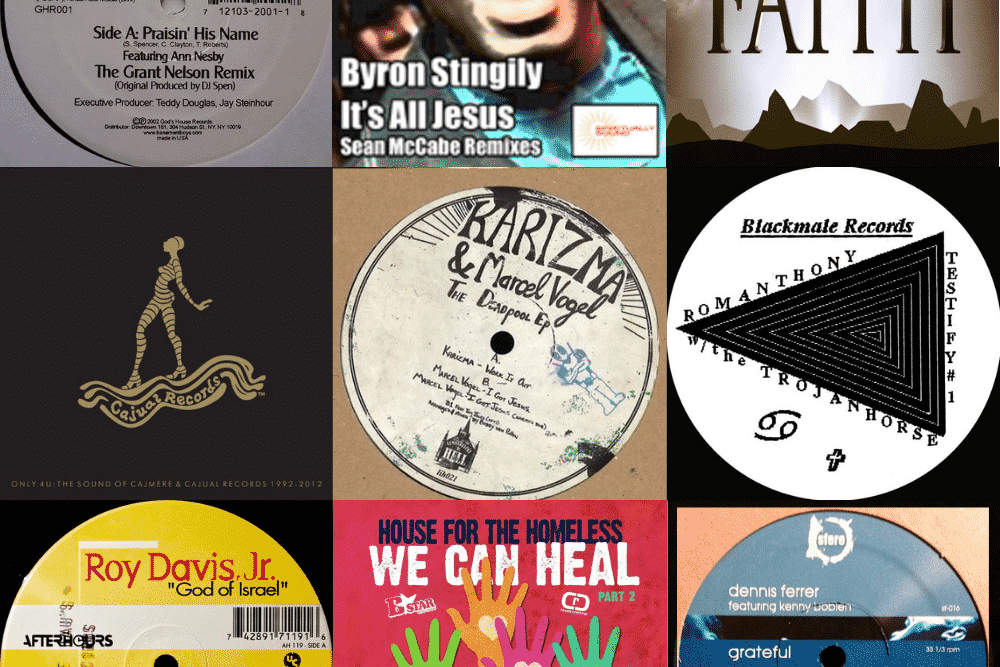 Marcel Vogel picks his Top 10 Gospel House jams
Like what you hear? To help support LV Online buy us a coffee via Ko-FI. Click HERE
After a brief spell away one of our favourite labels Lumberjacks In Hell is back with a rather brilliant 8 track album from Berlin's Panna Cotta, Featuring seven originals and a Marcel Vogel remix it's an album which is firmly on the horizontal side of the Electronic line. While it's a departure of sorts for Lumberjack's it's a rather divine proposition all round, a album which lands just in time for the start of spring and the Sunshine starting to appear again in the Northern Hemisphere. We premiered I Feel Love from the album a couple of days ago and we also spoke to Panna Cotta about the album, Lumberjacks, Berlin and loads more which you can check here.
Grab the album from: https://www.juno.co.uk/products/panna-cotta-sunrise/843050-01/
As I'm sure you're aware if you are a regular reader of Le Visiteur that we are huge fans of Marcel's work so it's always a pleasure to get Marcel back on the digital pages of Le Visiteur Online. One thing that really shines through from his regular live streams and radio shows is his love of Gospel House Music so we posed him the question what are your ten favourite Gospel tracks. As you would expect it's a rather packed list!
Marcel Vogel's Top 10 Gospel House Jams
1. Vernessa Mitchell – Higher
You've ever heard a better tune? This defined an era of Gospel House music and house music in general for me as well as being a throwback to a certain type of Chicago House sound I like. Despite how you perceive it, it's quite unusual how every beat is basically over pronounced, it actually has quite a jacking feel that is masked by all the harmonies on top. I can't think of too many tunes like this.
2. Marcel Vogel feat Tim Jules – I Got Jesus
Of course this is one of the defining tracks that people think of, when they think of me as a producer. It's gotten much love from notable names in the industry and made many people reach out looking to collaborate. Elsewhere we discussed my love for Gospel and Gospel House, also as the foundation for Disco and then later all of Dance Music. I've picked up the different vocal samples over a period of maybe 15 years and they may be more than you think. Especially the sermon's I picked up around 2001 and always knew I wanted to do something with them. It took me a while but I am always happy when an idea leaves my system and I can stop thinking about it. I found the main vocal
In a Dollar Bin in Detroit alongside many other amazing Gospel LP's and I immediately saw the potential. The way I work is usually layering samples or musical layers upon each other and then taking it away and shifting them around, really very much like a musical collage. Usually and ideally it's not discernible for the average listener how much is going on but for me knowing what's what, it stays an amusing sound collage.
A big part of this is what Tim Jules brought to the table, especially the bassline was the key to bringing the track together. Everything else revolves around that.
3. Dennis Ferrer feat Kenny Bobien – Grateful
I have nothing much to add here other than Dennis Ferrer and Kenny Bobbien are both geniuses in what they do. Grateful is just a wonderful example of something that works in a Disco and Soulful House set and always sets the dance floor on fire and the hands in the air.
4. Byron Stingley – It's All Jesus ( Sean McCabe Remix )
I started to listen to house music via Byron's Get Up Everybody which in turn was a throwback to Sylvester's Mighty Real. I suppose that's how the references work in Dancemusic, they set you up to look deeper and learn where it's all coming from. No doubt Byron Stingley is one of the most important singers in House Music not least through his collaboration with Marshall Jefferson, Ten City.
5. House for the Homeless – We Can Heal
I am not gonna lie, I don't know anything about this tune other than the beautiful moments I had with it usually on small intimate dance floors. The moments I cherish the most, when you bring it together and you can really feel how everybody is just in the same moment.
6. Ann Nesby – Praising His Name ( Grant Nelson Remix )
Anybody checked out DJ Spen's Sunday Sermon's on Twitch recently? It's absurd in so many ways how much music he's produced in the last almost 40 years and how much music he goes through and how much of it I don't even know. Nothing but the deepest respect to Spen, Karizma and everybody they are involved with and everything they stand for. Real house music. My childhood friend was severely obsessed with Gospel House for a very long time and even though I was way more into Disco and Rare Groove, there were always some tunes that I couldn't run away from, like this one.
Let's take this as a token for all the amazing production that comes from Baltimore.
7. Braxton Holmes feat John Redman – People Everyday
Maybe one of the first Gospel House records I heard without knowing how to spot the difference. As part of the seminal Shades Of Casual compilation by Derrick Carter.
8. Shighenergy – By Faith Anointed Mix
This is a weird one, there is very little information to be found on this producer and I couldn't find a video on this cut either. I think I got most of his stuff from Bandcamp or Traxsource (hence the link) and it's just so good but I almost think, very few people know about him – or maybe it's a very different scene? Social media has very little to offer either. So all I can recommend is, take a deep dive into this man's catalogue wherever you can find it. It's kinda minimalist Gospel house, with usually rather sparse beats.
Especially By Faith has been a crew cut during my six month Twitch journey last year.
9. Romanthony – Testify
This is certainly one of my favourite tunes from one of my favourite producers. I feel it's very much build and structured like a R&B record, down to the rap part. Not sure if it really qualifies as a Gospel record, it also has a strong secular vibe about it. But I guess that's what made Romanthony so strong for me, how he would always mix different styles to make them his own.
A few years back I made this Romanthony megamix for Stamp the Wax.
I always like to tell people that I managed to catch Romanthony live in about 2002 with a four piece band, and it was maybe the Prince show that I always wanted to see. A breathtaking experience in a small club in Frankfurt/Main.
10. Roy Davis Jr. – God Of Israel (Funk Electric Mix)
Also not that type of Gospel House but certainly a tune with a strong spiritual message that I used to play loads and loads.
For more info check:
Lumberjacks in Hell Facebook: https://www.facebook.com/Lumberjacks.in.Hell/
Lumberjacks in Hell Soundcloud: https://soundcloud.com/marcelvogel
Lumberjacks in Hell Instagram: https://www.instagram.com/lumberjacksinhell/
Marcel Vogel Facebook: https://www.facebook.com/DJMarcelVogel
Marcel Vogel Soundcloud: https://soundcloud.com/marcelvogel
Marcel Vogel Instagram: https://www.instagram.com/marcel.vogel/
Marcel Vogel Twitter: https://twitter.com/MarcelVogel
Tags:
Ann Nesby
,
Braxton Holmes
,
byron stingily
,
Dennis Ferrer
,
Gospel House
,
Grant Nelson
,
lumberjacks in hell
,
marcel vogel
,
Panna Cotta
,
romanthony
,
Roy Davis Jr