Michael Gray talks about Full Intention, The Weekend, The Scottish House & Disco Festival, remixing classics, Number 1 singles, his studio and much more (Audio Interview)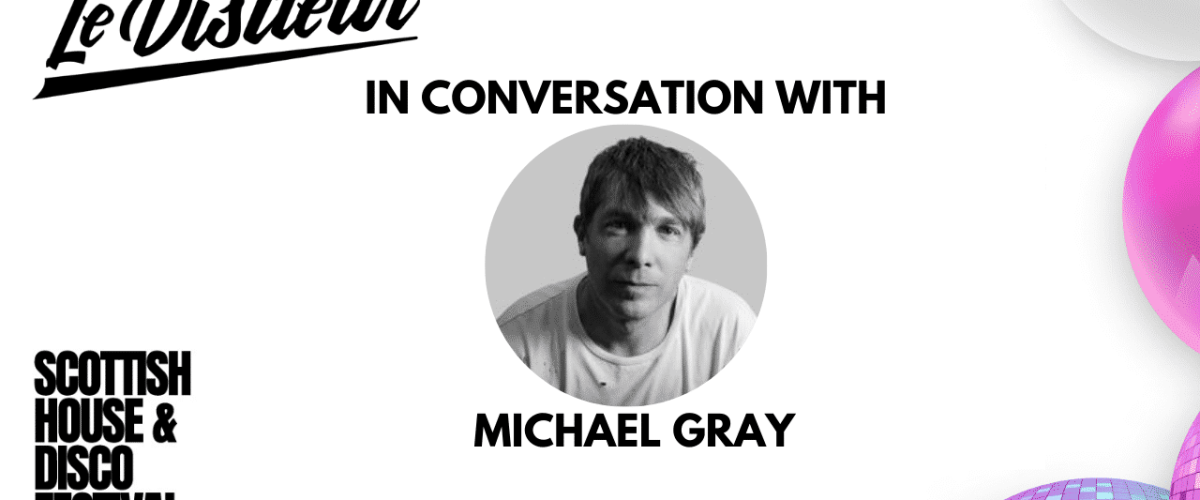 Photos courtesy of Michael Gray.
For my second dedicated Scottish House and Disco Interview I am speaking to UK House legend Michael Gray who found fame in the 90's as one half of Full Intention, a duo who hit the top of the charts all over the globe with their track America (I Love America) and their remix of Duke's So In Love With You as well as with a long list of A-list artist remixes. Michael also had major chart success again in the 00's with his album Analog Is On which featured the singles The Weekend and Borderline. It's very safe to say that he has consistently been one of the UK's most successful producers.
Michael is as busy now as he has been at any point in his career. In huge demand as a remixer he is a regular at the top of the download charts whilst he is currently working on a raft of new original music.
As a DJ Michael has played all over the globe for more than three decades, becoming a real crowd favourite wherever he goes.
I spoke to Michael about the incredible successes he has had both with Full Intention and as a solo artist. We chatted about his studio, his production flow and he gave us some tips on how to remix classic tracks. We also discussed who he is looking forward to seeing on the Scottish House and Disco Festival on the 16th April, his label Sultra, his radio show and many other aspects of his career. It's a fascinating interview.
Michael is appearing at the Scottish House & Disco festival on Saturday 16th April. Check out more on that event here and grab your tickets for the event via: http://houseanddisco.co.uk/
If you love this interview please check out our interview with Disco Legend Nicky Siano HERE.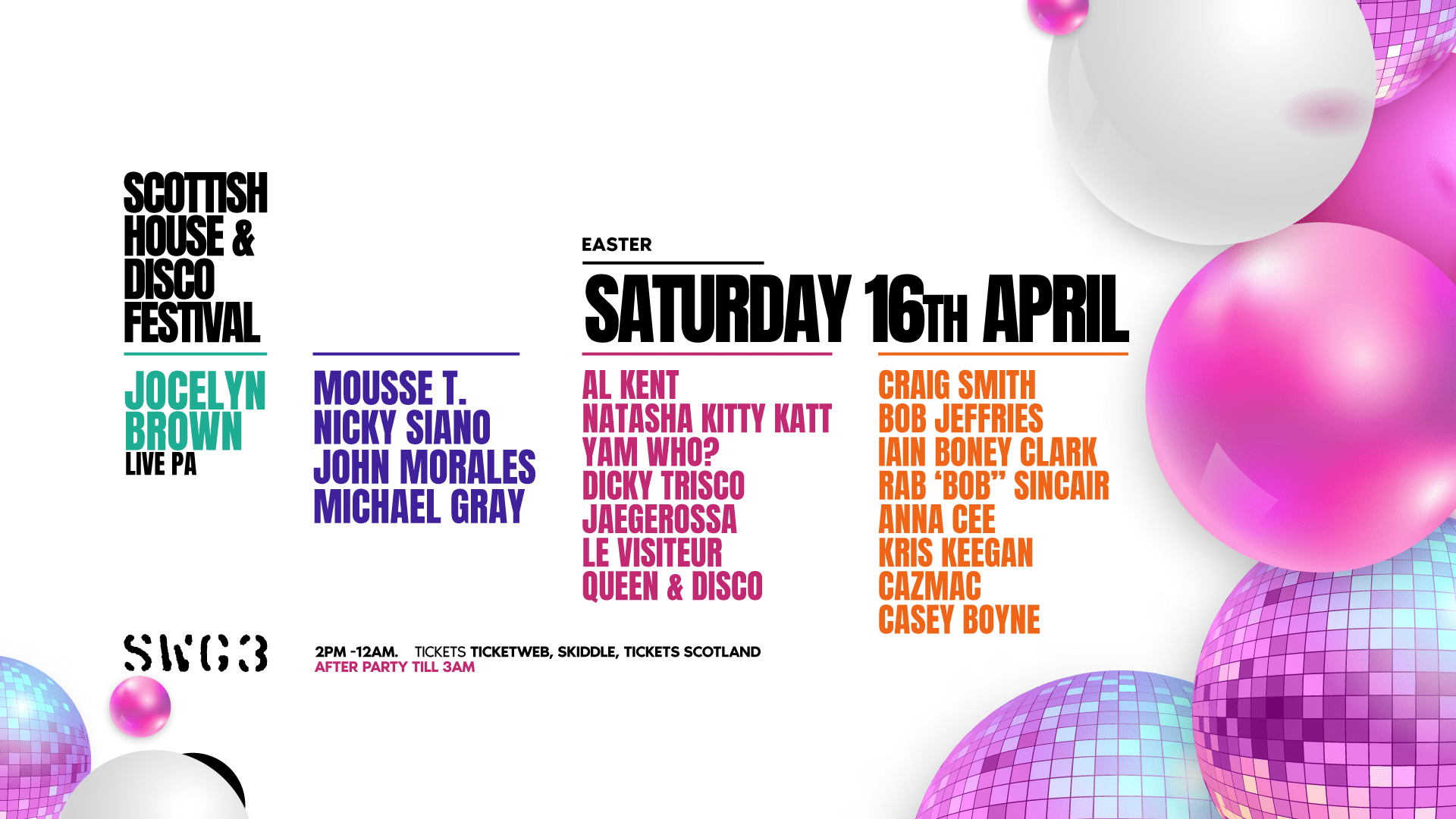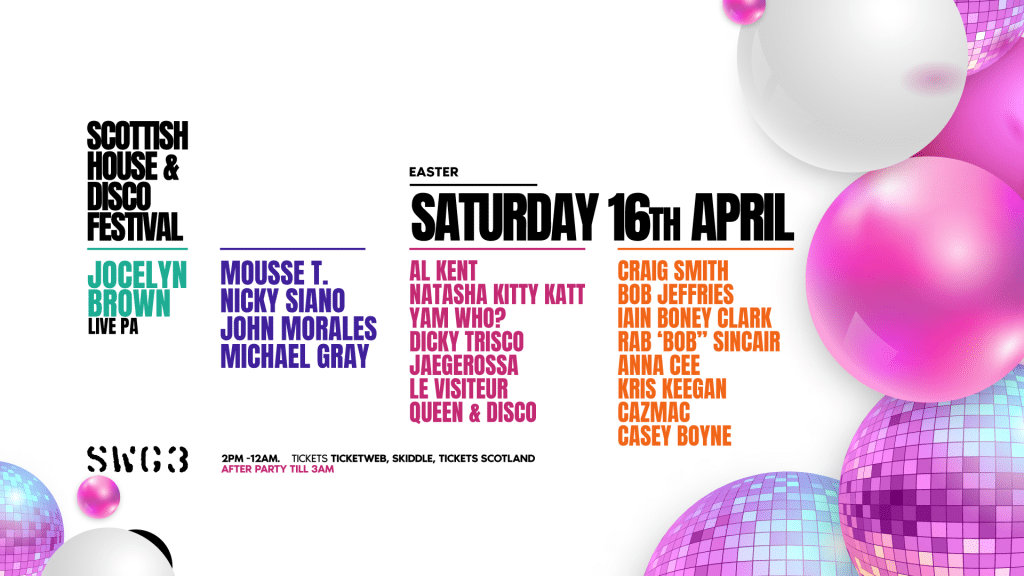 Let's get into it!
First musical Steps
Hey, Michael, great to speak to you today. You have been producing and DJing now for three decades. What was your musical background growing up? And what if any musical instruments did you learn when you were at School?
Okay, well, growing up, I started getting into music at the age of about five or six, I bought my first records at six. I was very influenced by my sisters, I had four older sisters, three of them in particular, were really into music, Soul music, right through to pop or whatever. I was very influenced by them. And one of my sisters, her boyfriend was a DJ, and I was already into the music. And when he came around and opened up all his equipment on one Christmas, he came over Christmas Eve, and we just partied for the whole of Christmas. I was just in another world and I just thought yeah, this is definitely, definitely what I want to do, DJ.
And with regards to playing an instrument I didn't. I always wanted to learn to play the drums at school, but I never had the bottle to go into the music room and say, yeah, I'll sign up and do that. I wanted my mate to come along with me and I don't know why I didn't have the confidence. And then with regard to keyboards, I just kind of learned as I've gone along. So I'm no great standard. But if it wasn't for Cubase, which is the music program I use, I would have problems but if there's any chords that I can't work out, then I have other people that I like say look, "can you do this? Can you do that?". I just love doing it, really?
Were your parents musical? All the kids in the house sound like they were really into music?
Yeah, my dad plays and my granddad both play keyboards, but I didn't really take as much notice as I should have at the time. I was just very lucky I had parents that were very supportive from the early days. We did these under 16's discos at our local church hall, which my dad organised, and we did them every month. We had 120 kids in every single month. And I was only 12, 13 and 14. We did it for about two years. And that was such an amazing chance for me to learn my craft. Is that the right word?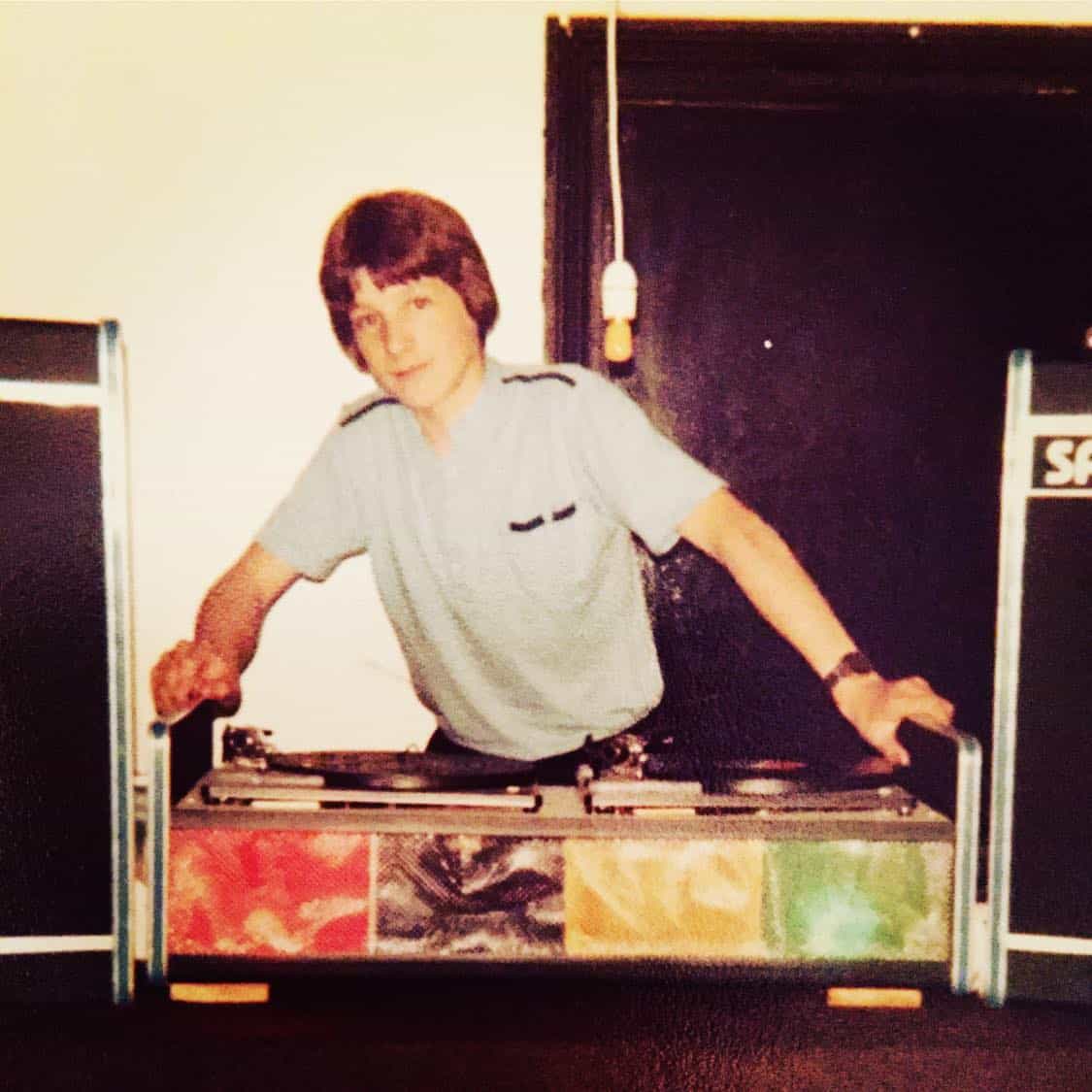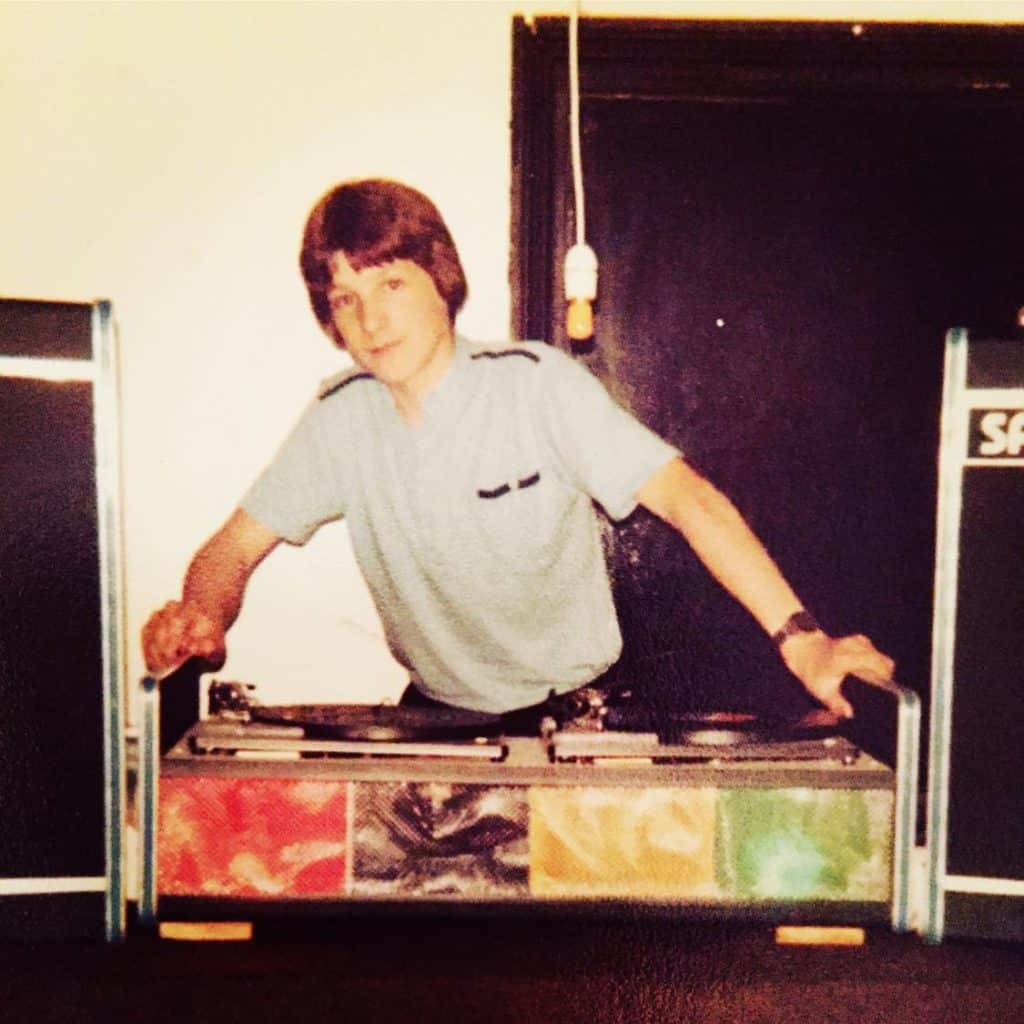 Michael Gray
Yeah, absolutely. That sounds like total carnage,120 kids?
Yeah, yeah. The funny thing is, you know, it was that age of, like 12 to 16. So it was very much those teenagers who all loved their music and who were all into the fashion. It was just something, I have got a few pictures still to this day, they date back to about 1979, 1980 sometime around those dates and the fashion says it all, and yeah we were playing disco the first time around.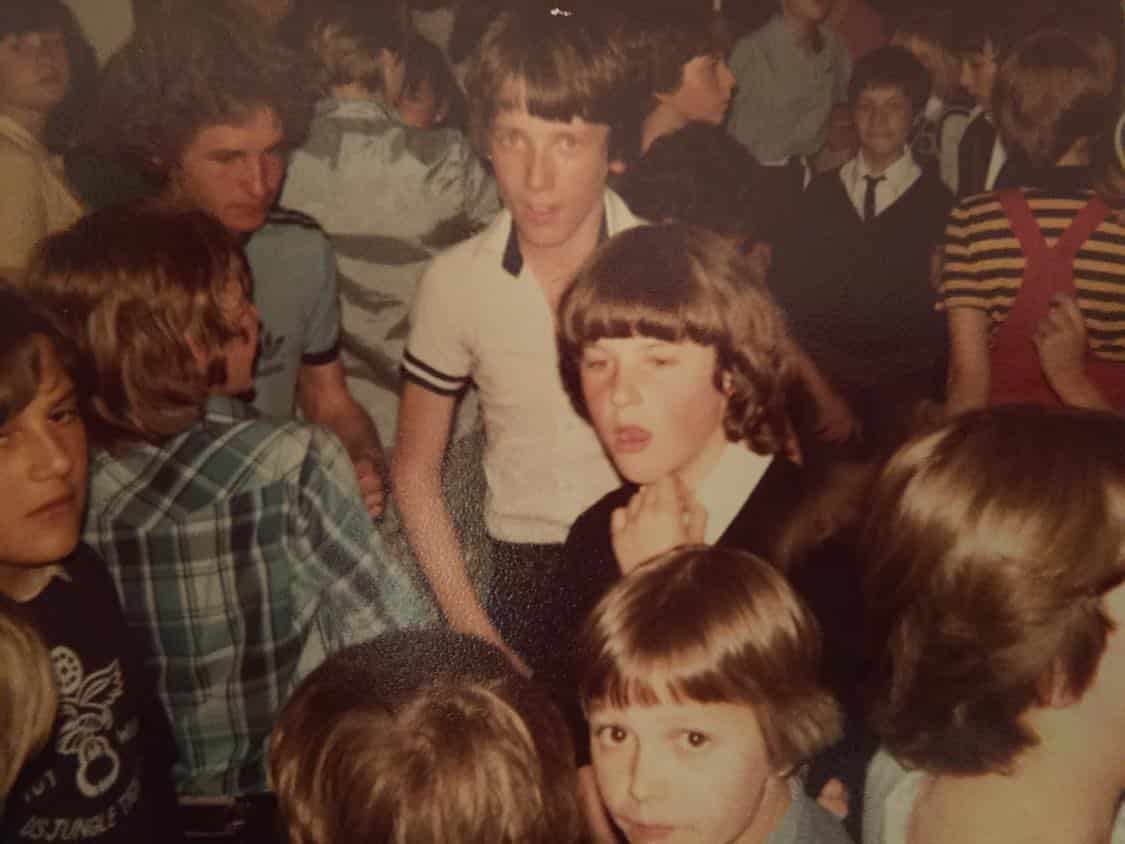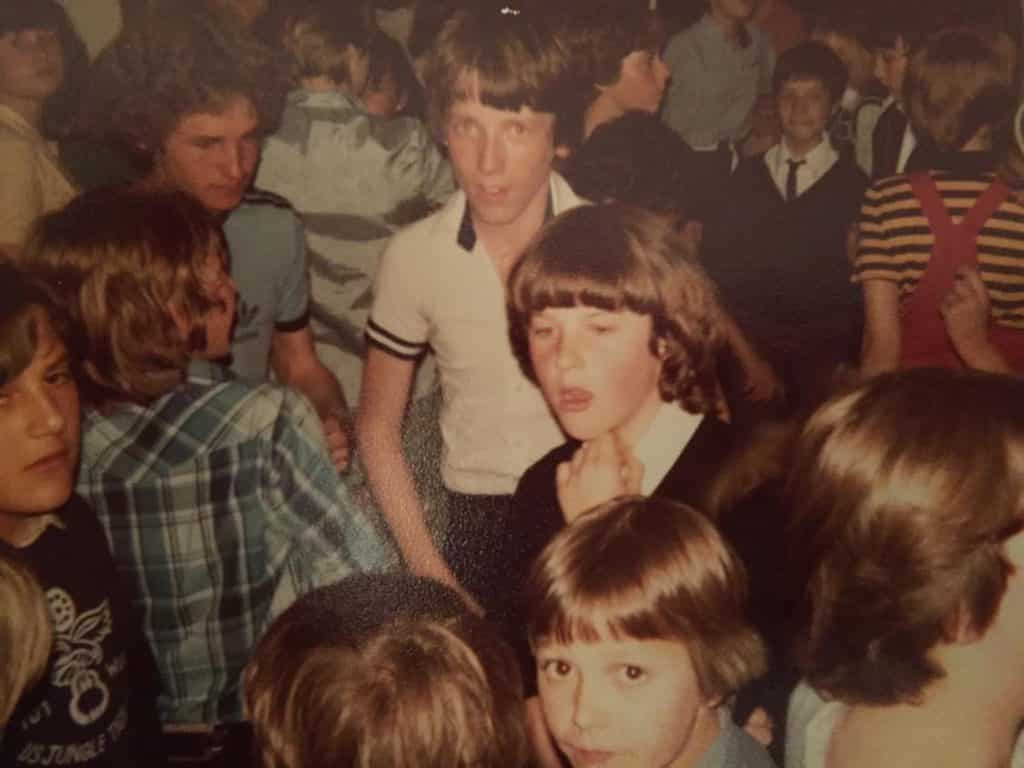 Love of Disco
So you are obviously best known for your work as a house producer but right from the start you obviously also had a great interest in disco. And that disco part of your DNA has flowed throughout your career. What were you listening to when you were growing up that sparked that lifelong interest?
A lot of soul and funk particularly when 1979 / 1980 came, where disco sort of merged into soul and Boogie and all that kind of stuff, really good records with amazing baselines. So it would have been everything from the end of the disco thing which was Earth, Wind & Fire right through to The Whispers. A lot of stuff on Solar records, Sam Records, a lot of that catalog and Prelude, D Train, Rockers Revenge if we're going into 1982 and so on. Those records funnily enough, I've gone back either on my own or remixed with Jon as Full intention. Those same records, because the memories are so great. But again, they're just amazing records really, really good records.
Where did you grow up? And what was the club scene like the there when you first started going out?
Well, I was lucky enough to grow up quite close to London, about 17 miles south of London. So I live in Surrey still do. I grew up not far from where I'm living now. So a place sort of near Croydon, and we were just very lucky. There was a lot of Soul, Funk, Disco venues at the time. I used to go and see a guy called Greg Edwards at the Lyceum in the Strand. It's now back to a theater, but then it was a venue and I was only 15. God knows how I got in because it was an over 18. I used to dress up early, I used to go with one of my sisters and her boyfriend so hopefully I'd blend it in, that was the idea. That was on a Friday, he played so much upfront music, and it was great. And it went live on Capitol radio at the time. And so I was very lucky to be brought up on that sort of music. But the funny thing is, back then it was such a buzz of having to queue not knowing you're going to get in, you could queue for half an hour, an hour, then when you get in you make sure you had the best night ever. Sometimes we get a bit blase, you know, like, you probably have the same, where I'm on the guestlist. You know, you're going to get in, and it might be an average night. You know, that's if I went as a punter. So in a way you treasure those memories more, I think,
Good times. So when did you first decide that you wanted to pursue a career in the music industry?
About 13 / 14? I just knew, I was just lucky enough that my parents went with me on that one, thank God. I mean, I started DJing in pubs when I was 15. Then in clubs when I was 18. Then when I really got into production was probably when I was about 21 – 23. It was just there. It's in the DNA I think
A proper early bloomer as far as it's all concerned, yeah. So who were some of the first producers who really inspired you when you were starting out producing your own tracks?
Oh, that's easy. Arthur Baker, Shep Pettibone and Jelly Bean. All these guys were just very, very influential. John Morales, of course, who's going to be playing in Glasgow with us, M&M, obviously he went as M&M at that point.
John Morales
John Morales is quite incredible when you kind of look into just how many tracks he has produced. He must have been non-stop. I mean, he must literally have not been sleeping for about 15 years. Hundreds and hundreds and hundreds of tracks that he's done.
Yeah. Again, it's lovely to see John out DJing again and getting the credit. Probably more now which is good to see.
Absolutely. That he more than deserves.
Full Intention
Along with Jon Pearn, you founded Full Intention in the early 90s. A duo which is still going strong today. Where did you first meet and how did Full Intention come together?
I met John about 1989, I was working at a club in Croydon called Easy Street. He was employed to come and control the lights and look after all the sound equipment and stuff like that and we got chatty. He said "oh, I play keyboards", I said, "Oh, well, I need someone who can play keyboards, certainly a lot better than me". And then he started coming in playing keyboards on remixes that I was doing for a company called DMC, Disco Mix Club, because I joined them when I was 19. And then we kind of started flourishing, we had a pseudonym called Greed, and then another one called Hustlers Convention.
Then in 1994, we then started Full Intention and that's how we kind of got together. Yeah, John and I, we hit it off instantly.
You must've done as you're  still going strong today, which is pretty impressive.
So what equipment were you producing on in those days? Did you have a home set up? Or were you using studios for your work?
I had a studio set up at my parents house. And John would always be buying new keyboards, I'd always be buying more outboard equipment, you know, Sound Staff compressors, all this stuff. And yeah, we just kept building it, and building it until we built our own sort of purpose built studio. We were hiring studios out, but sometimes we found that you know, it cost a lot of money. You'd come away thinking it's not as good as it sounded on those huge speakers you'd have in there and you'd get a false idea sometimes. Plus you can't go back and make the changes easily. So having our own studio made such a difference. So yeah, we just worked from that and yeah, we had a very impressive setup, I think
It sounds like it.
Duke – So In Love With You
So pretty early on in your career with Full Intention you had huge crossover heads with your remix of Duke So In Love With You and your own America. I love America, which in 1997 spent two weeks in the US Dance Chart at Number One, as well as charting all over Europe. What are your memories of those successes?
Wow. Yeah, I love America, That was funny because we did that as pseudonyms. When we set up Full Intention, we decided to give ourselves American names, just to see if we would do better if instead of it looking like it came from the UK, it came from America, funnily enough with a track called I love America. And it worked, yeah, it really worked. And the buzz, we had everybody from Pete Tong to Armand Van Helden to Tony Humphries playing it, all the people that we've always looked up to, and all of a sudden they're really on it, which was fantastic. So that was real buzz.
We went to places like Rimini to PA the record with the group we had. And Canada I remember doing places like that 48 hours, all these kind of whistlestop places around the world, which was amazing. I think that's the first time we felt as if we had a club hit. I think that's right to say, which with a touch of radio, I think in the UK got to about 30 in the national charts, which is pretty amazing. Nowadays, I don't think we'd get anywhere near that, it's just you know, club music was more celebrated on radio then.
Yeah, it was a huge track. So what are some of your favourite memories of that mid 90s period of your career?
I think, well the The Duke one brings back really good memories. Funnily enough, we were in Rimini on this boat and a DJ played this version of it and I just thought this is a good song, it just felt like it needed a little bit more energy underneath it. We got in touch with a record company and they sent us the parts and we turned that into something that seemed to blow up, which was great, it went into the charts and everything and that was amazing feeling. And then obviously, we started working with people like Barbara Tucker, Lenny Fontana with Powerhouse, and all these acts, Jennifer Lopez, Brandy, Mariah Carey, the list goes on and on. Now we were working direct with American labels, which was a fantastic feeling.
We put a lot of effort into those records, people probably don't realize, but we would record live strings, live horns on those records. And they were remixes, bear that in mind, we weren't just stripping it down and adding a baseline, we were trying to make this into a big musical thing. And what was the best part about it was the fact that the record companies were then taking our remix and turning that into the A side. So that became the main mix. And you don't get that, that often. And we started to have a run of those which was amazing, thinking right we'd better just keep this momentum up. But you know, we were recording 10 piece string sections. It was expensive. But again, the budget was there back then.
And worth it, obviously if you are hitting the charts regularly it keeps the name going. It's worth putting that extra effort in and you stand out because other people aren't doing it. 
Absolutely
Well it's paid dividends obviously over the years.
Hopefully!
So given that you're still regularly hitting the top of the download charts and achieving huge streaming numbers. What do you think has been the secret to Full Intentions longevity?
We tried not to take anybody on that was too commercial. It's an easy trap to go into when you suddenly get lucky with remixing. We've seen other remixers do it in the past. They start taking on every artist that gets thrown at them for the money. And some of those artists are quite pop and commercial and the voice is not soulful. So we knocked that all that on the head. And we decided we wouldn't go down that route. And I think that helped because it helped maintained credibility for a bit longer. The downside is we probably should have produced a lot more of our own singles, but the remixing sort of just took on such a life that we you know, we did make a lot of singles, but not compared to the amount of records we remixed.
Sex o Sonique
So over the years you have also released under a huge amount of aliases, including Hustlers Convention, Sex o Sonique and Disco Tex. Are there any of those releases, which really stand out for you now?
The Sex o Sonique record, we get asked a lot for. Back then again, we were putting out so many records, we had to put some of them under pseudonyms and Sex-o-Sonic was one of those. I thought it was you, I get requested a lot to play that if I'm out or on my Twitch stream, People say "oh can you play that?" So that seems to have held the test of time.
The Weekend
So from the 00s onward, you also quickly rose to prominence as a solo producer, with a string of chart successes, including The Weekend and Borderline. Looking back over that period of your career was all a bit of a whirlwind, or did you have a perfectly executed production plan?
Oh, that's interesting. I knew that I wanted to create a slightly different sound to what I was doing with Full Intention. I did take a year off from being involved in house music prior to The Weekend. I produced this band for Island Records, sold that in a totally different sort of style, kind of a post punk sort of thing, very funky, but just different. And then when I came back, I kind of knew exactly the sound that I wanted to do, a kind of French twist to it and just something that was anthemic. That's the thing and you know, it took a little while but then it did come together and then the other singles Borderline and that, yeah, I kind of knew the sound that I wanted for that whole album.
Again, it was a whirlwind. Because this is the first time that it taken me from being someone who made club records to someone who's made a pop record. And you do cross over this territory where you worry about people seeing you as not cool anymore. Even though you got record called The Weekend, and everybody loves it, and I get that, you know, I totally get it. But you do cross-over to think well, this record is getting played so much on radio, you know, club promoters, are they actually going to book me? And that's what happens, you start getting booked as well for more commercial gigs that you don't know until you get there and people are expecting you to play The Weekend and loads of records in the charts like that. And you're like, no, this is not what I do. What I do is make club records and the whole buzz is playing people brand new records. And that was a real problem for me, I struggled with it, what I wanted to play and what people expected me to play. So in 2012 I said no, I'm not going to go out as Michael Gray anymore and I didn't do that until about 2018, I decided to come back and reset. Hence with all these new productions, keeping it clubby, not even trying to get on the radio. If radio play these records, that's great, but you know, don't get me wrong though. I'm so proud of The Weekend and that whole album. Really, really proud and I get a buzz when I hear any DJ play it.
It's back again just now I noticed there's new mixes kicking about just now?
Yeah, I remixed it myself, you know, I put live strings on there and Mousse T remixed it, who's on the (Scottish House & Disco Festival) lineup I know. And Low Steppa. It was quite lovely. because I was able to just ask these people that are friends, would you like to remix it? And they said "oh, yeah", straight away. So I was like, oh, this is easy. It's nice when other DJ's like what you've done?
Yeah, everyone's got good memories of that record. I think it was just a real fun party record. It was right at the boom of the funky house scene back then and it was one of the biggest tracks of that era.
So obviously, over your career you've been really well known as a remixer with Full Intention and in your own right. What are some of your standout remixes from across your career?
Recently it has been a track called Optimistic which was a cover version by Brian Power and Lucita and that seems to have sort of worked across the board for me. I recently remixed Marvin Gaye What's going on, but like a DJ thing only, but that seems to have everyone biting their hands off for it and a few others, Chaka Khan.
Recently, I've remixed a track by Firefly Loves going to be on your side, which is like an 80s Boogie record. But it's amazing, now I'm finding the you don't have to always remix the obvious records. And it doesn't matter what the age group is, people seem to love it. You know, it's like whether you're 18 or 20, or whether you're 50 it seems to go across the board and remixing records that maybe got forgotten about in the past. Bringing those up to date is a real buzz.
Grammy Nomination
So you were nominated for a Grammy for your remix of George Michaels track Amazing. How did it feel to be recognised for such a prestigious award?
Oh, wow, that was a massive, massive buzz because we didn't see that coming. And yeah we straightaway booked our tickets, get across to LA, went to the Grammys, got our suits on and everything. And it was funny, because half of me was thinking, yeah, I'd really love to win this, it'd be great if Jon and I win this, this would be fantastic, amazing. The other half of me was sitting there thinking no, I'd rather not win it because then I don't have to do a speech. I was just thinking, oh I don't want to stand up there and say something.
It's a big room of people, isn't it, to be doing a speech in front of.
So I kind of wasn't that fussed whether we won or not. I know it's a weird thing to say. However, what I love about the Grammys is the fact that you still come away, even though you're nominated with a medal and a certificate, which you know, is all mounted. It sits in the kitchen at the moment. And it's great there's a category in the Grammys. It's so disappointing that in this country, we don't have it. We don't have any recognition for any club records or remixers. It's such a shame.
Which is ridiculous with a country which has such a big pedigree for underground music.
Exactly, it's crazy. And it's so nice that Americans still see that even though House music is still very, very big here compared to maybe America in that respect.
So do you think the nomination opened any extra career doors for you as a producer?
I'm not sure, I think it did but at the time when we got that, I was particularly finding that I felt like I was on a treadmill or like a factory remixing records where the record company would say "Oh great, could you remix this record, just like the last one you did?" And you're starting to get, hang on a second now, our creativity is slowly going out the window because we're not doing what we really want to do to that record. So by the time we got that award, I think we'd stopped remixing as Full Intention. That was when I took that break. I went on and worked with this band, Jon went on and did some solo stuff as well. Yeah, I think The Weekend had come out and just been released at that time and I was working on my album when we got that award. So it kind of didn't matter. But I'm so grateful to that. It's massive, it's something you never think you're ever getting your life you know.

Fantastic, nice thing to have sitting in your kitchen. It will definitely bring a smile to your face when you're having your coffee every morning.
When you're sent over a track potentially to remix. What do you look for in the project before you agree to it now?
Oh easy its melody line. If there's a vocal line, the chorus melody just does something to you, then I know and sometimes I will ask if I could just be sent the acapella or just the vocal because sometimes the backing track that they've got on the original underneath can completely put it into a different place. But once you hear the vocal on its own, you can then hear the chords and how you want it to sound. So it's really about that. If it's an old classic record, like we talked about Firefly, that is just a cross between nostalgia wanting to rework a record that I used to play years ago. All the parts are brilliant, but that chorus is again just so good.
Brilliant. So what are there any artists that you would have loved to have worked with, which never quite happened?
Well, probably the only person maybe was Michael Jackson, at the time, about a year after I had The Weekend and it had blown up, I got a call from my publisher saying, "I can't tell you too much, but Michael Jackson is coming over, and would you be interested?" I actually thought it was a wind up. I really thought it was a wind up, but then various things happened and obviously, we know what happened in the end and the whole thing didn't really come together. But it's a shame. To be honest with you, it would have been so nerve racking, I think I wouldn't have done him justice.
I don't know about that!
But it's nice to be considered isn't it sometimes.
3 Essential Michael Gray Tracks
Definitely. So here's a difficult one for you. If you had to choose three tracks, which have been utterly essential in the overall success of your career, what would they be and why?
The Weekend, I would say it changed my life from a musical point and a career point. I love America, because that really suddenly put us into the realm of everything, and probably Duke, So in love with you, I think maybe those three records, I think so, as it stands. It's very hard, you don't really know how much something's changed you or your career until 10 years goes past and you look back, maybe with rose tinted glasses. Like you said about the whirlwind, you don't realise at the time. You're so busy chasing the next single and, you know, you're wondering, is this person playing it? Do they like it? And you're so contained with that, it's not until you look back and think oh, yeah, okay, that did all right. And I've got really good memories of that.
Remixes
So you have been very busy on the release front recently, with some brilliant remixes of all time classics, which have really hit the mark for High Fashion, West End and Easy Street. What's your process for remixing one of those evergreen tracks? And what are your tips for the producers among our readers and listeners for taking on a similar project to try and make it their own.
So when it's a classic track, like that, it takes quite a while to remix those tunes, because you had the multitrack, all the separate parts, and then you've got to get it in time, every part because it wasn't played in time, it was played with a live drummer. Obviously, I'm always trying to nudge up the tempo, if I can, without it coming across as too fast, because then you lose the groove. So then you have to time stretch everything. It's a labor of love, that's for sure. And you want to hit a new market, plus, you also want to hit the connoisseurs, the musical snobs like me, because you want them to go, yeah, okay, I like what he's doing, you know. Trying to get everybody happy, you don't want it to sound like you've had no care about that record, you've just done it for the money and I don't want that to ever come across. As some of these you don't do for much money at all, because you do it for the love, you know, if you have fond memories of it.
With producers coming up now I just think that go with your gut instinct, if that record that you're about to take on, you feel as if you've done the best job and it gives you that buzz. You will know definitely when you're making the record, there'll be a point in the studio and you're sitting there and you've got the baseline going and you've got the right drums on, you've done this, and you've put the right drop in at the right place, you'll know, something will happen then you will know that you've got something. And don't be put off when you play it to a few people and they say it's not for me, because there's always a record label that will normally take it on. And you have to believe in yourself. 100%, you've got to believe in yourself and it's it's not easy. It didn't happen for me just like that. A lot of perseverance.
I would definitely say from all those remixes from those labels that I was talking about that your approach is really sympathetic to the original, but it really brings it right up to date for 2022 for the sound and the dance floor now.
What does your studio look like now, do you still use lots of hardware? And what is the most essential bit of kit in your production flow?
My studio, I'd say equipment wise is about a quarter of the size and I get a better sound now than I did then. It did look impressive having a huge mixing desk in front of you, like you see on some of these programs on television, which always makes me laugh because you kind of know that if it was a dance record or a rap record. You know, they're only using a few of those channels, it's all what we call in the box. It's all on the laptop. But the sound I get now is much, much stronger, bigger and everything than I have had before. So yeah, it's quite a contained studio in all honesty. I've got a few bits of classic equipment, a UREI compressor right in front of me here, and a few things like that. But yeah, things have changed. But for the better. You can recall stuff, you know, when we were working on those huge desks, you know, if we'd finished the remix or I'd finished the record and sent it to the record company, but you're waiting for them to say "yes, we like it or no, can you change this?" And while you're waiting, you can't do anything on that mixing desk and if you do, scrub it, you have to then mark up every single channel, every cue setting, and now we just press 'save', and away you go. It's not unusual for me to work on two or three records in one day now, because I work on something, I think okay, I've heard that chorus too many times now, I need to come away from it and work on something else. And then I go back to it, and I hear it with fresh ears again, you're like, ah, "what was I thinking that wasn't as good as I thought it was, or that is really good".
Then & Now
What are some of the plus points of being a DJ and producer now in the 2020s? And what, if anything, do you miss a bit the scene from the 90s and the early noughties?
What I miss is not having to be on social media all the time, tweeting stuff, or trying to keep up with all your peers. I can't do what I used to do there, just sit back, make the record, put it out for someone else to promote. You definitely have to do it and I get it now, it took me about two years, the last two, three years. You know, I thought, right, I've got to do it, I've got to do what everybody else is doing. So I'm a bit behind on that, in all honesty.
I prefer it now. I prefer making records and DJing. Now more than I did 10 / 15 / 20 years ago, without shadow of a doubt, I feel as if it's my best time, because I don't feel as if I've got to prove something all the time. When you first start off, you're always trying to be accepted. And now it's lovely when, especially a younger DJ or someone younger comes up to me and says, "oh, I really like what you've done", and they are following you and stuff like that. Likewise, also anybody, you know, who's older, who's followed your career all the way through, it's a lovely feeling to know that they know what you've made. And if you go and DJ somewhere, they roughly know what you're going to play and you've got the right audience in front of you.
Do you think the crowds are more knowledgeable now?
That's a really good point. I think so, because of social media, yeah. It really does depend where you play. Certain clubs I can play and you can play quite an upfront set. Other places you might find you've got to dig in to a few classics a bit more often than normal. Again, some of the best clubs are the ones where it's a resident DJ, who's there every week or every month or whatever and he has that consistency of that crowd. He has the crowd, you know, that works a lot better, I think so, you know, all credit to resident DJs, they sometimes don't get enough credit, I think.
That's something that's maybe been a little bit lost recently. And I think probably down to the fact that there aren't as many nights, there aren't as many clubs now. So there aren't as many slots for resident DJs to learn their trade, you know, as we had to do. You had to do those five, six hours shifts two, three times a week so you knew what you were doing.
I remember those days, I don't miss that I must admit.
I still enjoy the really long sets, but not four or five times a week,
Oh yeah, I like a long set. That's what I was gonna say. When I was at 19. I was doing six gigs a week. And on Friday and Saturday's, I'd do two in one night.
That's a lot of DJing!
Sultra
You also have your own label, Sultra what can you tell us about that? And what are your plans for the label looking forward?
Yeah, with Sultra I set up a few years ago just to release my own records, sort of a cross between house and disco. However, I've actually signed my first single ever to the label yesterday, these guys called Two Suns and this record they've made called So good. I played it on my Twitch show, which I have on a Friday, they sent me like a radio edit of it, just the edited version and I liked it. I played it, I saw the reaction from people watching. Yeah, and then someone put the chat you should sign this for Sultra and you know what maybe I will do this, because I know it's a good record. You know, again, we were talking about gut feeling. it's just a good house record so I'm gonna do a little re-edit of it, but that's about it.
All the stars were aligning there by the sounds of it.
I hope so, yeah, I'm not gonna make a thing out of this. There might be the odd record. But I won't be signing records, only because I really don't have the time to really concentrate on that.
Yeah, running a record labels another full time career, isn't it?
Yeah, well, at the moment, I've been working on new singles, what I call an albums worth. And that's been quite heavy, because when you're writing from scratch, writing disco records from scratch, you're not trying to copy some obvious riff or sample or loop or a vocal, you're literally going from scratch with various different singers using you know, string quartets, horn sections, live drums, live percussion, it takes a lot of time and energy, I would say I'm three quarters the way through it. I'm really, really pleased with all songs. I'm not sure whether I'm going to put it out on my own label though. I'd probably like to go to another label for that
Safe to say don't do things by half by the sounds of it when you're producing your own stuff?
No, I decided with this one I'm just going to go for it and try and see if I can make authentic Disco. I mean, I've been doing that for the last two years, but I'm trying to even push myself a bit more
Wonderful. Looking forward to hearing it.
Favourite Gigs
So you are equally in demand as a DJ now as you have been at any point your career, what are some of your favourite places to play right now?
Right. The two favourite places at the moment are Downtown Disco in Leeds at Sheaf Street, which I absolutely love. I've played there four times and I'm back in November. It's run by Ian Ossia and Mark and it's great. Just a really, really good vibe. And I love playing for Glitterbox. So I'm playing for Glitterbox in Croatia this summer, which I'm really looking forward to, always because it's the right people. You know people who have literally come to hear uplifting tracks or a few classics, new Disco stuff, modern Disco. So you know, you've got the right audience right in front of you. Just off the top of my head. I would say those two, but there's loads of places I play, which I think oh that was really lovely people and I had a great time.
Fantastic, yeah Glitterbox have really nailed that, haven't they?
Absolutely, yeah praise to Simon Dunmore, it's amazing what he's done.
Scottish Disco Festival
So upcoming, you are appearing at the Scottish House and Disco festival in Glasgow on April the 16th. What can we expect from your set that day?
Well, I'm really looking forward to this one, actually. And I know quite a few people who are coming down from Glasgow as well, which will be nice. And I think really a lot of sort of energy, I think I'm playing about seven o'clock in the evening, which is sort of mid set. So I will see how I go. But you know, definitely I'll be dropping everything from my Luther Vandross remix to, you know, Glitterbox favourites, right through to some new tunes, and my Marvin Gaye remix. And I'll probably dig out, I know I will some Full Intention, sort of Disco classics. So we'll keep it fairly high energy as well. It really depends. I don't want to bang it out of the park and it's not fair for the DJs on after me being on so early.
That's probably quite a good time I think, because folk should be warmed up but they won't be worn out. So I think the energy in the room will be big at that point. So yeah, it should be good.
That's a good point. I have found sometimes with these festivals, like last year, I did quite a few and there's so many Disco festivals now, which I love doing. But sometimes if you do go on towards the very end, and they've been at it since two o'clock in the afternoon and you go on at one in the morning, it's tough. I get that.
Yeah, absolutely. They're a little bit worn out by that time.
Which other artists on the bill are you really looking forward to checking out?
All of them. I mean, I will be staying there. I'll be making sure I enjoy it. I fly in at lunchtime. I love watching other DJs playing what they play. So John Morales, Nicky Siano and Mousse T. Mousse T and myself, we're good friends and I respect where he plays. Yam Who? obviously, Jaegerossa, God there's loads on really, isn't there?
Yeah, It's a cracking bill, it really is.
I really hope it's gonna be a good one. I think this is the first one, isn't it?
It's the very first one. Yeah, I think Scotland has been absolutely dying for something like this for years. So hopefully, it's a big success and it goes on to be an annual or biannual event, that would be wonderful so fingers crossed.
Yeah, I hope so. That'd be great. I think you're right. I have heard that people have been saying that, we wish we had something in Glasgow.
It's only the once in a blue moon Glitterbox parties, which I think are the only things along the same lines. There's always been a huge Disco loving crowd and soul loving crowd coming out of Scotland, but there haven't been enough events for them recently, I don't think.
Michael Gray Radio Show
You also host a monthly radio show as well as live broadcasts on Twitch. What can you tell us about those? And where can we find them? Obviously, apart from being on Twitch 🙂
Mi-Soul, I do a show once a month on the last Saturday of every month, and I am on from seven to nine. And I call it a Mastermix show because it's kind of mixed but at the same time I'm also chatting as well. And I have a guest mixer as well. And then my Twitch shows are every Thursday from seven to 10. The first hour I always play classics on vinyl, so Soul, Funk and stuff like that. And then after that eight o'clock, it's all up front, re-edits and that. And I get such a buzz from it because it's live, it's not like a recording, you're there. And I can interact with everybody and seeing people come from all over the world for that Thursday night is such a buzz. You know, there's the odd time I can't do it because stuff becomes too busy in the studio and I just physically haven't got the time. But I love doing it. It's a great way of testing records out, It's a brilliant way, because you see it in the chat if you play a record that people like, Oh, hello, I've got something here. It's a great way testing.
I guess it's as good as club testing almost? You know, you're getting that immediate reaction
Exactly they're dancing with their fingers. A lot of them tell me though "I'm dancing in my kitchen, now", "I'm really going for it" and they put "I've lost it now completely". You know, you think this is a good sign. This all came out of lockdown. And really, I was meant to stop doing it. And I just kind of couldn't because I've been doing it over a year now and I just get such a buzz from it and the people are so lovely, and they're so loyal. I mean, anybody can join. It doesn't cost anything at all, but it's www.twitch.tv/michaelgrayofficial if anybody wants to join me on a Thursday, if they've got nothing better to do.
What else from Michael Gray in 2022
So last question. What else can we expect from Michael Gray and 2022?
Oh, well, I kind of answered that. I suppose in a way. It's literally all these new singles but that might be towards the end of 2022 and 23 and also a lot more remixes. There's quite a lot stacked up already and quite a lot of gigs which is really good. You know, I get a real buzz from going out and playing. I love going to gigs but I never like coming back, I hate the travel coming back on a Sunday when you're like "oh I want to be home".
Brilliant so, well it looks like you've got packed year ahead by the sounds of things.
Yeah very busy, lovely to speak to you John
Cheers take it easy, have a good day
Cheers mate, bye bye bye
For more info please check:
Michael Gray Facebook: https://www.facebook.com/michaelgrayofficial/
Michael Gray Soundcloud: https://soundcloud.com/michael-gray
Michael Gray Instagram: https://www.instagram.com/michaelgrayuk/
Michael Gray Twitter: https://twitter.com/Michael_Gray_uk
Michael Gray Twitch: www.twitch.tv/michaelgrayofficial
If you love this interview please check out our interview with Disco Legend Nicky Siano HERE.
Like what you hear? To help support LV Online buy us a coffee via Ko-FI. Click HERE
Tags:
disco
,
Full intention
,
Ian Ossia
,
john morales
,
michael Gray
,
mousse t
,
Scottish House & Disco Festival
,
Scottish House And Disco Frestival