Dynamic disco act Midnight Magic talk us through their favourite live gigs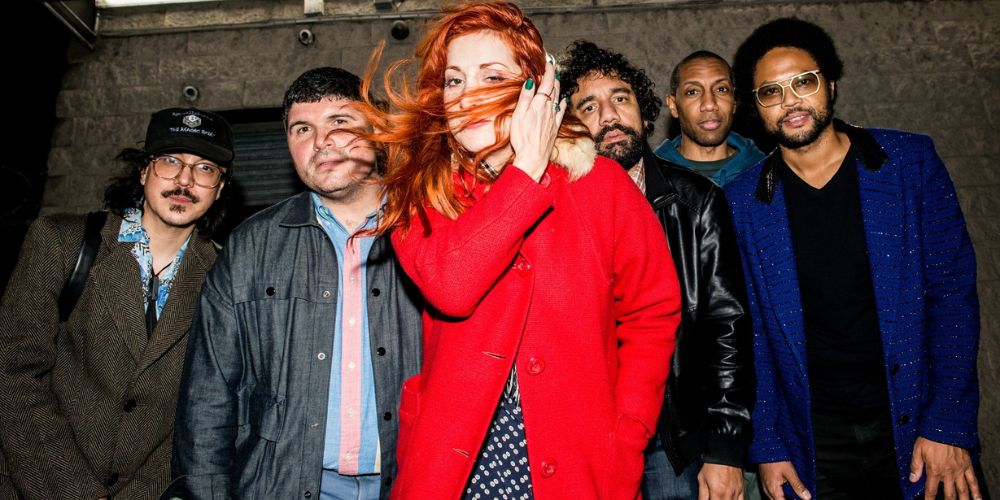 Dynamic disco act Midnight Magic are known for their seminal classic 'Beam Me Up', originally released on Permanent Vacation, then rebooted back in 2021 by out favourite Brooklyn label Razor-N-Tape. Shortly to release another disco bomb 'I Found Love' back on RNT, the EP is pumped up by reworks from luminaries like Dimitri From Paris & DJ Rocca, whose remix you can check below, Sophie Lloyd and Derrick Carter no less. Although solid producers, their roots are firmly in live performance, we ask Andrew Raposo, to talk us through some of their most memorable live performances about the globe.
Midnight magic release 'I Found Love' on Razor-N-Tape 24th March.
Grab it via: https://razor-n-tape.fanlink.to/IFoundLove
Underground party, Copenhagen, Summer 2011:
Years ago we realized we couldn't tour sustainably as a "full band" (7-9 members on any given night). So, we created a more portable edition of the band rooted by our rhythm section and our singer Tiffany Roth. We toured like this most extensively. If budget allowed more than the "core-four" of bass, drums, keys, and vocals we'd try and bring at least two of our horn players.
In August of 2011, we were invited to play this psycho experimental concert experience by the promoters of Copenhagen's infamous Distortion Festival. The plan was to have three separate musical groups perform in three locations on the same campus and then (somehow) blend them together as a "live mixtape." We couldn't afford to bring more than four of our members and they asked us to include our horn section…so Carter, our band's first horn player, joined us on solo trumpet and we asked our friend and Danish music superstar Mikkel Hess to play drums…with only soundcheck to rehearse with him.
The "live mixtape" concert (which included a lot of very brave Copenhagen music fans getting drenched in classic Danish wet summer weather) went off without a hitch despite how logistically complicated it was. But the most memorable part of that trip was being spontaneously asked by a bunch of local DJs if we'd play a renegade party in a pedestrian tunnel under the city that same night.
We "borrowed" amps and drums from the official gig and took off in a beat- up old VW bus some dude offered to drive us in (we later learned this man was known as "Disco Lars"). We set up in the underground tunnel as hundreds of kids started streaming in. Tiffany plugged her mic into the DJ's mixer, we debated (with only two inputs) if we should mic Carter's trumpet or the kick drum—we went with kick drum—and we lurched into one of the most violent and (literally) explosive shows we ever played. Kids were shooting off confetti cannons, I'm pretty sure a speaker blew up, Carter played most of the show being carried around by the crowd. It was the moment we realized we could throw down anywhere, anytime, for anyone.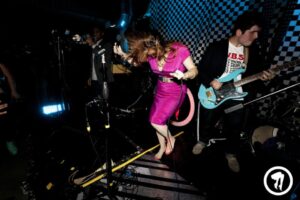 Learning Secrets 8th Anniversary Party in Austin Texas, Winter 2012:
Our friends Ian Orth and Jeramy Neugent founded the first indie-dance party night of the oughts in Austin in 2004. For their 8th anniversary party at Austin's Beauty Bar, they asked to play live which was a great honor! We flew down as a six piece, crashing at one of the DJ's houses, and got all dolled up to rock the show as the elegant New Yorkers we are.
This was one of the first shows from the early years with Caito Sanchez on drums (in the beginning, Max Goldman played drum kit and Caito played percussion and guitar—this would change about five years later when Max left New York for greener pastures).
We remember this gig fondly as it was one of the first time we really felt like we had made an impact outside of New York and Los Angeles—we had fans there who knew the songs and the crowd was incredibly giving. I don't recall exactly how many people were there, but it felt like a gang of dancing and yelling rioters who were as much a part of the show as we were.
WBAR Winter Formal "Goth Cruise," Barnard College, New York City, Fall 2012:
This was our second time being asked by the organizers of the Barnard radio station Winter Formal (which really is as far from anything "formal" as you can imagine) to play on campus and we had just gotten back from opening for Cut Copy and Washed Out on a five week tour (this was our first really big US tour).
We were confident and tight and had formed an incredible bond during that tour—it was like a rebirth for us many ways. Every time I watch a clip from this show I'm amazed by how good we sound. I don't think we've ever played better as a band.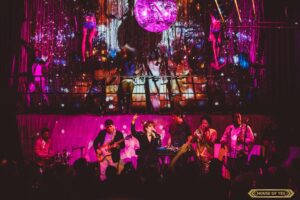 Trophy Bar and Terminal 5 Shows, Summer 2012 –
If I'm selecting a lot of shows from 2012 it's because it was a big growth year for us as a band. "Beam Me Up" and "Drop Me A Line" were both established DJ selects, we had released our first album and a follow up EP, and we were being asked to play some of our biggest shows to date. Most significantly, we had amassed a local fanbase that we remain eternally grateful for.
Within a couple weeks of one another we played our biggest show in New York to date, supporting Cut Copy at Terminal 5 and headlined one of our favorite small clubs outdoor music festival. The Terminal 5 show introduced us to so many new fans and we really knocked it out of the park. It was the first time we heard a couple thousand people cheering for us all at once. The show at Trophy Bar was packed with familiar faces and unbelievably great vibes. It felt like a home coming and I can still remember the love coming off the crowd as if it were yesterday.
Fashion photographer Aaron Cobbett followed us around that Summer shooting our evolution from space to space and made a really amazing video for our live cover of Native Underground's "Push For Love" out of it.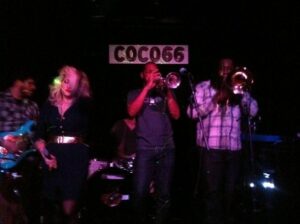 Black Weekend Festival, Chamonix, France, Winter 2013 –
We've played a lot of amazing shows before and after 2013—to audiences from Tulsa to Kazakhstan—but nothing quite compares to our experience on the mountain of Chamonix in France that year. We had played the organizers legendary festival Calvi On The Rocks (which I could probably write a book about) the year before and they asked us to play their winter festival soon after.
Flying into the snowcapped alps was worth the trip alone but as we drove up the mountain we realized this was not going to be like any festival experience we'd ever had before. We loaded into the show by way of gondola—as in, like, a big enclosed chair lift—timing our tossing of flight cases and bodies with the automated opening and closing of the doors.
We set up in a ski chalet sponsored by Perrier and played to pack of sunburnt ravenous partiers who had been drinking beer and schnapps since getting off the slopes just hours before. We were all high, literally, from the altitude and aside from flashes here and there I barely remember a minute of it…images of champagne bottles being passed to Tiffany one after another and snow packed windows made it feel like we were at a rave in Narnia.
My lack of recollection is precisely why this one stands out—it was like a dream you wake up from with a sense of joy without knowing exactly why.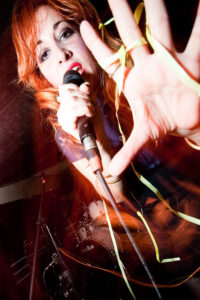 For more info on Midnight Magic & Razor-N-Tape check:
Midnight Magic Facebook: https://www.facebook.com/midnightmagicsounds 
Midnight Magic Soundcloud: https://soundcloud.com/midnightmagic
Midnight Magic Instagram: https://www.instagram.com/midnightmagicny/
Midnight Magic Twitter: https://twitter.com/midnightmagicny
Razor-N-Tape Facebook: https://www.facebook.com/RazorNTape/
Razor-N-Tape Soundcloud: https://soundcloud.com/razor-n-tape
Razor-N-Tape Instagram: https://www.instagram.com/razorntape/
Razor-N-Tape Twitter: https://twitter.com/RazorNTape
Like what you hear? To help support LV Online buy us a coffee via Ko-FI. Click HERE
Tags:
Midnight Magic
,
razor n tape