Natasha Kitty Katt on DJ Mixes & Disco Funkin Vol 3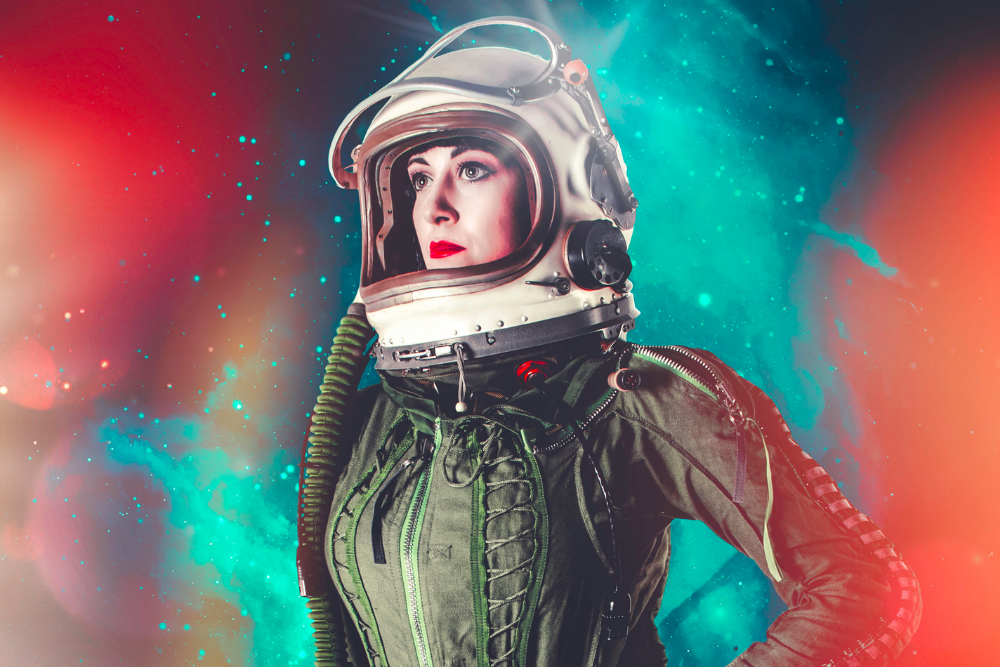 Natasha Kitty Katt on DJ Mixes & Disco Funkin Vol 3
Natasha Kitty Katt has had a stellar last three years. Releasing some truly brilliant music, her lauded production skills and a constant stream of chart bound releases led to her travelling the globe to showcase her DJ skills. Pre-covid there was a regular stream of high profile shows and appearances for the club behemoth that is Glitterbox. Natasha also recently re-launched her label Ghetto Disco with a the very tasty Kosmic Oscillations EP. A real rising star in the disco universe Natasha's latest project see's her pulling together the latest Disco Funkin compilation for the excellent Bombstrikes label. Following in the footsteps of Shaka Loves You and Flevans who compiled the previous editions Natasha's mix is a showcase of her well practiced DJ skills, excellent taste in music and also her ability to create a real atmosphere with her mixes.
Natasha's entry is a combination of modern Disco, Boogie and Nu Disco sounds. Focusing on both the groove along with some stand out vocal tracks. It's a mix which ebbs and flows perfectly creating a warm feel good party vibe. It's highly recommended for restoring some well needed smile inducing balance in 2020.
To celebrate the release of the album we spoke to Natasha about the process of compiling the mix and to get some tips on compiling the perfect mixtape as well as some of the pioneers of the mix that she followed across her career. You can check a mini mix of Natasha's Disco Funkin Vol. 3 below.
Thanks for speaking to us today about your brand new Disco Funkin Vol 3 compilation for Bombstrikes.
Firstly please can you tell us about the project, how did it all come about and how long has it taken you since the day you said yes to the day it landed in the shops?
I was approached by Tim & Glenn to curate 'Disco Funkin' Three' and it's safe to say, I was over the moon to be asked. This project has been in the works for months! This has been a year of uncertainty, so a few hurdles were met along the way, but look where we are now!
What are the different dynamics of creating a mix compilation such as this one for commercial release with say creating one to promote a gig or for your own PR needs?
I'm always true to myself and the music I believe in. The line doesn't blur for me when it comes to releases. What you hear is pure Katt vibes.
What would you say is the most fun aspect of creating a compilation such as this and what is the most difficult?
Putting together something that really showcases the sounds you love is a special thing. The hardest part comes down to licensing. However, in the end, it's all worth it and I've loved every aspect of this project.
The Disco Funkin' series has previously been helmed by Shaka Loves you and Flevans. Did you check out their editions before you started work on your own one?
I was honoured to be a part of the Shaka Loves You compilation. I'd heard both and loved the way each series represented the artists selecting the music. I wanted this to be a true reflection on my sounds.
What can you tell us about the theme of Disco Funkin' 3? What was the overall vibe that you were going for?
Music to make you move!
With the current worldwide restrictions on electronic music and events do you think that DJ mixes have taken on a renewed relevance in 2020 and how do they compare with say the growth in live streaming?
I always think music is important and should be shared. Without the arts, this year would've been even darker. The sooner the government realises what the industry does, the better!
Which artists right now do you think consistently turn out stand out DJ mixes?
Red Greg is the man. This guy is a disco wizard.
Were there any tracks that you were really keen to include on Disco Funkin 3 but that you weren't able to for licensing reasons?
I wanted to include some older disco jams, like my solid favourite, Rena Scott – Superlover, but no such luck!
What 3 tips do you have for budding DJ's on how to put together the perfect mixtape which will help them get noticed?
1. Play from the heart
2. Be true to the music you love
3. Make sure you lock those beats in & flow
How does the style of mix compare to how you would approach a live DJ set?
I always play music I believe in and that means something to me. I like to share that feeling across the mixes I record and the sets I perform.
Over your career what other artists DJ mixes do you find yourself coming back to time and again and do you have a favourite that you gravitate towards? 
For this I have chosen The Fluffer by Red Greg, it's stunning from start to finish. This is the sound I absolutely love. Real, raw unapologetic disco.
A hell of a lot more 😉 so stay tuned.
Grab the compilation from: https://bombstrikes.bandcamp.com/album/disco-funkin-vol-3-curated-by-natasha-kitty-katt
For more info please check:
Natasha Kitty Katt Facebook: https://www.facebook.com/NatashaKittyKatt/
Natasha Kitty Katt Soundcloud: https://soundcloud.com/natasha-kitty-katt
Natasha Kitty Katt Instagram: https://www.instagram.com/natashakittykatt/
Natasha Kitty Katt Twitter: https://twitter.com/DJNattKittyKatt
Bombstrikes Facebook: https://www.facebook.com/Bombstrikes
Bombstrikes Soundcloud: https://soundcloud.com/bombstrikes
Bombstrikes Instagram: https://www.instagram.com/bombstrikes/
Bombstrikes Twitter: https://twitter.com/Bombstrikes
Bombstrikes Bandcamp: https://bombstrikes.bandcamp.com/
Tags:
Bombstrikes
,
disco
,
natasha kitty katt