Pete Herbert Talks Remixing James Bright, Andrew Weatherall, 90's London Clubs, Dicky Trisco & Music For Swimming Pools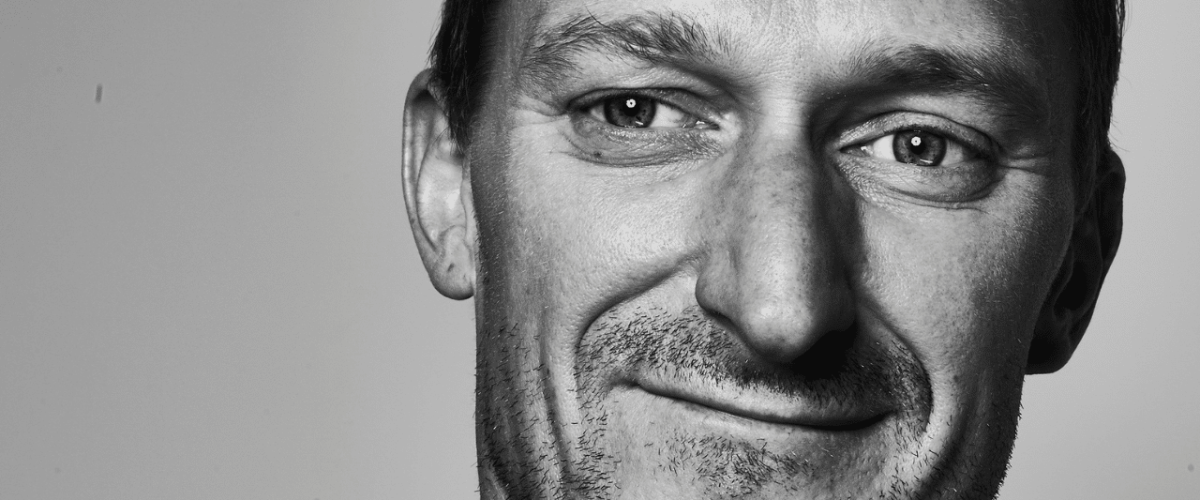 An interview by the Insider for Le Visiteur
London's Pete Herbert has a career in music spanning the best part of three decades. He was co-owner of Atlas Record shop in the mid 90's which saw his paths cross with many of the best DJ's and producers coming out of London at that time. Evolving as both a DJ and a hugely well regarded producer Pete's has since travelled all over the globe playing clubs, events and sunset sets the world over.
With a sound which touches on Balearic, house, disco and all points in between he has gone on to become celebrated figure behind the decks renowned for this quality and depth of his DJ sets. As a producer he has built a equally strong reputation releasing music across the electronic spectrum in his own right as well as collaborating with Phil Mison as Reverso 68 and Frontera and Dicky Trisco with whom he also helmed the label Maxi Disc.
His latest releases see's him step up to remix James Bright's must have Balearic gem Raise, it's a track which fuses elements of Balearic, reggae, dub, and cosmic electronica with a subtle alt-pop ambience into a track which is perfect for those long summer Ibizan days.
Pete has taken the track from the poolside off towards the dancefloor whilst still keeping that decidedly sunny exterior. It's a masterful remix.
To celebrate the Insider spoke to Pete about the remix and his long and celebrated career.
Grab James Bright – Raise EP including Pete Herbert's remix from: https://smarturl.it/raiseep-jb
Pete Herbert Talks Remixing James Bright, Andrew Weatherall, 90's London Clubs, Dicky Trisco & Music For Swimming Pools
It's lovely to talk to you Pete thanks for taking the time. How have you been this last year? Have you managed to keep musically motivated?
Thanks for the chat, all is ok with me considering a life changing last year and that's without the pandemic. We moved across continents, started again from scratch, and had a baby daughter. Music has most definitely been a positive force for me and kept me going I would say, and I'm sure I'm back to where I was a few years go in terms of production output and general musical motivation.
London
Are you a born and bred East Londoner? Is that where you are now?
I was actually born in Northwest London, and then grew up in Trinidad as my dad took a job out there straight after I was born. I've been in East London the last 20 years or so, having moved here by chance as I was looking to move out of a place over west, and I thought I'd give it a go. Prior to that I'd only ever been to Old Street on some wet Monday nights to The Bass Clef (pre–Blue Note club) for Norman Jays Original Rare Groove Night. After a few years out in Bali more recently I'm back here again in the east end area.
What's the mood like where you are? Are people starting to relax?
Yes, now the suns out it's like business as usual around these parts, so it's quite odd and a bit scary. I'm definitely in the cautious/slowly does it camp.
Are you starting to get a few gigs again?
Not too much at present, though I'm happy with that and as mentioned, taking it easy coming out of this. I'm currently working with the Two Tribes Brewery in Kings Cross and their superb outdoor venue Campfire. It's run by Justin Deighton who I go back years with to when he was running the Pacific Records label with another good friend Stuart McLellan. It's a super smart part covered cosy venue tucked away in Tileyard. Leo Zero and I are the residents, so we get to play once or twice a week each between us, and as any DJ knows, holding a good residency is priceless and especially in the current moment.
Clubs in the 80's
Were you out and about in clubs in the 80s? Where did you frequent?
When me and my friends first started heading 'up west' when we were about 17, I remember heading to places like The Brain and WAG on Wardour Street. It's a little hazy now but we were checking DJs like Tim Simenon, Fat Tony, Paul Guntrip, and we definitely went to lots of Gilles Peterson's do's too, which I enjoyed reminding him of when we had him play for us in Bali two years ago. One in particular really stands out – Acid Jazz: The Truth at the ICA, with Gilles, Galliano, Mark Wigan, Bukke Leo. A little later on we frequented The Gardening Club a lot, some great nights like Ophelia, Yellow Book, Tongue Kung Fu.
Working in record shops
You've worked in a few record shops over the years like Atlas and Daddy Kool. Were you any good at selling records?
Absolutely! I was a master, but only at selling good records IMO. I couldn't lie about them. When we opened Atlas in 95 it was the height of the record shop moment in Soho and there were loads, and every shop had its space, characters, and followers. Though there were a few that could talk you into buying any old shit if you weren't careful, and you'd get home and think why did I buy that!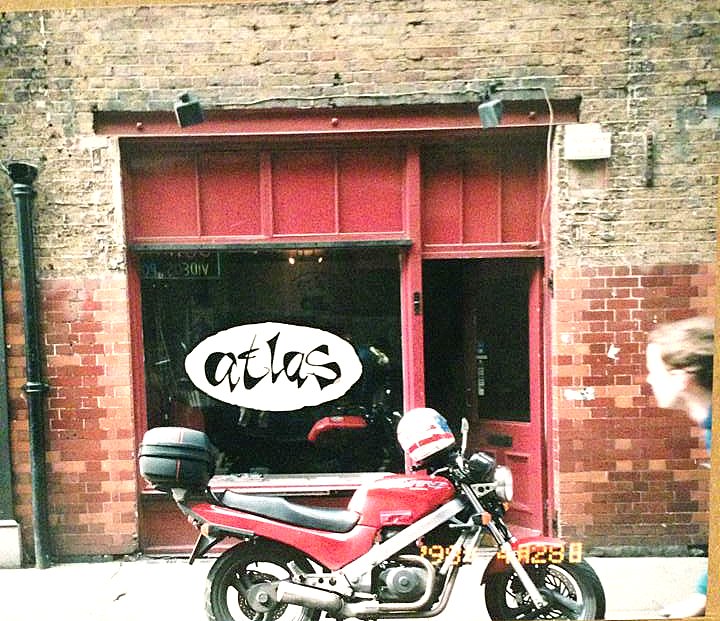 Atlas Records (Photo from British Record Shop Archive )
The Balearic scene
Would you say you were involved on the early Balearic scene?
Not involved as such, though was definitely selling a lot of those records at the time. At Daddy Kool's in particular, although it was a Reggae shop it also stocked a ton of second-hand stuff right across the board. Keith the owner used to advertise in local papers out in Essex to buy record collections and had an endless stream of distressed recent widowers wanting to get rid of their late Soul boy husbands record collection. Keith duly obliged. "It's not worth much love I'll give you £40 to take it away". I'd get the call on Sunday evening, "Get in early tomorrow Pete, got another collection coming in'". Come 9 am Monday morning and Keith is reversing his Volvo Estate down Berwick Street with records falling out the back of it. Loads of these collections were like gold mines, full of amazing stuff, jazz/funk, soul, afro, disco, euro, pop, rock you name it, and Keith was only interested in reggae, so it was down to me and Simon Lee to sort through and price the rest. It's safe to say our record collections grew immeasurably at that time. I look back now and think of the amount of rare nuggets that slipped through our hands back then. So around that time I met Phil Mison, through some mutual friends who were out in Ibiza when he was on his early Cafe del Mar stint, Nick Rapaccioli one of my partners in Atlas, and Paul Daley of Leftfield. Phil would buy some of said tunes off me, and we have the odd pint after work in Soho. I did a fare few trips out to Ibiza with him after that.
First Pete Herbert release
What was your first ever release Pete?
Me and Nick did some releases under Bushflange that came out on Leftfield's label Hard Hands. The first one got released in 1995 quite a weird crossover of breakbeats/techno/house vibes. Nick went on to be part of Leftfield when they toured, and Paul and Neil were kind enough to lend us some money to set the record shop up. I think the first record I was involved with was just before that and was with Adamski. As I had all these amazing records and sample fodder, I got intro'd to Adam through a mutual friend and did a few sessions in the studio supplying samples with him and Simon Munday. That was a real eyeopener and a lot of fun! The end product was a remix on ZTT by Herb Peters and the Jetlag's of L.A.Z.Y. (Adamski and Loretta Haywood).
How many releases have you put out over the years? Is there one that is a particular highlight for you and why?
I've released a fair few, maybe over 400 or so, solo or under various collabs, covering a lot of ground musically over the years. The Reverso 68/Frontera releases with Phil were from a great time when the whole Euro Balearic thing was taking off with some great gigs alongside the releases and remixes. The track Piece Together for me sums up that whole era. An earlier project I did with Mat Anthony (Stratus) and Martin Jenkins (Pye Corner Audio) called Optimo was another great period. After a few noted remixes for Minimal Compact, Kylie and Trevor Jacksons' Playgroup and starting to get some momentum, we realised we had to change the name as the Glasgow club started to take off. Unfortunately, we never recovered from the name change ha! Also working with Dicky Trisco has been another great period.
Maxi Disc
You are one of the founders of Maxi Disc alongside Dicky Trisco. Do you two go back a long way?
Yes, we go back a good few years, he first invited me up to Dundee to play at his regular night at the Reading rooms, and we hit it off from there. Contrary to popular belief we did get a lot done when we met for Studio Sessions, and it wasn't all Aperol Spritz's. A few highlights were Machine 16 and obviously Aperol Sunset and our remixes of Tensnake and Belle and Sebastien. At that point we were DJing a lot together, so we had plenty of chances to road test and tweak edits and remixes, which helped a lot with our output.
Maxi Discs was a great moment for us, releasing lots of up-and-coming artists and friends, shifting away from the disco sound, and crossing over with more electronic/Italo/house vibes. all real dance floor cuts. We've talked about this recently that many of these tracks got overlooked or still sound fresh now, so maybe a Maxi Discs revival could be on the cards.
Andrew Weatherall
Were you good mates with Andrew Weatherall? A year and a bit on from his passing, have you got a memory you can share?
I knew Andrew from the record shop as he bought a lot of records off us throughout that time. I'm fairly sure he coined the phrase 'the 3 T's' he came to visit us for at that time. Tea, Tabs and Techno. He certainly got all 3 in abundance. Everyone looked up to Andrew in the shop and it was always a buzz to have him hanging out in the store, maybe more so than any other DJ that frequented the place. He sportingly played at a birthday party of the shop one year and wouldn't accept any money we offered him, saying 'just give us a bag of records. So, he would get some big bags of records that following week.
For me, he really was one of the best DJs, and there's been countless amazing sets he's played I was lucky to witness, but one that really sticks in the memory from that time was at Rob De Banks Sunday Best soirée at the Tea Rooms Des Artists. I had played there a few times and was excited on this occasion to be warming up for Andrew. It was a pretty laid-back dingy loft-of-a-barn type of space, with few lights and smoking allowed (or not) in there. I remember Andrew turning up just before he went on, and with only a tiny bag of records – I thought how can he play for 2/3 hours with just those? He had been buying a lot of drum and bass tracks out of the shop in the months before that night, and he basically proceeded to play them all on the wrong speed. Supremely mixed he created this hazy 120 ish bass heavy breakbeat style house groove masterclass and the place went absolutely bananas. That's probably the best set I've ever heard anyone play.
Potato Head, Bali
You spent some time out in Bali at Potato Head programming music at the venue. How much fun was that?
Yes, I'd been spending a lot of time out there in the last 12 years, mainly over the winter months, playing and hanging out and DJing around the area and Potato Head was by far the best venue on the island on so many levels. I'd known Dan Mitchell, who was now the Creative Director from his London time, where he had run LNCC in Hackney and when he asked me to come and run the music there, I jumped at the chance. It was an extremely intense but self- fulfilling period for just over two years, where I had no time for much else, though everyone thought I just lounged about drinking Bintangs. We had large events and happenings going on every week so there was always stuff to sort out. I had to come back to the UK for family reasons last year and two months later things closed down in Bali with the onset of Covid, but I hear it's about to open again now.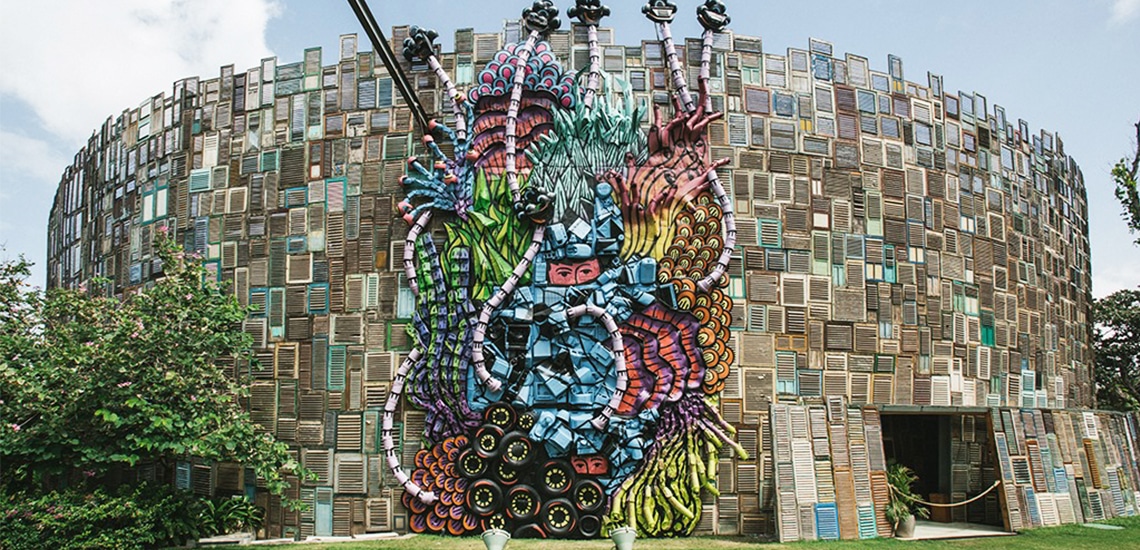 Potato Head Bali
You recently became a father. Is it more Music for Swimming Pools now more than music for clubs?
I did indeed and just maybe it's a bit more about Music for Swimming Pools now.
Spotify
Are you a big Spotify fan? How do you use it as an artist?
I wouldn't say I'm a fan of it, but I can't see it going anywhere anytime soon, so it's about adapting to it. I know some artists that make money from it…not many though. I use other platforms like Bandcamp more and find that a really good source of new music, or old/random stuff.
James Bright
James Bright is part of the new generation of Balearic producers. Do you see any similarity in his style to your own?
I've been enjoying James' productions over the last few years and have become a fan, so to get involved in the remix was a no brainer. We'd both done remixes on a release by Hiem with Roots Manuva back in 2013, but I didn't see him as a 'Balearic' producer then, but I'd say he's definitely moved in that direction recently.
I'd say he has developed his own sound and I'd like to think I have mine, but maybe they are not so similar.
What do you think about the original? What have you done on the remix?
The original is great, and the first time I heard it, it immediately reminded me of some old School Bristol productions, early Massive Attack, Wild Bunch stuff. So I thought about giving it that slant, with the retro piano riff and adding some Kwanza Posse style drums. I'm generally going for dancefloor versions with remixes these days going in on the bass and drums first, then see what happens and take it from there. This came together pretty quickly.
What other projects have you got going on?
My music streaming site musicforswimmingpools.co.uk is getting a face lift and some exciting new features that will be updated towards the end of the summer. Some new releases from myself on the above-mentioned label of Music for Swimming Pools are imminent and a few collaborations are bearing fruit too. And maybe Maxi Discs will make a triumphant return.
Musical Advice
What's the best bit of musical advice you've been given and who gave it to you?
"Never underestimate the B side" A. Weatherall (circa 2000)
Grab James Bright – Raise EP including Pete Herbert's remix from: https://smarturl.it/raiseep-jb
For more info on Pete Herbert please check:
Pete Herbert Facebook: https://www.facebook.com/peteherbertmusic
Pete Herbert Soundcloud: https://soundcloud.com/peteatlas
Pete Herbert Instagram: https://www.instagram.com/musicforswimmingpools/
Love this? Check out some more Pete Herbert related articles HERE
Like what you hear? To help support LV Online buy us a coffee via Ko-FI. Click HERE
Tags:
Andrew Weatherall
,
balearic
,
dicky Trisco
,
James Bright
,
Pete Herbert