The Quick 6 – Phazed Groove & Mixtape 203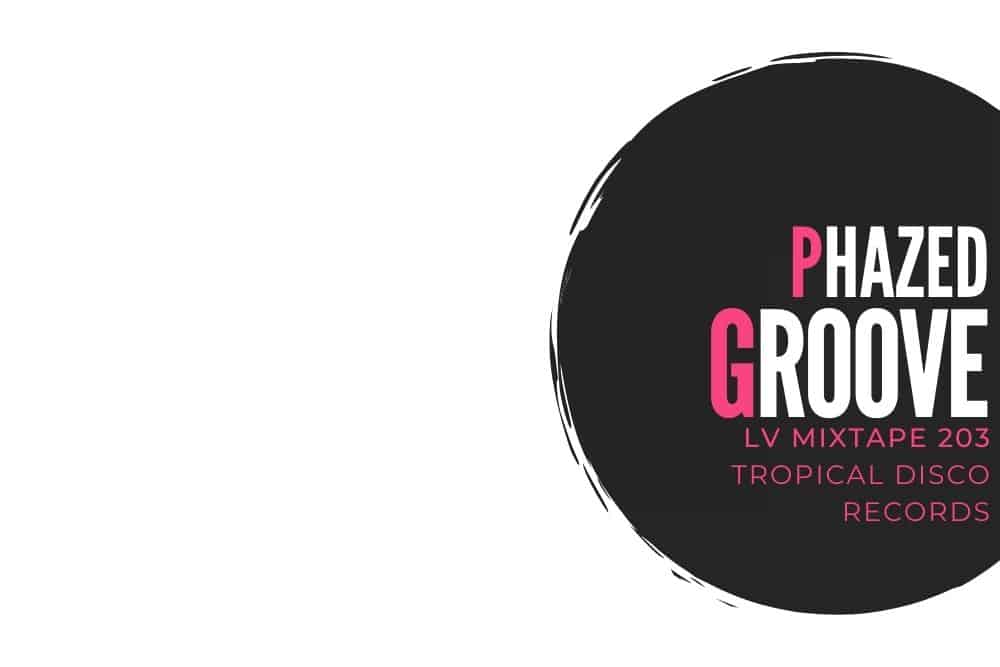 The Quick 6 – Phazed Groove & Mixtape 203
Like what you hear? To help support LV Online buy us a coffee via Ko-FI. Click HERE
Phazed Groove has been repeatedly popping up on our LV disco radar over the last couple of years with a string of brilliant singles on Tropical Disco Records which have repeatedly topped the charts over on Traxsource. Far from an overnight success he has put in the long hard hours over the years from being a DMC champion way back in 1989 to signing Pete Tong supported track to Limbo in the mid 90's.
He now has a delicious full artist album out with Tropical Disco which you can grab here: https://www.traxsource.com/title/1792449/a-taste-of
We thought it was high time that we caught up with Phazed Groove for a chat to lift the lid on his intriguing career. He also put together this first class mix for us. Check it out here and please give it a share over on Soundcloud and help us spread the love.
Who is Phazed Groove?
Phazed Groove is Brian Hope and as an artist was probably born around 2008 when my first digital release was through Red Robot records with an E.P, and featured a track called "Soul Soothin" which featured on Wax Da Beach album by Nightmares on Wax, followed by some Latin fuelled tracks and remixes for a few digital labels. My musical background goes back to 1989 and 1990 when I won the DMC Scottish mixing championships, scratching and cutting up vinyl, after which time I went to Gran Canaria in 1991 for a year to dj, came back and got a real buzz for being more creative with music ( having people dance to your djing ability to people dancing to your own music felt like a step up), I learned a lot about production, engineering and being self taught on keyboards, so as to be self reliant as much as possible through the creative process. In 1994 I signed to Limbo Records and released a few tracks under the name Tocayo, I remixed a few tracks for Positiva records also along with some other labels of the time. When working in London with a friend called Stuart Crichton I remember Trevor Horn coming into Stuart's studio and casually sitting discussing Stuart doing some drum programming for The Pet Shop Boys, bit or a surreal moment for me at the time. I also worked under the name Funk Fiction in the late 90's making a few 10 inch vinyl tracks that were disco samplers which did quite well.
You have just released a brand new album 'A Taste of Phazed Groove' on the brilliant Tropical Disco Records which has been quite some time in the making. What can you tell us about the album?
The album is really a collection of various feels that I've went through over a bit of time, which were best felt for the album on TDR.
Tropical Disco Records is the label I went to with my first release "It Must Be Luv" which after Tim & Alex going for it, it went to number 1 on Traxsource and I've had all or at least the bulk of my releases going top 10 which has been amazing. The label itself is just a fantastic label and they are the best at what they do. The guys are genuine guys who are so passionate about music and care about their artists.
 As far as your disco output is concerned, who are your greatest influences as a producer?
There are so many artists that have influenced me over the years but I would say I'm a huge Stevie Wonder fan and difficult as it is to pick one track, I would pick "Sir Duke", great feel good funky track with amazing horns.
Azymuth is a band I love for their Brazilian/Latin style and I've really loved them for many years, "Em Marica" is a more recent track track which has a lot of elements I love.
Mezzoforte are from Iceland and another band I love for their jazz funk style which I've been into since the early 80's. "Midnight Sun" is a more mellow/ smooth funky track which I love but they have so many great tracks on their albums.
You have been around the scene now for more than two decades, what are your favourite tips on how to have long-term career in the disco and house scene?
Don't ever let anyone put you off, keep working on what you feel passionate about, be able to take constructive criticism only, not criticism for the sake of it. Making music is always a learning process but stay true in what you do and sooner or later your hard work will pay off.
Your Studio: Please can you tell us about your studio. What is your production set up? What is your indispensible piece of equipment or plugin that you use for your sound? What is next on your studio shopping list and please can you give us your three favourite studio tips for up-and-coming producers?
My production set up has changed by getting rid of most of my outboard gear, analogue mixing desk, processors, effects and some keyboards, I still run a PC i5 workstation with Cubase 11, I've been using cubase all the way back to when I had an Atari Falcon and STE in 1990, I've still got my Roland SH101, Korg M1, Ensoniq ESQ1, EMU E64 sampler and my fav…Moog Prodigy which is my best little synth, nothing really special with plug ins, a lot of native Instruments as my set up is now much more digital now but would still love to get myself a 1973 Rhodes piano at some point.
If I was to give my personal tips on music production.
Tip 1, never try and force an idea, or if you're working on a track where you hit a brick wall, take time away from it and return when you're feeling ready.
Tip 2 always go back and listen to your track after a day or 2 break from it with fresh ears and make sure everything is as it should be sounding to you, listen low level as well with good headphones and even compare to your favourite tracks for overall production.
Tip 3 Never give up chasing your dream, regardless of what people tell you.
What else can we expect from Phazed Groove in the next 12 months?
I'll be getting married in July this year and now that our house is finished, I'll be getting back to finishing some new track ideas I've recorded and hopefully get some new disco and Latin fueled tracks out soon.
Phazed Groove Facebook: https://m.facebook.com/Phazed-Groove-2823091444374578/
Phazed Groove Soundcloud: https://soundcloud.app.goo.gl/ydbPmqtNCXaCAJ1t8
Tropical Disco Facebook: https://www.facebook.com/TropicalDiscoRecords
Tropical Disco Soundcloud: https://soundcloud.com/tropicaldiscorecords
Tropical Disco Records Instagram: https://www.instagram.com/tropicaldiscorecords/
Tropical Disco Bandcamp: https://tropicaldiscorecords.bandcamp.com/
Phazed Groove Mixtape 203 – Tracklist
1. Plush – Free and Easyplu
2. Trussel – Love Injection
3. Mystic Merlin – Mr Magician
4. Phazed Groove – Superbitchin
5. Moodena – Papi Chulo
6. Phazed Groove – Your Lovin (instrumental)
7. Phazed Groove – Love Town Groove
8. Danny Kane Ft. Princess Freesia (Art of Tones Remix)
9. Joey Negro presents The Sunburst Band – Big Blow (Moodena Remix)
10. Al Hudson & The Soul Partners – Spread Love (Phazed Groove Edit)
11. Phazed Groove – Nightflight
Love this? Check out more from Tropical Disco here.
Tags:
disco
,
nu disco
,
Phazed Groove
,
Tropical Disco
,
Tropical Disco Records