Simon Faze Action talks about his incredible career, Campo Sancho, Daddy Cool, Nuphonic and more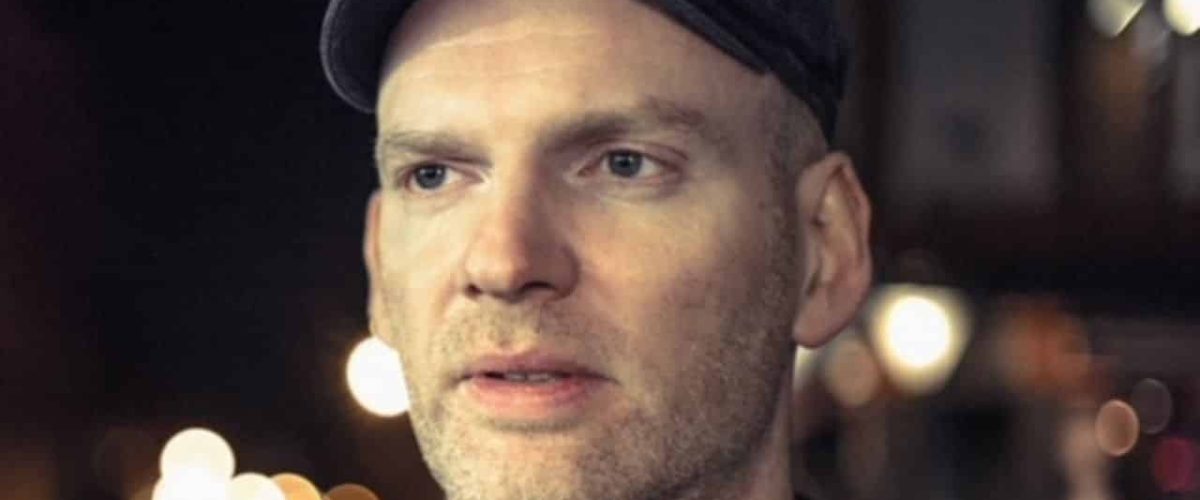 Simon Faze Action talks about his incredible career, learning to DJ alongside Yam Who, Campo Sancho, Daddy Cool, Nuphonic and lots more
Like what you hear? To help support LV Online buy us a coffee via Ko-FI. Click HERE
An Interview with the Insider for Le Visiteur
Faze Action have had an incredible two decade plus career which has seen them help redefine the UK disco sound with tracks such as Original Disco Motion and In the Trees all the way through to their recent Balearic edged releases such as Sununguka and Kubatana with Zeke Manyika.
Simon from Faze Action is taking his undoubtable DJ skills on the road to play at the brilliant Campo Sancho this coming July alongside a packed three day line-up. Ahead of the event we dispatched the Insider to catch up with Simon to chat about his long career. As you can imagine it's a fascinating interview. Simon also stepped up to the LV decks to put together a Campo Sancho mix packed with some stunning modern disco vibes, check it out below and please give it a share over on Soundcloud. You can check out more on the mix including the full tracklist and a quick chat with Simon about the mix here.
If you fancy joining Simon at Campo Sancho all the details are below.
Fancy an road trip? Campo Sancho Festival runs from 29th to 31st July.
Camping from 28th through to 1st Aug.
The magic happens at Walkern Hall, Walkern, Nr Stevenage, SG2 7HZ.
Karma Canvas offer fully equipped luxury bell tents.
There's Camper van parking on site, hot showers and eco toilets.
Car park to dance floor in 10 minutes.
Tickets currently £139 per adult, £20 for 0–5-year-olds, £55 for 6–17-year-olds, excluding booking fees:
http://www.sanchopanza.org/campo-sancho/
https://campotickets.sanchopanza.org/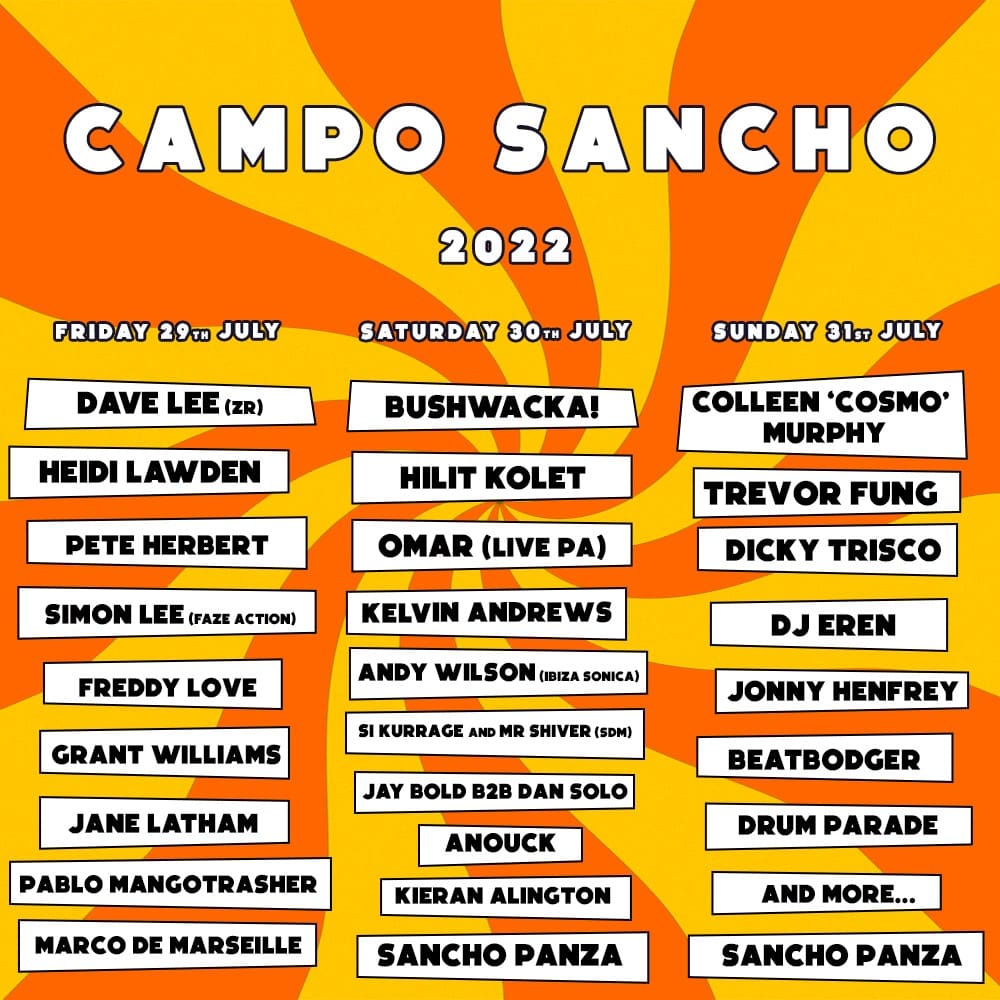 Simon Faze Action talks about his incredible career, learning to DJ alongside Yam Who, Campo Sancho, Daddy Cool, Nuphonic and lots more
Thanks for taking the time to talk Simon. Where are you today and what are you up to?
I'm at home working on some new music.
I know you came from Amersham originally. When did you first come to London? Did you live West London first off?
Yes, that's correct I grew up in Amersham. I studied in Bournemouth from 89 to 92 and then moved to London around 93. Back then I was based in Finsbury Park.
I ask as West London as its long been a community of musos. It's amazing who bump into when you kick around the streets of West…
Yes, I did spend some time over west. My friend Andy (Yam Who) lived opposite Ladbroke Grove station, so I used to go and visit him and I threw a party in a bar there back in 95 but I can't remember the name of the venue.
I also used to visit Mike over at Goia distribution and played at Carnival a few times so yes, I did spend some time there.
You're over East London these days is that right? What's the difference in the vibe between East and West zones for you?
Yes, correct I'm in deepest Leyton now so I spend all my time or most of it East. The East is expanding and changing all the time whereas the West side is a bit more settled, both have their own vibes though.
Rewind back to the Lee household. Did your folks have a lot of music playing on at home when you were kids?
Yes, quite a bit.
What sort of stuff were they playing?
A lot of classical music and stuff like Jesus Christ superstar, plus pop hits from the era the such as the Beatles.
Did you and Robin play instruments then?
Yes, Robin played the Piano, Cello and Bass and I played the drums for a bit.
At what point was it that you and Robin started to play around with dance music?
Robin was much more the musician, and I was much more the record collector, and I was into digging for music. I used to bring home records like the Turntable Orchestra – You're Gonna Miss Me When im Gone and get him to play along on the piano.
But it is safe to say when I bought a reissue of the Johnny Hammond – Gears LP that changed everything for us, it totally blew our minds, back then there was no internet, so it all added to the mystery of this amazing music. Who were these people and where did they come from etc…<
Were you into the mixtape thing?
We weren't really into the mix tape thing, I did make cassettes of music for friends, but I wasn't really getting in the mix until around 88.
Was radio important to you? Who were you listening to and on what stations?
Yes, we couldn't pick up Kiss at that time so the only radio show we could really check was Gilles Peterson on Radio London.
Were you part of a tribe when you were a teen?
Not knowingly, there was a group of about 5 of us that went clubbing regularly and we were all into our music.
There was a huge outer London scene going on late 80s. What parties did you frequent in those early years?
Yes loads of parties happening in the suburbs back then we used to go to this party at "The Old Trout" in Windsor called DDC Soul or it was run by the DDC soul crew that was good, then Studio Van Bon in Maidenhead, Stages in Chesham that was a big one, I think Leo Elstob and Stuart Patterson ran parties there as they come from nearby and pretty much everyone passed through there at the time Norman Jay, Terry Farley, Weatherall people like Jeremy Healey etc. Another one was "The Full Monty" I can't remember who ran it though.
Did you and Robin DJ together initially?
Initially I started out on my own DJing at Bournemouth University me and my roommate Andy Williams (Yam Who/Midnight Riot) started a night at Glass Hoppers. We wanted it to be a Jazz night as we were obsessed with Gilles Peterson and Patrick Forge at the time, however we soon realised that our Jazz records weren't really working. Luckily this was back when clubs still had their own record collections in the DJ booth so we just about managed to make it all work. I think Basomatic – Fascinating Rhythm finally got the dance floor going and this is where we really learnt how to DJ eventually. We managed to keep the dancefloor busy all night mixing between big records of the time like Stetsasonic "Talkin all that Jazz", Patti Day – Right before My Eyes and then more rare groove and tracks by Quincy Jones "They Call Me Mister Tibbs" and Willis Jackson – "Nothin Like Thutherin"
What was the beginning of Faze Action as a production duo?
We started Faze Action in 1995 and the first record we made together was Original Disco Motion which came out on Nuphonic Records.
Some say Faze Action lead the 90s revival of disco?
I'm not sure that's true but I think there were a lot of younger producers at that time pushing the Disco sound and pushing their interpretations of it. I think collectively it had some impact, but Disco never really goes away it keeps getting rediscovered by each new generation and they bring their own take on it, and I guess that's what we're trying to do back in the mid 90's.
At what point did Faze Action become a live act? How did that progress over the years?
Robin had left for Japan just after "Original Disco Motion" came out so we had been writing and producing overseas via Fax machine and I had been hiring live musicians, so it was tricky as there was no internet back then. Now you can do a zoom call, share your screen and you can work on a track together in different countries.
Robin came back from Japan around 1998 and there was a lot of interest in Faze Action at this time so we decided to take it all live and it just kind of took off. We had great musicians – Zeke up front, Tugg on drums, Richard Wargeant on sax and flute, Pete Z on keys and Mick Ball on trumpet. It all clicked and just went from strength to strength. We ended up supporting Groove Armada on their US tour and doing the Glastonbury Jazz Stage (Now Called the West Holts Stage)
So you were at Daddy Kool. What years were you there?
Ah yes it was a great place to work I was there from around 93 to 96 working with Pete Herbert.
What was their vibe mostly and who used to come into the shop over the years?
It was Reggae but I was downstairs with Pete Herbert, and we were selling mainly Trip Hop, Mo Wax and some US house bits and lots of 2nd hand Disco and Reggae.
It was great time to be working in a record store in central London. This was pre internet era, so all the DJ's came in Harvey, Andrew Weatherall, Norman Jay, Patrick Forge, Gilles Peterson, Phil Mison, lots of European DJs and producers came in as well Jose Padilla, Adrian Sherwood, Ashley Beedle and lots more.
Original Disco Motion came out on Nuphonic. How did you meet Dave Hill originally?
I actually met Dave at Daddy Kools. He was a regular and we got chatting about records and shared a common interest in all the NY Disco/Paradise Garage tracks.
Original Disco Motion was the first record out on Nuphonic right? How did this happen?
Yes, correct it was the first release on Nuphonic. I remember it wasn't always busy in the downstairs section of Daddy Kool's so me and Pete would get stuck into our music, and I remember I said I had an idea for a track, and he suggested that I go into a studio and get going. Obviously, I was going to need a musician who could play instruments so that was where Robin came in. He had recorded with various bands so he had lots of studio contacts so between us we could actually make the whole idea work quite quickly.
Once we finished Orginal Disco Motion I played it to Dave Hill when he came in the store and the rest is history as they say.
I noticed recently he's got a photographic studio on Ladbrook Grove. Does he still put out music? Is he just working in art these days?
Dave is heavily involved in the reggae scene and has just released an LP with Nick Manasseh which I highly recommend checking out.
Nuphonic has to be one of my all-time fave labels. Why is it so cult and collectable?
It was a bit different from the norm in the mid 90's it was pushing brand new music and had a different sound which no one was doing at that time.
There was a core family at Nuphonic, who was that family made up of?
Yes, it was a big family. You had Dave and Sav, Simon Purnell, Billie, Fuzz Against Junk
Why did the label stop?
I'm not sure why it actually stopped in the end, but everyone was young. I was 24 years old when we started Faze Action and everyone at Nuphonic was pretty much about the same age. We all had a great time and I have some amazing memories, but nothing lasts forever. I think Nuphonic had an impact on the musical landscape at the time and everyone involved saw it as the beginning of their own paths in the world of music, so I'm grateful to Nuphonic for that start.
I remember seeing you play live at Notting Hill must be nearly 10 years ago now. Have you played at Carnival since?
Ah yes I think that was the launch of our 2014 LP "Body of One". We haven't played carnival since.
Have you still visited carnival over the years?
I went to carnival pretty much every year from 1989 to around 2002 then sporadically. I always love it when I go, I've played there a few times on the old Spiritual South Sound System and of course been partying at Sancho Panza.
When did you start working for Juno?
I started there in 2005 and worked there until 2021.
What was your role over the time you were there? 
I started out sound filing and then I moved into the distribution department and was running the sales team.
Did working at Juno have an impact on the music that you make?
>I think it did to some extent as I was always checking new releases and got a sense of what was going on.
Who do you think is having it right now?
I think Dave Lee's contribution has been huge over the years along with Phil Mison and Pete Herbert. New guys I like – Folamour, Hunee and Palms Trax.
What are Faze Action working on currently? What should we look out for this year?
We have just released "Body to Body" and "Paradise" and we are working on the 4th single with Zeke Manyika so plenty more to come this year, hopefully the track with Zeke will be ready to play at Campo Sancho.
Sancho Panza and Campo Sancho. Do you go way back with Jim and Matt?
Yes, we go back. I'm not sure if I played at the carnival with them but I played at some of their parties. I can't remember the venues though. One was in the West End and more recently we did one of their legendary boat parties.
I remember seeing Faze Action live at the first Campo. Have you played there every year since in some capacity?
Yes, that is right we did the first one and I am looking forward to playing there this year.
This year you'll be working your DJ Set. What kind of stuff can we hope to hear you play.
I'm not sure yet but you will have to come down and check it out!
What is it you love about the festival?
Uff where to start ok. It's got a lovely down to earth feel, there's no ego's there, just friendly people that want to enjoy themselves to the max.
What other mates of yours are playing there this year? Who are you looking forward to hanging out with in the beer tent?
Let's see… yes pretty much the whole line up-)
What's your perfect festival warm up?
Vangelis "Let It Happen"
Your peak time dancefloor bomb?
Faze Action- Kariba
Your three days in a field sunset closing classic..
The System – "Almost Grown"
Simon Lee thank you for your valuable time!
For more info check:
Faze Action Facebook: https://www.facebook.com/FazeAction/
Faze Action Soundcloud: https://soundcloud.com/fazeaction
Faze Action Instagram: https://www.instagram.com/faze_action
Faze Action Twitter: https://twitter.com/Faze_Action_
For more features on Faze Action click here. 
Tags:
Campo Sancho
,
Faze Action
,
Nuphonic
,
yam who