Quinn Lamont Luke Talks El Triangulo, David Mancuso, Larry Heard, The Phenomenal Handclap Band and Ubiquity Records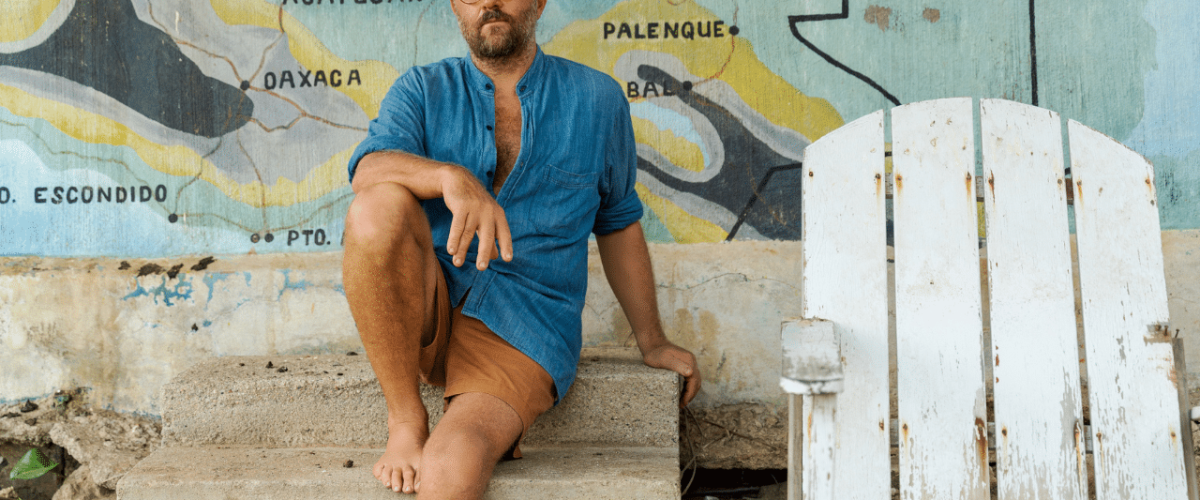 Quinn Lamont Luke talks El Triangulo, David Mancuso, Larry Heard, The Phenomenal Handclap Band and Ubiquity Records
An interview with the Insider for Le Visiteur
Like what you hear? To help support LV Online buy us a coffee via Ko-FI. Click HERE
Quinn Lamont Luke has had a truly wonderful career. Appearing in a variety of guises including Coppa, Q&A, The Expanding Head Band, Bing Ji Ling, Paqua and as a member of The Phenomenal Handclap Band he has released consistently since the early noughties and toured all over the globe playing some of the coolest gigs and festivals out there. Along the way he has supported some of the stars of the musical universe including Bryan Ferry and Franz Ferdinand.
Having spent the entirety of lockdown holed up creating music in Mexico he is now ready to unleash some scintillating summer edged house music, timing it perfectly as the world starts to unlock and is looking for some feel good vibes to help us shake off the dust.
First up is Don't Run Away a track inspired by Quinn's years partying at David Mancuso's legendary party The Loft. It's a track which brings to mind some of the classic moments of Larry Heard combining machine funk with ethereal soulful vocals. It has future classic written all over it.
The Insider spoke to Quinn for Le Visiteur.
Thank you for talking to us today Quinn. How are you keeping?
My pleasure! I'm great, thanks!
Where are you this moment?
It's Monday morning here at my house in Upstate New York.
Where are you originally from?
California, then Texas for middle school-high school.
Where are you based?
Between Hurley, NY near Woodstock and Mazunte, Oaxaca.
How are things where you are right now?
We returned to our home here in the Woodstock area about two weeks ago, after a year and a half in Mazunte. It's great to be here now. It was the longest we were away yet, so getting back to the area has been a joy, and a nice change of scenery.
What is the mood like?
Pretty great! Everyone is excited to be back out and about. NYC is on fire! I'm down there every week or so for a day or two here or there.
Are you able to get out and mix with others?
Yes! We just wrapped up a weekend long party here at our house for my birthday/Father's Day/Summer Solstice. We've done it every year for the past 7 years except last year of course. It was a huge success!
Have you managed to be musically motivated this past year or have you had to prioritise other stuff?
I've been musically motivated, though a bit limited as I had only a basic setup down in Mexico. I managed to play a good bit of guitar in the evenings and move several projects forward.
You have spent the best part of 30 years working in music. Can we rewind to the early days? What music vibes were around you early? Was there a lot of music in your house growing up?
Yes! My father was a musician for many years, and he came from a very musical family. We had a piano in the home, and all my siblings are singers, and very musical.
Who were the artists you were listening to in your teens?
I'm of a generation that grew up on radio. In my early teens, Top 40 artists like Tears for Fears, Run DMC, Prince, Howard Jones, and Sade had a big impact on me. When we moved to Houston, Texas, I was more exposed to Black radio, and fell in love with artists like Luther Vandross, Anita Baker, Freddie Jackson, and Loose Ends. In my mid to late teens my taste began to evolve. I went deeper into soul/r&b/funk (70s Stevie Wonder, Sly Stone, James Brown, Parliament, etc.), but also listened to big rock bands like the Cult, U2, and Living Color. Fishbone was an outlier band that I loved and still do. They were my gateway into the aforementioned 70's soul/r&b/funk.
What steps lead you to your production career?
I started writing my own songs in the late 80's. My mother's friend's son had a Tascam cassette four track that he wasn't using, and she gave that to me. My dad had a Yamaha keyboard with a drum machine that he would use for composing. I got a mic and some headphones and went to work!
Your first release was on the hallowed Ubiquity Records. Tell us a little about that?
I was living in San Francisco and was pretty connected in the music scene there. I passed some music I was making to Andrew Jervis (now Chief Curator at Bandcamp), who was working at Ubiquity doing A&R. He played it on KUSF. That was my first big moment, that I'll never forget! Thanks again, Andrew! He asked me if I'd like to contribute to a compilation of covers, the now well known "Rewind" series. I decided, based on the advice of a friend, to try and do a cover of a well-known song, but it was a very different way. That was "Shook Me All Night Long" by AC/DC. It ended up being a radio hit in Australia for a little while.
You made some records as 'Coppa' in the early noughties. Is it true Prins Thomas was a fan of yours back then?
Yeah! Still is I believe, and I of him! Those releases were well received by DJs in a certain vein.
Where did the name Bing Ji Ling come from? What's the story?
I played in a jazz/blues club in Shanghai in the late 90's. When I first arrived, one of the bartenders asked me what my name was. I said "Quinn." She asked "Cream? Like ice cream?" She then proceeded to tell everyone that my name was ice cream, which in Chinese is "bingqilin." For the year that I was in Shanghai, everyone called me bingqilin.
When I got back home to San Francisco and started working on my first solo record, my friend and producer Merkley suggested that I go by that name (modified to Bing Ji Ling for ease) and come up with a whole ice cream/soul man persona, which I worked for some years. We used to have some lovely female friends of ours dressed as sexy versions of the classic 1950's ice cream man, pass out ice cream at the shows. It was good fun.
You were Djing in New York just before you met Sean Marquand, Daniel Collas and Patrick Wood. What sort of gigs were you playing?
In those days I played regularly at places like 205 Club and 105 Rivington that were dance spots, and the Gold Bar that was more of a lounge. Soul/R&B, Disco, House, with the odd bits of Rock or whatever in there.
When did the Phenomenal Hand Clap Band begin? Who were the original members?
Sean Marquand and Daniel Collas began as producers and started the group. After getting a few songs together with some core musicians, the project evolved into a band. Original members were the two of them, Patrick Wood, Laura Marin, Joan Tick, Nick Movshon, Luke O'Malley, and me.
What was your part in the band?
Singer and rhythm guitarist.
You had success supporting Bryan Ferry and Franz Ferdinand. What was that like? Must have been big.
It was amazing. We got to play huge venues around the U.S. and Europe to nice crowds, and really taste the rock star life!
The Expanding Head Band was you and Alexis Georgopoulos. Tell me a little about the release you had on DFA?
Alexis and I met, after Chris Veltri (owner of Groove Merchant records) and I did a remix for his band Tussle under our Coppa moniker. I went on to produce the next Tussle album. The project kind of ended up just being Alexis and I towards the end, so we continued on after that as The Expanding Head Band and then Q&A with releases on Lo Recordings, DFA, Smalltown Supersound, and more recently Leng Records.
As an owner of the Mangiami Collection album, I am a little familiar with the story of the place the Mangiami. Can you talk us through the set up? Who would frequent it? Must have had some wild nights there right with your L'Apertivo night?
It was a super fun time for sure, and definitely many wild, lock in nights. The scene there developed around the popularity of 205 Club just down the block. The people that ran that spot (Henri, Eric, and Stephane) and the DJs for the night would often eat at Mangiami before starting work. After work, Gianfranco, Mangiami' s owner would come to the club. After the club, we'd go back to Mangiami for a night cap!
Eric Duncan aka Dr. Dunks of Rub n Tug fame had an epic weekly gig at 205 Club and was a key figure in the whole scene. Gianfranco and Eric met in the early days of the Rub n Tug parties, so the connection was already well established. So many regulars to name, but those that come to mind are Alex from Tokyo, Jason Kincade (and Paul!), Doug Lee, Justin V, Holmar, Greg, Sarah Ellison, Edda P, Rita, David Calle, Anya, Piers, Phil South, Carson, Rebecca, Makiko, Tim Sweeney, Maiko, Brooks, on and on.
The first parties were daytime weekend things that Alex and Jason did. I played live at one of those. There were one off gigs in the basement from time to time, but the main event was Monday nights, L'Apertivo, which always went South fast! My studio is a short walk from there, so I'd ride my bike over with a huge bag of records in the heavy-duty basket on front and take them back at God knows what time of the morning.
The place was tiny. Upstairs, there were two decks and a shitty mixer jammed into a corner of the bar and a super sub- par sound system. The basement sometimes had a bit better of a set up for the late-night parties, but it was still pretty basic. Didn't matter. The vibe was 1000% on fire!
You would frequent Mancuso's Loft parties as a punter. Can you recall a story of a magical night there with Mancuso?
Yes! The party still goes on in his absence, which to me is the new standard for DJ aspirations; 1) Start a party. 2) Keep it going for a very long time 3) It keeps going after you die! I hope they put one on again soon.
The first magical night memory that comes to mind is my first time there. It was 2004 I believe. Mancuso was still very much a part of the party. I had become friends with Paddy Boom who was the drummer for the Scissor Sisters. I ran into him one day and he told me that he had been to this amazing party where there were people of all ages, shapes and sizes, colours, economic backgrounds, and sexual orientation, dancing in total bliss and singing along to every word of every classic disco tune. He told me that people were playing tambourines and sometimes congas along to the music and that it was just the most unbelievable party with balloons, food, and everything.
At that point I had already been well acquainted with the history of the Loft I just didn't know it was still happening in New York. I had only moved there a year or two before. Anyway, I said "it wouldn't by any chance be a party called the Loft with David Mancuso, would it?" And he said, "yeah that's it!" I said, "I want to go to the next one." He bought me a ticket and said I would need to meet him there.
On the day of the party, he was unresponsive. I was just shattered because I could not WAIT to go to this place. I was trying to search everywhere I could on the internet about the party but of course there's no information about it there. It's private an invitation only. I was riding around the East Village in the general area where I thought it might be looking for any kind of indication as to where the party was. Finally, he messaged me saying that he was stuck out on Long Island and wasn't gonna be able to make it to the party. He gave me the address and said I could just give my name at the door, and they would let me in. I got there and a big man named Ernesto welcomed me. I instantly felt like I was somewhere magical. I went upstairs and walked in, I can't remember what track that was playing and everybody dancing and smiling, and balloons and I just cried. Some of the people I met that night that are still very close friends of mine.
Golf Channel Recordings is a much-respected label. You released on GC with Alex from Tokyo. What happened Golf Channel? Where did the label go? A little bird told me Phil South who ran the label was opening a spot like the Mangiami. Is that true?
Phil had been Upstate NY for a while already, when he shifted to running a restaurant called the Launderette. They do parties there from time to time too. though not recently of course. I don't know much beyond that! I would guess it's a tough slog releasing vinyl. The end of Mangiami was the end of an era…
You met the lovely Phil Mison at the Loft, right? You cite this as your introduction to the Balearic network. What was your first outing with Cantoma?
When I met Phil, I assumed he was Phil South (both English, both Phil), who I had also not meet at that point. Though I would have been happy to meet Phil South then too, I was OBSESSED with Phil Mison, having discovered him through the Aficionado mixes from their parties. Terje Olsen turned me on to those via some Myspace communications back in those days.
Back then, I was traveling regularly to the UK and Europe, playing gigs on my own, backing up other artists, and then with PHB. I would always get in touch with Phil when I was in town. On one of the first trips, he met me at the train station I was leaving from to hand off a CD wallet of mixes he had burned for me. Early Cafe Del Mar recordings, collections of classic Balearic tunes, along with more recent mixes from all his buddies Moonboots and Jason Boardman, Balearic Mike, Alex Voices, etc. I cherish those to this day. They have been a massive music influence on me.
You worked with other UK national treasures – Moonboots and Jason Boardman on Aficionado. What was the release you did?
After being upstate for about a year, my wife and I got pregnant. We had a new home in the woods and were entering our first winter there. I decided to make a song about each season, Invierno, Primavera, Verano, y Otono, leading up to the birth of our son. I used only instruments I found in the wild (thrift stores, junk shops, flea markets) in our area, and recorded it on a Tascam 4 track machine. Back to my roots! I had already been friends with Moonboots and Jason for a while. I forget how the opportunity came about, but I must have shared one of the songs with them and they liked it. They put it out on their label on vinyl. Was a big moment for me! I was and still am a massive fan of theirs. The release is called Temporadas.
Is the Paqua project with Paul Murphy still active?
Yes! We have a new track out on Claremont Editions, Vol 2. called Escondido. We are also working on new material. Hope to have something new out soon!
I once stood in a crowd at Love International, you played an acoustic version of 'On A Clear Day.' It brought a few of us to tears. Do you get emotional when you're performing?
Wow! Thanks! That was an epic gig for me. Always such a pleasure to play there. One of the best sound systems I've gotten to perform on, and an incredible group of people behind it. You know, I do get emotional from time to time when I'm performing. I remember one time in particular. It was the last time I played Love International, a few years back. I decided to do a version of "Misty Roses" by Tim Hardin. I had discovered that song living near Woodstock, where he wrote it. At some point during the song, I felt overwhelmed with emotion. After the show, I spoke to a friend of mine who was there, Troy Dean. He mentioned that it was the favourite song of his wife who had passed recently, another friend of ours Siba K. I didn't know that of course, but certainly felt it while I was up there. Must have been singing it for her…
I know you took a break from all thing's music for a few years. Why did you feel the need to do that? What did you do in that time?
The adult buffet! That's what I called it; wife, kid, family, house, all in one go. I had pushed that off far too long. I had gotten my jollies musically and achieved everything I set out to do with my music career, so I decided to pause pursuing that to focus on family.
Also, I had a dream to build a studio in Mexico and live there someday, so I needed to settle down and focus on earning money. That's what we are building now! More about that soon when we announce formally our project there. Our son is now six, so I've been able to put some attention on making music again in recent years.
This leads us on to the new label El Triangulo. Are you planning to release other artists on the label or is it for your own productions?
Both! Our project in Mexico is also called El Triangulo. My plan is to use the label for my own music, but also for music that I produce or am otherwise involved in. It will be all over the map for sure…
You are about to unleash five killer cuts over two dates. The first 'Don't Run Away' is sounding very Larry Heard! Tell us a little about this release and its inspiration.
That's great! My goal was to make something that sounds like Larry Heard! I have been a massive fan of his for years, but never really sat down to try and make a vocal house tune that way. I had made plenty of soul/r&b tracks, and plenty of instrumental and/or sample-based dance tracks, but never really combined the two. A few years ago, I decided to give it a go, and "Don't Run Away" is the result of that outing. More to come!
On the second release on El Triangulo you revisit 'Not My Day.' These songs originally saw the light of day on World Famous in 2016. On the 2021 versions there's reworks label head Alex from Tokyo. Tell us about the touches Alex has made to the original of Not My Day?
Alex was involved in the track from the beginning actually. We set out to make some tunes together, after doing the track for the Mangiami comp. We are old friends, so it was a natural evolution. He doesn't play instruments or run software Apps really, so his role was creative director. He would play me some tracks he liked to indicate a direction, and I'd take it from there. He has MUCH more experience as a DJ than I do, so he was the perfect person to come in and help with the arrangement, editing, etc. We worked on the track together a lot. Him and is partner Isau did the remixes in Tokyo.
Not My Day (Original Version)
I wanted to ask you about 'Club Lonely.' Some might say – that's a very brave move. You'd done an amazing job on it first and foremost! What lead to you deciding to do a cover of this track?
Thanks! The original of that came from me doing a live looping version of the song when I'd be on tour in Japan. I spent a lot of time there, playing on my own. I got into the habit of doing covers that seemed fun to rework on the looping pedal. The head of my Japanese label, Yasushi, suggested I do this cover, after hearing other stuff I was playing with. It all culminated in the release of a covers album called Sunshine For Your Mind. Later, Alex decided to do a re-work of it, to make it more club friendly. Other songs from that release were reworked as well, including Lexx's version of "Hanging On a String" and Jose Manuel's versions of "Twilight."
After your break from the scene, you are back with a bang this summer with two hot releases on El Triangulo. What else do you have in the pipeline?
I'm just finishing producing an album for my old friend Charlie Hall, who is the drummer for the War on Drugs. It's not been decided who will put that out. It's instrumental music, touching Balearic, ambient, chill out, folk, some electronic music. I have recently finished a couple of 70's country/soul tracks with Nick Movshon and Homer Steinwiess, that will be re-worked for the dance floor by some people you know very well but I can't name yet! As mentioned previously, Paqua has a new album in the works. We are very excited about this. I have several other things in the works ranging from more dance music to instrumental chill out, to wanna be JJ Cale tunes! Please watch this space for updates!
Thank you for talking to us Quinn. It's been a pleasure. I look forward to meeting you in person when I'm able to get back out there!
Grab Quinn Lamont Luke's Don't Run Away via: https://quinnlamontluke.bandcamp.com/album/dont-run-away
For more info please check: 
Quinn Lamont Luke Facebook: https://www.facebook.com/quinnlamontlukemusic
Quinn Lamont Luke Instagram: https://www.instagram.com/quinnlamontluke/
Tags:
Bing Ji Ling
,
david mancuso
,
El Triangulo
,
larry heard
,
Quinn Lamont Luke
,
The Phenomenal Handclap Band
,
Ubiquity Records