Razor N Tape – 50 Discos Deep with JKriv and Aaron Dae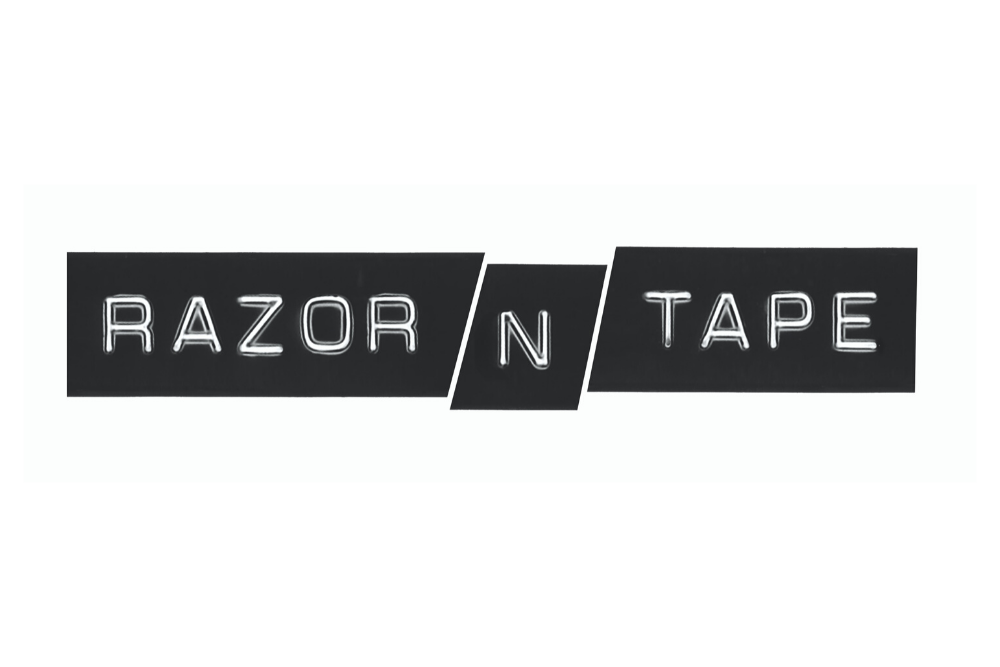 Razor N Tape – 50 Discos Deep with JKriv and Aaron Dae.
Founded in 2012 by friends JKriv and Aaron Dae Brooklyn's Razor-N-Tape this week celebrates it's 50th release with a superb triple 12" Fifty Discos Deep. Originally founded as a vehicle to release the unsigned disco edits that they had been playing in their DJ sets they have since built Razor-N-Tape into one of the stand out labels on the scene. Indeed I think it's fair to say that Razor-N-Tape is the most name checked label we have had during all our DJ interviews at LV online over the last couple of years.
Their output has seen some of the true heavyweights of the scene get involved in releases including LNTG, Ron Basejam, Dimitri from Brooklyn (aka Paris), Jacques Renault, Yuksek, Coeo and Eli Escobar. The list is a true who's who of the best of the scene. Likewise for their DJ supporters with spins coming from some of the legends of the scene including; Derrick Carter, The Black Madonna, Disclosure, Bicep and Kenny Dope.
They have taken the sound of New York Disco and delivered it to the world, helping in turn to actively sculpt the sound of the whole scene. It's a label which is renowned above all else for the sheer musical quality of their releases.
As both DJ's and label A&R's it's clear that both JKriv and Aaron Dae love to seamlessly blend old and foil fresh cuts. It's a recipe which has paid dividends with the label too fusing classic grooves with bang-up-to-date production techniques.
LV online spoke to Aaron and Jkriv about their journey to setting up the label, their ethos and to get some tips on running a label as well as their plans for the rest of 2020. Check our full interview below.
You can also check our review of 50 Disco's Deep HERE and you can check out the premier of Hooked On This Feelin' (Dimitri From Brooklyn Edit) from the compilation below. Please give it a share on Soundcloud and help spread the Razor-N-Tape love.
Hi there JKriv and Aaron Dae,
Many thanks for speaking to us today.
Congratulations on hitting your 50th release. Firstly please can you tell us a little about your musical journey and how you came about working together to set up the label?
Aaron: Thank you! Well, I'm a product of the NYC 90's rave culture but I also spent time in Philly and Chicago which has also influenced my musical tastes over the years. JKriv and I linked up through mutual friends shortly after I moved back to Brooklyn in 2010 and we quickly discovered a shared bond of all things disco. The rest as they say is…history.
You have managed to achieve a huge amount with the label in what is a relatively short period of time. What would you say is the ethos of the label as you hit your 50th release and how has that helped you stand out from the competition?
Jkriv: I think it starts with a commitment to only releasing music that we ourselves really love and stand behind. Anyone can put out edits, but I believe the consistency of quality output is the main thing that sets us apart from other labels in our space.
Which labels would you say were your own inspiration to founding Razor-N-Tape and how you wanted to run it?
Aaron: I'd have to say labels like DJ Harvey's Black Cock, Joey Negro's Better Days, Underdog Edits, and Dicky Trisco's Disco Deviance all played a part in the birth of Razor-N-Tape.
Please can you give us four tracks which you would say are quintessentially Razor-N-Tape?
Jkriv
Michael the Lion – Anytime
Just a feel-good, funky and soulful rework that always lights up the floor.
Balako – Batuque
This is sort of the other end of the spectrum of what we do, both in terms of source material and approach. Balako have taken a very traditional Brazilian samba/chorinho sound and worked it masterfully into a modern chugger of a track. This kind of creative no-boundaries approach is also part of the RNT sound.
Aaron Dae
DJ Vas – Wizard Funk
Never leaves the bag after all these years and always does the trick. A whole lotta sleazed up boogie funk with a heavy dose of dance-floor shaking low end.
Dimitri From Brooklyn – Kettle America
With three separate releases on the label, I'd have to say that Dim definitely falls into quintessential RNT status. Now I'm especially partial to the source material on this edit as it's been a long-time personal fav, but feel that this entire record is by far the best of the bunch. All 3 cuts = Slammin'!
What can you tell us about the album that you have put together for the 50th release and what are some of the key tracks for you that you have been playing out?
J: We've been playing the Dimitri, Underdog, Arsenii and Joey Negro contributions to the 50th record the most, but mostly because we've had them the longest. Hard for a parent to pick a favorite child…really every song on this release is super playable!
What would you say are the talents that you each bring to Razor-N-Tape which you would say have led to the success of the label?
AD: I'd say it's the blend of our different backgrounds in dance music. I come from a label perspective and JKriv from an artist standpoint. I think it's the ability to see through both of these lenses that have contributed to our success over the years.
What does a day in the life of JKriv and Aaron Dae at Razor N Tape look like?
J: Haha I think our days look pretty different. On my ideal day I get a good deal of studio time in, listen through some demos, help plan some releases for the label, cook a nice dinner with my girlfriend. They're not all ideal tho!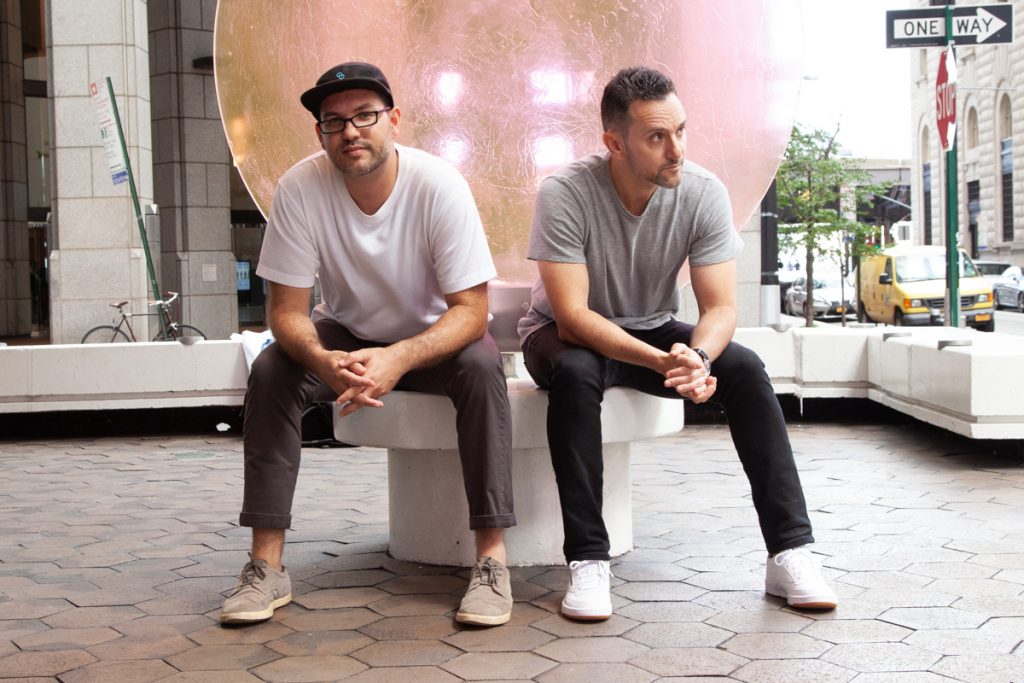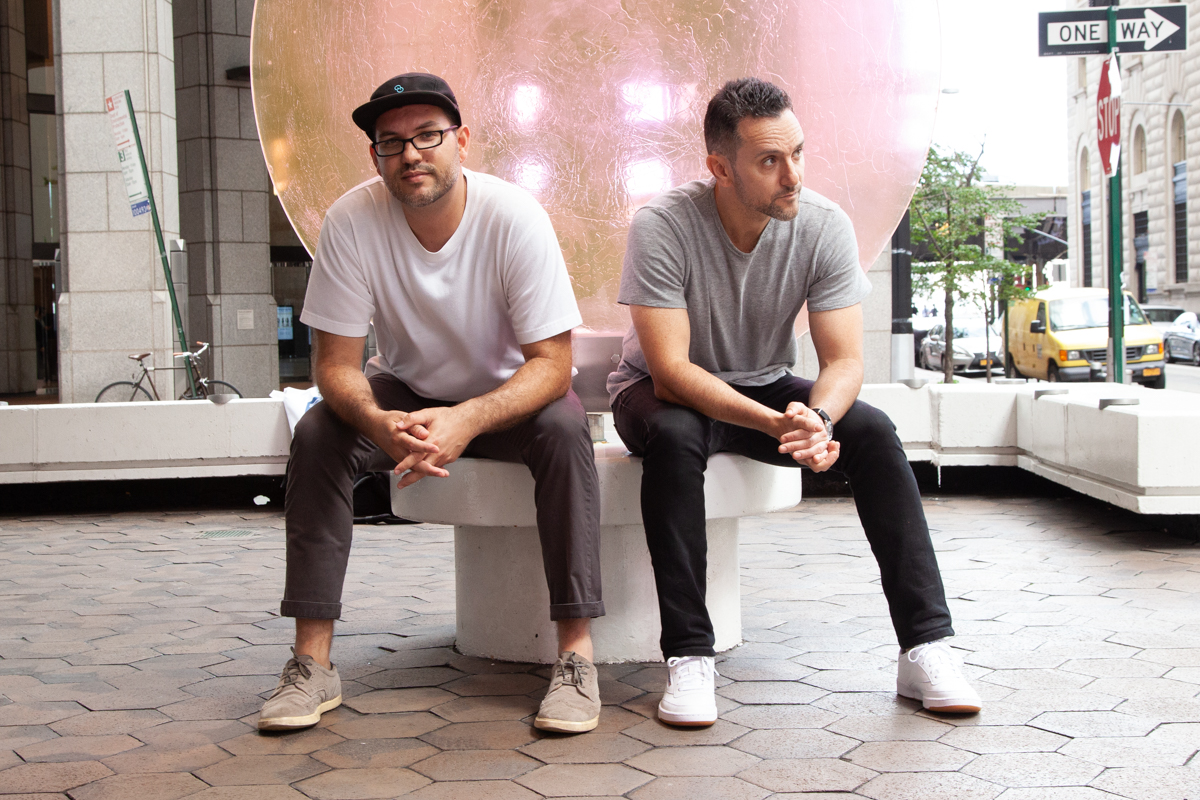 Aaron Dae & Jkriv
You also have a side label Razor-N-Tape Reserve what can you tell us about that and what differentiates the two labels?
AD: We actually have two side labels, Razor-N-Tape Reserve and Razor-N-Tape 45, which bring the total count of records released to 86! Reserve leans a bit more house-y, but has recently started shifting to a place for all original productions spanning across several genres. RNT 45 is our 7" series which focuses on the modern funk, boogie, and boom bap side of things.
What would you say are the most fun aspects of running a label and what are the most difficult?
J: Staying on top of the scheduling is one of the more challenging aspects. At any given time we have many pots on the stove and we have to constantly be aware of where numerous releases are in development, balancing timelines and logistics. With a release schedule as packed as ours it's enough to make your head spin at time. But the best part is payoff when you get the record in hand, and the feedback on the music from fans and the dance floor.
From what you have learned from running a label during your time with Razor-N-Tape what 3 tips would you give to anyone looking to start up their own label?
AD: 1. Get ready to work! If you want to do things right, be prepared to put in a lot of time and effort and more time and more effort. You reap what you sow.
2. Assemble a good team. A good graphic designer and mastering engineer are worth their weight in gold. The most expensive people are not always the best, but you do get what you pay for a lot of the time when you try and cut corners.
3. I suppose it's sort of cliché, but don't follow trends. Stay true to yourself and what you think is good. Obviously, you should be open to feedback from your peers, but don't let folks sway you too much.
Please can you give us 4 tracks from producers who have influenced your own style and directly the style of RnT?
Jkriv
Mass Production – Welcome To Our World (Joey Negro Funk In The Music Mix)
Joey Negro is really probably my number one producer for modern disco. His productions and remixes are the perfect balance of old and new, capturing the essence and energy of the original but modernizing the production in all the right places. He's been a supporter of some of my original music, releasing my song Vertigo and having me remix for Z Records and it's a pleasure to have him included on our 50th release.
Alice Smith – Love Endeavor (Maurice Fulton Remix)
My other favorite producer, Maurice brings a certain edge and funkiness to everything he does, whether techno or disco. And he does it all equally well.
Aaron Dae
Tell The World How I Feel About 'Cha Baby (A Dimitri From Paris Disco Re-Edit)
You can't say the words "Disco" and "Edit" and not have Dimitri From Paris' name come to mind. Through his countless compilations, edits, and remixes, he's consistently waived the disco flag high for all to see. This is one of many that always stays in the bag. It's been a real treat working with him over the years and we were elated to have him contribute to our 50th.
Black Science Orchestra – New Jersey Deep
Many a morning were spent on the dance-floor of Manhattan's legendary Roxy club dancing to this being played as the last song of the night. A downright classic that takes the old and makes it new. Never did I think that some 23 years later I'd go on to work with Ashley Beedle on a 12" and release remixes from BSO on my own label.
Following on from the 50 Disco's Deep compilations what else can we expect from Razor-N-Tape in 2020 and beyond?
We're pretty stacked for the rest of the year here at RNT. Expect edit releases from Devin Dare, Dino Soccio, Blair French, Underdog Edits, and Trepanado. Reserve has a very cool package of remixes and originals of 70s Colombian pop duo Elia y Elizabeth, a lush deep house EP from Obas Nenor, 10 year anniversary remixes of Midnight Magic's hit "Beam Me Up," an EP from Brazil's Baiana System feat. remixes by Jimpster, and last but not least an album from Cody Currie.
To buy 50 DIscos Deep check:
https://razor-n-tape.bandcamp.com/merch/rnt050-various-artists-fifty-discos-deep-12-triple-pack
For more info check:
Razor-N-Tape Facebook: https://www.facebook.com/RazorNTape/
Razor-N-Tape Soundcloud: https://soundcloud.com/razor-n-tape
Tags:
50 Discos Deep
,
Aaron Dae
,
Jkriv
,
razor n tape