LV Premier – Hooked On This Feelin' (Dimitri From Brooklyn Edit) [Razor-N-Tape] & 50 Discos Deep Review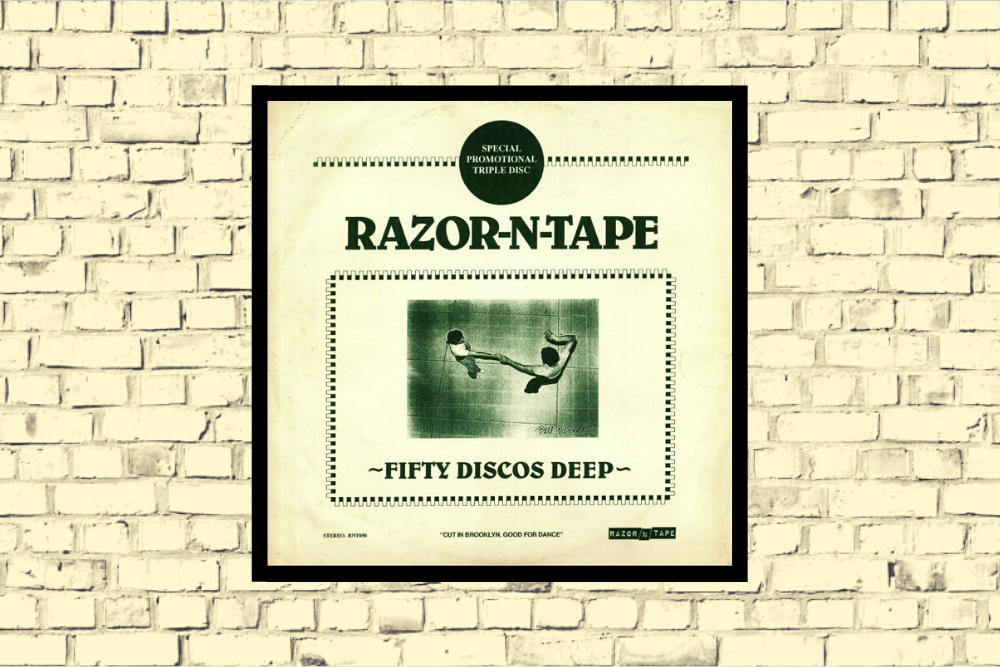 LV Premier – Hooked On This Feelin' (Dimitri From Brooklyn Edit) [Razor-N-Tape] & 50 Discos Deep Review
The inimitable Razor-N-Tape are just about to drop their 50th release on 24th April. Suiting a label which has become an essential part of the edits world, indeed one which has helped remould the whole scene over the last few years, it's a triple album bursting with class.
Leading off the 10 track album is the equally essential Dimitri from Brooklyn, the alter-ego of everyone's favourite Parisian edit king and a regular on Razor-N-Tape. His edit of Hooked On This Feelin takes an ever so classic groove into which he has injected his own scalpel genius. Building the track around the effervescent guitar licks and ever so funky keys this is dubbed out disco goodness of the highest order. Powering through the vocal breakdowns it's the addition of individual elements such as the percussion hits, extra guitar licks and wonderful brass runs that keep the drama high from start to finish and demand your non-stop attention. Powered by the funkiest of bass-lines this is a track for which the title peak-time was designed for. Expect there to be crazy hands-in-the-air smile-fueled dancing!
Over on the flip of Vinyl 1 is Underdog edits's feel-good jam In The Need of that Phone which merges ever so soulful vocals with a monster drum kit. The keys keep things powering forward and with the addition of some fantastic sax it's a track which has that dancefloor groove is aces.
Arsenii's Edit of Walter's Afternoon is another deep feel good moment with it's enchanting brass and wah guitar's. This is a hypnotic masterpiece packed with sublime playing. It's the sort of track you can only get when a producer enlists the best musicians out there and they click perfectly. Make sure you tune in for those masterful breakdowns.
Vinyl two leads off with yet another master of the game Joey Negro who's Let's Get Ornery is dancefloor gold like we have come to expect from him time after time. It's one of the great mysteries of life that he not only consistently keeps that outrageous standard up but manages to continually raise the bar. Huge basslines, wonderfully effusive keys and super guitars all of which build gradually into one of the finest disco tracks ever made. Another sublime dub which keeps you guessing until it is ready to have everyone on the floor lift their arms in unison. A classic!
Jaques Renault's Edit of Said I Would is up next and it's another slice of top class instrumental disco. Funky as a mosquitoes tweeter it's built around some wonderful brass solos with the energy levels kept high with the addition of brilliant keys and guitar licks aplenty. More peak-time gear of the highest order.
Next up is co label boss JKriv with his edit of Lovin Lazers which takes us straight into the late 70's with another keeps you guessing dub. Synth lines and looped up vocal goodness aplenty are on offer here. Expect a track which builds and builds till the floor is literally shaking. Party goodness.
Seeing out Vinyl two is Daniel T's ever so banter All Thai'd Up. Thai disco goodness it's got that Eastern feel beautifully merged with western disco nous. The Bassline does the damage here, it's just too good not to dance uncontrollably too. Again the guitars and keys are filled with an unstoppable funk. It's a common theme throughout the album.
Kicking off vinyl three is another Razor-N-Tape regular New York's own disco missionary Eli Escobar. His track I love Rochelle is a get your ass on the dancefloor and lose it type of track. Smooth keys and diva vocals this is exactly how to create a dub which is truly electric. The original soul of the vocal just plays perfectly into the crazy funk of everything else to create a track which is just unstoppable.
Leading out the last side of the vinyl is Detroit's Peter Croce with a bass meets percussion slice of boogie goodness in Love, Peace and Joy. Guitars, brass and general yessirrrr this is another classic of a 3am tune. The party gospel vocal and bassline jam just add to the raise your hands to the disco ball feeling here.
Closing out the album are Philadelphia duo Superprince with their Dependable Edit, the most vocal heavy track of the album it's also a fitting closer with it's definite end of night grab your loved ones and hold them close feeling.
This will be one of the disco albums of the year, that is for sure. Make sure you grab your copy quick before they all fly out.
To buy the compilations check:
https://www.juno.co.uk/products/dimitri-from-brooklyn-underdog-fifty-discos-deep/768747-01/
For more info check:
Razor-N-Tape Facebook: https://www.facebook.com/RazorNTape/
Razor-N-Tape Soundcloud: https://soundcloud.com/razor-n-tape
Tags:
Aaron Day
,
Dimitri From Brooklyn
,
Dimitri From Paris
,
disco
,
eli esocbar
,
Jkriv
,
Joey Negro
,
razor n tape