Ron Basejam Talks Remixing Attraktors, White Lamp, Razor-N-Tape, Giles Peterson and Crazy P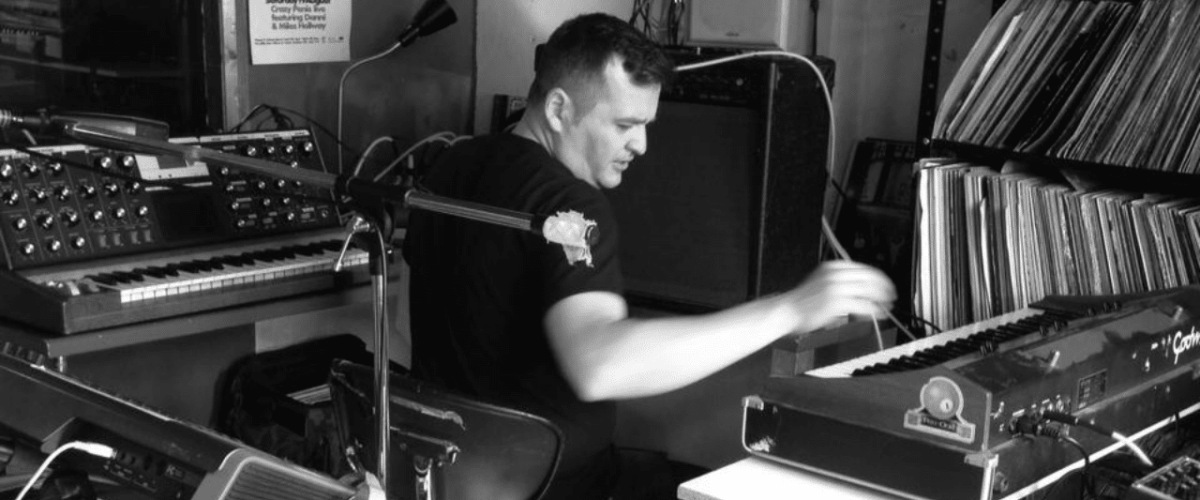 Ron Basejam Talks Remixing Attraktors, White Lamp, Razor-N-Tape, Giles Peterson and Crazy P
Like what you hear? To help support LV Online buy us a coffee via Ko-FI. Click HERE
An Interview with the Insider for Le Visiteur
Ron Basejam has consistently proven to be one of the most innovative yet steady production hands on the disco scene. From his hugely loved work with Crazy P via his remix, edits and originals as Ron Basejam and a plethora of collaborations he is as prolific as he is consistent. Covering a whole lot of musical bases from house and disco through Balearic, acoustic and Italo you never quite know what you are going to get with a Ron Basejam work other than it's unerringly going to be serious quality.
His latest project sees him remixing Nottingham power trio Attraktors for Higher Love Recordings. The Trio are made up of Bass player John Thompson, a 2-Tone veteran, who has played with both Bad Manners and The Selector. James Flower who was a founding member of post-rockers, Six By Seven and drummer Antony Hodgkinson who has played with Bivouac, and collaborated with Julian Cope. Their debut, self-titled LP was was critically praised on it's release last summer touching on everything from Depeche Mode, Eno, Harmonia, Human League, and Kraftwerk.
Ron has very much given his touch to two of their tracks which are available on digital and as a limited 10″ vinyl. To celebrate the release Ron put together a very special mixtape for our Disco Selectors series and also spoke to the insider about all things Ron Basejam. As you would expect it's a thoroughly enjoyable read. Check it out all along with the mix below and you can also find more on the mix, including the full tracklist HERE.
Grab the EP from: https://www.juno.co.uk/products/attraktors-ron-basejam-remixes/843133-01/
Thanks for your valuable time today, Ron. How are you keeping?
Well, thank you. Nursing a bit of a hangover if I'm honest. We managed to get up to Manchester to see DJ Harvey at the electric chair on Sunday which was pretty cosmic. Saw loads of old mates, had a good dance, and probably got a bit over-excited. My recovery period is increasing exponentially. well worth it though.
Starting to see loads of gigs pop up now. How does that feel after the last 18 months?
It feels great to be back. We've had a good mix of live, DJ and Soundsystem shows and after a couple of months you might say we're back in the saddle. Some amazing crowds and moments already to savour. The break has definitely helped me come back to gigs with a sense of gratitude and enjoyment. It feels fresh again.
As a big live performer with Crazy P, lockdown must have knocked the stuffing out of you.
It did and it didn't. Initially I was reveling in actually having some quality time. Both for music and for family. Spending five days a week making and listening to music was a luxury I'd not had for a while as we'd been so busy pre-covid. After about 6 months I started getting a bit twitchy. It's all good making the music but when you don't have the focus of gigs it kind of feels like it's taking some of your purpose away. We'd always road test new material in gigs and I started to miss that. Along with the camaraderie of performing with my mates of course.
What was it being at home all that time? Did the time test you in any way?
I was fortunate in that the studio we have is isolated and I was able to continue using it throughout. It became my little shed. A little break from the intensity of lockdown. It was a test as it was for everybody in some way. It was a rollercoaster on occasions, but people had it much worse so I'm thankful.
So, you're back on the live circuit. Did you play last weekend? Where was it? How was it?
Last weekend I was at the Wildwood festival in Cambridge doing a (Crazy P) Soundsystem show with Dani. It's an amazing spot in the woods with a great crowd of dancers. Norman Jay played before us and set the tone beautifully. Big smiles all round. After we did our thing Heidi and KrystalKlear raised the roof.
Crazy P go back a long way. When was the beginning and who were the original members?
I started the project with Chris Todd (Hot Toddy) in 1996. Yes, I know. 🙃 Are we classed as veterans now? I hope not. Not exactly a compliment is it. Just basically saying you've been around for ages 😂 We made one album together ( 'A nice hot bath with…') then we met Danielle (Moore) and it moved from being two blokes with a sampler to more of a band vibe. The three of us are the core with help of course from our friends Matt Klose (drums) and Tim Davies (bass).
Where did the penis bit come from? I've gotta ask ya… 😊
A mate of ours had a 7″ record he'd got from a car boot sale either by or called 'Loco Pinga' (which we took to translate as Crazy Penis). we were originally called Loco Pinga but when we signed to Paper recordings, they urged us to go with the translation. In a haze of weed and naivety we agreed. I grew to love it. It was a bit of a marmite job. Memorable if nothing else.
The Ron Basejam project – Would you say it has a sound? How would you describe it? Or does anything go if its good?
Yes, its carte Blanche. These new Attraktors remixes are a testament to that. I don't want to limit myself but I'm conscious it can be more difficult if the listener doesn't know what to expect. 'Does it float my boat?' is generally the only stylistic and quality control involved.
Your first release and absolute anthem that it was 'For The People' by The People',  on Winding Road was released in 2005. Ron's been doing the rounds for quite some time then. Was this post Crazy P's beginning?
Yes, it was. Chris had already done a Hot Toddy album for Paper, but I was a slightly slow starter. 'For The People' was my first go.
'Deep and Meaningless' was on Yam Who's ISM in 2010. How did the album do for you as a whole? Was it a physical album?
From memory, It was a great, fun experience. It's not an album I generally go back to but I still get the odd favourable message about tracks on it. It was unsigned when Gilles Peterson started playing it on the radio. so, it really put it out there. Yam signed it soon after. We did CD's (remember them?) but no vinyl.
I know Gilles Peterson picked 'Into My Life,' ending up on Brownswood Bubblers. Just listening to this now as I write – hearing you in such a jazzy mode. When we think of Ron Basejam we think of house, funk, and disco. Are you a bit of jazz head then on the quiet? Did you play the keys on this?
Yes, and yes! I do like jazz but there has to be some kind of groove for me to really connect. Mathew Halsall is a great example. Not too fussy and really emotive.
You released on Razor-N-Tape, Wolf Music, Futureboogie, House of Disco as well as a ton of remixes for Fouk, Kelis, Lovebirds. I'd love to ask you about – White Lamp/ It's You. In my circle of friends, this one of the greatest records of our days. You've gotta admit it's pretty mega eh… 
It's a popular one for sure. A favourite of mine as well. It's Pete Josef's wonderful vocal that really gives it that universal appeal. I remember it taking me no time at all to do. One of those rare occasions where everything just fits straight away.
And of course, 'Love Don't Wait' on Razor-N-Tape. What a tune! RNT strike me as great label to work with. Always bringing the heat, so dynamic. Have you done much with them? Have you got anything else going on with the label?
I've known Aaron and Jkriv for years before RNT was in existence. They both have great ears so it's no surprise the label has been such a success. I'm sure the door would be open for another release if the right thing came along.
What would you say is the most successful Ron Basejam release to date do you think?
White Lamp as far as remixes go. My remix for Alena – Changes, is also one that crops up again and again. Original stuff wise my 'After the Rain' EP for Futureboogie did really well. And more recently I've really enjoyed doing the 4 RBJ re-works series which have been picking up plays from a really diverse bunch of DJs.
Remixes are such a part of the scene today. Is it as much fun for you working a remix as it is an original production? Do you like the process?
They're different processes but just as enjoyable. For me it's all about spotting something in the source material and knowing you're going to be able to bring something to the party. Being able to cast new light on an original version is what I aim for.
There are certain people whose remixes are formulaic. I never hear that in your stuff. How do you approach a remix? How do you work out how to flip?
Everyone is different as every track has something different to offer. I generally get an idea or an angle as soon as I hear the track. You can feel pretty quickly how the idea will manifest itself stylistically. The Basejam project allows me the freedom to go down any route I feel works. So that means you may end up with house, disco, Italo, afro, downtempo or indeed none of those!
On this current mega project – what can you tell us about the Attraktors and what have these guys done in the past?
I've known the lads for years as part of the scene in Nottingham. They all have a rich and varied CV of work and have had a great deal of success in other projects. I've worked with Jon Thompson (bass) on lots of things over the years. Anthony from the band, sent me their album on release and I was blown away. I loved the mood of the thing. Melodic but occasionally foreboding, electronic kraut-pop with a real sense of personality. I immediately offered my remixing services!
The flavour of this solid EP is definitely one for the ALFOS heads. The first track Heavy Water is massive tune! What did you do to the original track on the remix?
On hearing the original I loved all the elements. I used a lot of them in my mix. The sax lines layered up were so dramatic, I just wondered if there was room to add some extra power for the dancefloor and you can hear that in the drums and the bass arpeggiator. The chuggy 90's style really suited the treatment so any comparisons to the ALFOS sound are most welcomed.
What are you working on the moment then Ron?
Lots of Ron remixes for the likes Retromigration, the secret night gang and Lukas Lyrestam. I've also been working on a new White Elephant album (with Ben Smith and Chris Todd), trying to get an album done for my JIM acoustic project (which came out on NuNorthern soul in May) and some new Crazy P!
You've been making music a bloody long time. If you didn't work in music, what do you think you would have done with yourself?
I was a criminal solicitor before I went full time with the music, so I'd probably still be doing that, although I imagine by this stage, I'd be an unhappy, cynical old git. So I won't dwell on that!
Where can we catch you live soon?
Loads of Crazy P stuff coming up including a full live UK tour starting the 5th of November. check our channels for details!
https://www.facebook.com/crazypmusic
https://www.instagram.com/crazypmusic
For more info please check: 
Ron Basejam Facebook: https://www.facebook.com/RonBasejam
Ron Basejam Instagram: https://twitter.com/RonBasejam
Ron Basejam Twitter: https://twitter.com/RonBasejam
Attraktors Facebook: https://www.facebook.com/attraktors/
Attraktors Twitter: https://twitter.com/Attraktor5
Higher Love Recordings Facebook: https://www.facebook.com/HigherLoveRec
Higher Love Recordings Twitter: https://twitter.com/HigherLoveRec
Tags:
Attraktors
,
Crazy P
,
disco
,
Giles Peterson
,
razor n tape
,
Ron Basejam
,
yam who