Ross Allen talks about DJ Oji's 'Cranes In The Sky', Bruise, Lady Blackbird, KDA, Giles Peterson, Pete Tong, signing a No. 1 for the Sugababes and a lifetime in music.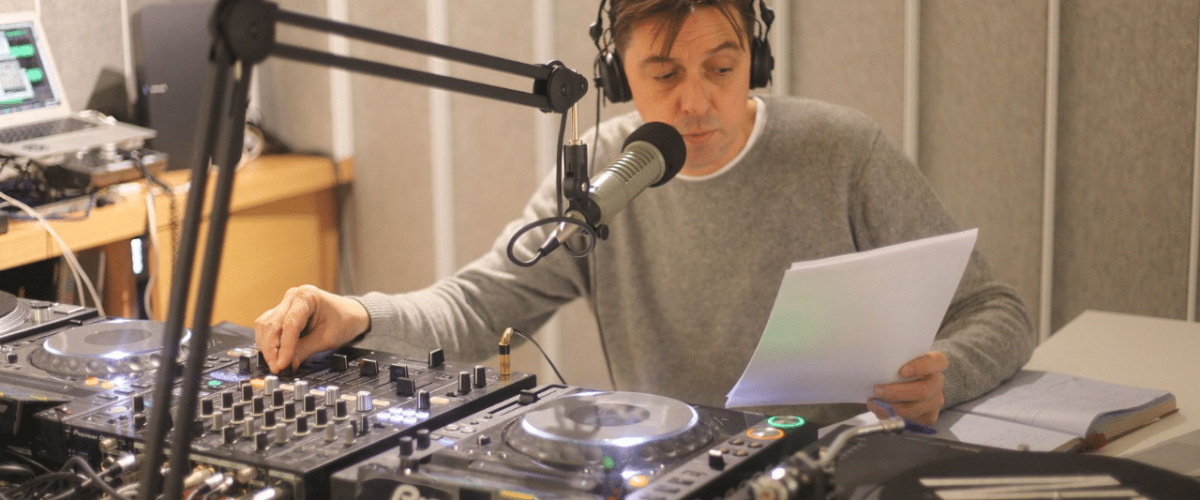 An interview with The Insider for Le Visiteur
Ross Allen has been a longtime industry face.  From shows on Radio 1 and NTS to signing the Sugababes No.1 hit Freak Like Me and running labels at Island records, he's been in and around the inner workings of the industry for nearly four decades. Running record shops, writing for Straight No Chaser, co-producing tracks, managing artists like London Grammar, KDA and Lady Blackbird and A&R-ing tracks for the likes of Amy Winehouse, Bob Marley and Mary J Blige there is literally nothing he hadn't turned his hand to.
Ross Allan is still deep in artist management, a regular on NTS with his well loved radio show Soup To Nuts as well as running Foundation Music with Andy Thompson. Their latest release is DJ OJI feat. Tracy Hamlin's Cranes In The Sky, a track which was originally written by Beyonce's sister Solange. DJ Oji has given a whole new lease of life and his own groove with funky Baltimore styled beats have seen it pick up huge DJ support including being chosen as one of Pete Tong's Essential new tunes.
You can grab DJ Oji feat Tracy Hamlin's 'Cranes in the Sky' via: https://foundation-music.bandcamp.com/album/cranes-in-the-sky
The insider caught up with Ross to talk about his long and fascinating career.
Ross Allen talks about DJ Oji's 'Cranes In The Sky', Bruise, Lady Blackbird, KDA, Giles Peterson, Pete Tong, signing a No. 1 for the Sugababes and a lifetime in music.
Hello Ross. Great to talk you. How you keeping?
Very well thanks. Busy as ever, it never seems to stop (thankfully)
Lockdown
How was the old lockdown period for you? Did it affect your work so much or were you continuing as normal in a sense?
It was pretty good, it didn't stop for that either, sadly I split up with the mother of my daughter which wasn't ideal but I was staying in a stately home in the Suffolk countryside for the first 6 months of it so that was pretty amazing. I did the radio show on NTS throughout it, and I launched the career of Lady Blackbird whilst up there, planning the roll out, appointing promo teams, and sorting out the remixes. I also got all my management clients signed to major labels whilst there too – KDA, Zach Witness and eventually Lady Blackbird.
Blackbird (Foremost Poets Remix)
KDA, Tinashe – Die a little bit (KDA Remix)
London
Are you from South London originally then? Where exactly did you grow up?
I certainly am. I was lucky enough to be born in Woolwich, lived in Abby Wood (my Mum is still in the same house) and went to school in Bexley. We grew up on BMX's, soul music, electro, football, and clothes (there was an initial flurry of love of AC/DC, Black Sabbath, and a few metal bands but I soon realised that I wouldn't get a girlfriend if I stuck with that. And then Electro, BMX's and girls took over… )
AC/DC – Dirty deeds done dirt cheap
Newcleaus – Jam on revenge (The Wikki Wikki Song)
Thelma Houston – You used to hold me so tight
Maze – We are one
Aleem – Get loose
Favourite 80s parties
If you lived in London in 80s you must have had access to all sorts of clubs and parties. Where did you frequent in those early years?
I was obsessed with the radio, Pirate Radio, being into soul, funk and electro and was itching to go out from a very early age. My brother and I always wanted to go to the parties we heard about on the Pirates and read about in Blues & Soul and Echoes. Initially we went out locally in Kent – Flicks, local pubs with music, and the Old Kent Road. I started doing parties locally when I was 15. I was the kid who had the records at school and got in to DJing and putting on doo's around the age of 15 and 16.
We soon gravitated to The Special Branch on Tooley Street and Nicky Holloways doo's At The Zoo's, and beyond. We read the Face and I-D and tried to be 'West End Trendies' when we were really urchins from the South East London suburbs. We soon ended up at The Mudd Club, The Wag and I suppose importantly at The Raid – the first time I went to the Wag to see Pete Tong and fell in to the world of Boys Own.
By then I had developed a love of dodgy Bossa's, and Gilles Peterson and Chris Bangs world of Jazz as it was back then, Blue Note's, Bossa's, soul records and a bit of funk… I loved the music they played it was fun and totally different to anything I had heard before. We evolved into Rare Groove from there and everything else that DJ's and labels threw at us that clicked really.
Serious Intention – Serious
Old school beats original concept – Can you feel it
Lola – Wax the van (Kenny's club version)
Earl Grant – House of bamboo
Quartette Tres Bien – Boss Tres Bien
Who did you run around with at that time?
Mates from school and a few local kids that were from the scene around that part of South East London, North West Kent. We were heavily into the music, clothes, and clubs. I guess I was the most addicted.
Record Shops
What were your records shops you went to into the early years?
Initially it was all about Groove Records. That was the shop Capital Radio's Mike Allen and Tim Westwood would go on about, but I soon got very into City Sounds – they saved me a white label of Coldcut's "Say Kids What Time Is it ?" which blew my mind back then and that got me to know the guys there. The legend that is Dave Silby, and the guy I run Foundation with now Andy Thompson. It was a great shop and had a brilliant diverse array of music that suits that Special Branch format.
Soul, Funk, Hip Hop, House, Garage, Jazz, Def Jam, Pete Tong and Gilles P would all go in there.
Coldcut – Say kids what time is it?
Public Enemy – Public Enemy No. 1
There was a big culture of hanging around in shops for hours sifting through and listening. Is that something you did a lot as a teen?
I have always loved hanging around in record shops – I really miss the old communal nature of them – I spend too much time and money in them still but back then when I worked in the city. I used to always be late back to work and always spent too much money in them. I was told in City Sounds by Nigel Wilton once, that I was developing a problem with buying records when I was 17 – it hasn't changed since!
Inner Rhythm
I was big on Bluebird Records. Did you ever work in a record shop?
I ran a record shop in Streatham for a couple of years Inner Rhythm. There was one in Brighton too where Damien Harris from Skint worked. I loved it, it was a very friendly and communal shop in Streatham. If I saw people were in to it I'd make them a tea and they could hang out for ages – we weren't in the West End so a lot of the time it was quieter, but we did well, had fun and I discovered a load of records which fueled my ever-growing number of DJ sets, as I migrated to the centre of town.
Tranquility Bass – Cantamilla
Nuyorikan Soul – The Nervous Track
69 – Desire
Diverse Collection
I guess you were buying all of the stuff you were hearing in clubs. Would you say your tastes were outside of the norm back then? Were you buying a lot of jazz and Latin for example.
I have always gone with what I like. I've always been a back-room DJ really, a warm up DJ. I just do and play what I want obviously with an ear as to what will get people dancing, but my record collection is diverse and always has been. I buy what I like, always have, and then figure out how it's going to work in a DJ set. I never understood why people would do it any other way, but they do!
Creative Musicians
Oumou Sangare – Moussolou
Pete Tong
I read that you used to have a bath on Sunday night and listen to Pete Tong. Do you still bath just once a week?
Pete was, and still is, a great listen. The mixture that he played in 1985/6 was amazing and is basically what I play, albeit updated now. Black modern sounds from across the spectrum: soul, funk, jazz, hip hop, house… The last two genres were in there infancy, Def jam was incredible, as were so many independent hip-hop labels and the up-tempo sounds coming from Chicago and NYC were laying the foundations for the revolution that was coming. He elected great tracks from that era that still resonate today.
Cymande the message – heard in the bath and it blew me away so much I wrote the title down (misspelt) in the mist on the bathroom mirror!
Frankie Knuckles – Baby wants to ride
Pirate Radio
Were you involved in pirate radio scene?
Not really I did one show on WNK in about 1988 in Tottenham late in the midnight hours and that was it. I listened like crazy though – Solar, Horizon, LWR, Kiss FM, Starpoint, etc, but my radio career started at BBC London in 1994/95.
Lenny White – Didn't know about love (Til I found you)
Lynn Collins & Vicki Anderson – You can't love me if you don't respect me
Mike Dunn – Magic Feet
Madame X – Just that type of girl
Blaze – What'cha gonna do
Island Records
When was your time at Island Records? What did you do there for Island?
I was at Island from 1997 full time for 4 years running my Island Blue label and then went part time when they merged with Universal. I stayed on as a consultant on and off for about another 16 years! I was an A&R manager with my own Label, acts and then sorted out remixes for tons of people there – from Amy Winehouse (I sorted all the remixes on the album Frank), Erykah Badu, Mary J Blige (Moto Blanco were nominated for a Grammy for their remix of Mary that I sorted out), Damian Marley, Bob Marley, and tones of others. I was A&R for DJ Shadow, Stereo MC's, The Orb, Peshay, Spacek, Global Communications, Custom Blue, The Underwolves, Box Saga, Kirk De Giorgio
Have you ever been a producer? Did you ever put anything out that you made?
Yes. I basically co-produced the Lady Blackbird album, well several tracks. I co-produced a couple of Jeb Loy Nichols albums, I've made tracks with Ashley Beedle, Antigoni, and worked on remixes alone and with Switch, Coldcut, Sunship, KDA and a few others.
I'm not really that bothered about the credit – well sometimes I have been – but I like to make a lot of music at a high level and make sure my spin on those tracks is happening. I couldn't or wouldn't do it on my own. I've got too much music that I need to get out.
Lady Blackbird – It'll never happen again
Jeb Loy Nichols  – Don't drop me
Coldcut featuring Roots Manuva – True
Spacek
You signed Spacek. Curvacia was a big album for me at that time. It was my smooch album back to mine! What's he up to these days?
Spacek was a great project it didn't reach the levels it should have done, partly down to radio at the time, partly label support. If it came out now it'd have been huge. It was a bit too left to cut through at radio back then, but the audience was there. It's a lost classic.
Steve continues to do his thing from Australia, he's amazing as a producer voice and songwriter – he's freaky but a real talent. He's got his own funk that is often ahead of where I can hear it, but we were talking about doing something last year. I need to call him actually!
Spacek – Eve (J Dilla Remix)
Talvin Singh
Talvin Singh's 'Ha'.. was also another big fave for me. Did you put that out on Island?
I did work with Talvin on his 'OK' album that won the Mercury Music Prize. I also DJed at Anohka, his club that the album was spawned from
Sugarbabes – Freak like me
You've done a loads of cool stuff. Didn't you do something with the Sugarbabes?
I put "Freak Like Me" Together. I bought the mash up in Rough Trade and got Richard X to produce it. My first number 1 and a real springboard for the bands second coming…
Straight no chaser
I know you were writing at Straight No Chaser. When were you there? Wasn't Gilles Peterson and James Lavelle there writing at the same time?
I was brought through by the crew at SNC. James and Gilles were there, and I was doing my club column, but they expanded me into letting me put charts together and do interviews. It was them that put me forward for my first jobs in the music industry and they have been a constant source of inspiration and assistance. Paul Bradshaw is a huge unsung hero of the music scene here.
Casual Records
So Casual Records was born on 2003. How did the label begin? What was it about? Is it still about?
Casual was all about good music. It's always been about good music at every label I've been at, set up, and run. It never changes and they just reflect where my head is at the time. I was resident DJ at Cargo with a 9- year residency from the opening night. I had just had a number one record with the Sugar babes, and was fed up with the corporate changes at Island, so was looking to do something else that was mine after Island Blue.
Things aligned and we got on with signing Lady Sovereign and made two or three amazing tracks with her with Sunship, Switch & Diplo, Moto Blanco, and Spank Rock.
We made records with Sunship that were post UKG and quite Grimey and Bashment inspired. At the same time, we went to Nashville and made the Country Got Soul series of compilations, and a Buena Vista Social Club type record with the Fame Records band that played on Aretha Franklin's first release on Atlantic Records. This was with the singers from the compilation albums – Dan Penn, Tony Joe White, Larry Jon Wilson, Donny Fritts, Bonnie Bramlett, George Soule. It was the best musical journey I have ever been on, it sold very little but was the best journey.
My business partner – not Cargo – lost himself to drugs and that spoilt a very good thing. Plus, it was the time of Napster, and the music business was on its arse
Sunship ft Warrior Queen – Almighty Father
Lady Sovereign – Ch-Ching
Lady Sovereign – Random RMX
Dan Penn – If love was money
Travis Wammack – You better move on
Sapelo
Radio 1
Didn't you have a stint at Radio 1?
I have done about 20 odd shows on Radio One; all covers for Gilles Peterson, Annie Nightingale, Andy Kershaw etc, but never got my own show. I was on BBC LONDON for 10 years and have done a load of shows on 6music and was meant to be on there in their early days but that is another story. I did win a Song Award for the BBC LONDON Show too.
Were you ever a prolific club DJ or has radio always been your thing?
I have been DJing and getting paid for it since I was 15 years old. I did DJ a lot or about 30 years, but the radio always eclipsed it as I was more visible there. I had lots of residencies at nearly all the top London Clubs from Fabric, Ministry, The End, to Bar Rhumba, Cargo, The Social. I manly Djed in London and select more left of centre nights around the country, Europe, and the World, but I love radio more as you can just play as broad as you like without worrying about losing the floor.
I stopped DJing properly, as regularly, in 2013, as I was managing London Grammar and had to focus.
London Grammar
So, you were managing London Grammar. What was your journey with them?
I found them with 3 acoustic demos. I managed them from there to the end of their first album campaign which set them up. We sold a lot of records, travelled the world, then my old partners got sacked and I got caught in the crossfire and was outed too. It was a good ride and I'm still on good terms with the band just minus the cash!
Lady Blackbird
You've worked with a ton of people, the last two years with the incredible Lady Blackbird. What is the role that you've played in this rising?
Lady Blackbird was an amazing singer that a producer friend Chris Seefried, was pushing to me. She wasn't doing much at the time but had an incredible voice and look. Chris Seefried had written a track (along with a load of others that weren't in the best place) with her 'Nobody's Sweetheart' that was great, and we decided that the rest of the album should be in that space. For financial reasons we made it stripped back and I picked the bulk of the songs and Chris picked the players. My history in the UK jazz scene with Gilles and Patrick Forges' selections helped me shape the sound and places that the record and her voice worked in. I now manage her with some people in LA
Lady Blackbird – Nobody's Sweetheart
Lady Blackbird – Fix It
Bruise
You've had a hand in a fair few success stories. Are you managing Bruise?
Bruise, I don't manage but love what they do. It's mainly Christian Campbell, but it was Diesel who got me in to the project by sending me their first EP. Grand Hi was played on the show a lot. Off the back of that I got them to remix Lady Blackbird and that was a gem that Pete Tong made his number 2 tune of 2020. Doing an EP seemed a logical step and that has dropped nicely this year. There is loads more to come. He is a real talent.
You're one of NTS's few weekly shows. The radio market is saturated with shows, with few having the experience of knowing when to talk, how to interview and share info that's interesting. But you do it so well. Do you spend a lot of time, getting to know what you're playing and researching, or does it just fall of the tongue these days?
Thank you. I have been doing it for a long time and I was trained at the BBC, so I think that is a more professional place to learn. I was doing interviews everyday there and I was on 3 times a week for about 9 years, so I have had the practice. I love doing radio. It's great to be on NTS. It's such a broad and open station and listenership. It's a good place to end up at… It seems to fit nicely
Lady Blackbird – Collage (Bruise Remix)
Bruise – Joy
Your show is always a bit of an education, you play all over the place in terms of genre, stuff I'd probably never be aware of. Like Carwyn Ellis! How do you source all the music?
I am obsessive about finding music, it's part of the day job. It's part of my life, it's like food, and something I have done since being a kid. So, the process of finding music is what I've been doing since I was about 14. Listening, searching, and buying. I use Spotify like crazy! I still buy far too many records (old and new), and I'm listening and reading loads. I am forever looking for the perfect beats and songs. It's difficult to describe the style, but I've shortened it to the below:
A Funk. A Soul. A What the Fuck. I need to be wowed. It's the best feeling!
Promos
You must get sent a shit load of promos. Do you listen to much of it?
I do! And I do but I love finding those gems so piling through them is not a chore, but more a time constraint. Some promo people are more reliable than others, so you head to them, and to labels and of course artists and producers. But you do want the new and unknown so that is where you deep dive and pile through the shite!
Do you still like a rummage in the old record shops then? Where do you frequent?
I can't walk past a record shop really. I prefer them in the states in general as there is a better strike rate. I've been living between here and the UK since about 2014. So, I try and save my deep digging for when I'm out there. In London I'm in Sounds of The Universe, Honest Jon's, Phonica, Rough Trade, Soul Brother, Love Vinyl.
Foundation Music
Fast forward to Foundation Music. What's the deal on the label.
Well, it's a collaboration between Andy Thompson – someone who sold me records when I was 16/17 in City Sounds in Holborn (a fave shop of mine back then). We have been mates since then and gone off on our different journeys and come back and finally worked together. We share a love of Black music of all persuasions – twisted soul boys – whatever but have diverse connections and links, so it works well.
We just want the best, freshest, classic tracks, and artists. It's there to bring through artists and to bring exciting music, music that has been missed, music that is lurking about in the fringes to a broader audience. We are great at finding things, making them, working with artists to make them better, and then we promote them properly. If you don't do all of those you aren't going to win.
It's difficult in these short-term cash-starved days but so far so good. I'm very happy with it actually. We now just need cash!
Cranes In the sky
'Cranes In The Sky. There's a story to how you found it…
Cranes was a great moment for me and one that looks like it's going to be great for everyone involved, it feels good.
I had had a row on Coney Island with my now ex and I sulked off to a sound system on the board walk, grabbed a drink and just plotted up in the sunshine. I was probably bitching under my breath about what had just happened. The music was cool – Shelter type deep, Afrocentric, NYC house. The dancers were of a similar persuasion, ex Garage types, proper dancers. It was a lovely scene, a beautiful tonic for my troubled mind.
Then a version of Cranes came on and I was thinking "how come I missed this remix ?" I loved the Solange track it was one of my tunes of the year the year that it came out. I Shazamed it and found out that it was by Baltimore OG – DJ Oji feat Tracey Hamlin. I was amazed! I know Oji from his excellent Sanctuary track many years ago.
I then watched the boardwalk stop and the section where the sound was fill up and people of all ages and colours just got into the groove and enjoyed the song for what it is. It was a moment and when the track finished, people walked off and the scene returned, slightly buoyed, to what it had been before.
I wanted the track for my NTS show, and once back there I realised due to its reaction, that it was worth trying to sign – I kind of knew that moment I heard it, and people reacted as they did on the boardwalk. It's a special song, a great performance of it. Tracey's voice is sublime, and Oji smashed the track with the synth hook and the groove. My kind of House Music!
We sat on it for the lockdown but it's bubbling up nicely now. I'm keen to see where it ends up next year… Who knows ? Not me. The people will decide. I'd like a hit with it!
DJ Oji – Cranes in the sky
Anything still to achieve?
Is there anything else you haven't done in the music industry that you'd still like to do?
Retire! I don't want to; I just would like to be able to! It's been an amazing ride, full of diverse and amazing stories and adventures. It's not been bad, but it's been a bit lean cash wise for what I aspire to! So really I'd like more successes, more hit acts. I do believe that great underground records can be great overground hits you just need to work on them and ask these amazing artist and producers questions that raise the bar for them. It's tricky to do, it's not for the faint hearted or less talented A&R person but you have to do it.
I'd like my own number 1 record. The Sugarbabes I sorted that for someone else (who later sacked me at a time of great need after I'd just signed Switch and Chaka Khan. It's a tough business this kids !!). The Lady Blackbird team (not her) are keen to get a Grammy. I'd like one of those for the mantlepiece, but what I really want in music is a barn, an out- house to get all my records back together and filed, so they are all in one place where I can listen to them in comfort, with ease of access!
You've spent your life dedicated to music. If you weren't working in the industry, what do you think you might have ended up doing?
I don't know. I started out working in the city. I might have gone back there and lived a very different life – still packed with music I'm sure. I never thought people like me worked in music as a kid, I was shocked to find it might be possible. If someone had said to me in a careers meeting that I could have had the life I have had in this business, I would have traded a limb for it. So, I've been lucky, and I am very grateful. I'd be a lot more miserable if I weren't doing this.
So, praise to… Jah or whoever !!?
Ross Allen, it's been a pleasure. Thank you for your time.
You can grab DJ Oji feat Tracy Hamlin's 'Cranes in the Sky' via: https://foundation-music.bandcamp.com/album/cranes-in-the-sky
For more info on Ross Allen please check:
Ross Allen Instagram: https://www.instagram.com/rossallenmusic/
Ross Allen Twitter: https://twitter.com/rossallenmusic
Ross Allen's Soup For Nuts on NTS Radio: https://www.nts.live/shows/ross-allen
Foundation Music Facebook: https://www.facebook.com/foundationmusicproductions
Foundation Music Soundcloud: https://soundcloud.com/foundation-m-p
Foundation Music Instagram: https://www.instagram.com/foundationmusicproductions/
Foundation Music Twitter: https://twitter.com/FoundationMusi3
Love this? Check out more Foundation Music related articles HERE
Like what you hear? To help support LV Online buy us a coffee via Ko-FI. Click HERE
Tags:
Amy Winehouse
,
Bruise
,
DJ Oji
,
Foundation Records
,
Giles Peterson
,
Island Records
,
kda
,
Lady Blackbird
,
Pete Tong
,
Ross Allen