Scruscru Drops Our Selectors Mix 24 And Talks About His New EP South Wind, Clear Sky (Parts 1 & 2 EP) on Omena Records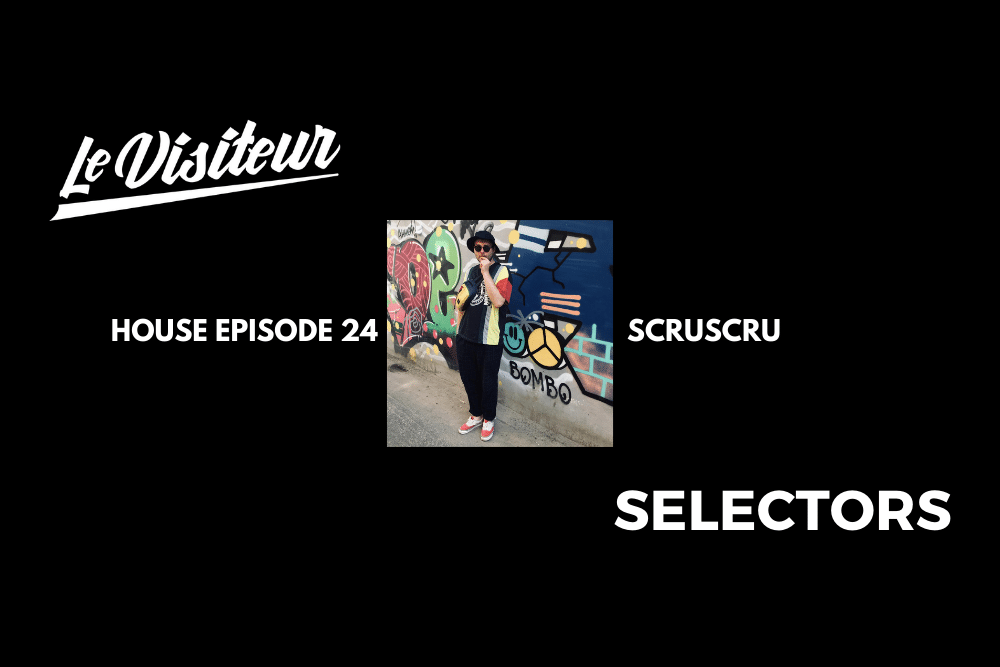 Scruscru Drops Our Selectors Mix 24 And Talks About His New EP South Wind, Clear Sky (Parts 1 & 2 EP) on Omena Records
We first came across Scruscru back in 2018 when he released the brilliant Finding All Your Love on Minor Notes which we premiered HERE. He's been an artist who we have followed very closely since then and he has regularly appeared on the site and in the Le Visiteur playlists.
One of a new breed of artists who is helping reshape the sound and borders of house music his productions are punctuated with jazzy overtones, deft production and incredible drum programming which has become a real pillar of his productions. Equally as well as the coolest of deep house he is just as likely to unleash a proper club bomb so he's very much a rounded artist who knows how to change things up, always keeping us guessing what will land next.
Following his outsanding EP for Outplay, which was one of our favourite releases of last year and which you can check HERE, Scruscru has a new EP landing with ace Swedish label Omena Records. South Wind, Clear Sky (Parts 1 & 2 EP) is a divine and unique collection of jazz, disco and house music. Laid back and playful in places it's a real summery soundtrack which has as much in spirit with the Avalanches as it does with any of today's electronic producers.
It's another triumph of an EP. We are very pleased that Scruscru has put together a mix for our Selectors series which you can check below and we also spoke to Anton the man behind Scruscru about the EP and what's he's been up to recently. You can also check the full tracklist of the mix at the bottom of this interview.
Hi there Anton,
Many thanks for speaking to us today.
It's been a couple of years since we last spoke across what's it's safe to say has been a very difficult period for the electronic music industry. How would you say things have gone for you as an artist over that period?
Hi mates!
I'm glad to be back with you again! The last 3 years since our last conversation have been really interesting for me. I have released a lot of music and played a lot of gigs in Russia.
2020 brought me the power of my Bandcamp. My Bandcamp followers have given me a lot of support and I'm really thankful for that
All of my 12" have been key releases for me, I'm trying to make no bad tunes, haha
Musically your sound has become very refined over the last couple of years, combining Jazz and jazz funk with house club nous? What would you say is your musical ethos as it stands in 2021?
Thanks for kind words!
In 2021 I'll try to do my best as always and I hope you will like some of my experiments with styles and sounds. There are also a lot of collaborations with artists you won't have heard much about before including Mike Fot, S.Timoshenko, Xsuxsu, Los Protos, Aman Po-Kaifu and many more 🙂
Please can you give us three tracks that you have released in the last couple of years that you are most proud of?
1. Teuf de Ouf (w/ Jehan)
This tune is our "paying respect" to St.Germain!
2. Inspector Potato (W/ Meowsn)
This tune is our tribute to the label that inspired us to made this "dusty wonky stuff" – Money $ex Records
3. One for Xsuxsu
"unknown" edit for my one and only Xsuxsu 🙂
Please can you tell us about your latest release South Wind, Clear Sky (Pt 1 & 2 EP) on Omena and how it all came about?
It's all started in autumn 2019, when I sent my demo to Omena. The next 6 months I was working on tunes and by May 2020 it was done and approved by Tooli
Then we waited for the best time to release it, and now in March 2021 it will finally be out!
South Wind, Clear Sky – Fine Wind, Clear Morning (Japanese: 凱風快晴, Hepburn: Gaifū kaisei, literally South Wind, Clear Sky), also known as Red Fuji,[1] is a wood block print by Japanese artist Hokusai (1760–1849)
1. Rain in a Bamboo Grove – It's funny but I made the first version of this tune at autumn 2017, so it's one of my oldest tunes 🙂
2. Maneki-neko – This is a nice jazzy tune with a lot of samples inside
3. Who Has The Jazz? – This is probably one of the best tracks from this release, my tribute to Japanese Jazz Funk from the 80's
4. Midsommar – This is a middle of the summer tune! I made it along with my mate Nazin. He's a turntablist, DJ and vinyl collector. Once we met at the studio we found some good samples from his vinyl collection and made this (and the next) tune
5. Looking Like A Fool – Just a cool tune! DJ friendly!
6. South Wind, Clear Sky – Soft kraut rock meets Japanese jazz
Grab the EP from: https://scruscru.bandcamp.com/album/south-wind-clear-sky-part-1
Omena is a fabulous label, if you had to pick one track that they have released recently which resonated with you, what would it be and why?
It's hard to pick only one from their chest if wonders so here are a few of my favourite releases 🙂
I really love
Sofa Talk – Scissors And Shapes EP
Atsushi Yano – Whole Rotta Love EP
Yadava – Earth Tones EP
Casino Times – Voices
Dee Tree – Bring Me Down (Lipski Remix)
Which other artists do you think have been pushing house music forwards the most since we last spoke to you back in 2018?
There are a lot of cool artists really and we are all pushing house music with our collective conscious and unconscious:)
Right now I'm mad about Sofa Talk, Dan Kye, Tochogi Canopy, Artem Xio, Shinichiro Yokota and many many more
Btw
I really love that in Russia we have a powerful wave of new 12" labels such as Craft Music, Deeppa Records, Dobro, Minor Notes Recordings, Sengiley Records, and Wax Ninja"
What were the essential bits of studio equipment and plugins which went into the making of the South Wind, Clear Sky (Pt 1 & 2 EP)?
I'm all about collecting samples, recordings, rare vinyl and everything around it.
So to create this EP I used my laptop, turntables and some synths like Roland jv-1080, Korg Promars , Farfisa Organ, Juno 106
Please can you give our readers some of your favourite studio tips on how to get the best out of their drum programming, something which you excel at?
Drums and bass are the base for my sound scene, so if you made a proper rhythm section – 60% of a future good tune are already done!
I really like to using vst/au "Korvpressor" by Klevgrand – it's one of the simplest and cool compressor I have ever used:) It's highly recommend!
What can you tell us about the theme of the mix you have done for us and what are some of the key tracks for you?
It's a nice mix from 107 to 110 bpm. No hurries , just a good vibes! It's a little journey from your room across the world, haha
There are a couple of my tunes , one will come out right after the Omena release on Deeppa Records, the second tune is still "unsigned"
There's a nice tune by my good fellas SKITCUT – Zaletaet Na Acid – it's a side project by Meowsn and Street Choice
There's a super infantile tune from 90' by Marie Touchet – College Infernal (House Paradises Version)
And there's a cool tune from my buddy Funkyjaws – Ole Ole previously released on Craft Music
And finally what else can we expect from Scruscru in the next 12 months?
In the next 12 month's (if nothing delays my plans, haha) I'm planning
A 12" ep on SlothBoggie alongside my buddy Mike Fot
A couple of tunes on a second 12" Deeppa Records release
A 12" ep on Flat White Records – it's will be collaborative ep too
And a couple of other EP's which are still in progress
For more info check:
Scruscru Facebook: https://www.facebook.com/scruscru
Scruscru Soundcloud: https://soundcloud.com/scruscru
Scruscru Instagram: https://www.instagram.com/scruscru/
Scruscru Twitter: https://twitter.com/Scruscru1
Omena Records Facebook: https://www.facebook.com/omenarecords
Omena Records Soundcloud: https://soundcloud.com/omena-records
Omena Records Instagram: https://www.instagram.com/omenarecords/
Omena Records Twitter: https://twitter.com/OmenaRecords
LV Selectors Mix 24 – Scruscru – Tracklist
Scruscru – Slightly Wiggle
Bernardo Pinheiro – Deixar a peteca cair
Elia y Elizabeth – Alegría (Yuksek Remix)
Camarao Orkestra – Nacao Africa (Patchworks Remix)
Funkyjaws – Ole Ole
Joutro Mundo – Melo Do Camelo
Ditongo – Internazionale
Skitcut – Zaletaet Na Acid
Marie Touchet – College Infernal (House Paradise version)
E. Live – Sunny Side Up
Mint Jams – Club Members Only
YSE Saint Laur'ant – The Optimistic Voyeur
Scruscru – Elevator Music
East Coast Love Affair – Taken
The Mystic Jungle Tribe – Sguardi
Takuya Matsumoto – Drafting Under The Stars
Tags:
Craft Music
,
Deeppa Records
,
Dobro
,
house music
,
minor notes recordings
,
Omena Records
,
scruscru
,
Sengiley Records
,
Wax Ninja