Session Victim – 7 Tracks Which Massively Influenced Our Career (LV Legends)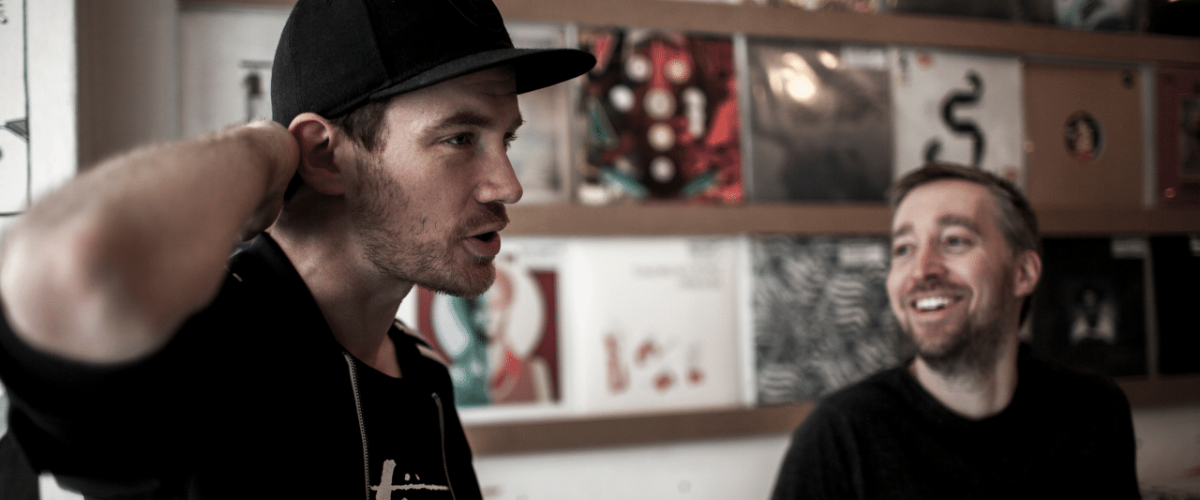 Session Victim first came to my attention with the release of Never Forget from their See You When You Get There album on Delusions of Grandeur way back in 2014. It's a wonderful record packed full of dancefloor groove, warmth, positivity and some pretty amazing keys. Never Forget was an Le Visiteur DJ set staple for a good while.
Hauke Freer and Matthias Reiling came together as Session Victim 12 years ago and they have since built an incredible reputation as both DJ's and producers. They are renowned for their energy packed live shows and vinyl only DJ sets. One of things that has always set Session Victim apart from their peers is their passion for touching all corners of the electronic world, you're just never quite sure what's coming next. 2020 saw the release of their Needledrop LP for Night Time Stories featuring 11 tracks of downtempo bliss. They followed that with a 7″ featuring two pretty incredible live tracks featuring Erobique and simply entitled Live, it's a must have.
Now they are back on Jimpsters Delusions of Grandeur with the Two Crowns EP where they turn the club heat back up to full. Featuring three tracks it's a powerful expression of their expansive club sound. Across the three tracks they display the quality of musicanship that we have now come to expect from the duo. From the deep and dubby opener Two Crowns with it's swirling synths, effusive drums and gentle yet funky keys it's an EP that dazzles. Guidance is up next with it' gentle broken beat, bubbling bass and layers of synths. Smooth pads add both drama and warmth. Final track Village Youth is deeper still Again with a broken beat front and centre it's a track whose synths enevelope the listener and which would sound just at home on Sunday  at sunrise as it would on the dancefloor on Saturday night.
The Two Crowns EP is another powerful entry into the Session Victim discography.
Grab Session Victim's Two Crowns EP from: https://sessionvictim.bandcamp.com/album/two-crowns-ep
Session Victim are a duo who continue to inspire and expand our musical horizons with each release. We spoke to them about the tracks which have inspired and influenced them across their career, as you would expect it's a varied and intriguing list of records.
Session Victim – 7 Tracks Which Massively Influenced Our Career (LV Legends)
1) The Irrestitble Force – Napalease Bliss (Jimpster Remix)
H: This was probably the first record we both owned, just when we met. We had been playing this at the little parties that we had set up at the time which is now 20 years ago. It's crazy to think that the remixer Jimpster would turn into a friend, mentor and label boss and that he would release the main body of our music.
This is the first track Jimpster signed from us:
Session Victim – The Keyboarder
2) No Demons No Magic · Duminie DePorres/Theo Parrish
M: This Sound Signature record totally blew me a away when I first heard it. It's not an easy one to play out, but I remember us starting a DJ Set with it after Sven Weisemann preforming the complete Soundtrack of The Fabulous Destiny of Amélie Poulain on Solo Piano. We made Light Scent Of Decay from our first album around that same time, and to me it always carried a little bit of that same spirit.
Session Victim – Light Scent of Decay
3) DJ Rasoul + McArthy* – Retrospect
H: This record was released on Guidance Recordings and happened to be the first house record that I bought back in 1999. Over the years we discovered many more great records on this label and it`s fair to say that it played a big role in forming our taste of house music. Recently in the studio we came across a pad sound that reminded us of the sound of some of the Guidance records, it turned into a homage to the label Guidance.
Session Victim – Guidance
4) Ghostface Killah – Daytona 500
H: We grew up during the golden years of hiphop. This beat is such a simple flip of nautilus, really elegant and enough to make a whole track, something that I truly admire. I feel that on Crystal maze we achieved something similar with the sampler.
Session Victim – Crystal Maze
5) Rootstrax – Harlequin
M: This is one of those magical pieces of dance music that feels like much more than the sum of it's parts. I still want to buy it whenever I see one in a store and we both have several copies already. Anyway, it had a huge influence on us for sure, so much in fact, that we decided to do a cover version that we used as our live set opener for quite a long time.
Session Victim – Harlequin
6. Express Rising – Neighborhood
M: I was so jealous when we went to Revolver Records in Sydney at one point and Hauke pulled this one out of a crate. We didn't know it at that time, but you just have to take one look at the cover and you know that this is something special. Stripped back, simple and somewhat raw, but so touching. I'd say you can hear it's influence on some of our tracks, Finderlohn being the most obvious one for me.
Session Victim – Finderlohn
7) Moodymann – Shades Of Jae
M: It took me a long time to really get into House music, and I think that this track lit the fire more than anything else. I still remember very vividly when Hauke played it to me for the first time. The way Bob James and Marvin Gaye fuse together on this is a sampling masterclass on it's own in my book. And the arrangement might be the most tense and teasing build up ever – it's highly inspirational to this day. It's hard to pick a track that was specifically influenced by this one, but I'm going to go with Mourn from our second Pen & Paper 12" as I feel that we managed to fuse different small and not so small bits and pieces well here – and of course KDJ has to get a certain amount of credit for that.
Session Victim – Mourn
Grab Session Victim's Two Crowns EP from: https://sessionvictim.bandcamp.com/album/two-crowns-ep
For more info please check:
Session Victim Facebook: https://www.facebook.com/sessionvictim
Session Victim SoundCloud: https://soundcloud.com/sessionvictim
Session Victim Instagram: https://www.instagram.com/session_victim/
Session Victim Twitter: https://twitter.com/sessionvictim
Delusions of Grandeur Facebook: https://www.facebook.com/delusionsofgrandeurrecords
Delusions of Grandeur Soundcloud: https://soundcloud.com/delusionsofgrandeur
Delusions of Grandeur Instagram: https://www.instagram.com/delusionsofgrandeurrecords/
Love this? Check out more LV legends features HERE
Like what you hear? To help support LV Online buy us a coffee via Ko-FI. Click HERE
Tags:
Delusions of Grandeur
,
DJ Rasoul + McArthy
,
Duminie DePorres
,
Express Rising
,
Ghostface killah
,
Jimpster
,
Moodymann
,
Rootstrax
,
session victim
,
T
,
Theo Parrish