Session Victim Talk New Release 'The City', Erobique, Jamie Lloyd, Vinyl Love, Delusions of Grandeur And More!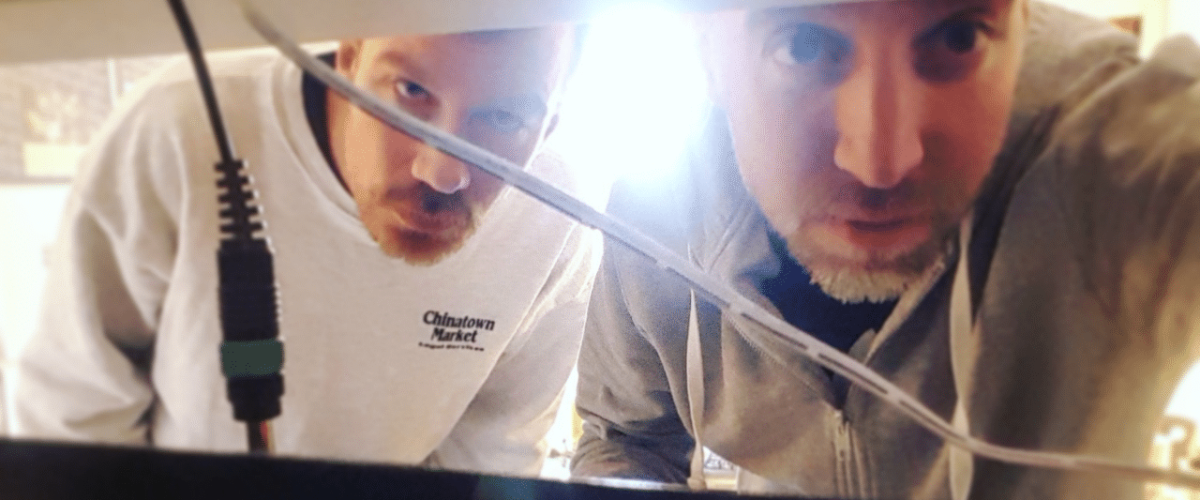 Session Victim Talk New Release 'The City', Erobique, Jamie Lloyd, Vinyl Love, Delusions of Grandeur And More!
Like what you hear? To help support LV Online buy us a coffee via Ko-FI. Click HERE
An Interview by the insider for Le Visiteur
Session Victim have been favourite producers of Le Visiteur for a long time now, they have created some truly wonderful releases over the last decade including multiple outstanding artist albums. Equally adept at creating lush and intricate soundscapes alongside groove fueled club ready house music their releases touches many bases from deep and enchanting club tracks through horizontal laid back bliss. They have truly managed to create music for pretty every conceivable situation. They have also been ardent supporters and collectors of vinyl long before it started to become fiercely popular again. Their recent live 7″ with Erobique was one of our favourite releases of 2020. They promptly followed that up with the very tasty Two crowns EP on Delusions of Grandeur. They are now back on Delusions of Grandeur with the rather special 7″ / Digital release The City which has a Balearic end of night feel and a fascinating back story. Featuring Sydney's Jamie Lloyd on vocals, Erobique on keys and Linnart Ebel on guitar they have successfully made this Mark & Almond band track their own.
The Insider spoke to Session Victim about how the release came together, their love of vinyl, Delusions of Grandeur and lots more. As you would expect when Session Victim are involved it's a fascinating read.
Thank you so much for taking this time to talk Matthias and Hauke. Session Victim don't really need an introduction to our existing Le Visiteur readers as we are already big fans here! But for those readers who are new can you introduce yourselves?
M: Hey, first of all, thank you so much for the ongoing support over the years! We're Session Victim, namely my Partner Hauke and me, Matthias. Originally from the small northern German town Lüneburg, Hauke has been living in Berlin and myself in Hamburg for the last 20 years now. We've been making beats, tracks, and songs together for the last 12 years and what can I say, it's been a very fun ride so far.
Let's jump in and talk about your super sexy new release – The City. I'm a big Balearic fan and I hear a lot of cool stuff from collector friends on mixes. But I never heard this before. How did you discover this hidden gem?
M: Hauke randomly found this record at a 2nd hand store in Montreal called Death Of Vinyl – great place, we highly recommend a visit if you're in the area. There's quite a bit good music from the Mark & Almond band, this one has been a band favourite for years now. You've been playing it as an end of night tune for a while now.
Can you remember the night you first played it? Where were you? How did the crowd react?
M: Well, it has been one of our ending records, but not the only one of course. I don't remember the first time we played it, but it sure is a great track to let a dancefloor down easy before it's time to go home. I don't know, it just has this certain yearning sensitivity to it, with a bit of a sweet, melancholic undertone. It puts everyone into this peaceful state of mind.
What do you know about the Mark-Almond Band?
It was a British band led by Jon Mark and Johnny Almond, who got to know each other through working as session musicians I believe. They only existed from 1970 until 1978 and released two different versions of The City. The one that is dear to us is the later one from their last official studio album, Other People's Rooms, featuring the amazing Steve Gadd on Drums.
I know you've done some more lo-fi stuff, but a cover is quite the surprise from you. You have treated the original with so much care and sensitivity. Did you have to talk to the original artists at all to do the cover? How did you play this?
M: No, we did not talk to anyone, Johnny Almond died in 2009 and Jon Mark in the beginning of this year, so unfortunately, we won't get a chance to say thank you for the wonderful music in person. We have done cover versions of songs before, even covers of house tracks, like Rootstrax' Harlequin. Live we're usually doing at least one or two cover songs, Terrence Parker, Metro Area or The Emperor Machine recently. It's a lot of fun really, looking at the crowd when they realize that they heard the music somewhere else before. Hauke and me had talked about doing a rendition of The City for years, and some day we just programmed a beat, I put the bassline on top and we sent it to Carsten, Linnart and Jamie – luckily, they all got on board for this.
The album Other Peoples Rooms, I dare say the original will jump up in price when people hear your version and start digging around for the original too.
M: Hmm, do you think so? I hope it doesn't. I don't like this whole trading records like limited art prints kind of thing. If a record is not for sale on Discogs and suddenly someone puts it up for a random 300 Euros, people immediately seem to think oh, it's worth so much and just get excited by the sheer money value of it. I don't think Other Peoples Rooms is that rare and I hope our cover version will get a few music lovers to check out the original thing and find a fair priced copy at their local record store.
Keyboard wizard Erobique – I came across him before on some Jazzanova stuff. You have collaborated a with him quite a few times. He looks like a lot of fun! Tell us a little about this artist and your relationship with him?
M: Our old lab in Hamburg was next to Carsten's studio. We knew each other briefly, and one night he just knocked on the door and asked if we were up for jamming – We played around until the early morning hours and kept on doing that over the coming years. Carsten has become a good friend and playing with him is very rewarding – he is a ridiculously good piano player and has the ability to bring out the very best in musicians he plays with – I have never experienced something quite like that before. Playing with him has definitely made me a better bass player and it taught us both a lot of things, especially about performing live in front of a crowd.
Erobique (real name Carsten Meyer) he's an artist too. He has painted the cover art by Carsten on The City. Where is the scene do you know?
M: I don't to be honest. It is probably somewhere in Hamburg; I have to ask him next time we meet.
Jamie Lloyd has done an incredible job on the vocal. Dare I say I prefer his to the original. It's like it was written for him! I guess this is Jamie's super talent really shining through ..
M: It's crazy with Jamie. Sometimes we send him something thinking: This should be perfect for him – and he gets back a week later saying he doesn't see himself anywhere with that song. Another time he gets back right away like hey guys, I had this dream last night and just used it for the lyrics, as it was the case with Hyuwee a few years ago. Lucky for us, we hit him with the right tune at the right time again here. He really made the song his own and his vocals brought the song to a very different place than the original.
Love the idea of the 7" on this record. You've taken it to another level With the print included with the 7. I guess you have to be more creative in marketing these days.
M: We're not so talented and passionate when it comes to the whole marketing department. We knew Carsten does paint sometimes and I think it was his idea for the live 7″ to do a painting of one of the photos from the trio live show. We were so happy with the result that we had to ask him again for the City.
After a very weird two years for us all, are you starting to get some bookings? Are there some dates where we can catch you this year?
M: Yes, we do – and it feels fantastic of course. We've been playing quite a bit over the last 8 weeks and there are some things in the talks here and there, but for obvious reasons plans fall through and opportunities arise on very short notice these days. We're definitely looking forward to our first UK show in almost 2 years, which will be Brixton Jamm in two weeks (Saturday 18th September) from now.
I missed you at the Jazz Café the last time you were in London, but I heard wonderful things about the night! Any plans for the live to come to the UK again pandemic permitting?
M: We have something planned for the Jazz Cafe in January 22 – Don't want to reveal too much now, but please keep an eye out for that – it's going to be lots of fun.
I saw Khruangbin a lot in their early days when they played a regular gig at Love International. These guys have gone on to do some great stuff, with fans in the shape of Gilles Peterson and Ron Trent. You remixed 'The Man Who Stole My Sunglasses.' There's something quite unique about this band would you agree?
M: Yes. I mean, yes, we remixed that song and yes, I agree with you, they are very unique. Who would have thought they'd be Guns N' Roses type of famous a few years ago? I'm very happy to see that so many appreciate what they do and I'm looking forward to seeing what else they will come up with.
You've had a long relationship with Delusions of Grandeur. Your last release was the sensational 'Two Crowns EP.' Why is the relationship so strong for you with Jamie and Tom do you think?
M: The simple answer to this is: Because Jamie and Tom are just the nicest, most reliable guys to work with you could ever wish for. We are very fortunate to having those two on our side for so long now and we would not trade them for anyone 😀 Seriously, they understand (and always understood) what we look for when making music, what's important to us and while constantly helping us in our song making and music releasing process with feedback and constructive criticism, they always respected everything that we wanted or tried to avoid along the way. As an artist, I cannot imagine having a better relationship with a label and personally I just feel blessed to count them among my friends.
Your album 'See You When You Get There' got a repress this year. Do you think that one has been your strongest album to date?
M: Haha, well, yes, sometimes – and sometimes not. It varies over time really – and it definitely varies from what others think all the time. Our most successful songs were never the ones where we thought: Oh, this is going to work out great, and some of the songs that felt most important in the studio have been the overlooked ones really. I love this unpredictability about it though, it helps a lot in maintaining a naive and pure approach when writing music.
You are known for a lot of vinyl only releases and vinyl only sets. It is fair to say that this format is really important to you?
M: It is very fair and completely accurate to say that, yes. I wish everyone happiness with the way they approach their music, but vinyl records make the two of us happy.
There are major difficulties in the vinyl industry right now. Has this affected your release format and plan for the near future?
M: I don't know what's happening. Maybe the 900th repress of Tubular Bells has clogged up the system? Things do take a long time for sure right now – I hope demand and supply will balance each other out soon.
What do you think is the biggest threat to the music industry right now?
M: Hmm, the fast pace and interchangeability of things, songs, artists. Well, that is probably more a threat to the music itself than the industry. I don't know, maybe the industry should feel threatened, so it bothers to take better care of the people who are in it?
You have been making music together for a long time. Your output has been relentless, and the quality just keeps coming. But if you both had not spent your lives making music, what do you think you would have been doing now?
M: Oh dear, I certainly would have had a lot of time to fill with something – Maybe I'd be a lawyer, but that really only comes to mind because I like to read Grisham from time to time. Journalism is more likely, as I actually did that for a while – but to be fair, unemployed weed smoker is not completely out of the picture either. Hauke would probably develop a software that a handful of people find incredibly useful while the rest of the world, including me, would not even get its purpose. That, or he'd be competing internationally at pinball tournaments. That's just my idea though, you gotta ask him next time.
What other releases can we look out for this year with Session Victim?
M: We have an EP with Toytonics coming in November called "10.000 hours". There's some more stuff in the making but it feels too early to talk about it -and, thanks to Mike Oldfield, it will most likely not be out this year anyway.
Is there anything else you would like to tell us is happening?
M: I just want to say thank you for having us, thank you again for all the interest and support over the years and thank all of you out there for collecting our wax and coming out to the shows. Hope to see y'all in person soon. Peace!
Grab Session Victim's Album The City from: https://sessionvictim.bandcamp.com/album/the-city
For more info please check:
Session Victim Facebook: https://www.facebook.com/sessionvictim
Session Victim SoundCloud: https://soundcloud.com/sessionvictim
Session Victim Instagram: https://www.instagram.com/session_victim/
Session Victim Twitter: https://twitter.com/sessionvictim
Delusions of Grandeur Facebook: https://www.facebook.com/delusionsofgrandeurrecords
Delusions of Grandeur Soundcloud: https://soundcloud.com/delusionsofgrandeur
Delusions of Grandeur Instagram: https://www.instagram.com/delusionsofgrandeurrecords/
Tags:
balearic
,
Deep House
,
Delusions of Grandeur
,
Erobique
,
session victim