Shur-I-Kan Talks about his Paper Cut EP with Milton Jackson, Jimpster and Deep House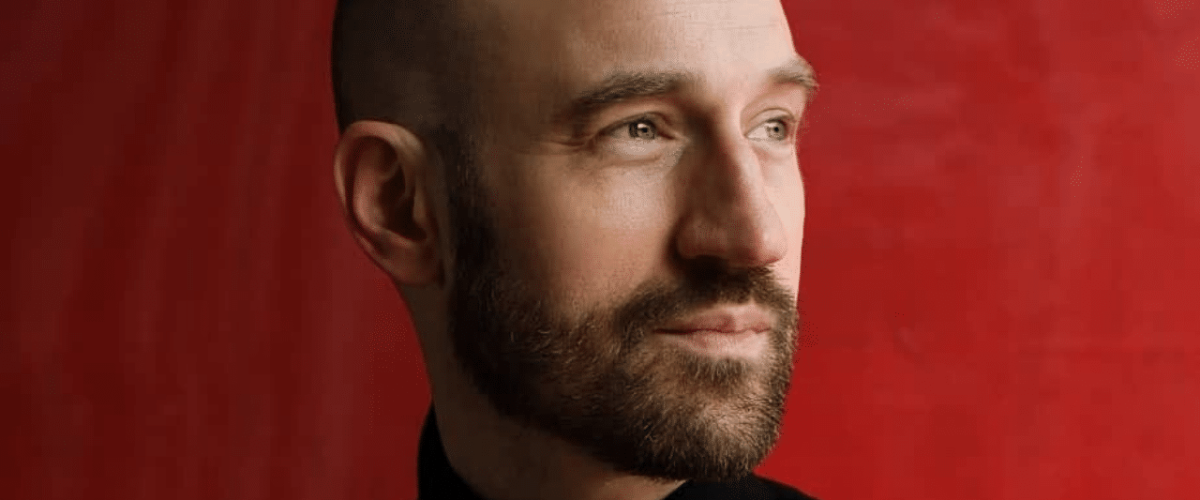 Shur-I-Kan Talks about his Paper Cut EP with Milton Jackson, Jimpster and Deep House
Like what you hear? To help support LV Online buy us a coffee via Ko-FI. Click HERE
An interview by the Insider for Le Visiteur
Shur-I-Kan is one of a circle of outstanding UK deep house producers who have helped guide the genre over the last decade. A regular on some of the finest labels out there including Lazy Days, Z Records and Future Disco, he has successfully built a loyal and vocal following.
His latest release see's him reprise a his working partnership with Glasgow's Milton Jackson which first bore fruit way back in 2006 for the I Want It and Special Powers EPs for Freerange Records. IT's fitting that their latest EP together Paper Cut also arrives via Jimpsters Freerange Records. It's a wonderful release featuring three effervescent deep house cuts which are just as at home on the dancefloor as they are perfect for home listening.
To celebrate the release Shur-I-Kan recorded this wonderful mix for our House selectors series and he also spoke at length to the insider about his career for Le Visiteur. Check out more on the mix including the full track list HERE and the full interview below.
Hi Tom,
Thanks for talking to us today. It's a pleasure to talk to you!
Thanks for having me.
Where is it you're from and where are you based?
I'm based in London and was born here in the UK to an English mother and Hungarian father – hence my strange sounding surname.
How long have you been making music Tom?
I started learning piano at the age of six, but I guess I started composing my own tunes when I was twelve and then got into electronic music in my teens. I made tunes on my Commodore Amiga. It had a whopping 4 channels of 8-bit audio powered by an 8Mhz processor and 512Mb of RAM (one for the geeks).
I have to ask you about your name. What's the story on that?
Shur-i-kan is a respelling of Shuriken. The Shuriken is a ninja throwing star. When I came up with the name, I was working for Sega the Japanese video games company, so ninjas were kind of a thing. It sounded cool at the time and then I got stuck with it. Probably if I was to pick a new name today it would be different – something I didn't have to explain!
Who were the artists and DJ's you were listening to growing up as a kid?
No DJs. My main influences growing up (or at least at an age when I was able to buy my own music) were the French electronic music pioneer Jean Michel Jarre, and jazz fusion records from the 70 and 80's – artists like Miles Davis and Herbie Hancock. I loved reading the lists of exotic synths they used on the record sleeves – names like Prophet 5, Synclavier and CMI Fairlight. We take them for granted now because you can just pick up a software version of them for next to nothing but back all I could do was to dream of playing on one.
Would we have found you on the club scene pre covid?
Well, I have had quite an extensive DJ career so yes – there in a professional context. I've always felt more comfortable behind the decks than in front of them. I guess I like to have something to do, just hanging around feeling awkward dancing and socialising doesn't really play to my strengths.
Would you say there are particular DJ's and producers that inspire your style of production today?
Sure, I mean I've been making music for quite a long time, so I've pretty much had 'my' style for a while, but I always love listening to great music. Currently its artists like Leon Vynehall, Floating Points and that group of producers that I aspire too. Their music is just so well made, thoughtful, mature yet emotional. It kind of makes most other dance music seem quite trivial.
If you had to describe your sound, what would you say?
House Music with an emphasis on the music. It's one foot on the dance floor and one in the living room. Something you can enjoy on an emotional and hopefully intellectual level but also get down to.
With over 50 releases on labels like Lazy Days, Freerange, Z Records and Defected, what was your first release?
My first ever release was a track called Niomi's Dream that was on a Tom Middleton compilation called Jedi's Night Out. That track also was released as part of my first album called Advance on Freerange Music back in the year 2001.
What was your most successful release so far?
I suppose you mean commercially. To be honest I'm not really sure, I rarely have a lot of interest in that side of things. The most money I made on a song was one we licensed to a feature film by Oscar director Paolo Sorrentino – but it wasn't even a dance music track.
In dance music terms, some of my remixes seem to have a lot of plays but I don't get any money from those!
You are a dab hand on the keys. Are you classically trained, or did you find your way around yourself?
Yes, I had piano lessons from quite an early age. I think my parents gave them to me because otherwise I would just bash the household piano in a non-musical way.
You've played in the group The Bays alongside Jimpster. What do you do in the group?
I'm not currently in the group, but I have played for them on a number of occasions. It was traditionally a bit of a fluid line-up so a few of my peers were in it. My role was keyboardist – so I'd generally make chords and bleeps. The Bays don't rehearse so it's all improvised on stage which is an interesting challenge. I believe they recently started touring again, so you should go out and check them!
Would you say you are a musician first and foremost?
Maybe I'm more a composer & producer rather than a musician (apart from the very general sense of the word). I'm not overly focussed on the act of playing an instrument, though I can get around one reasonably. I'm more interested in creating things, my tools are computers, and the media is usually music but not exclusively so.
As a producer when you start to make a new track, is there a production process that you follow?
It varies, sometimes it can start with a beat, sometimes from improvising on the keyboard or just messing around with samples. I have an iterative process to creating music – so the tracks tend to, or at least usually, evolve over quite a long period of time. I keep a musical scrapbook of ideas and then come back to them again and again till I'm either sick of them or think they are ready to be released.
I often wonder, how do you know when a track is finished?
Version 54. If you've gone past that it's probably not meant to be!
More seriously, it's a hard, pragmatic decision. Sometimes tracks can be spoiled by working too long on them, sometimes you wish you had spent more time. I don't think there is an answer to that, just a feeling that it's probably good enough. But of course, ask other people. The benefit of releasing music through other people's labels is they will give you feedback as whether they think it is ready.
You have collaborated before with Milton Jackson, right?  Are you good pals?
Yes. It's really weird I can barely remember how we met – I think we were introduced via the internet a long time ago. All I remember was that Barry (Milton Jackson) invited me up to Glasgow and I stayed the weekend and we worked on our first EP together. His first album Bionic Boy on Glasgow Underground is a little-known house classic. It just sounds so exotic and fresh even today and that's what excites me about music.
We live in different ends of the country, so we don't see each other that often but there's always been a connection there. You just get that with some people and of course he's a wicked producer to boot.
Talk us through the Paper Cut EP a little?
God, this EP took us ages to finish but I'm really happy with it. That's mostly our fault for being sooo slow and little bit Jimpster's for his crazy A&R notes. Barry and I both have young families which cramps our style a bit.
The title track Paper Cut is like a classic deep house of old with rolling strings and a driving beat. It's got those mysterious orchestral chords against a bouncing b-line and some classic MJ drums.
On Hit Thinking I went on a bit of a jazz bender – or at least that's what Freerange likes to call it. It's not that jazzy – there's very little noodling at all, it's just got some wicked flute stabs on it courtesy of Finn Peters. Also, it's got this really nice uplifting chord sequence and a catchy hook.
The last track Sixth Section is darker with some classic MJ style arpeggiator action. One for the 6AM slot.
So out again on Freerange. You must be a big fan of the label, right?
Of course, but it's more than that. I believe, other than Jamie obviously, I'm the longest serving artist on the roster. I started back in the days when Jamie and I still made noodly jazzy breaks and we've grown together over the years into, I guess, fairly established house producers. I do my own things, work with other labels and Freerange has its own direction and many talented artists. It's family. We don't need to ring each other every weekend but it's always nice to come together from time to time. Long may that continue.
What other producers are you locked into at the moment?
Too many to answer and then I'll risk offending someone by missing them off the list.
What do you think are the ingredients that make a great house record?
Apart from the obvious rhythmic format I'm not sure you can reduce it to a set of ingredients like a stabby piano or vocal hook. Instead, if I was to describe the sensation of house music, it's 'warm'. That doesn't mean it needs to be happy happy joy joy (we'll leave that to the garage crew), neither is it cold (like techno). It needs to feel like the glow you get from a couple of glasses of rum in the pit of your stomach.
Care to take a stab at one of the best house records of all time?
Maybe Pepe Bradock, Deep Burnt? For me that's the gold standard of a deep house track.
Is there a perfect track that you wish you had made? And What is it?
The perfect track hasn't been written yet – otherwise we could all stop writing music.
As a DJ, how do you source new music?
It's a mix of promos, submissions from other producers and good old fashioned track buying. I do a regular podcast of new music, which is a good exercise to practise my chops and get out there and find new material.
If someone wanted to get to know you, what album would be a good indicator of you?
Maybe my last one 'Points of Focus'
It's a very diverse selection and some of the tracks are very old, written 15 years ago and others are quite new. I think it is a pretty good reflection of my sensibilities and dare I say it, musical soul
When you're not making music, what do you like to do?
I'm a co-founder of a virtual reality software company and I'm father to a one-year-old boy, so after managing all that, basically what I want to do is irrelevant!
Now that the world in opening up, do you have any gigs in the pipeline?
Not really. I'm not planning on travelling much at the moment nor am I chasing gigs. I decided a while back that with the climate crisis I couldn't personally justify the carbon emissions that a travelling DJ career requires. Not, if I had other ways to make a living, which I do. So, I'll try and keep it local, just do gigs I really fancy and keep flying for very special occasions.
What other releases should we look out for with you?
I did a remix for Kid Fonque in South Africa. Hopefully that will be out soon.
I wrote a track with the singer Elisabeth Troy called Hypocrite, something a bit different, which is available as of today on Spotify and other streaming platforms.
I'm currently working on a house music track with the talented Lisa Shaw and then I need to finish a couple of EPs. One is inspired by dusty hip-hop house and the other has a more 80's vibe to it. Not sure what labels they will be on yet however.
Thanks Tom x
Grab the EP via: https://shur-i-kan.bandcamp.com/album/paper-cut-ep
For more info please check:
Shur-I-Kan Facebook: https://www.facebook.com/shurikanofficial/
Shur-I-Kan Soundcloud: https://soundcloud.com/shurikan
Shur-I-Kan Instagram: https://www.instagram.com/tomszirtes/
Shur-I-Kan Twitter: https://twitter.com/shur_i_kan
Freerange Facebook: https://www.facebook.com/FreerangeRecords/
Freerange Soundcloud: https://soundcloud.com/freerangerecords
Freerange Instagram: https://www.instagram.com/freerangerecords
Freerange Twitter: https://twitter.com/freerangerec
Tags:
Deep House
,
freerange records
,
Jimpster
,
Milton Jackson
,
shur-i-kan