The Quick 6: An intro To Soundsmith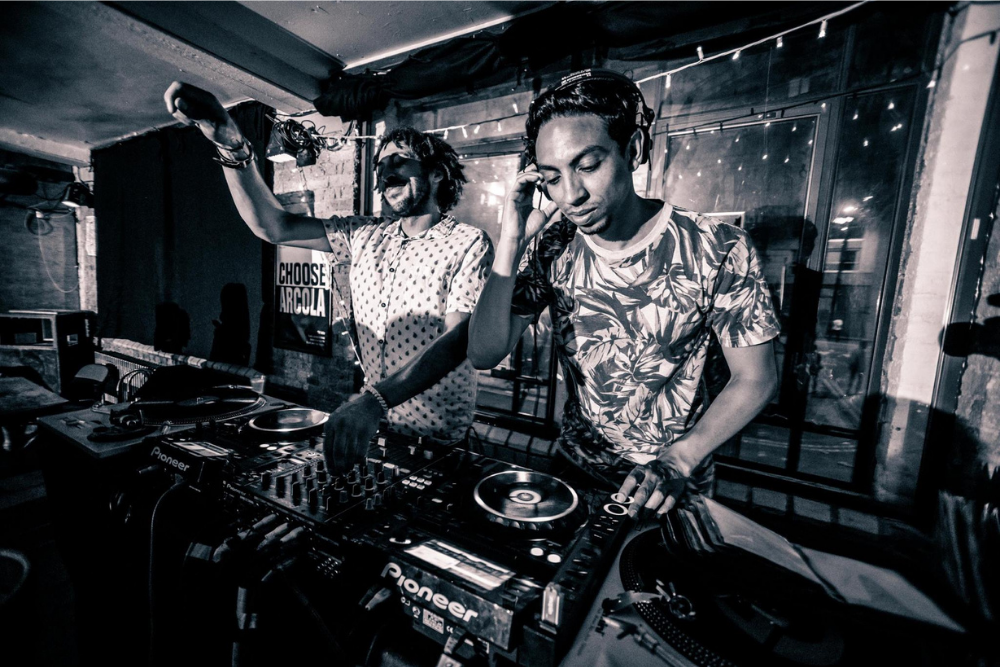 The Quick 6: An intro To Soundsmith
Soundsmith has been crafting a strong reputation on the London scene over the last couple of years. Before the Covid lockdowns he was a regular in some of the capitals best venues and club nights. We first came across him when he dropped his classy edit of Teaspoon & The Waves's 'Oh Yeh Soweto' on Fresh Take Records earlier this year backing up a few excellent earlier edits. His latest track Disco Ride leads off The Disco Express's inaugural EP which shows the high esteem that label holds him in and it's a real dance-floor moment. We spoke to him about his career so far, his influences, the London scene and more.
Soundsmith also put together a seriously tasty mix for us which you can check below along with more info on the mix and some of his favourite mixes from other artists HERE. Please give it a share on Soundcloud if it moves your dancefloor
Q1: Who is Soundsmith?
Music has been a huge part of my life in so many ways since a very early age, from playing in a classical orchestra to running a hip-hop night in Oxford (where I grew up).
I got my hands on a pair of technics 1210's when I was about 17, and got into DJing. From there I scored a residency at a local club and played around town as much as I could, hip-hop, drum & bass, dubstep, house – anything went. Some great parties were had back then, as well plenty of strange moments. I remember once playing an after-party for a Bruno Mars & Travie McCoy gig, they were wasted and didn't come on to do their PA – so this huge crowd started angrily chanting at me until I could convince them to come on stage and slur out a couple of tracks…
I'd say my musical taste is pretty diverse, but in the last few years I've leaned much more toward the house & disco side of things. I've also got much deeper into music from across the world – Afrobeat, Latin, Afro Disco and all sorts of other stuff – mainly spurred through a collaboration under the banner of Reverb Bistro, which is myself and one of my best mates Andy.
It's been amazing to explore so many sounds from across the globe and see where it can tie-in to disco and house music. I've ramped up the time I've spent producing tracks, and have had a few releases this year along those lines. I've also been a resident on Threads Radio for the last two years, and it's been great to be part of such an exciting DIY station.
Q2: What is your latest release?
I've been lucky enough to contribute a track to the inaugural release on the new Disco Express record label. It's been a cracking time being part of getting the EP out there.
Buy The Disco Express VA: https://thediscoexpress.bandcamp.com/releases
There's lots planned for The Disco Express this year & next, so hopefully I'll be able to jump on other releases with some more disco power!
Q3: Who are your greatest influences as a producer?
COEO
These guys to me are the absolute gold standard in disco & house using samples, especially more eclectic and global samples. They're just really good at what they do, they've been doing it for a while, and they've got a lengthy and strong back-catalogue. They even beat disclosure to using a fantastic Eko Roosevelt sample.
Dan Shake
I really like Dan Shake's overall style. He seems like a lovely guy and produces very honest and danceable tracks. I also love the way he weaves in a few other styles, like popping in a naughty bit of acid bassline.
Four Tet
I couldn't leave Four Tet out, he's the master of the unusual and obscure sample, and seems to write tracks in a really pure and brilliant way.
Q4: Please tell us about the electronic scene where you are based. Which artists from your local scene past and present have inspired and encouraged you and what parties that you love going to have helped your musical evolution?
I'm in East London, so there's endless quality music within reach. The Disco Express was absolutely pumping at Shoreditch Platform before lockdown, and I'm sure it'll be back stronger next year.
Over the years, Pangaea Disco have put on some great parties (you check my release on their digital label below) I had a residency at the old Passing Clouds under the Reverb Bistro moniker, that was great – so eclectic, you'd never know what you might find down there.
The Worldwide crew have some great stuff going on and We Out Here festival was a real banger, such a shame it couldn't take place this year.
Musical Medicine are a great group of guys, based between London & Oxford, they have some strong parties.
I'd also say Threads Radio has a lot of really diverse musical goodness going, some highlights would be Rosy Ross' show and the work the Sisu crew are doing.
Q5: Your Studio: Please can you tell us about your studio. What is your production set up? What is your indispensable piece of equipment or plugin that you use for your sound and what is next on your studio shopping list?
I'd say it's a minimalistic studio! I don't actually own much kit, so my laptop is really the key element. I've had various midi controllers and gadgets over the years, but I often find myself falling back to using just the laptop. I've done a lot of computer programming in my life, so maybe I'm just very comfortable that way!
Having said that, I do love instruments and analogue kit for the way you can just press on and jam. I am planning on purchasing a Roland TR-8S soon, and a new electric guitar to try to get a really sharp disco style sound out of.
Something I definitely couldn't live without is some decent studio monitors. I'm currently using Adam Audio T7Vs, they're incredible for the amount they cost.
Q6: What else can we expect from Soundsmith in the next 12 months?
I'll be based in Berlin soon and I am planning to spend more time writing more originally composed tracks. I love sampling, but I've done a fair bit of that recently. I'd like to go back and brush up on my guitar & keyboard skills, mess around with making random noises into microphones, and try to work with some vocalists.
Who knows though, with creative pursuits I often plan to do one thing and then something totally different happens!
One thing's for sure though… when we get out of this corona situation I'll be pushing myself onto any promoter that's prepared to let me play loud loud music to a crowd of people.
Grab Soundsmith's track Disco Ride from: https://thediscoexpress.bandcamp.com/releases
For more info check:
Soundsmith Facebook: www.facebook.com/soundsmithsound
Soundsmith Soundcloud: https://soundcloud.com/soundsmithsound
The Disco Express Facebook: https://www.facebook.com/thediscoexpress/
The Disco Express Soundcloud: https://www.facebook.com/thediscoexpress/
Tags:
disco
,
Soundsmith
,
The Disco Express