LV Mixtape 166 – Soundsmith [The Disco Express]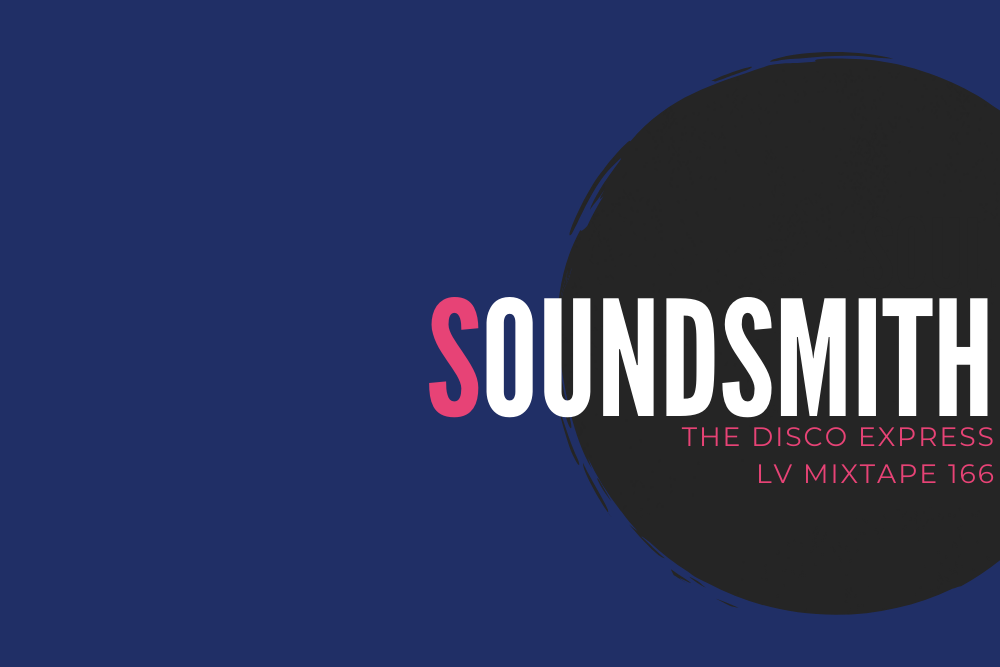 LV Mixtape 166 – Soundsmith [The Disco Express]
We first came across London's Soundsmith when he dropped an excellent edit of Teaspoon & The Waves's 'Oh Yeh Soweto' on Fresh Take Records earlier in the year. His latest track Disco Ride has just landed as part of The Disco Express's inaugural EP and it's one very serious track packed with dancefloor nous.
We have a full interview with Soundsmith incoming next week, in the meantime he put together a brilliant mix and answered a few questions about the mix for us. You can also check out the full tracklist below.
Q1: What can you tell us about the theme of the mix you have done for us and what are some of the key tracks for you?
It's been a real pleasure putting this mix together, it's an exciting time at the moment with The Disco Express launching as a record label so I've included all the tracks from the inaugural EP in here, including my latest track 'Disco Ride'.
There's a great group of people involved in The Disco Express with Bustin' Loose (heading things up), Pete Maxey & S.D.S also involved in this EP. It's definitely an anchor point in this mix.
Pool Attendant – Disco Power & Hotmood – Nigerian Secret are two tracks I'm particularly feeling at the moment, so they were going in there without a doubt and then the rest just fell into place naturally.
Over the last few years I feel like a lot has been happening in the space where disco, house and world / afro (never sure how to describe this element!) styles converge. Both for me personally and in the wider scene. It's great to have such a diverse range of tracks across these styles to draw from and that's definitely the overall theme of this mix – and my production and mixing style in general right now!
Q2: How does the style of mix here compare to how you would approach a live DJ set?
I'd say this mix is fairly similar to a live set I'd play, in terms of the continuous energy. When I play a live set, I'm always thinking about what's working for the crowd though. Whether the tracks are giving the dancefloor the right level of energy at that time. A mix for online doesn't have a crowd to feedback to you of course, so instead I'm thinking more about whether someone listening at home will find things engaging and interesting as the mix unfolds.
Q3: Which other artists DJ mixes do you find yourself coming back to time and again and do you have a favourite that you gravitate towards?
Palms Trax! His Boiler Room x Dekmantel Festival 2018 [link] set was an inspiration and he's always on point with his mixes. So many tracks I'd never heard before, but all so great.
The holy trinity of Four Tet, Floating Points & Caribou are always good to go-to for some quality and interesting sounds, the final set at Plastic People (RIP) from 2015 is a classic.
I generally like to explore new music so don't actually have too many mixes that I listen to again and again, I'd say Ben Gomori's "Turned On" series is on my regular listening list, as are many of the shows on Threads Radio – where I also have my regular show.
Grab Soundsmith's track Disco Ride from: https://thediscoexpress.bandcamp.com/releases
For more info check:
Soundsmith Facebook: www.facebook.com/soundsmithsound
Soundsmith Soundcloud: https://soundcloud.com/soundsmithsound
The Disco Express Facebook: https://www.facebook.com/thediscoexpress/
The Disco Express Soundcloud: https://www.facebook.com/thediscoexpress/
LV Mixtape 166 – Soundsmith Tracklist
1. Nu Guinea – Je Vulesse [NG Records]
2. Pete Maxey – For The Love Of Music [Disco Express]
3. Teaspoon & The Waves – Oh Yeh Soweto (Soundsmith Edit) [Fresh Take Records]
4. Hotmood – Nigerian Secret [See-Saw]
5. Bustin' Loose Can You Feel It? [Disco Express]
6. Soundsmith – Disco Ride [Disco Express]
7. C. Da Afro – Coconuts [Furious Mandrill Records]
8. Nahawa Doumbia – Sigi Sele (Ben Gomori's Disco Dub)
9. Pool Attendant – Disco Power [Below The Belt]
10. Saison – Got Me Hot [Saison]
11. S.D.S. – NGI [Disco Express]
12. Jacques Renault ft. Adeline & Morgan Wiley – This is Real [Future Disco]
13. Pat Thomas – Yamona (Detroit Swindle Remix) [Strut]
14. Ajvar – Soundsystem Syfilis [Take Away]
15. Coeo – Habibi Dub [House Of Disco Records]
16. Nyra – Both Of Us Knowing [Canoe]
Tags:
Ben Gomori
,
Palms Trax
,
Soundsmith
,
The Disco Express