The Quick 6: Delfonic – Berlin's Edit's Wizard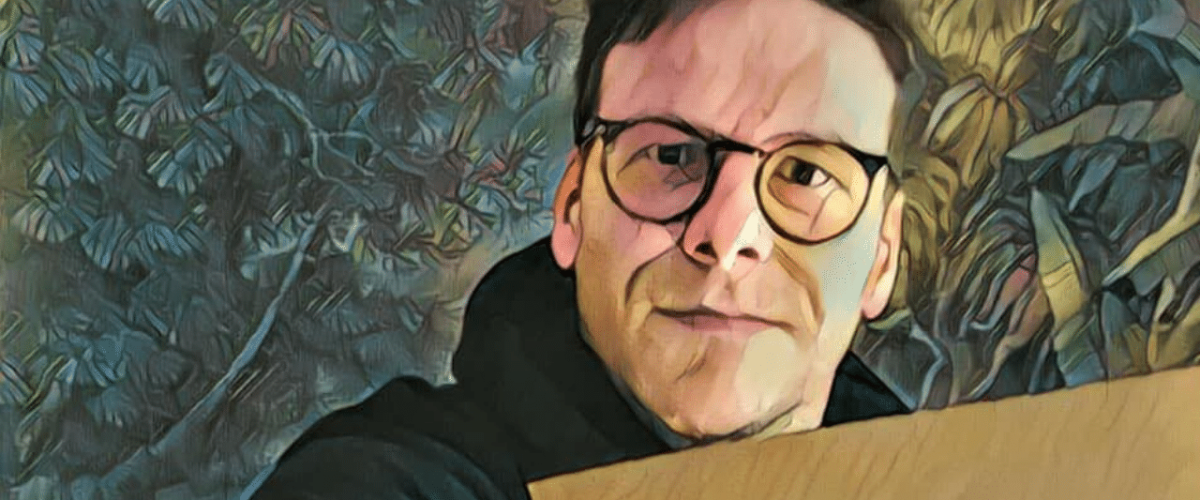 The Quick 6: Delfonic – Berlin's Edit's Wizard
Like what you hear? To help support LV Online buy us a coffee via Ko-FI. Click HERE
Delfonic is very much a DJ's DJ and producer. Based in Berlin he was a longtime partner of OYE Records where he provided a vinyl fix to many of your favourite DJ's.
His musical knowledge, as you would expect is second to none and this shines through in both his DJ sets and mixes. As such his reputation in the community is huge and he is often referenced by some of the top selectors as one of their favourite DJ's.
His edits have also become hugely sought after and he has appeared on Razor N Tape and Toy Tonics such is his reputation and ability. His most recent release was an edits EP on Nomada Records which has now sold out not once but twice. There are only a handful of vinyl copies left via https://www.deejay.de/delfonic & Discogs or you can grab it on digital from https://nomadarec.bandcamp.com/album/delfonic-edits
Delfonic is a HUGE favourite here at LV online, his mixes are regularly on the LV stereo so it was our pleasure to ask him to jump on the mix for our Selectors Series. We also had a long and fascinating chat with him about his career.
Q1) Who is Delfonic?
I've been DJing in Berlin under the name Delfonic for about 20 years and like so many others, I also moved to Berlin. I am originally from southern Germany and attended a music school, where I was more involved in classical music – singing and piano. I found this whole training rather stressful, but in retrospect I am happy to have been introduced to the music world in this way. I came into contact with dance music relatively late, that is, when I was around 16 years old.
Friends of mine had a couple of Hip Hop CDs and I was instantly on fire when I listened to them. You shouldn't forget that there was no Youtube, Soundcloud, Discogs etc at that time. The sources for music for us were on the one hand FM4 from Austria with DJ DSL or Functionist or the Freundeskreis. My provincial town didn't have much in terms of record stores. After my volunteer community service I used the money to buy turntables and a mixer. After that all the money I had earned was spent on records while studying. After a short stop in Magdeburg, where I did college radio and organized parties, I went to Berlin in 2001 without an apartment, job or anything. only with a longing and passion for music, but definitely not techno ….
After many DJ bar jobs and smaller parties, I started working at OYE Records around 2004. I became a partner there in 2007. In 2006 I became resident in the ICON club and played all the Ninja Tune events as a support DJ. That means that my style has always been eclectic, from funk, soul, jazz, hip-hop, beats and breaks to house and jungle / drum n bass. The groove just had to be funky. I never really pushed my DJ career, but then I started to get invitations to play in Norway, Austria, France and the UK. In the record store, I then had the opportunity to set up a distribution department and look after labels at the same time. The most important projects were Box Aus Holz with Max Graef and then later the label Money $ex Records, which I ran with Glenn Astro and Max Graef.
For us these were the platforms on which we gave our closest friends and labels the opportunity to let off steam musically. My first releases were on Box Aus Holz and then later also on Money $ex records. The first edit I released was a rework together with Max Graef on Sonar Kollektiv Records for Daniel Grau.
After that I had my first solo EP was in 2017 on Razor `N Tape Records.
To be honest, it was a great honor for me to appear on this label, because in my opinion they publish the best edit people.
As you can hear, I have kept developing the way I make or want to make edits. Basically, I only make edits to tracks that I would not or cannot play on the original. There are parts in the track that I don't like and or parts that I would like to have longer. It doesn't matter to me whether the song is known or a classic. For me it's actually the case that a classic isn't a classic for no reason, because you can and should always play them.
With the label Money $ex I also did some tracks together with Max Graef, where you can clearly hear his handwriting. The ideas and samples came from me, but he can make you a dope beat in 10 minutes, I've never seen anything like that in my life. The EP is also something other than just 4tothefloor beats. He is one of the greatest talents I have ever met.
After that there was another track with Glenn Astro on M$R and then unfortunately the label was almost at the end, because we had all developed in different directions and started our own projects. That time with the boys was just incredibly familiar and the creative energy that everyone released was totally impressive.
At the end of 2019 I stopped working in the record store and wanted to reorient myself, which was not easy and the process took a lot out of me emotionally. After 15 years, the record store owner chapter was history.
I had decisive experiences in 2017/2018/2019 so I was allowed to participate in the Southern Soul Festival in Montenegro. Almost nobody had the festival on their radar, but what I experienced there musically just blew me away. Soulful music all day and all night. Young and old united on the dance floor with an unbroken energy – without drugs or toxic behaviour. All the artists and DJs moved freely there and partied for days without backstage or VIP bullshit. That showed me what really matters to me and what I wanted to do.
One of my closest friends Marcel Vogel gave me a lot of good tips on his hotel balcony at the festival in 2019 as we killed the mini bar. It was finally clear to me that I had to go on. That's why I now have a great job as A&R / label manager at wordandsound.net and have a lot of freedom and can work with great labels.
At the end of 2019 I started the musical project "Illegal Jazz" with Kapote from Toy Tonics and we have just released Vol. 3.
We both want to show our jazzy side and bring more of this sound back to the dance floor.
In 2020 I had a total of about 12 releases, but one of them was also a big thing for me, as it was inspired on the one hand by the Southern Soul Festival but also by the Toy Tonics parties.
You can check it out at: https://toytonics.bandcamp.com/album/edit-series-8
Q2: What is your latest release?
My latest release was on Nomada Records in December 2020. I've been in contact with Felipe Gordon from Nomada for years and last year he asked me if I had a few edits that might be of interest to their label. I then sent him all of my demos and it was very interesting to see which tracks they selected. The perspective from the outside is always very different and that's why I think it's very important to get an input like this.
Saturday Night Dance I had just finished and it's a high energy dance floor track. Delfo's Check is very poppy and up-to-date and I still remember that I played this song for the first time in front of 7,000 people at the end of 2019 and the reactions were really great. All is Africa is already about 5 years old as an edit and I always played it in the Salon zur wilden Renate. Even if the mix was really terrible, the people were totally freaked out by the sound … that's also one of my favorites because it sounds so rough. I absolutely love the last track on the EP I'm Away. I've played it so often and there were always questions about what it is. I was really happy that the guys from Nomada also chose this track …
Q3: Who are your greatest influences as a producer?
Since I see myself more as an editor and arranger rather than a real producer, the really big ones in this area are of course the best role models. Since the edit business is as old as dance music, Larry Levan, Ron Hardy and Danny Krivit are the first to be mentioned. At that time, however, the lines between producers, remixers and editors were also floating, such as Tom Moulton or John Morales.
For me it is always important to hear and feel that these people have added something decisive to the original that convinces me. The "younger" generation would be e.g. Dave Lee (Joey Negro), Red Greg, Jamie 3:26, Al Kent, Aroop Roy – to name just a few. Dimitri from Paris´s version of Teddy Pendergrass is a classic. The long Bongo intro, the vocal teaser and the brass section. The way he builds the energy is so intense, every dancefloor goes crazy.
Aroop Roy reworked a jazz gem and what he did with the original is quite unique. Almost nobody would play the original version, but he made it ready for the dancefloor. And when you see, that The Vision also used these chords, saxophone and bassline for their stunning track Heaven (Danny Krivit Edit), then you can combine those two tracks to an epic mix…
Also one of the best edits that works in almost every DJ set is the Loleatta Holloway rework of the track Hit & Run by Jamie 3:26 & Cratebug.
That was already a classic when it came out on Lumberjacks in Hell in 2013 and then Salsoul made an official release out of it.
Q4: Please tell us about the disco scene in Berlin where you are based? Which artists from your local scene past and present have inspired and encouraged you and what parties that you have dj'd at and that you love going to as a clubber have helped your musical evolution?
At the beginning when I came to Berlin, I didn't even think about a disco scene. There have been eclectic events like "Kaleidoskop" by Jazzanova, which brought the organic funky sound forward. But in the last 10 years or so I've played at a few disco / house parties.
We (Marcel Vogel, Dj Noema and I)  had a party called One Soul in Berlin Mitte in a gay bar. Of course there was always a strong gay disco scene with legends such as Daniel Wang, but Berlin was always very fixated on Techno, so that from my perspective there wasn't a really big functioning scene. But if you have seen e.g. the last Toy Tonic Parties 2018/19, which also took place day and night in Techno clubs such as Griessmühle, then you notice that the new generation of clubbers are more interested in organic and positive dance music. And the energy that was released is incredible.
In 2015/16 I was able to host two parties for OYE Records in the Panorama Bar and I made sure that the organic, funky and discoid sound was in the foreground. The Paloma Bar at Kottie, for example, is a good example of how this type of sound can work well in Berlin.
Disco Train organized by Charlie Smooth was a monthly disco party in Friedrichshain. The Too Slow To Disco parties are also very successful. Most of the time now at the big events you have the 2nd or 3rd floor again, which is often occupied by disco DJs.
The club Heideglühen for example has a boogie floor, where only disco / boogie is going on and on the main floor too there was mainly soulful music to be heard.
In 2019 I organized SoulHeide with Woody at Heideglühen, where we also had 2 live bands. That was also a great thing and we had already planned another event for 2020, but unfortunately the lockdown held us up. But when it starts again, we will do something again.
In summary, one can say that there is a small but fine disco scene in Berlin. You know and respect each other and don't forget: there are a lot of very good DJs in this field.
Q5: Your Studio: Please can you tell us about your studio. What is your production set up? What is your indispensable piece of equipment or plugin that you use for your sound?
This question is answered very quickly: I only use Ableton Live 10 and good Phonon studio headphones, as I don't own a studio and prepare everything at home first. Then I go to Moomin's studio where my tracks are mixed and mastered.
Unfortunately I don't really have space at home with 2 children, but I hope that I can set up my midi keyboard soon.
Q6: What else can we expect from Delfonic in 2021?
The following releases are already planned: It is a special honor that Jazzanova asked me if I would like to do official Brazil Edits for Notes On A Journey Records. That should come out in about 2 months. Then an edit / rework for Gilles Peterson's Brownswood Records & for the great disco label Too Slow To Disco.
Illegal Jazz Vol. 3 has just been published and is already sold out and Kapote and I are currently preparing Vol.4. For me these are all very exciting projects.
Love this? Check out our Disco and House playlists HERE
For more info check:
Defonic Facebook: https://www.facebook.com/delfonic/
Delfonic Soundcloud: https://soundcloud.com/delfonic
Delfonic Instagram: https://www.instagram.com/delfonic/
Nómada Records Facebook: https://www.facebook.com/nomadarec/
Nómada Records Soundcloud: https://soundcloud.com/nomadarec
Nómada Records Instagram: https://www.instagram.com/nomadarec/
Tags:
Aroop Roy
,
Berlin
,
Delfonic
,
Dimitri From Paris
,
disco
,
Jamie 3:26
,
marcel vogel