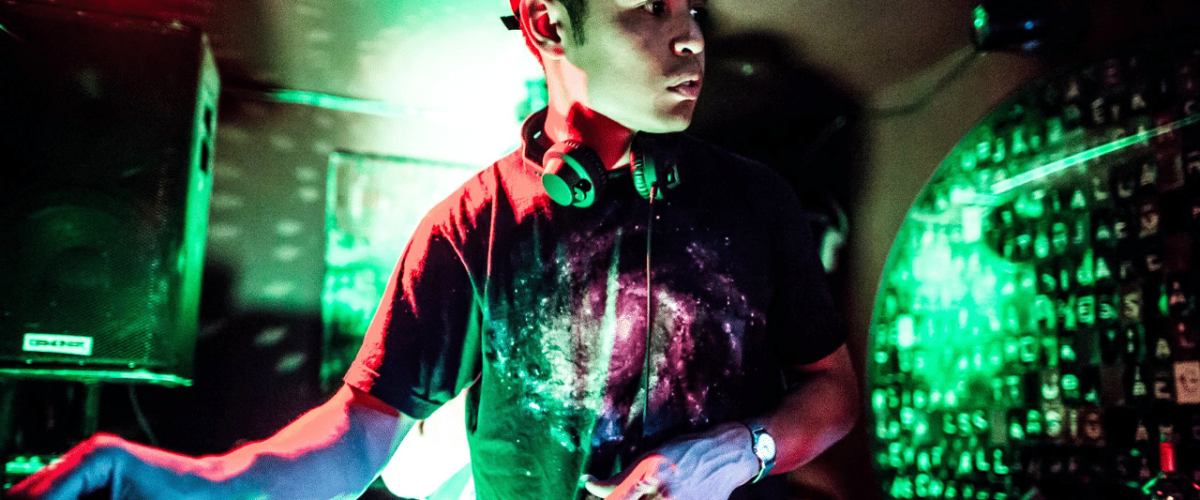 The Quick 6: Intr0beatz
We last spoke to Icelandic artist Intr0beatz a couple of years back. He is an artist who we have kept a very close eye on since featuring many of his tracks in our house playlists. Since our original meeting he has continued to grow in stature as an artist with many outstanding and chart bound releases landing on both vinyl and digital.
His music has touched many of the best underground labels out there including City Fly, Just Fine, Borg Ltd , Moment Cinetique and Lagaffe Tales and has been supported across the globe by many tastemaker DJ's. Crafting outstanding made for the dancefloor house music he is a producer held in high esteem by his peers.
Intr0beatz latest EP see's him return to one of our favourite labels Moment Cinetique. Fusing deep dusty chords and fat basslines it's another stand-out collection of tracks so it's a pleasure to get Arsaell, the man behind Intr0beatz, back in for chat about what he's been up to over the last couple of years, talk about the EP and grab some of his best production tips. He also jumped on the mix for our Selectors series and dropped a scorcher of a mix. Please give it a share over on Soundcloud if it kickstarts your party. You can check the full tracklist at the bottom of the interview.
Hi there Arsaell,
great to speak to you again.  
Q1: It's been a couple of years since we last spoke and obviously that time has been punctuated by the Covid pandemic. How would you say things have gone for your as an artist over that period and has it been a time when you found it easy to be creative?  
To be honest it hasn't been too bad for me personally. I work as a carpenter and we have never been as busy as the past year. The pandemic in Iceland has affected the club scene and the hotel/restaurant/tourist business etc but other than that, life in Iceland has been pretty normal. At least for me and people around me. Also, since I treat this music thing as a hobby I always have mad fun creating music and messing with sounds. That way I never feel pressured when I work on my music.
Q2: Your latest EP with Moment Cinetique is a superb collection of club tracks. Please can you tell us about the creative process which goes into putting together an EP like this?
All my music is created from just messing around in my home studio without a direction or concept and these two tunes come from a batch of tunes I made in the same months. Both of these tracks were actually made in the same week. It's just one of those studio moments where everything just clicks and works out without any hassle. A fun fact is that the vocals on Hum Hum are just me messing around on the mic. If you listen carefully you can hear that Im actually not saying anything. Just some gibberish that I thought fitted well with the groove and gives it a flavour.
Q3: Please can you give us three tracks that you have released since we last spoke which you would say are quintessentially Intr0beatz and that you are most proud of and why?
Wow, thats a hard question. But I guess if I look at all the tunes that I've have released since the beginning I can mention 3 tunes which I think show the sounds that I personally like the most.
Trees Breez (Closer to Truth)
This track has all the elements that highlight my sound. Electric piano chords, deep sub baseline, dusty drums and some random voice.
Trials & Tribulations (Stay True Sounds)
This one is what I call a "best of both worlds" production. Meaning that in this one I used all elements  of my studio process. Chopped samples from a record I bought in Johannesburg, synth bass from a Juno 106 I borrowed from a friend, pads from my Prophet Rev 2 that I actually don't own anymore, kicks from my MpPC 2k xl and some external effects. Sometimes I only use a computer and sometimes I only use hardware but when I can use all elements in the same track without problems, it makes me feel more like I'm really working hard. Haha
Improvise ( Cosmic Angles )
This is from my first release on my label Cosmic Angles and my most recent one. It also has everything in it that I would consider to be my sound. Thumping dusty drums, side-chained 909 rides, chopped samples and some synth elements.
Q4: What are the biggest changes that you would like to see in the electronic world when it starts to get fully back on its feet after Covid?
I would love to see more recognition and respect for the true pioneers of electronic music in general and all the DJs and musicians that really have put in the work. I think we can all agree that in the chaotic sea of all the music that is released every day that the true craftsmen and women in the scene often get lost in the mix.
Q5: We always love the depth that you are able to put into your tracks. What are your favourite tips for up-and-coming artists to be able to create a nice warm and full sound that you know is going to kick on a big system?
What hiphop taught me from the first day was to study music and musicians. Learn about how people make different sounds with different textures. Every artist has some kind of influences from other artists, so to know who these artists are that made your favourite artists make music can open up a whole knew vision into what you want to sound like without copying.
When you're starting out messing with music, have some kind of a reference to compare and listen to for how the drums are knocking, the timings in the grooves, how the low and the hi frequencies are balanced.
Never try too hard to polish a turd, meaning that always try to go for samples and sounds that sound good to you. Also, don't expect that your first track will be a hit or even close to being good. It takes time, but you will get there by trial and error if you do it over and over and over.
Q6: What else can we expect from Intr0beatz in the next 12 months?
More music hopefully. I'll be focusing a lot on my label, Cosmic Angles. I will try my best to have something new at least every two months and I will also be releasing with other labels.
Love this? Check out our House playlists HERE
For more info check:
Intr0beatz Facebook: https://www.facebook.com/intr0beatz
Intr0beatz Soundcloud: https://soundcloud.com/intr0beatz
Intr0beatz Instagram: https://www.instagram.com/intr0beatz/
Moment Cinetique Facebook: https://www.facebook.com/momentcinetique/
Moment Cinetique Soundcloud: https://soundcloud.com/momentcinetique
Moment Cinetique Instagram: https://www.instagram.com/momentcinetique/
Moment Cinetique Twitter: https://twitter.com/momentcinetique
LV Selectors Mix 23 – Intr0beatz – Tracklist
1. AceMo – Through The Pressure
2. Intr0beatz – Hands On, Handsome
3. Viktor Birgiss – Komdu Til mín
4. Lello Di Franco/Gari Romalis – Keep Ya Body Movin
5. Simbad/Lwandile/Zito Mowa – Peaceful Revolution
6. Felipe Gordon/Cody Currie – Late Nights
7. Jerk Boy – In The Beginning
8. Mr.G – Ease Ya Mind
9. Dennis Ferrer – Demi People Go(Kruse & Nuernberg Dub)
10. Ben Hauke – One Year Dance
11. Intr0beatz – Hum Hum
12. Intr0beatz – L.O.V.E
13. Intr0beatz – Chatting With The Boss
Tags:
Deep House
,
Intr0Beatz
,
Moment Cinetique