The Quick 6 & Mixtape 192 – Super Fu [Paper Recordings]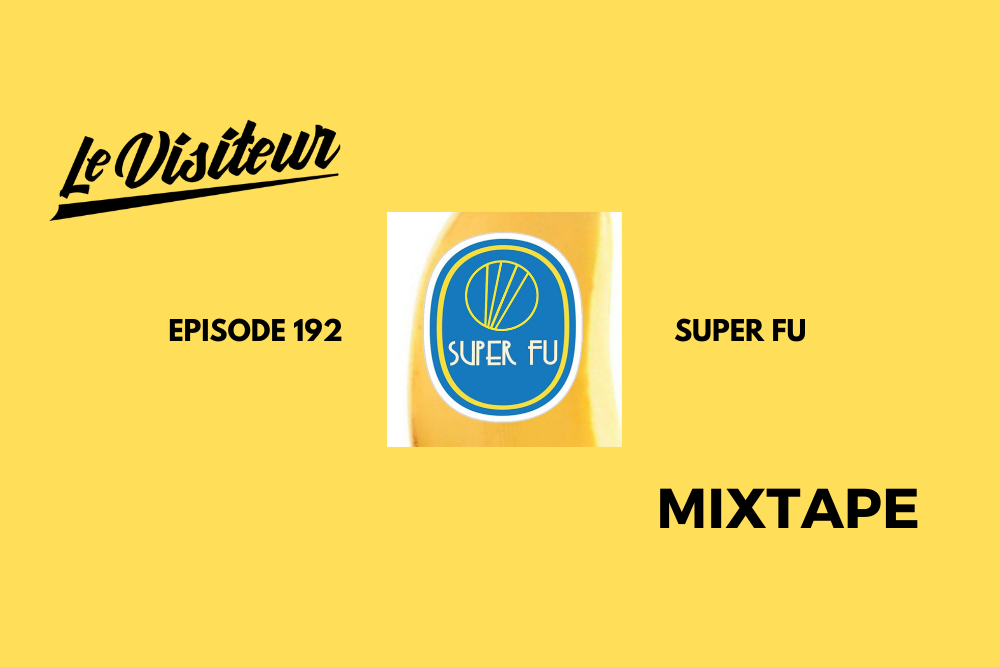 The Quick 6 & Mixtape 192 – Super Fu [Paper Recordings]
Like what you hear? To help support LV Online buy us a coffee via Ko-FI. Click HERE
Super Fu might be a new name to many but they are are a trio of musicians with deep roots in the UK electronic scene. Their EP Cocoons from earlier in 2021 was the perfect warm up for the release of their wonderful eponymous album Super Fu, a stunning collection of 10 tracks fusing Balearica, Electronic Soul, leftfield House and psychedelic edges. It's a scintillating collection perfect for the summer sun for many years to come.
The album has just landed via Paper Recordings, a match made in heaven, and will well and truly put Super Fu on the electronic and Balearic map.
We were blown away by the album which has been a firm fixture on the LV HQ soundsystem since it landed in our digital mailbox a couple of months back.
To celebrate the release we spoke to Rich, Sarah and Paul from the band about their background, the album and it's influences. They also put together a rather stunning influences mix to give us an idea of some of the tracks and artists which inspired them during the albums creation. Please give it a share over on Soundcloud and help us spread the word.
Q1: Who are Super Fu?
Rich – Super Fu are made up of a collaborative trio, Paul Withey, Richard Hall and Sarah Lazenby. We have known each other for a number of years having featured on the same releases together under our different guises. A collaboration had been talked about for a number of years too, but it wasn't until the extraordinary situation that occurred over the last year and a half that has really given us the time to really see what would happen.
Sarah – Having originally been called Super Ok (another band stole our name, long story!!) we changed to Super FU, which we prefer now anyway. Makes us feel like 'Super Fantastic Unicorns' Ha ha. We never actually met each other until recently, as Rich was always doing amazing remixes for us when we were in Sweetooth as part of his moniker 'Cuz Electric'. Paul & Rich made the majority of the album during lockdown one and I joined later.
Paul – We wanted to create music without boundaries with all 3 of our varied influences and had the freedom to create exactly what we wanted to and what came out of being locked in the house. It felt like an expression of the release of feeling hemmed in, a bit like a butterfly going through the cocoon phase of transformation, finally emerging and being free!
Q2: Please can you tell us about the Album?
The album was written during a worldwide pandemic with no dancefloors in sight. I think with the collaboration we  didn't really set out with any rules or guidelines. We really just started bouncing ideas around and developed them over time into pieces that we were happy with. I think what we have ended up with is an album that has drawn on a wide and varied number of influences and one that we hope has the same kind of appeal for its audience.
Zero Gravity
This track originally started out as two separate tracks which we decided to bring together to begin the album with. It starts with lots of atmospherics and field recordings to establish a sense of summer and warmth with the sounds of children playing in the background. We then kick into Zero Gravity with a catchy reggae style skank and vocals that take you all the way off into space.
Supreme Being
This really draws upon that modern proto/balearic sound. Sharp snappy drums parried with a wonked out baseline and those lifting little melodic synths and pads. This has been getting a lot of love in the early promos.
Whispers of the Summers Sun
A sun drenched hazy stagger out on a summers day. It's warm and fuzzy and wonky and tripped out. A little slice of sunshine.
Moon Lovers
This is our take on Street Soul with a huge vocal from Sarah. Probably the track that will have the broadest appeal on the album. Its a real summer sizzler and has some special remixes lined up for the single release that will follow after the album from Ruf Dug and Jorja Chalmers. Keep your eye out for those later this year!
All I have known
This one was included on the first single that came out earlier this year and included a bloody brilliant remix from Chris Massey and Dan Wainwright, if you haven't heard it you really should, they totally blow the roof off with it. Hats off to those fellas.
Super OK
Another one that has been getting a lot of love on the promos, this one has that ALFOS appeal for sure, twisting and turning along with big synths paired with lovely Balearic guitars. This one will draw you in and eat you up.
Lobsters Interlude
A little enlightening chat amongst the sea fairing Super Fu sailors.
Stay Here
Another one that featured on the first single with a absolutely killer remix from Coyote that has been getting a lot of plays.
Zero Gravity (Reprise)
We loved the idea of having a full album that you can listen to from start to finish, so the idea of a reprise was something that really appealed and with those lovely strings in Zero Gravity this was the track that was screaming out for it.
Elysian Mind
This is the last track on the album but was actually the first track to be completed. A lovely song that lulls just screams seaside. Really topped off by a great guest performance from Huggy Sammy on the saxaphone.
Q3: The album is heavily influenced by the Balearic Sound. Which Balearic albums would you say have influenced the band directly or indirectly over your careers which have lead to the Super Fu sound? 
Sarah – We didn't slot ourselves into a Balearic box and decide it had to sound like that. it just happened organically and I guess it has Boogie, 90's street soul and electronic elements too. Although Paul sent Rich the Linda Di Franco – Tv scene track to listen to and also Rich sent Paul Lynda Dawn – (All the Linda's ha) we loved the groove and feel of both those tracks.
Rich – Check out the DJ mix we have put together for you below for a whole host of tracks that have influenced the making of this album.
Q4: What can you tell us about the theme of the mix you have done for us and what are some of the key tracks for you?
The mix we have put together is really a number of tracks and sounds that have influenced us when creating the album, I have included a tracklist below with an explanation of how each tracks has had an impact on us.
Crackazat – Midnight in sector seven
This is a great example of the some of the atmospheres and sound textures that influenced some of the more obscure parts of the album where we brought it together initially using interludes to provide a feeling of a location and attempt to set a scene.
Ric Ocasek – This Side of Paradise
This is a perfect example of some of the interesting obscure 80s tracks we were listening to a lot over lockdown via the likes of the Isolation Station. This place was a real oasis for me with a huge pool of some of the best selectors in the business to draw inspiration from.
Fifth of Heaven – Just a little more
You might notice a little bit of street soul sounding stuff on the album which was very much influenced by tracks like this. This is straight out of Manchester with an uncredited Denise Johnson on vocals, just beautiful.
Jasper Vant Hof – Virgin Jungle
We could have chosen any of a dozen of this mans tracks, Jasper Vaan't Hof under his Pili Pili guise from the mid 80s. A really brilliant track with great percussive elements and Jaspers very accomplished piano.
Linda Di Franco – TV Scene
This was an early track that Paul and I bonded with and shared a love of. A Balearic masterpiece.
Air Project – Everyone
This is the kind of track that you will hear has influenced tracks like Supreme Being. Killer drums and powerful motifs throughout. Moody, wonky and sleazy, all big ticks in the boxes for Super Fu.
Dymanic – Yeadon
A beautiful track from the mid 90s that really has that street soul feel. Produced by King Britt and came out on Ovum recordings, this is our homage to Luke Una's radio show that along with his infamous Instagram account which has been a pure gold for keeping things together over the last year and a half alongside producing this album.
Jura Soundsystem – Mamma Capes
These guys are doing a great job with their releases, whether they are reissues, new stuff or compilations they are always on the money. A great example of how modern productions really nail it.
Love International – Airport of Love
This is a great example of a song that doesn't take itself too seriously. Quirky and fun is certainly something that we are drawn to in both our DJing and productions
Torstein Bieier – Terromatt
Wrapping up the mix here with an example of the love we have for European oddities. Our record collections are littered with this sort of stuff and its a sound that has had a big influence.
Q5: What are the indispensable pieces of equipment or plugins that you use for the Super Fu sound and please can you give us your three favourite studio tips or resources for up-and-coming producers on how to create the Balearic Sound?
A huge lover of vintage analogue synths especially 80's synths. We adore the Juno 106 as it has a grainy chorus and great pads.
Some of the album was recorded through Pauls Revox reel to reel to give extra atmosphere and tape dirt. Plug-ins we were loving were the Arp2600 and the guitars and bass were played live and put through Universal Audios Neve 1073 pre-amp, which gave a clarity, sheen & bite!
Big tips are to have solid breaks away from the tracks even for a week at a time otherwise you go deaf/blind to the track and end up in overkill with adding too many elements. Also having the luxury of a garden to write songs in, we wrote Moon Lovers on the Grass in full sunshine with an amp and a shure SM58 and pad of paper – old school style.
Real instrumentation and clean guitars (we used Fender strat played clean through a fender hot rod amp with reverb) are always best for any Balearic sound as you always get more atmosphere and quirks with things played live.
Shout out to Huggy Sammy who played sax on Elysian Minds.
Q6: What else can we expect from Super Fu in the next 12 months?
We have the follow up single featuring Moon Lovers and Super OK with some brilliant remixes from Ruf Dug, Jorja Chalmers and Sarah Bates later this year.
We are already working on second album and have some tracks lined up. Plus an awesome collab with another paper Recording act 'From Beyond' which should drop summer time, so listen out for that.
We may do a special release of a new track called 'Voices' featuring all of our friends singing the chorus.
For more info please check:
Super Fu Facebook: https://www.facebook.com/superfuhq
Super Fu Bandcamp: https://superfu.bandcamp.com/releases
Super Fu Instagram: https://www.instagram.com/superfuhq
Paper Recordings Facebook: https://www.facebook.com/paperecordings
Paper Recordings Instagram: https://www.instagram.com/paperecordings
Paper Recordings Twitter: https://twitter.com/paperecordings
Tags:
balearic
,
paper recordings
,
Super Fu