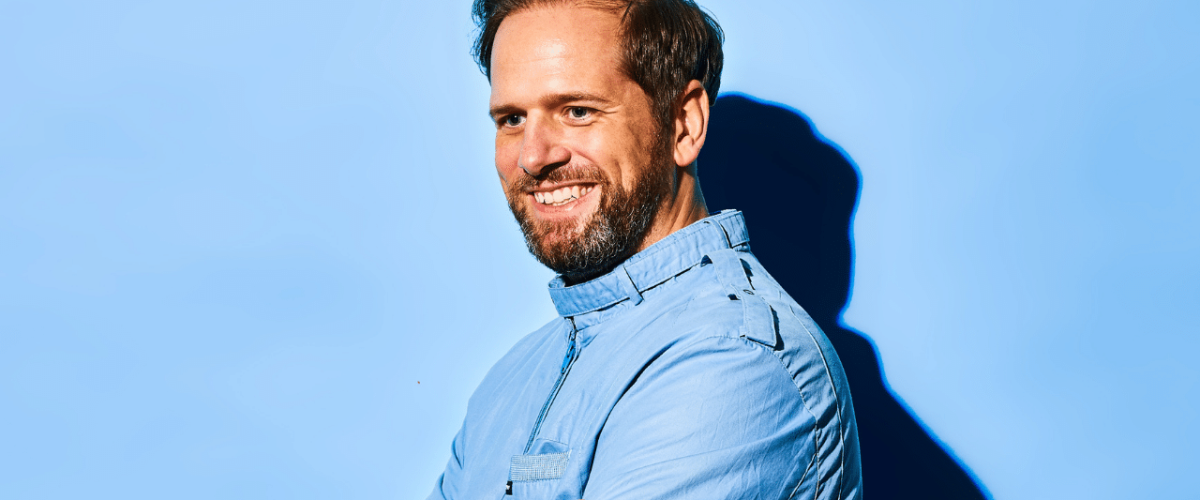 The Quick 6: The Owl
Like what you hear? To help support LV Online buy us a coffee via Ko-FI. Click HERE
UK producer John Devecchis aka The Owl has been crafting classy soul and disco infused edits, bootlegs and originals for more than a decade now. Over the last few years he has been constantly upping his game with both his tracks and his Owl alter ego gaining serious momentum including picking up huge support from Craig Charles on Radio 6 music.
Having recently moved back to the UK after two decades of living in Australia he has been working hard in the studio. The fruits of those labours are perhaps his finest work to date with a superb 12 track artist album Concrete Funk landing this week via the excellent Cardiology label.
To celebrate the album's release The Owl put together a scorcher of a mix for our Disco Selector series. You can check it out below and get more on the mix along with the tracklist HERE.
We also spoke to the man behind the owl John Devecchis about his various alter egos, his studio, his favourite producers and loads more Check it all out below.
Hi there John
thanks for speaking to us today.
Q1: So Who is The Owl?
I started DJing in 1993 at the age of 15, in a York wine bar called Oscars (it still exists today). Playing everything from soul and R&B to early 90s rave tracks. I then started a techno club in Chesterfield called Irrational for a couple of years before moving to Australia in 2000.
I became the resident DJ of the famous Home Nightclub in Sydney along with Jason Bye. I was only 22 years old warming up for the likes of Darren Emerson, Derrick Carter, Roger Sanchez on literally a weekly basis. I have been fortunate enough to play up to and above 4,000 on more than one occasion as my reputation as a solid warm up DJ saw me billed on an endless list of festivals. And being in Australia for 18 years meant I had solidified a respected reputation.
I had (until recent years) always DJ'd under my real name John Devecchis, even though my disco alias 'The Owl' was born almost 12 years ago.
It was only in the past 3 years that The Owl was properly recognised as more than just an 'edit' maker and more of professional producer. The Owl tracks were first picked up in 2012 by Canadian label Editorial Records and the track Feel Good went to number one on Traxsource download straight away.
Other releases on Editorial went to number 1 on Beatport and Juno.
I have also released house music tracks on other vinyl and digital labels under my real name before (and since) The Owl outings. And although much success on those reputable deep house/techno labels, it was the disco sound of The Owl that kept on increasing in demand. Beyond disco DJ's and into House music.
I also release techno under my 3rd alias FREAK D, but I have recently concentrated on The Owl brand due to demand. I am back in the UK for now and currently working on a project with Craig Charles. He has been a big Owl fan for a couple of years now, playing over 20 of my tracks on his weekly BBC Radio 6 funk and soul show.
Q2: Please can you give us three tracks from your discography which you would say are quintessentially The Owl?
I think the 3 tracks that would epitomise my belief of what I want The Owl to be known for would be:
Pimp Talk [Editorial Records]
This is an original track (using samples but far from an 'edit'). I saw a short movie about a real Chicago pimp on Youtube and wanted to make his story heard. I sampled his interview and created the music to make a sleazy funk track that is a great sounding vinyl.
Double Exposure – Everyman (The Owl Remake) [Free track]
This really shows how I am able to take a well-known house track (Salsoul Nugget). Use the same samples they have used, but update the sound and make it relevant for a modern floor. Also keeping slightly truer to the original sound.
The Truth [Cardiology]
This track is more of a big room sound than The Owl would have previously known for. I also like the fact that this lies right in the middle of what my sound is about. It is not a rework of a single track. It uses the synths and vocals from two completely different tracks. The bass line and all percussion all written separately as well. It is a new track using samples from different eras. I love this track!
Q3: You have just released a 12 track album Concrete Funk, please can you tell us about the album and how it all came together?
After much correspondence between myself and Burnski during my second release on his Cardiology label, we somehow got talking about how the only other job that I have had away from music is boxing coach. The next week Burnski had driven through to my gym and started boxing with me (he is actually great as well). In between rounds we would shoot the breeze and Burnski came up with an idea for a 12 track double Owl LP. Something I hadn't even thought of for my own Owl Record label.
With regards to the overall album idea. I wanted it to be a complete mix of tempo and style of production. Some are very intricate reworks and others are original tracks with some samples used. I have tried to keep the overall vibe as a soul, funk and disco sound. An album needs to have an overall consistent feel even if the tracks differ in pace and feel.
The label Cardiology is the nu disco branch under Burnski's mega popular Constant Records. A group of labels combining many very credible artists under a variety of different genres. Burnski is a musical weapon and his knowledge of different underground markets is very impressive.
Buy the album on Juno: https://www.juno.co.uk/products/the-owl-concrete-funk/793656-01/
Q4: Who are your greatest influences as a producer?
After playing as resident DJ in both the main and deep house room of Home Nightclub in Sydney for 10 years, I have to say that I always found the deep house sound had more consistency in track durability.
With this in mind I will have to say my favourite production duo are the Inland Knights from Nottingham. Their ability to use disco samples is second to none.
My second choice is by a producer I only know a little about. It is DJ Rolando. The track 'Knights of the jaguar' makes me feel like I am in the middle of a giant orchestra cauldron. I will never know how he came up with this song.
I make deep house and techno under two other monikers
My third choice may sound obvious but he resonates with me personally. Dr Dre as a producer is a genius. Knowing more about early soul and funk gives you an even better understanding of just how incredible he is. I have actually used his sampling as an inspiration for some of the ways I have picked certain tracks and samples that I have used. I don't like a lot of what I have read about the man, music aside, but this doesn't cloud his inspiration for me.
Q5: Your Studio: Please can you tell us about your studio. What is your production set up? What is your indispensable piece of equipment or plugin that you use for your sound? What is next on your studio shopping list and please can you give us your three favourite studio tips for up-and-coming producers?
I love getting asked questions about my studio because my response is not always only the same, but more than often surprises people. I honestly mean this when I say that I personally believe your own ears are much more important than the kit you have. Your ears AND great monitor speakers that you trust with all your heart.
People pay others to mix down tracks for them. I tried that early on in my deep house production days. But I always felt like it didn't sound true to me. Too much reverb here, too much bottom end in the break.
I think the best advice I can give to somebody just getting into production is this……There are no short cuts. Make 50 shit tunes until you finally get to where you understand your own sound.
You can't just be a 'producer' either. If you are not creative artistically you will struggle. I think that is why we see so many 'ghost writers' these days. Dj'ing is much easier than producing.
With regards to speakers and plug-inns etc. I love my NS10 & Adam Audio monitors. They work FOR ME. I know them inside out and it took a long time to get this right.
I only have basic hardware such as a keyboard and mic. The plugins I have always favoured is Trillion for bass and keys, Predator for synths and stabs.
With regards to my The Owl project, I think being largely reworks of original tracks that samples do the job 90% of the time.
Q6: What else can we expect from The Owl in the next 12 months?
With the current state of the music scene in the UK due to COVID, I am not expecting many club gigs in the near future. After 18 years of non-stop gigging in Australia I have been fine with a short break from the decks. But I am really missing it now. Let's hope this will all be resolved soon so we can get back to partying. In the mean-time I will be just head down and continuously working on new tracks.
Disco projects as The Owl, deep house and techno as Freak D.
For more info please check:
The Owl Facebook: https://www.facebook.com/owledits
The Owl Soundcloud: https://soundcloud.com/owl_the
The Owl Instagram: https://www.instagram.com/theowl__freakd/
Cardiology Facebook: https://www.facebook.com/cardiologyrecords
Cardiology Soundcloud: https://soundcloud.com/user-671149379
Cardiology Instagram: https://www.instagram.com/cardiology_records
Tags:
craig charles
,
disco
,
FUNK
,
Inland Knights
,
Rolando
,
soul
,
The Owl