The Quick 6 – Velour [Wolf Music]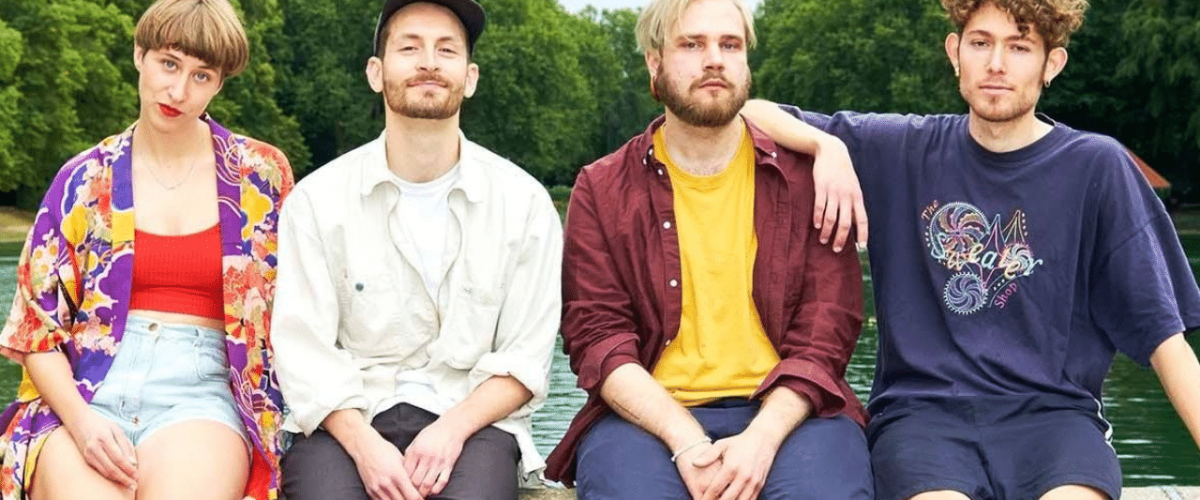 The Quick 6 – Velour [Wolf Music]
Cover pic by Rebecca Racine Ramershoven
Following on from their powerful eponymous LP which arrived in November 2020 German band Velour are now back on Wolf Music with a four track EP featuring remixes of some of the finest moments from the album. In come Hulk Hodn, Footshoder, 20/100 and Frits Wentink who all deliver their own perfectly crafted takes on their choice of album tracks. It's an EP overflowing with cool from downtempo MPC groove to hazy electronica and Jazzy Detroit stylings. You can check our premier of 20/100's take on Luminate below and our EP review HERE.
Velour and indeed the remix EP have been a bit of a revelation here at LV HQ so we are very pleased to speak to them today to get a little more info on what makes the band tick along with some of their favourite tracks.
Tell us about Velour?
Hey guys! We are a four piece band, based in Essen, Germany. We have existed since 2018 and make post-genre, jazzy, neo soul, broken beat kind of thing. We are Eva (vocals, keys), Vinzent (Sax, Synths, Keyboards), Fabian (bass) and Janik (drums, percussion). In November 2020 we released your debut album on WOLF Music.
What would be the ideal setting to listen to your music?
An ideal setting for our music could be: Somewhere outside at a warm, soulful day with some good friends and also at night at home. With a look at a DJ set, Velour might be a good opener for a dance willing crowd.
Walk us through the Remixed EP on Wolf Music Recordings.
At first we have German producer Hulk Hodn who chops our track 'Tom's Garage' into a hazy Hip Hop track. Secondly, South London's Footshooter takes 'Into The Blue' through a synth heavy garage remix with some impulsive broken beat grooves. On the flip, house producer and synth geek Frits Wentink remixes 'Pose' for a unique, walking house track. Last but not least our band member Vinzent Wirth aka 20/100, celebrates his debut with a Detroit influenced house rework of 'Luminate'.
Who would you like to hear playing your tracks?
It would be an honour if some big names of the house scene would play a Velour track as an opener! Also some guys who dig very varied and rare records would be dope – like Egon (Stones Throw) just to name one.
Share 3 tracks you love
Movement 7 – Floating Points, Pharoah Sanders
The song is a representation of a wonderful album that combines our love for spiritual jazz and electronic music, which meet in a core of dramatic ambience. Something to drift away to.
Inelegant – Triorität
Way too unpopular jazz band from Germany getting back to basics, also creating some housey and Azymuth vibes with awesome video by Hip Hop Producer Knowsum.
Untitled 05/Nardis – Robert Glasper, Kamasi Washington, Thundercat, Terrace Martin, Chris Dave
Just a mind-blowing performance of the biggest heavyweights in jazz interpreting Kendrick Lamars' Untitled 05, which they actually wrote based on Miles Davis' Nardis. We will always come back to this one.
Talk us through what Velour has coming up next?
For the last couple of weeks we have been back working on some new tracks. So new music is in progress!
For more info please check:
Velour Facebook: https://www.facebook.com/velour.jazznotjazz
Velour Instagram: https://www.instagram.com/velour_____
Wolf Music Facebook: https://www.facebook.com/wolfmusicrecordings
Wolf Music Soundcloud: https://soundcloud.com/nysoul
Wolf Music Instagram: https://www.instagram.com/wolfmusic/
Wolf Music Twitter: https://twitter.com/WOLFMusic
Tags:
Velour
,
wolf music