The Wonderful World Of Too Slow To Disco with DJ Supermarkt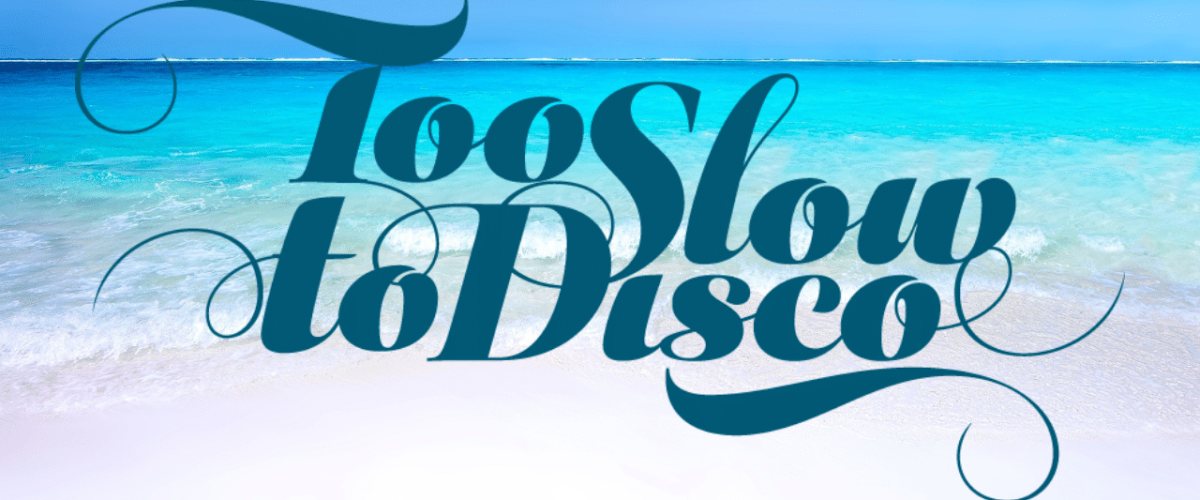 The Wonderful World Of Too Slow To Disco with DJ Supermarkt
Too Slow To Disco's Yacht Disco Edits series has been a real hit since it's inception back last February. To be fair though who wouldn't want to imagine they were sailing around warmer climes on a yacht over the last year. Taking things up yet another notch Volume 3 of the series has just landed and it's so packed with incredible music that they have had to split it into two volumes.
You can grab both volumes from the Too Slow To Disco Bandcamp here: https://tstdedits-djsupermarkt.bandcamp.com/
Across Volume 3 you will find all manner of blissful sun soaked downtempo gems. Expect classy outings from many LV favourites including Vibes4yoursoul, Delfonic, The Secret Soul Society, Jack Tennis, Those Guys From Athens, Sould Out, Rayko and of course label boss Dj Supermarkt.
To celebrate the release we spoke to DJ Supermarkt about the label How Do You Are? and the Too Slow To Disco series, he also put together a rather special mix for us entitled The Wonderful World Of Too Slow To Disco Yacht Edits. As you would expect it's rather brilliant. Yo can check it above and the full tracklist is at the bottom of this interview.
Now where did I leave my Yacht keys?
Please can you tell us a little about your journey to setting up How Do You Are? And what was it that led you to launch the label?
That's a long ride. First of all, How Do You Are? was the name of the music blog I started in 2010. It was all about the early disco influenced electronic pop sound of the time (Breakbot, Cut Copy, Miami Horror, Phoenix etc) and it highlighted the upcoming Disco Edits scene.
Sometimes I "dared" to share my deep love of that Westcoast AOR/Yacht sound (like Hall & Oates, Ned Doheny) and the reactions were incredibly promising, most people were curious, surprised and loved it and many absolutely hated it. This to me was the best sign that I was onto something relevant. I continued along that path and formed the label How Do You Are? Recordings with my friend and partner Christof Ellinghaus, who is also head of City Slang Records, to re-release that signature mellow, smooth, laidback Westcoast Sound of the mid 70s to the mid 80s.
Normally these stories end here, because in reality those weird ideas tend to not work out, but for some strange reason, we did it! We were able to officially license 19 tracks and so in May 2014 our first compilation called Too Slow To Disco (we stole that name from a track by Paul Davis from 1980) saw the light of day! It was so much more successful than we ever expected and reason enough to continue with more compilations. In June this year we will release our 9th compilation so far!
We added new directions to the Too Slow To Disco name (as a person who discovers new music every minute, I tend to get bored really quickly and sometimes move too fast…), which included two volumes dedicated only to female songwriters of that Westcoast era called "The Ladies Of TSTD", plus a volume about Brazilian Yacht/AOR compiled by the über-specialist Ed Motta.
During that time I was blown away by the new sounds of todays musicians that used this Westcoast Disco sound to create something modern and contemporary. It was soon to be called Daytime Disco, Nudisco or Sunset Disco. The first and most impressive wave of these producers came from France, especially Paris, so in 2019 we started a new sublabel for it and called it Too Slow To Disco NEO. The first release was a compilation called TSTD NEO – En France featuring those French acts like Yuksek, L'Impératrice, Jean Tonique, Bertrand Burgalat and Paradis. We continued that series with THE SUNSET MANIFESTO at the end of 2020.
The third TSTD sub-brand was formed in 2018 and it came at a time when my DJ sets were full of amazing smooth disco edits/reworks of modern producers like DoctorSoul, LNTG, Chuggin Edits, Vibes4YourSoul and Jack Tennis. We called these TSTD YACHT DISCO EDITS. We released 5 vinyl and 3 digital compilations, you can grab them all here: https://tstdedits-djsupermarkt.bandcamp.com
Please can you give us three tracks you have released which you would say are quintessentially Too Slow To Disco? 
Too Slow To Disco: NED DOHENY – Get It Up For Love
The song that started it all. When I discovered this – at the time – it was a lost diamond, I instantly knew that the sound of this track was so modern and timeless, it would make sense to finally dare to re-release that music to be discovered by a wider, much younger audience. It is the opener on TSTD Vol 1. Later we helped organize a TSTD Live show by Ned Doheny (his first ever outside of the US), which was a moment I will never forget. I never saw so many people in an audience cry!
TSTD Edits, from Yacht Disco Edits 3a: HOLDTight – Be My Love Tonight
This track really sums up the laidback, groovy sound that will make you dance instantly (but smoothly) which I am looking for in my DJ sets. It's made for smaller clubrooms, bars or rooftops/beach bars.
Poolside – I Feel High (Vibes4YourSoul Remix)
I was really happy to have been able to get an exclusive track from the masters of daytime disco: Poolside. I am a big fan! And to get Vibes4YourSoul on the remix, to me was like a match made in heaven! The producer from Paris is also a big part of the TSTD EDITS brand with many tracks across our releases.
What tip do you have for budding label owners out there?
Try it out. Especially if the cool people tell you that your idea is weird… Be risky, but fair! And try to not lose money…
What would you say is your proudest label moment to date?
The proudest moments are, when I contact an artist I admire deep from my heart for the first time, and they tell me that they are fans of Too Slow To Disco. It happened with Chromeo, Joey Negro & Poolside.
You recently released a major compilation called the Sunset Manifesto. What can you tell us about that project and how you plan to develop it?
We released THE SUNSET MANIFESTO end of 2020 as the second release on Too Slow To Disco NEO. I had a simple plan in summer of 2019, which sounded great at that moment. It was to compile the ultimate rooftop sunset collection of modern daytime disco tracks that I can play out wherever I go as a DJ! Yep, it sounded great in 2019, but the reality of 2020 stopped the public parties idea. That didn't stop us still doing the compilation, which is now the soundtrack to very small kitchen parties.
The goal was to convince the crème de la crème of the new international Nudisco artists to give us an exclusive track/remix. And – another proud moment – it worked! Even the biggest names like Poolside, Kraak & Smaak, Satin Jackets, Roosevelt, Prep and LUXXURY were immediately on fire for the idea, because they all liked TSTD. It helped that I had already deejayed with many of them at parties. Listen and get it here: https://tooslowtodisco.com
What are your plans for the label over the next 12 Months?
We will keep the ball rolling! A new official Too Slow To Disco compilation is fully licensed now and will be released on Record Store Day, June 12th. It is about that late 70s early 80s period in LA, with a little new twist to it!
TSTD EDITS vinyl releases are also lined up by LUXXURY, Jack Tennis and Saltywax. We wanted to wait for the record shops to be open, before we released them because those shops make the difference. Last week we released the digital compilations YACHT DISCO EDITS 3 (a &b).
There is so much more coming! Stay tuned.
For more info check:
Too Slow To Disco Website: https://tooslowtodisco.com/
Too Slow To Disco Facebook: https://www.facebook.com/tooslowtodisco
Too Slow To Disco Soundcloud: https://soundcloud.com/tooslowtodisco
Too Slow To Disco Instagram: https://www.instagram.com/djsupermarkt_tooslowtodisco/
Too Slow To Disco Twitter: https://twitter.com/djsupermarkt
Too Slow To Disco Bandcamp: https://tooslowtodisco.bandcamp.com
Too Slow To Disco Bandcamp edits: https://tstdedits-djsupermarkt.bandcamp.com
LV Selectors 19 – DJ Supermarkt – The Wonderful World Of Too Slow To Disco Yacht Edits – Tracklist
Those Guys From Athens – Up
Those Guys From Athens – 4 Your Love
DJ "S" – Never Gonna Stop
FF Edits – What We Gonna Do About It
Vibes4YourSoul – Mais Loucos ("Bozo" Rework)
DJ Friction – You Know How?
DJ "S" – You Know Him
DoctorSoul – Plus d'Un Milliard de Filles (Mais C'est Toujours La Même Re – Therapy)
Delfonic – Let's Go Disco
LUXXURY – Hello My Love
HOLDTight – Be My Love 2 Nite
Dave Mathmos – Your Love (Contemporary Soul Mix)
Saltywax – Back to California
Vibes4YourSoul – All The Way ("Tonight's Ze Night" Rework)
DoctorSoul – Hold Tight (Don't Let Go Re – Therapy)
Jack Tennis – Something 'Bout 'Cha
Chuggin Edits – I Cant Keep My Hands 2 Myself
Tags:
DJ Supermarkt
,
kraak smaak
,
nu disco
,
Too Slow To Disco
,
Yacht Disco
,
yuksek