Brighter Days present Island Life – Day to Night party – Saturday 29th June (Enigma, San Antonio)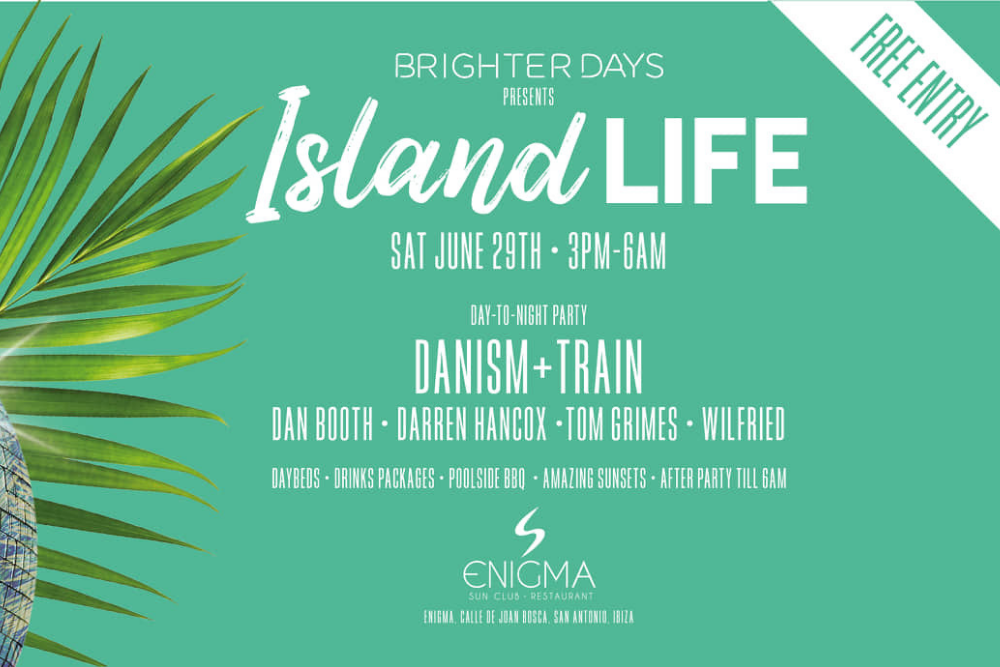 Brighter Days present Island Life
Day to Night Party Saturday 29th June (Enigma, San Antonio)
It's finally that time of year again when we can get super excited about heading to Ibiza. We will be upping our coverage of the island this year with previews and reviews of some of the islands finest events and venues.
Kicking off we thought this was a great event this coming Saturday.
Taking place at Enigma (ex Kanya) in San Antonio the increasingly popular Brighter days will be taking over the venue on the last Saturday of each month over the summer for a day to night party.
Kicking off this Saturday their launch party features the very classy Danism + Train who are headlining with a sunset session and four hour club set. We've been long time fans of Danism since his Liquid People days. Don't you go away was a huge anthem and still sounds great today. Check one of their mixes below.
Danism and Train along with DJ Rae have also been doing serious damage this month with their huge anthem No limit which is currently sitting at No 1 in the Traxsource Soulful house chart.
Expect 15 hours of disco and house from deep to soulful with support from some of Ibiza's favourite island based DJ's. Full line up is below.
Danism + Train – https://www.facebook.com/danismandtrain/
Tom Grimes – https://www.facebook.com/DJTomGrimes/
Dan Booth – https://www.facebook.com/dan.booth.7330
Darren Hancox – https://www.facebook.com/darren.hancox.50
Wilfried Bouron – https://www.facebook.com/djwilfried
Check the full event listing on facebook: https://www.facebook.com/events/2104074286556345/
Expect an incredible sunset, wonderful music and nice people.
Tags:
Brighter Days
,
Dan Booth
,
Danism + Train
,
Darren Hancox
,
Enigma
,
Tom Grimes
,
Wilfried Bouron