Le Visiteur Presents – Every Saturday in March – Oslo – Hackney, London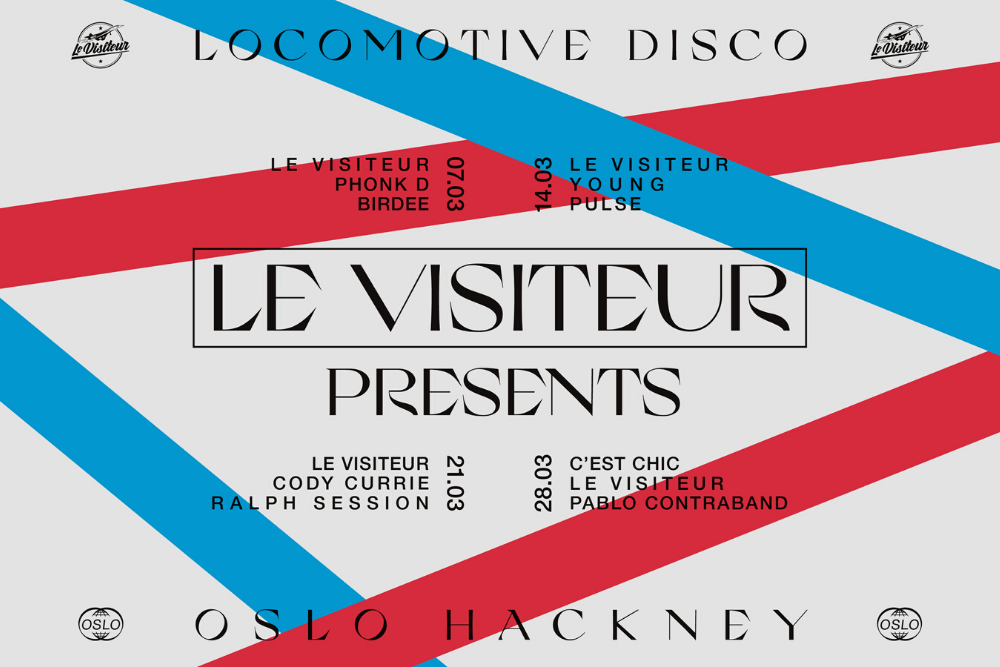 Le Visiteur Presents – Every Saturday in March – Oslo – Hackney, London
As LV Online continues to grow and attract readers from all over the globe with 1000's of readers joining us every week to sample some of the finest Disco and House music we are delighted to announce our first disco-laced takeover at super-hot London venue Oslo in Hackney this coming March. Flying in a host of international talent who regularly feature on LV Online, we have assembled an enviable line up guaranteed to shake the Oslo dance-floor with our own feel-good brand of deliciously different disco and house music.
Blasting in for the first event of the series on Saturday 7th March are LA native Birdee, exciting German producer Phonk D and the man behind LV Online and renowned mixologist of the aural variety Le Visiteur. With a succession of chart smashes between them on some of the finest labels out there from Salsoul and Glitterbox to Midnight Riot these three sure-fire selectors are some of the finest touring today making this a launch party you do not want to miss.
Next up, on Saturday 14th of March, one of the current hottest names in the Disco world, Parisian producer, Young Pulse touches down at Oslo for a head-to-head with Le Visiteur. Expect the disco sparks to fly as these two dig deep in their collections to create the very finest of hands-in-the-air disco moments. If you haven't yet caught Young Pulse then be assured that his reputation as a DJ with a magical touch on the dance-floor is rightfully earned.
On 21st March the headliner is Cody Currie whose recent Toy Tonics EP was easily one of the finest vinyl moments of 2019, loved by critics and fans alike. He will be ably assisted by New York's Ralph Session, a producer with a cutting edge take on the classic US house sound who has raced through the ranks in the last 12 months. Le Visiteur will also be on hand on what promises to be another sublime night.
Seeing out this run of gigs on Saturday 28th March is the never-before-experienced C'est Chic show from Le Visiteur himself. It's an audio visual feast showcasing the music of the legendary hit factory The Chic Organization. Expect hot remixes and dancefloor shaking edits of tracks from Chic, Sister Sledge, Bowie, Madonna and indeed from anywhere Nile Rogers and Bernard Edwards have cast their magic disco spell. Not only that, every track is accompanied by lovingly custom-created videos which will be cast across Oslo's screens.
Alongside Le Visiteur and setting the tone for the evening is one of the UK's most respected names Pablo Contraband, a selector with his own golden touch who has regularly toured all over the globe holding court alongside the biggest names the electronic world has to offer.
So book out your Saturdays in March to experience four weeks of the finest parties, each one a perfectly curated line-up to guarantee your dance-floor satisfaction. If you're looking for your own slice of disco history then you do not want to miss this.
Free Tickets are available from: www.oslohackney.club
More tickets: www.Dice.FM & www.residentadvisor.net
Tags:
Birdee
,
C'est Chic
,
Cody Currie
,
Le Visiteur Presents
,
Pablo Contraband
,
Phonk D
,
Ralph Session
,
Young Pulse