Gledd talks about his new Bonfido Disques EP, his career, Saint Wax and drops an immense Selectors Mix for us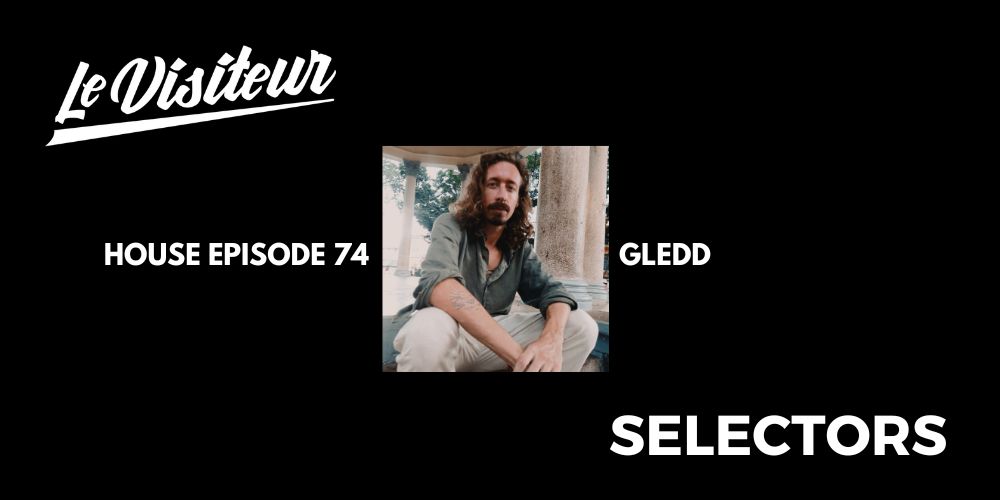 Gledd has been a fascinating artist to watch over the last few years. As well as delivering a constant stream of excellent music, he's also clearly a very talented DJ who clearly holds himself to very high standards. His label Saint Wax has been brilliantly curated featuring lots of LV fav's including Tiptoes, Siggatunez, Soulcheeba alongside many more excellent artists with each release well worth picking up in it's own right.
With a brilliant new EP landing imminently via Bonfido Disques I thought that it was high time that I tracked Gledd down, asked him to step up to the LV decks and had a good chat with him about his career, Saint Wax, the new EP and what he has incoming in 2023.
Make sure that you check out the brilliant mix that he did for us and please give it a share over on Soundcloud and help us spread the love.
Hi Gledd,
thanks for speaking to me today!
Where are you currently based?
I've been living in Mexico City for 5 years but I'm now moving to Europe for a few months after completing a tour in Colombia and the Caribbean region.
How did you first get into music, was there lots of encouragement at home when you were young?
I got into music when I was a child, listening music at home with my family. My grandpa was also a jazz musician so that I could say that music has always play a big role on my life.
Please tell us a little about yourself and your background as Gledd the artist from your beginnings to where you are in 2023.
I was listening mostly to soul, blues and rock with my mother, electronic with my sister and jazz with my grandpa. Such a good mix, isn't it? Ahah Then I started playing guitar and getting more and more into trip hop, hip hop and downtempo. Over time I began to djing, tapping into all the influences I grew up with. I got into house music quite late when I started producing. I can say that between my key releases there are Blue Boy – Remember Me, Fela Kuti – Zombie and Max Graef – Rivers of the Red Planet, Otis Redding – The Soul Album, but you know there are many others…
How would you describe your music ethos right now?
My music ethos is just playing what I feel and always trying to communicate something new so I never get bored an always have fun for me and who listen to my tracks.
Tell us about your latest release Gledd? 
In my last EP – Yandaman released by Cacao Records – I mixed acid and bass synths, house drums with samples from West Africa. I think this release deeply represents my working flow and the vibe I feel more right now.
Please can you tell us about your studio. What is your production set up?  What is your indispensable piece of equipment or plugin that you use for your sound and what is next on your studio shopping list?
As I m still a nomad I don't have a proper studio here in Mexico City. I like to produce where it happens, in the places that inspire me most. But when I work to a new track, I can stay fixed on it for hours or days at a time. Until it is exactly the way I want. I'm working with a lot of plugins (Arturia and Roland plugins mostly) but I've got few synths and many instruments in my hometown.
Please can you give us your three favourite studio tips for up-and-coming producers?
Well, I think it is important to have a good music knowledge and also try to refine your music taste more and more and to always experiment on new things without having a defined genre.
You also run the Saint Wax label, what can you tell us about that?
I started Saint Wax during the pandemic with the aim of releasing my music and the music of the producers I like. At first it was just a mix series. Now it doesn't have a proper genre. I just released the sublabel called Saint Wax Edit Service.
You are a firm supporter of vinyl via the label, do you have a big record collection at home? 
Yeah of course we always release the vinyl first and then the digital. In fact I think you feel the music on vinyl with more passion. I ve got many vinyls in my house but my collection is constantly growing.
Do you have a stand out 12" from the label that you would recommend to our readers as a great starting point to sample the sound of Saint Wax?
I would reccomend the next EP coming out from Musta. 'Vita Tropicale' will be out in July and is an afro oriented EP. It totally represents the producer's sound with a mix of strong rhythms and tropical melodies.
You are also behind the Makonga parties, how long have they been running them, what can you tell us about the vibe of the parties and who have some of the key guests been?
Yeah I started Makonga few months ago in Mexico City but the aim is to move it all around the world. We had the pleasure to host artists as Tigerbalm, Keene, Elado and many others. With Makonga we want to share different rhythms and grooves from the World.
What can you tell us about the theme of the mix you have done for us and how does the style of mix here compare to how you would approach a live DJ set?
In the mix I try to bring my story and my musical influences..Hope you ll get them ahah The mix actually features many tracks I use to play at Makonga
Which other artists DJ mixes do you find yourself coming back to time and again and do you have a favourite that you gravitate towards?
I find myself in some mixes included in the Global Riddims mixes on Mixcloud. Btw I would reccomend a mix by Flying Mojito Bros that I was listening yesterday. Not properly my style but sometimes I love to get myself out from my musical routine.
What else can we expect from Gledd and Saint Wax in the next 12 months?
Next week a new EP will be available on Bonfido Disques. It is a mix of some edits and original tracks and includes afro latin and gospel influences. Then I've got few new things coming out. Also me and The Funk District are working on the next releases of Radio Mundo. By the end of the year I'll release a new world music project that I think it totally defines my working flow and the sound I was looking for. A tangle of solid rhythms, groovy synths,acid arpeggiators and world music samples. Meanwhile I'm also preparing a Live Set that I'll bring to the shows asap.
Grab it from Bandcamp: https://bonfidodisques.bandcamp.com/album/bonfido-009
For more info on Gledd, Saint Wax and Makonga please check:
 Gledd Linktree: https://linktr.ee/gleddmusic
Gledd Soundcloud: www.soundcloud.com/gleddmusic
Gledd Instagram: www.instagram.com/gleddmusic
Saint Wax Soundcloud:www.soundcloud.com/saintwaxrecords
Saint Wax Instagram: www.instagram.com/saintwax_
Makonga Instagram: https://www.instagram.com/makongamx/
Like what you hear? To help support LV Online buy us a coffee via Ko-FI. Click HERE
Tags:
Gledd
,
Saint Wax