Love Drop talks vinyl, Giles Peterson and Love Drop 03 and delivers LV Selectors 70 for us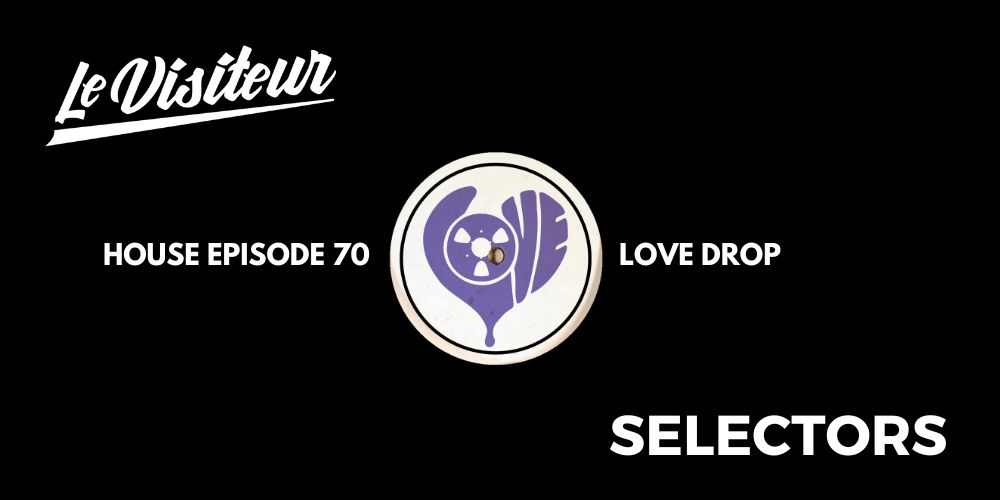 Love Drop is a fascinating producer and one who very much marches to his own beat. Never one to follow trends he crafts music that is singularly Love Drop. Informed by 70's New York Disco with a pinch of both 90's US and current European House his releases stand out for both their originality and their ability to cause all manner of dancefloor scenes.
With a brand new vinyl out right now, Lovedrops 03, we thought that it was high time that we checked in again with Love Drops to talk about the new record and to see what he has been getting up to recently.
We also asked him to step back up to the Le Visiteur decks and given his last outing for us 'LV Selectors 28' has been a perennial favourite on the Le Visiteur decks since it landed we are very pleased to have him back and in scintillating form.
Hey Love Drop. It's been a while since we last talked. What have you been up to over the last couple of years, are there any key releases or notable gigs that you want to tell us about?
Mainly I have been loving life and listening to a lot of music. I've had only two releases in that time (prolific I am not!), Love Drops Vol.2 and another record on GAMM.
Q2: How would you describe the Love Drop Sound right now?
Let's call it jazz rave.
Q3: Please can you tell us about your latest release Love Drops 03?
Two more reworks, one side is a cosmic jazz funk banger and the other side is like some funky shakedown in a Mississipi church. Out on Love Drops, currently vinyl only, but probably digital at some point.
Get it here: https://www.piccadillyrecords.com/148539/Love-Drop-Love-Drops-03-Love-Drops
Q4: I am a big fan of the Love Drop vibe, your tracks are always super cool yet smash it on the dance floor. What would you say has been your most important track that you have released as an artist and why?
My first record The Buzz as this got me noticed, it still sounds good, and I've not managed to better it yet. One day!
Q5: Which artists have influenced you the most over the years?
Oh God there's hundreds. I suppose in terms of sheer number of amazing tracks that I love, a top three might contain Roy Ayers who played at the first gig that I went to when I moved to Brighton in 1994 and blew my mind,
James Brown who began my love of funk and soul
and Louie Vega who has produced/co-produced such an insane amount of wicked tracks that it doesn't even make sense.
Q6: What would you say is your proudest Love Drop Moment?
Errr, not sure about pride, but when I heard one of my tracks coming out of the kitchen radio and was like WTF and then realised that Gilles Peterson was starting his 6 Music show with 'Liberation' from my last GAMM release, that was a good moment! He also played a track off Love Drops Vol.2 a couple of months later.
Q7: You are a massive supporter of Vinyl. Given all the issues with getting vinyl out there at the moment would you say it's still worth it for independent artists to release on vinyl?
Hard one to answer that. With the price of vinyl going up and the massive wait to put anything out it's probably not worth it to be honest, you do it for the love not the money! But it is nice having a physical product at the end of it rather than just a file.
Q8: What are your tips for making a vinyl release as painless as possible?
Have massive amounts of patience. Try meditation.
Q9: What is your current favourite bit of production kit or a plugin that you can't live without?
Can't live without? My headphones!
Q10: What else should we be looking out for from Love Drop in the coming months?
I've got another GAMM release coming out hopefully this summer and after that not sure yet. I'm currently trying to rework an Alice Coltrane track for the dancefloor, it's a bit of a challenge, it'll either be the best thing I've done or I'll never finish it!
For more info on Love Drop please check:
Love Drop Facebook: https://www.facebook.com/lovedrop666666
Love Drop Soundcloud: https://soundcloud.com/love-drop-edits
Love Drop Bandcamp: https://lovedrop.bandcamp.com
Love Drop – LV Selectors 70 – Tracklist
PUSH/PULL – Africa
LOVE DROP – fun in church
MAW – the ha drop (kenny dope instrumental remix)
PHILLIPA – there's a ghost in my synthesizer
GEORGE DAVIS – marimba disco (kai alce remix)
CRACKAZAT – evergreen
SESSION VICTIM – trying to make it home
NINA KRAVIZ – this time (moodymann remix)
TOOLATE GROOVE – getaways (brussels mix)
OSUNLADE – momma's groove (jimpster remix)
URBAN HAVEN – Nara
LOVE DROP – trip 2 the moon
DANNY TENAGLIA – the brooklyn gypsy
Love this? Check out more from Love Drop here
Like what you hear? To help support LV Online buy us a coffee via Ko-FI. Click HERE
Tags:
love drop