Lovebirds and Declan McDermott talk about their Mar-A-Lago EP, synth love, Berlin & more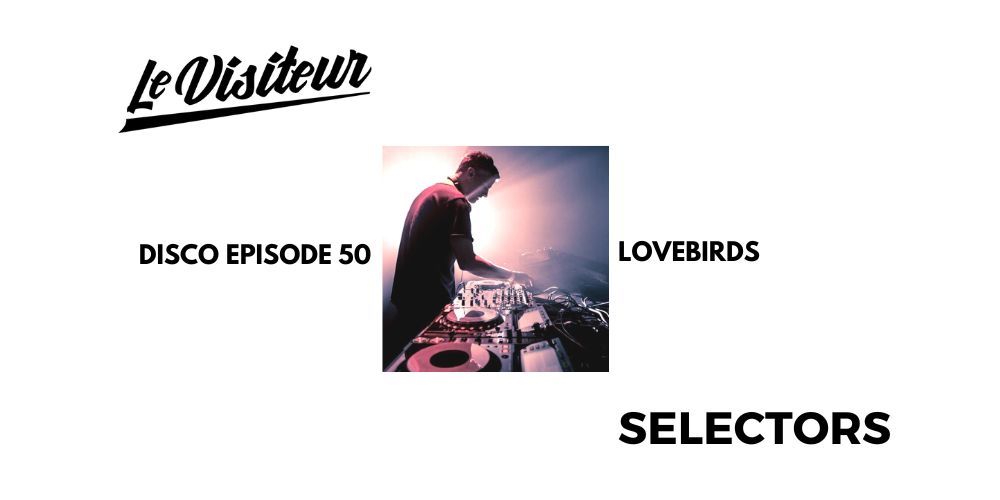 An interview with the Insider for Le Visiteur
Lovebirds became a huge name on the scene with the release of his track Want you in my soul, with Stee Downes, which became the soundtrack to many a clubnight, afterparty and pool session. It is one of those rare tracks which quite literally ticks all of the boxes.
That is is only a tiny part of the story though. Actively releasing since 2008 Lovebirds has now chalked up 100's of releases building a repuation as a hugely skilled producer.
His latest release see's him team up with Berlin based Australian Declan McDermott, a hugely talented mutli-instrumentalist and together they have just delivered the Mar-A-Lago EP featuring two sublime sun-infused modern disco gems.
Grab Mar-A-Lago here: https://bfan.link/maralago
To celebrate the release Lovebirds stepped up to the Le Visiteur decks and crafted a superb mix for the 50th edition of our Disco Selectors mix series. Check it out below and please give it a share on Soundcloud if you love it as much as we do. The full tracklist is at the bottom of this article.
Both Basti (Lovebirds) and Declan took some time out of their hectic production schedule to talk to the Insider about the EP, their chance meeting, working together and lots more.
Are you thrilled with how Mar-A-Lago came out?
Basti: Yeah, very much so. It really incorporates the music we love.
If it your intention was to conjure the feeling of carefree summer days, windows down, car full friends and beers … you have succeeded! Was that your intention?
B: Haha, well not intentionally … our general taste in music is soul, jazz, funk, disco which often has a positive vibe to it. Or maybe it's Declan's Aussie influence.
On a basic level, how did you start writing these songs?
B: I contacted Declan to see if he was up to do some music together. I had known him for some years and knew that he plays piano, bass and guitar so I figured the both of us would already make a pretty complete team.
We hung out for a couple of days with not too much happening and then I passed an acoustic guitar to him and he came up with the lick for "Great Ocean Road". We laid down all the other parts and I suggested to take the tune into a different disco direction halfway which we then went for. Most of the tune was recorded in one evening.
For "Mar-A-Lago" Declan was jamming around on the Rhodes (while waiting for a date he had invited to the studio), and I discovered this little chord progression. The rest happened in about an hour while she was there. I think it was her first time in a studio and it must have been nice to see us vibing so heavily in those first moments of creation.
Did you begin the creative process by saying "this is the vibe we want" or doesn't it work like that?
B: Not really. Often it's a drum groove we start with – either a sample, something programmed or some live drums by our partner Riccardo (Blackloops). These days I don't play that often because I´m working with so many talented musicians, so it's mostly me picking out the best bits when somebody is jamming around and developing it from there.
What instruments were used on these creations and who plays what out of the duo?
B:Oh, well quite a few: Taylor acoustic guitar, Fender jazz bass, Fender Strat with Peavy amp, Ludwig drum kit, a lot of Oberheim OB8, even more Roland Space Echo, of course my beloved Fender Rhodes Mark 2 suitcase, Solina string ensemble, ARP2600, EMT 140 plate and Lexicon, plus Eventide FX.
Declan pretty much played all the instruments and on "Great Ocean Road" Riccardo played drums which I edited heavily. I might have played a Solina here and there and worked the tape delay during recording. Ah and I played congas.
What is Mar-A-Lago? Are we talking Florida?
B: Yep! I was fascinated by the name and the tackiness behind it.
How did you two come together? Is this your first collaboration?
B: I met Declan when he bought my old Studer console, and I instantly detected his not subtle Aussie accent.
He joined a live studio band project we had at the time on bass, and he helped me out with a bassline or guitar here and there over the years. After I decided to quit (or pause) DJing and focus on studio I asked him if he wanted to write some music together. As a bass player, guitarist, and keyboard/synth guy, I figured we would cover most corners together.
Who is the first in the studio in the morning and who is the last to leave?
B: It's my studio so I´ll be the first. Probably not in the morning but usually after lunch. Declan is a super motived person so he´s there almost every day too. And then we usually leave together in the evening. Or sometimes in the morning!
What records do you wish you had made together?
Being an artist can be a lonely life, loads of time in the studio and without the interaction of others. Do you think the results differ massively when working together? Does the music get better as a duo?
B: I have been producing music by myself for many years now. Whenever I tried a collaboration with another producer it felt almost awkward, so I didn't end up doing it much. With Declan it's very different because even though he is also a producer, in our project that role is pretty much covered by me. We talk about everything though but usually I have a vision of where I can take a little idea.
Does it feel good working as a team as opposed to working alone?
B: Having him there all the time is absolutely amazing as we can develop almost any idea on any instrument instantly. And it's also much more fun. He is also a great connoisseur of green grasses which might have had a little influence here and there too.
Declan – How did you find your way to Berlin?
Declan: Yes I was born in Sydney, Australia. I decided to leave my country at the age of 18 with the hopes of expanding my horizon musically and culturally. After spending a year in Istanbul, I embarked on brief solo journey around Europe, which eventually lead to Berlin.
How long have you been in the city?
D: I've been living here full time for almost 5 years now. It's hard to put a finger on what keeps me in Berlin, there are so many factors. It's very central in terms of travel (especially compared to Australia) and I always seem to be running into interesting people from all different parts of the world who have similar interests. Not to mention the amount of opportunities here as a musician… Berlins hard to beat.
Talk us through what you've been working on leading up to this release?
D: My work as a musician/producer has taken some wild twists and turns over the years. I started studying music at the age of 5, so I was always playing in various bands and ensembles as a child/young adult.
I started to get into session work and composing music in my teenage years, which eventually led to some studio work. I saw that my skill set could be used to its full potential in a recording environment, so I started focusing on production/engineering. Lately I have been composing some music for an upcoming film, playing with various bands/ensembles, doing some shows with my analog synth duo "Mac & Crac" and finishing up some of my own productions in the studio. Lots to come this year.
You're a bit of a synth nerd Declan. What is your most impressive machine that own/ your prized possession?
D: That's a tough question! It's like picking my favourite child… Although if I had to pick, I would probably have to say my White Linn LM2 customised by the almighty Bruce Forat. This machine is truly one of a kind, I've spent more hours programming patterns on this bad boy than any other machine by far. It's a true work of art, all credit to Bruce.
Tell us a little about your Sound Lab.
D: After surmounting a large collection of analog gear I decided it was time to set up a facility, so I decided to launch my studio "Lorikeet Sound Labs". Named after the Rainbow Lorikeet, a species of native Australian bird. My aim was to provide my clients with a versatile setup that could be used for a wide range of projects, while also incorporating some of the most highly regarded vintage analog synths/drum machines. Zero compromises in audio quality, maximum efficiency. Come check it out!
I guess you and Declan bonded over vintage synthesisers?
B: We met over selling my old console but synths are a mutual passion of ours!
As Lovebirds you made a dent in the universe with a certain track. Do you ever tire of people thinking about you as the guy who made that track?
B: Not really. It's awesome if people know even one track of mine.
What do you wish you knew before you started to work in the music industry all those years ago?
B:Protect your ears, wear plugs and learn an instrument
You seem to have made some magical music here that sounds timeless. What's the secret to that sound?
B: Besides Declan's talent of playing so many instruments I think my studio plays a pretty important role here. I´ve been collecting and building it over a long time – its full of great sounding vintage toys that can be heard and recorded instantly. I have some great sounding monitors (ATC SCM 45, Neumann sub, Trinnov) so whenever you listen to something, it just sounds great. That's inspiring. The light is great, just an awesome atmosphere. I think it's about how well can you get "in the mood". If I see those white, clean EDM studios on YouTube sometimes … no wonder their music sounds like that.
Are you having fun with the music you are making together?
So much fun. There aren't many feelings more rewarding than when you´ve created some fresh piece of music that you really love.
Prince – I Wanna Be Your Lover (Official Music Video) – YouTube
What is next on the horizon for you?
We´re working non-stop now. Riccardo from Blackloops joined us early on and we did quite a few 70s inspired tunes. Declan is also an amazing singer, so we did a few soul groovers. But also, some up-tempo instrumental stuff. There are so many ideas we have to pace ourselves and make sure we finish stuff before collecting idea after idea.
We´ve also started working on Riccardo's album which is to be released this year on Freerange Records.
What would track you chose to close the night Basti?
Lovebirds – Disco Selectors 50 – Tracklist
River Ocean – Love & Happiness – Bonus Beats
Soul Reductions – Got to be loved
Jesse Rose & Christian Nielsen – Everyone ( Play it down )
Queen & Disco – Lets get all the Way
Better Love – Edit
Lovebirds ft Declan McDermott – Mar-a-lago
Darren Jones – Willing & Able
Axel Boman – Surfliner
Josep Porto & Congasound – Aino que sona es Nostre
Lovebirds – Burning Love
Keito Sano – Life has Changed
Dolle Jolle – Balearic Incarnation
Moses – Our Revolution
Kapote – Grandmaster
Cube – Concert Boy
Tech Support – Friends ( Anti Skate )
Simpson Tune – Bring it Down ( BMR DUB )
For more info on Lovebirds & Declan McDermott please check:
Lovebirds Facebook: https://www.facebook.com/lovebirds.official
Lovebirds Soundcloud: https://soundcloud.com/lovebirds
Lovebirds Instagram: https://www.instagram.com/lovebirds.official/
Lovebirds Twitter: https://twitter.com/_lovebirds_
Declan McDermott Facebook: https://www.facebook.com/profile.php?id=100063680318049
Declan McDermott Instagram: https://www.instagram.com/declanmcdermottmusic/
Love this? For more on Lovebirds click here
Like what you hear? To help support LV Online buy us a coffee via Ko-FI. Click HERE
Tags:
Declan McDermott
,
Lovebirds