LV Disco Selectors 51 – Processman [File Under Disco]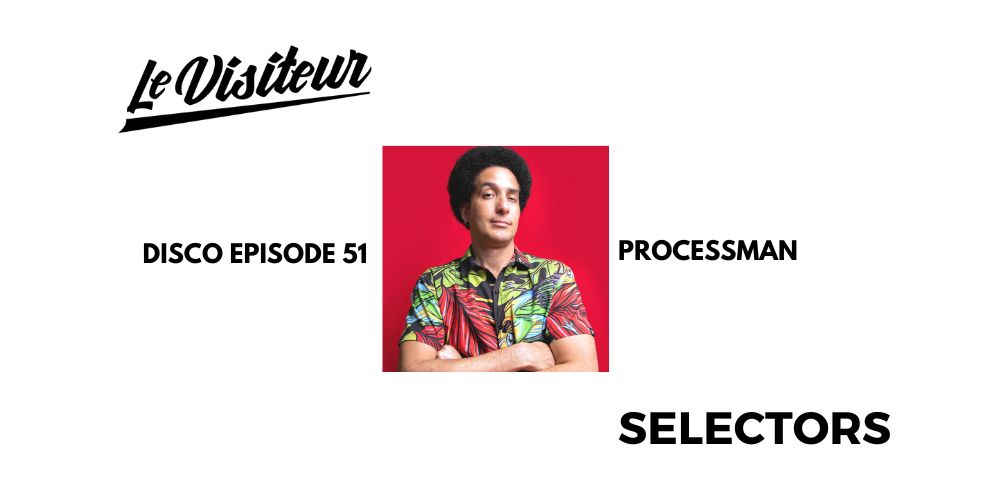 An Interview with The Insider for Le Visiteur
With a superb new modern Brazilian Disco EP out on the excellent File Under Disco which has garnered remixes from heavy hitters JKriv, Dicky Trisco and Joutro Mundo, and has already seen some huge DJ support across the globe, we thought that it was high time that we got to know Processman a little better.
Having checked out his Soundcloud we quickly realised that as well as being a talented producer that he is also seriously  brilliant DJ so we asked him to step up to the LV decks which he has done in spectacular fashion mixing up a fusion of disco, boogie and house with a serious Latin Flare. We also dispatched the Insider for a quick chat about the EP.
If you haven't caught this EP yet, it is pure fire. Grab it here: https://www.juno.co.uk/products/processman-cady-adupe/929415-01/
Hi Processman,
Please introduce yourself to our readers?
Hi, I'm Processman. Music is my life: I'm a producer, DJ, bass player and songwriter as well. My original stuff is very influenced by Disco, House and Funk with a strong Brazilian accent. I'd like to present you my partner Cady: she's the owner of a lovely voice. She is also a DJ and we have written songs together since 2019.
Tell us how you both met and how did you decide you were going to make music together?
We were introduced by a common friend. She was looking for somebody who had knowledge in producing Disco/ House oriented music. She didn't know that it could happen in Salvador (Bahia – Brazil), the city we both were born, a place where the local music is very strong and well known worldwide. We started making music together in this very same day; the track was later released as "Do it Alright". We work well together, we became really close to each other, beyond the music boundaries. I believe that is the reason why our creative process flows.
Love to know how you got signed to Dicky Trisco's label?
Dicky came to Salvador after playing at NYE Mareh Festival. I didn't know him so far. I gave him a ride to a bar in Pelourinho along with Joutro Mundo, who also played in Mareh and introduced him to me. On the way the Pelourinho I was asked to play some of my productions and after Dicky listened to the first track he knew at once we should sign! He said: "Send me everything you have. Today. As soon as you get home!"
Give us an outline of your new release?
This EP contains two original tracks written by Cady and I. It is a Disco House oriented EP with room for experimentation. The original tracks have great influences from Brazilian music, mainly the music from Bahia.
The track ADUPÉ is about gratefulness and contains Yorubá words and terms, related to African-based religions, such as Candomblé: Adupé means "thank You", Ilê means "home", Oxalá is the Orisha (a divinity/ god) associated to the creation of the world and human race. Part of the lyrics was written by Mocottó, a friend of Cady and I that is a percussionist in a house of Candomblé (Terreiro de Candomblé). I started the creation of the track with the instrumental part: the idea was to mix a percussion groove with arps and a synthesized bass line. Then Cady came up with some vocal ideas based on the lyrics Mocottó suggested. When we went to studio to record we invited Clariana to double the main vocals with Cady. There are also layers of vocals recorded by them and by Elis, my 11 year old daughter.
The first person I thought to remix the track was Joutro Mundo. I sent him the stems and he worked on them pretty fast. When he came to Salvador after Mareh we headed to the studio and I recorded an electric bass line for his remix. Jkriv also delivered a great remix, totally different, with heavy lows and a progressive house groove, rearranging the original sounds with personality.
Later I decided to create a disco house mix for the track. I used only the vocals stem and built a brand new arrangement from zero. This time I grabbed my MusicMan electric bass and delivered a funky bass line. I also added some strings riffs to bring that 70s disco feel. Dicky made a Remix for this version and made it sound even housier.
SOU BAIANA is an attempt to honor early house tracks, those with almost no vocal melodies, with long speeches about relevant issues. I had the bass line and groove done and invited Cady to record her voice. I asked her some questions about being a beautiful woman from Bahia; women who are generally friendly, smiling and helpful and men often mistake this for a sign that they want to date. I gathered the most relevant pieces from her speech, created the hook based on the sentence "Porque sou baiana, véi… É o que?! Oxente…" and doubled it with a strings section. Then I added a bridge with a vocal melody line to bring a contrast. I also mixed all the tracks I produced. It was a nice surprise when Dicky came up with a Remix for this track, he brought more energy and highlighted elements that were hidden in the original.
What is your favourite Remix on the EP? Is that possible?
Impossible! Haha. All the remixes have their own personalities and moods. And I believe that music is circumstantial. Each one will fit perfectly in different moments.
How did you approach this mix, is there a theme?
Yes. I would call it "Just Shake". My mixes are generally non-linear when it refers to genre. I like to put together tracks from different eras, with different sounds, but always with that disco feel to make people shake and dance. It is like a happy painting, with different and beautiful colors.
When you are not making music, what might you be doing?
Sleeping or hanging out with my family! Haha. Like I said before: music is my life! I enjoy every single step from the music production process, from the birth of a new song to the mastering of the finished track. Now I'm involved in the production of my album: writing new songs, arranging and mixing some others. Also I am a DJ and a side man as a bass player and perform regularly. I run a party label named Bahia Boogie and I have a show named Bahia Boogie podcast on YouTube, where I talk with guests about culture, music and arts in general.
For more info on Processman, Dicky Trisco and File Under Disco check:
Processman Soundcloud: https://soundcloud.com/processman
Processman Instagram: https://www.instagram.com/_processman/
File Under Disco Facebook: https://www.facebook.com/FileUnderDisco
File Under Disco Soundcloud: https://soundcloud.com/fileunderdisco
File Under Disco Instagram: https://www.instagram.com/fileunderdisco/
Like what you hear? To help support LV Online buy us a coffee via Ko-FI. Click HERE
Love this? Check out more from Processman here
Tags:
File Under Disco
,
Processman