4Quarti – LV Label of The Month with DJ Rocca and Folpower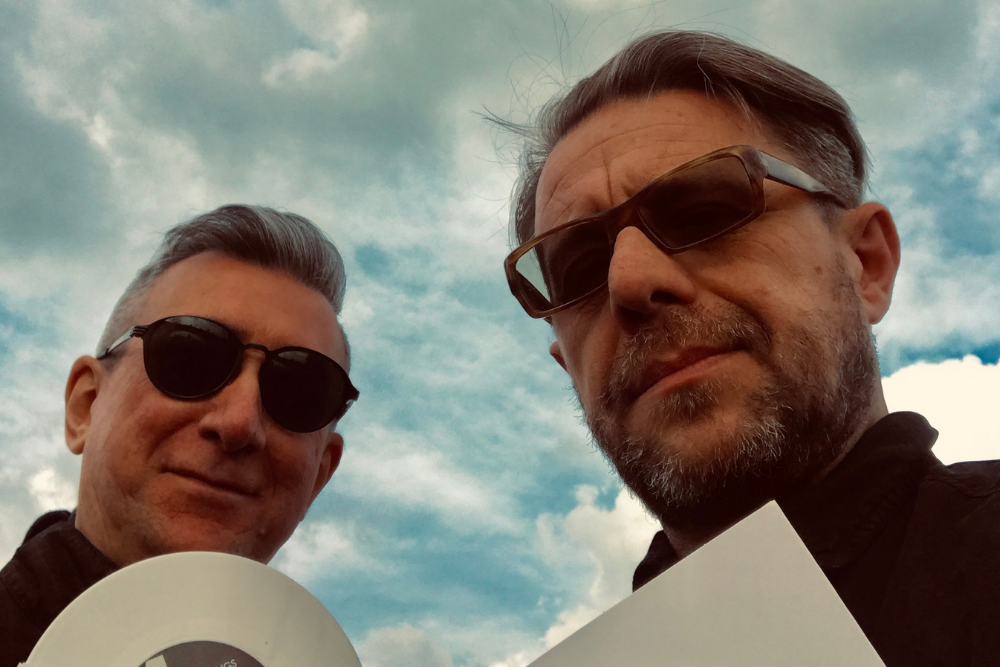 4Quarti – LV Label of The Month with DJ Rocca and Folpower
We usually keep our label features for labels who are seasoned vet of the scene. Labels which have been around the block and still come out ahead of the completion. This time we have found a brand new label which is so exciting that we wanted to feature it straight away. Step forward 4Quatri and the men behind it DJ Rocca and Folpower.
Luca 'DJ Rocca' Roccatagliati should be well know to our readers her recently put together a brilliant Top 10 of Italian House Classics for us which ou can check HERE.  He has also been behind some huge collaborations with the likes of Dimitri From Paris, Daniele Baldelli and Jazzanova with releases on some of the globes preeminent electronic labels.
Alberto 'Folpower' Zanini is the general manager, producer and arranger at soul and funk outlets Cannonball Records and Tesla Groove International, and also a seasoned DJ on the international soul circuit.
4Quarti will be a remixing arm for Cannonball Records and Tesla Groove International as well as down the line championing brand new productions.
We spoke to DJ Rocca and Folpower about their plans for the new label and their debut release 'I'm Going higher'. They also put together a brilliant mix for us showcasing the genesis of the music behind the label. Check it out below and please give it a share on Soundcloud and help spread the love. You can also find the full tracklist at the bottom of this feature.
Hi there DJ Rocca and Folpower,
Thanks for speaking to us today.
Please can you tell us a little about how you met and what it was that set you off down the path towards launching 4Quarti?
4Quarti Recordings as a label comes out of the experience of the other two labels Alberto (Folpower) Zanini has been running since 2014: Cannonball Records and Tesla Groove International Recordings, both specialized in Soul and Funk dancefloor sounds.
What is the ethos of the label?
The initial task of 4Quarti is to work as an in-house remixing outfit for the catalogue of Cannonball and Tesla but we are immediately open to welcome new productions from colleagues we are connected with (Dimitri, Idjut, Spinna and many others). We want to do Soul and Funk inspired electronic music. on 7" vinyl BUT 33rpm, respecting our beloved playing format but allowing music lengths and sound quality almost like if they are on 12".
Alberto for our readers who haven't come across them before what is your background in music and can you tell us about your two labels, Cannonball Records and Tesla Groove International, and what differentiates the labels?
CANNONBALL RECORDS does a pretty unique job in the panorama of independent black music record labels. We are stateside for the main part of our time (I just came back yesterday from one of those, 5k miles across the three state area), tracking down original performers, arrangers, recording studio owners, unearthing original unissued lost recordings on reel tapes or acetates, mainly incomplete studio demos, vocal takes or raw sessions from the 70s and 80s which never made it to the final stage of release with any label back in the day. We then arrange these vocals today using the very same production system they were using back then, analog mixing, tape transfering and all original musical instruments and release on a strictly vinyl 7" format for deejays. Over the past 5 years we have released almost 30 singles, sold over 12k copies to the 4 corners of the world (Japan included) in a very independent way, no organized distribution, no digital distribution, no PR set ups, no mainstream. Just social media, our website and loads of true passion.
More at: www.cannoballsoul.com
TESLA GROOVE INTERNATIONAL RECORDINGS, born in 2017 as a spin off of Cannonball to focus only on contemporary soul artists. Since there are many telented voices and characters out there that are just missing a career developement platform, let alone a professional production team, this label aims to provide them what they need. First singer signed in is Jay Nemor (Jason Nemor Harden), 2 singles released and an album in the works.
More at: www.teslagroove.com
It sounds like painstaking work finding and restoring the tracks for the labels. Alberto what tracks that you have released so far on Cannonball Records and Tesla Groove International are you the most proud off?
Well, I'm very proud of all of them. We did one step forward with each of them. The last one, coming out alongside this first 4Quarti one is particularly dear to me because I'm producing a great arrangement of a song Cunnie Williams (Yes, THAT Cunnie Williams, the very same artist who worked with the likes of Mousse T and many others) wrote for Cannonball and asked me to personally arrange it. It has full strings and brass section plus a saxophone instrumental side to die for that perfectly resembles what we do at Cannonball Records.
The other one that still gives me goosebumps after a few months from release is Jay Nemor's "Mother Got A Way" on Tesla Groove:
Your first release on 4Quarti is I'm going higher featuring Grace Love. Please can you tell us a little about the genesis of the track, what is was that drew you to it for your first release and what can we expect from your two versions?
As a first release on our new outfit me and Rocca wanted something very special, that came through the remix of one of Cannonball's all time best sellers Grace Love "Higher". We didn't want to add just a beat to a song that will be forever remembered as a marvellous Cannonball tune bearing the out-of-this-world vocals of Grace. We instead wanted to create a new direction like if we were handling those vocal stems for the first time so we had to part with the atmosphere of the original, put aside the strings and that "orchestral feeling" to craft something simpler that would work well in a dark sweaty club of the outskirts of Milan or London.
Please can you tell us a little about the mix that you put together for Le Visiteur Online. What is the theme behind it and can you tell us about some of the key tracks you have chosen?
The mix was put together to resemble the heritage of what we can today easily call a little group of labels, which are all tied together stylewise. In it you can find electronic patterned tunes blending with live played instruments productions and thats nothing else but what me and Rocca are about since we were kids. You can hear Cannonball stuff of today mixed up with Ashford and Simpson, or Lonnie Liston givin the way to a Tesla instrumental. I could have done something more for the connoisseur but without giving a straighforward idea of what we are doing here in the Italian countryside.
You have chosen to release your first track on 7" but spinning at 33rpm. Why that particular format and are you also going to be releasing the tracks digitally?
No digital at the moment. the digital world is THE perfect scam when it comes to gettin rewarded for your hard work as a musician, dj, producer, arranger or label owner, especially in the independent world (we are really independent, we have no organized distribution and we do everything on our own, youtube videos, websites and social media promotion included). We are working with Sharon at Shine PR because she knows better, she works on her own and somehow this reflects our angle on this world. The 33rpm spinning 7" is because we are also very technical and we wanted to put out something as close as possible to the reproduction quality of a 12" but comfy to carry around on gigs (we both travel a lot, I'm just about to set off to Saint Petersburg). Everyone asks about that and no one knows you can cut 7" 33rpm and in so doing obtaining longer playtime allowance and great quality.
Where will we be able to buy the record and when is it available?
The records are almost ready to ship, you will find them available from July 10th at quite a few specialists both online and streetshops. We made a few available for preorder at www.cannonballsoul.com
Do you have any plans for any club events to celebrate the launch of 4Quarti and if so what can you tell us about them?
Not yet, before doing a proper "launch party" we want to root down 4Quarti a little in both the dance and the soul scene where we are active and well respected
If you could sign any one artist to 4Quarti who would it be and why?
Of course Dimitri From Paris, Joey Negro, Maurice Fulton, Idjut Boys or Ray Mang…people that are deep into soul, funk and disco, but with a foot into House culture too.
Alberto and DJ Rocca when you are Djing what are your if all else fails tracks?
Just five tracks that always save the dancefloor:
BOHANNON – The groove machine
The mighty Bohannon is the groove essence, very helpful to move disco people, house people and party people in general.
Dimitri From Paris & DJ Rocca – Ero Disco Theme
This is a track I did with my pal Dimitri seven years ago, and still sounds so fresh today. I can swear that every time you fill up the dance floor
UNIT 2 – Sunshine (Shine on mix)
What a track! It seems to me like a the 70's funk group Blackbyrds produced by an house DJ…it's a piano house tune, but full of soul and energy.
SSOL – B1
This killer edit to Instant Funk is a pure Disco House weapon. Never fail, believe me.
Bobby Thurston – You Got What It Takes
Prelude records was a mixture of eighties disco and the anticipation of the styles of the future house music, thanks to a visionaries as Francois Kevorkian. This record never leave my box.
What can we expect over the rest of 2019 from 4Quarti?
A lot of tremendous stuff baby!
For more info check:
Alberto Folpower Facebook: https://www.facebook.com/albertofolpower.zanini
Dj Rocca Facebook: https://www.facebook.com/deejayrocca/
Cannonball Soul Facebook: https://www.facebook.com/cannonballsoul/
Tesla Groove Facebook: https://www.facebook.com/teslagroove/
Cannonball Records website: www.cannonballsoul.com
Tesla Groove International Recordings website: www.teslagroove.com
4Quarti Mix (Folpower All Original 7's) Tracklist
El Willie "Shardarp II" (Cannonball)
Smoke "Gimme your heart" (Cannonball)
Montana Sextet "Ride like the wind" (Philly Sound Works)
Rocca & Folpower "I'm goin higher" (4Quarti)
Disco Dub Band "For the love of the money" (Downstairs Records)
Oliver Cheatham "Get down saturday" (Mca)
Lonnie Liston Smith "Expansions" (Flying Dutchman)
Ikebe Shakedown "Curitiba strut" (Colemine)
Nombres "Trivialities" (Lorain Sound)
Hudson People "trip to your mind" Ensign
Yambu "Sunny" (Montuno)
Coke Esc. "I wouldnt change a thing" (Unique)
Swans of New England "Hunting for your love again" (Cannonball)
Etta S. "Stay and Dance" (Franco)
Gil S. Heron "Its your world" (Brother)
Sharon Brown "Family Tree" (Anada)