Amy Douglas's Top 10 Favorite Singers in Dance Music Right Now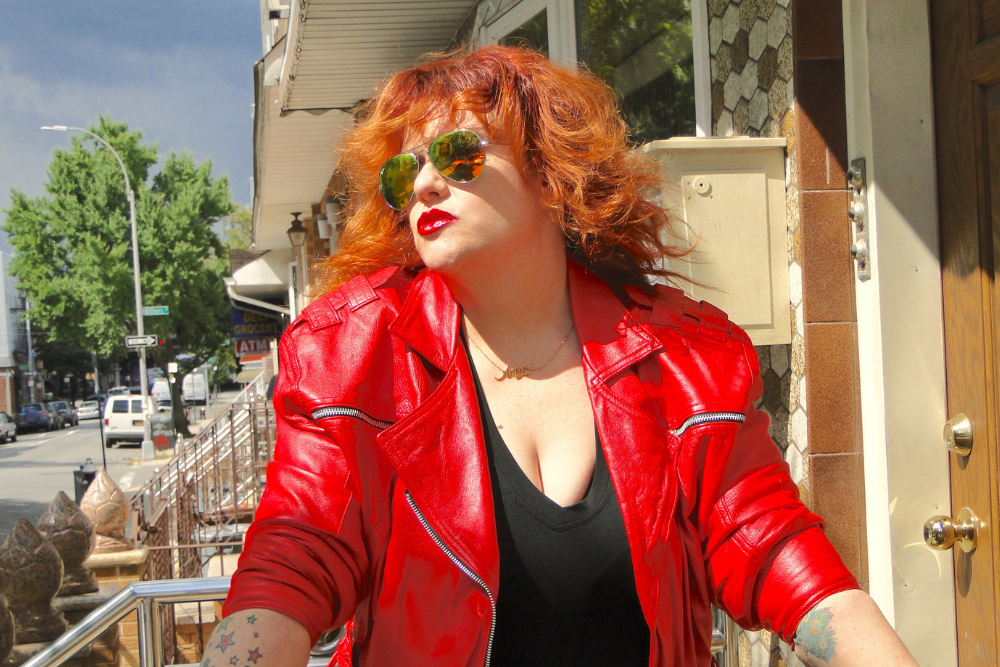 Amy Douglas's Top 10 Favorite Singers in Dance Music Right Now
Amy Douglas is easily one of the most exciting and explosive vocalists working today. With an incredible work ethic, first class writing skills and a near 5 octave range her undoubted skills see her regularly called upon by the cream of electronic artists to help bring their tracks to life.
2018 has been another spectacular year as Amy created a series of dynamic tracks with Michael The Lion, Sammy Bananas, Juan Maclean, Latmun and Crooked Man to name a few. Amy also featured on one of the absolute stand out tracks of the year, Luke Solomons brilliant 'Light You Up' alongside Queen Rose.
If anything 2019 is looking even more exciting with collaborations with The Black Madonna and Horse Meat Disco as well as some fierce solo material already recorded.
Amy has just dropped her fierce solo track 'Never Saw It Coming' on DFA. It's a powerful and exciting electronic anthem which sounds absolutely timeless. You can check out the video for the original and the brilliant Crooked Man Remix below. To celebrate this release we asked Amy to give us a Top 10 of her favourite vocalists working in electronic music right now so without further ado we will hand you over to Amy for a packed list of ridiculous talent.
Now mind you, I love so many singers of so many genres we'd be here for eternity if I listed them all, these are the voices that when it comes to dance and electronic dance music that inspire me the most presently. This was HARD to do. Even inside the genre, I love a LOT of singers. Also considering I come to dance music as a rock singer and jazz singer, the singers on this list keep me inspired when I need to stay focused.
CHAKA KHAN- For me everything begins and ends with this woman and it always will. She is the ultimate benchmark, no matter what she's singing, be it full bore house music or jazz. She is, for me, the entire story. Her musicianship is unrivaled and she is this all encompassing force for me ever since I heard her as a kid. Her voice is a trumpet, sometimes blaring with full bore power of the sun itself and then she can slap a Harmon Mute on it as if she were Miles Davis. She is unparalleled as a vocalist save for very very very few, and she's so much more than a vocalist, she's an insane musician. Best ever. EVER. I could write a bible bout her, but there is nothing I could say no one doesn't already know.
PETE SIMPSON- Pete is miraculous, I'm incredibly fortunate to work with him on The Crooked Man project for DFA Records and his work with The Sunburst Band and too many impressive features to count on long precede this. Pete's voice is so fluid, so effortless with every phrase, his range is so impressive and his facility of each part of it is so malleable that listening to him sing is like hearing pure freedom. He's a pure classic. Somehow he manages to remind me of the best elements of Charlie Wilson, Donny Hathaway and Al Jarreau when I hear him take off. Stunning.
STEVEN KLAVIER- Steven is one hell of a special animal, he is the epitome of what I'd call a next gen/meta artist in that he is not only a fantastic vocalist and musician (he plays a damn fine piano too), he's also an impresario! Steven is responsible for the bookings at House of Yes, and he's a managing partner of the venue, so he is both club visionary and curator and artist alike and it's a really incredible mix. Steven has a "falsetto" (a word I don't really like using) so I will rephrase and say "a lilting gorgeous upper register" that is as effortless as Michael Jackson's, or Jimmy Somerville's and he's definitely what I'd call an "R+B Futurist." His own material is something akin to a hybrid of Frank Ocean meeting Kelela merging with the bones of vintage George Michael. I'm fortunate to be both collaborating with him on some more work for what is to be a GINORMOUS long work that is a Michael The Lion X Amy Douglas effort.
SHAUN WRIGHT- Shaun Wright, is known for his collaboration with the amazing Alinka, this really hip duo effort called "Twirl" and of course he has the voice that made Hercules and Love Affair so majestic and special. I had the enormous privilege of working with him in house, in Chicago in the winter earlier this year- both of us there working to collaborate with The Black Madonna on her upcoming effort and hearing that voice every day right next to me was sort of like….well it was like heaven. What a voice! Like velvet! Also a voice that sort of chameleonizes…..as it goes, there are moments where he reminds me of everyone from Nina Simone to Jimmy Scott, and yet there's really no one who sings quite like he does. He's also a really awesome DJ!
KALEENA ZANDERS- I have not yet had the privilege of meeting Kaleena in person, though I was SUPPOSED to, we both were guest vocalists on Sammy Banana's "Someday" LP that dropped on Fools Gold back in the summer, and sadly I fell ill and could not attend the show we were both to do at House of Yes to send it off. That said, I am a fan! Kaleena's voice reminds me a LOT LOT LOT of Evelyn Champagne King's, that instant shot of joy, of sublime bliss. It's this glorious warm tone that also recalls moments for me of the great Dione Farris. I think she's the bomb. I want to meet her. I want to sing with her. I want to toast marshmallows and talk shop with her. She's great.
BARBARA TUCKER- So long as this woman is alive there will always be a bonafide Queen of House Music and it will never change, we should all bow down and continue to genuflect til our knees give out. There are a million reasons to love, when it comes to anything related to music that makes you move those feet on the floor, to love Barbara but for me personally I love that Barbara's voice has this built in…..volume pedal, the way a guitarist has pedals that can make the instrument change tone and pitch and the likes, it's like she has that inside of her throat, there is a phase shifter and a phlange and a crybaby wah, she has this ability to keep everything rolling like honey and constantly evolving tonally. I don't know how she does it, and fuck it, maybe I should just stop trying to figure it out. Also we will see rarely in this universe a woman so inherently and naturally glamorous. Beautiful People, indeed.
ALLISON MOYET- I am ultimately, a dirtbag rock and roll kid who grew up idolizing every single thing I saw on MTV and when I first witnessed Yaz and heard that voice, and saw this COOL PUNK ROCK CHICK delivering that vocal? Oh my GOD, it only took me like a nanosecond to become the world's biggest Allison Moyet fan. Allison's voice is so incredibly soulful but it's also so incredibly INTERESTING. The way she phrases. The constant "room full of smoke" element that is always there even when she's all but shouting it out on songs like "Situation." If some vocalists have this continual "cry" in their voice, Allison has a continual "plea" in hers, always reaching out to the listener for asylum, comfort and understanding. She commands intimacy even when she is screaming "DON'T GO!!!" I worship her and her album that she put out last year "Other" is just SENSATIONAL. She's going to be amazing to the end.
ROISIN MURPHY- When Roisin and Moloko first arrived, I thought that she was quite literally born from the leftover juju that might still be somewhere inside Mudd Club. All the best elements that disco culture had to offer never losing the inherent art angle. So elegant and glamorous but also so perverse, like how Bryan Ferry gives Roxy Music it's sophistication but with this element of "bad" beneath the surface, in fact for me Roisin has always been like the female Bryan Ferry! Her voice is unreal, it's got this…..Astrud Gilberto cum Cory Daye cum Maria Muldaur delivery with absolutely flawless bell tone pitch, her songs always rock and her vision ever since Moloko has only ever shown the incredible ever-reaching but ALWAYS funky artist she is. She's a dance artist who makes art rock overtures. How could I not fucking worship that??? A note, since the DFA release many sources in the UK have compared our work, and as we both work with The Crooked Man aka Richard Barratt, my hopes is that we merge forces and make a piece of incredible music together.
PEREL- I discovered Perel and her work right on DFA. She is from Berlin, and she is of course an artist on the label, who is not only a vocalist but also a producer and man, her work is SENSATIONAL and super cool, I love the way she blends New Wave, Art Rock, Techno, and Atmospheric Pop music together, it's as it Laurie Anderson, Annie Lennox and as she sings mostly in German, it always takes on this Conny Plank tone as well. She's got incredible vision, and her voice is unforgettable. Also be sure in addition to checking out her work on DFA like Hermetica, check out the work she's done with Curses for Dischi Autuno! Amazing!
JOI CARDWELL- Another legend for the list, but so long as she keeps taking that honey smooth voice and slapping it all over amazing joints, I'm going to keep looking to her for inspiration. Her work with the also amazing legendary Honey Dijon last year for State of Confusion was EPIC. Joi has an angelic voice with these insane bursts of power that never cease to amaze me. Her voice is prismatic, it's like opening a raindrop and dissecting it and I will listen to "Club Lonely" "Trouble" and "Love and Devotion" forever and ever and ever. Joi is the freedom inside of a club anthem and has one of the most profound voices of all time.
For more info on Amy Douglas check:
Facebook: https://www.facebook.com/amydouglassings/
Soundcloud: https://soundcloud.com/amydouglassings
Tags:
Amy Douglas
,
Barbara Tucker
,
chaka khan
,
dfa
,
Joi Cardwell
,
Kaleena Zanders
,
Perel
,
pete Simpson
,
Roisin Murphy
,
Shaun Wright
,
Steven Klavier