Angel Moraes – 'LV Legends – 7 Tracks Which Influenced my Career'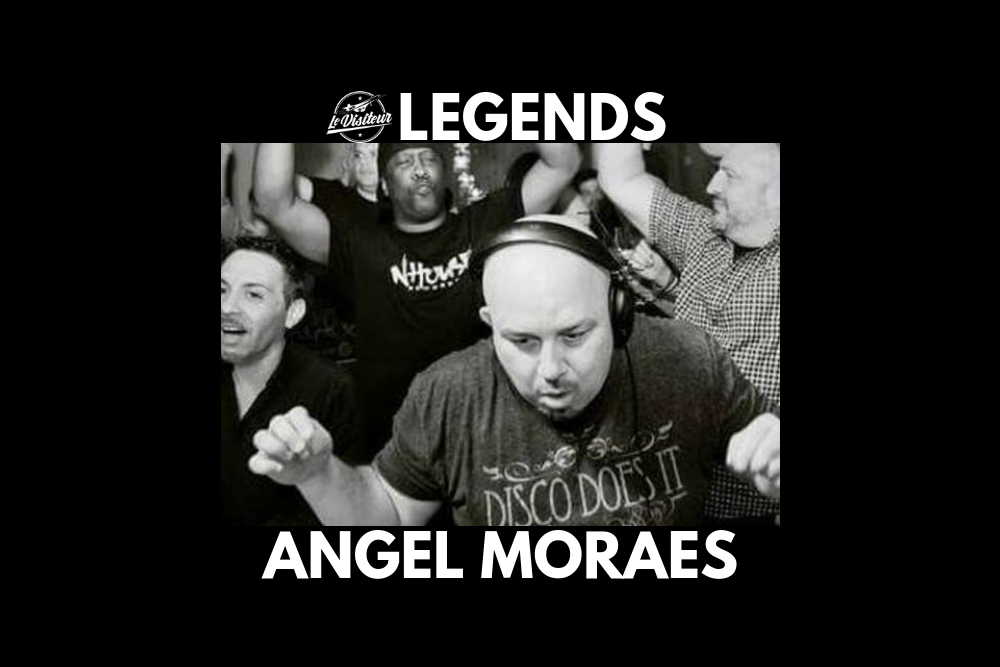 Angel Moraes – 'LV Legends – 7 Tracks Which Influenced my Career'
We were very sorry to hear of the passing of Angel Moraes last week-end. He was a scene legend whose deep New York sound helped craft the overall sound of house music in the 90s. We spoke to Angel recently when he released his Dancin With My Baby EP. He was a fascinating guy with many a story and a true gentleman. Our condolences go out to his family and friends.
We have revisited this feature where Angel chose the tracks which had influenced him across his career and added in some of his own tracks so you can also get a flavour of Angel as a producer along with a link at the bottom to his discogs if you would like to grab some of his tracks on vinyl.
Hailing from Brooklyn NYC, Angel Moraes career spanned more than 25 years. Synonymous in the 90's as one of the DJ's behind the sound of NY he was behind international smashes Release Yourself, Heaven Knows, The Cure", I Like It, and the mind blowing Welcome To The Factory on his own Hot n Spycy imprint. His influence on the sound of House Music and Techno worldwide simply cannot be underestimated. Likewise his approach to music making has influenced countless DJ's and producers since.
A passionate advocate of the study of sound and club sound-sytems Angel studied many of the legendary systems in use in NYC in the 80's and early 90's and how their dynamics affected the mood of the club which in turn helped shape his approach to production. Taking it one step further his involvement with Stereo in Montreal would see him design and install what is widely regarded as one of the all time greatest club sound systems. A system which was inspired by his time at the Paradise Garage.
Through-out the years Angel travelled and DJ'd all over the globe touching down in amongst many other destinations Dubai, Bahrain, Athens, Naples, Zurich, Paris, Barcelona, Ibiza and Japan. At the last count he had played 140 cities in 38 countries. His Love Sunday's club was also the stuff of legend recently celebrating it's 10th anniversary.
Not content with his prodigious output of the 90's Angel had a steady stream of international smashes through the next two decades. From deep tech to vocal bliss he did it all. His tracks Love Has Come Again and Sleeping faster were crowd favorites at Danny Tenaglia's club "Vinyl", and The freaks and Shakedown were key tracks for Victor Calderone and Boris at Crobar. Not to mention Funk train, Tribal Function & Luv 2 Luv, his discography is extensive.
Not a man to rest on his laurels recently Angel had most recently been resident at Barcelona's Carpe Diem club lounge (CDLC) on the beach as well as installing another monster and raved about club system in Brookyln's Analog.
One of his most recent releases was the Dancin With My Baby EP featuring the monstrous disco cut-up lead track and a powerful Darius Syrossian remix as well the groove heavy The Love Song. You can buy it on Traxsource HERE.
We spoke to Angel about the tracks which have helped influence his career, check out his brilliant choices below.
Angel Moraes – 'LV Legends – 7 Tracks Which Massively Influenced my Career'
Below are some tracks that have influenced me in great ways and for different reasons. I hope it will give you some insight into my work and inspire you to do the same.
TAVARES "Heaven Must Be Missing An Angel"
This is my number one all time favorite record, and no not because my name is in the title, LOL, but because to me this song has it all, a great rhythm section, an amazing melody and the musical color is so beautiful and strong its undeniable. Freddie Perrens who co-wrote, produced and arranged the song really did a wonderful job to the point that the BeeGees asked him to do a version of their song "more than a woman" for the Saturday night fever" sound track. The arrangement is flawless and the progression is so strong it always gets better and better. this track never falters.
2 FRANKIE VALLI "Swearin To God"
This is the quintessential Summer track of my generation. Again strong melody and the musical arrangement is amazing. Funny because I first heard this song on the stoop (staircase entrance to a building) of my Aunt's house with pretty little girls standing by so forever does this song mean that moment.
3 T-CONNECTION "Disco Magic"
If there were ever a grand daddy of tech-house or techno this is definitely it. A masterpiece by T-Connection, this track is badass. From the newly adopted synths to a crazy drum track this track drove my mother crazy as I played it maybe 15 times a day, lol. I can still here her yelling at me to turn it down, NEVER.
4 CJ & COMPANY "We Got Our Own Thing"
Back in the 70s not very many people could getaway with a falsetto done right especially in dance/disco music, with the exception of The Stylistics, not very many groups could bring it. Enter CJ and Company, and although this track wasn't their signature track, those honours belong to Devils Gun, We Got Our Own Thing earned its top place among those other DJ who were looking for something more underground from this group and certainly found it with this track. One of the sickest rhythms of its time with a strong vocal and that organ solo this track will still shake dancefloors. Interesting note: it was mixed by Tom Moulton.
5 Anything by Donna Summer
What can I say? When you put the voice of an angel in the hands of a genius, the extraordinary is gonna happen and it did. I cannot imagine anyone else producing Donna as Giorgio Moroder and Pete Bellote did. Giorgio who went on to an incredible career still admits that the works he did with Donna are his greatest and rightly so. From the status quo shattering "I Love To Love You Baby" and "I Feel Love" to "MacArthurs Park", "On The Radio", "Bad Girls", "Hot Stuff" and beyond Donna Summer epitomized beauty in dance music and was truly the queen of disco and the precursor of house music.
6. ART OF NOISE "Moments In Love"
To me this absolute masterpiece of music is the pinnacle of sonic excellence, along with some of the most creative moments in music ever. Trevor Horn who in my opinion is a musical uber genius lets us know the possibilities with this piece and transcends Love, grace and zen. I listen to this over and over and not get tired of it.
7. THE TEMPTATIONS "Night and Day"
This is on my list because of the string arrangement and the absolutely flawless vocal delivery. This version is one of Sinatras favorite renditions of this song and its clear why. The song truly captures how you can feel about another person and the joy that one feels in their presence. It encapsulates what a new romance is and can be and the possibilities a beautiful romance can bring.
For more info on Angel Moraes check
Facebook: https://www.facebook.com/DJAngelMoraes/
Instagram: https://www.instagram.com/dj.angelmoraes/
Soundcloud: https://soundcloud.com/angel-moraes
Discogs: https://www.discogs.com/artist/6627-Angel-Moraes
Tags:
Angle Moraes
,
Art of Noise
,
CJ & Company
,
disco
,
donna summer
,
Frankie Valli
,
house music
,
new york
,
T-Connection
,
Tavares
,
Temptations