Balearic Sunset Worship Mix – Mixed by Secret Soul Society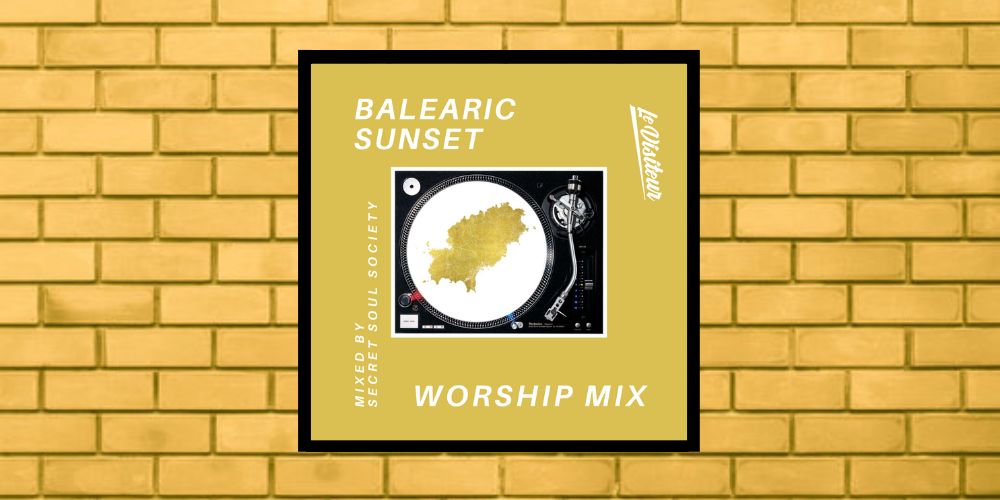 Secret Soul Society, aka Cal Gibson, is a modern master at flipping samples from all over the globe to create a hazy shimmering sun infused sound. At times psychedelic and always packed with groove and intrigue aplenty. Following on from a series of brilliant EP's and singles via Citizens of Vice, Paper Recordings, Slightly Transformed and Rare Wiri he has now delivered a classy 15 track album Keep The Mystique on the excellent Italian label Hell Yeah. We premiered the track Freak Scene from the album HERE and you can check the track below.
Make sure that you jump on the album for some late summer sun Keep The Mystique via: https://thesecretsoulsociety1.bandcamp.com/album/keep-the-mystique
To celebrate the release of the album we invited Secret Soul Society back to the Le Visiteur decks and asked him to craft us a Balearic Sunset mix. As you would expect from Cal it's rather brilliant. Check it out above and you can grab the full tracklist at the bottom of this article.
I also had a quick chat to Cal about the mix:
What can you tell us about the theme of the mix and what are some of the key tracks for you?
The theme is Balearic sunset: an array of tracks from around the world plus some new bits off the hard drive, all smushed up together in a smorgasbord of solar-setting goodness. Head nodding, body popping. Got to do the do if you wanna get it done. Cosmopolitan crunk.
How does the style of mix here compare to how you would approach a live DJ set?
It's representative of where the vibes are at for me currently. I've always liked DJs who go from A-Z via the twisty back roads and the paths less travelled. Trust in your ears and the rest shall follow. Play the stuff you love and accept no compromise.
Which other artists DJ mixes do you find yourself coming back to time and again and do you have a favourite that you gravitate towards?
I've got a show on Loose FM and enjoy just freestyling through whoever's playing live: plenty of genres getting rinsed and micro-genres being invented on the fly. I'm always looking out for new mixes from The Electric Disco: Mark's got a great ear for the unexpected and is sat on some great tracks as well….someone sign him up!
For more info on Secret Soul Society please check:
The Secret Soul Society Facebook https://www.facebook.com/secretsoulsocietyy/
The Secret Soul Society Soundcloud https://soundcloud.com/thesecretsoulsociety
Hell Yeah Facebook: https://www.facebook.com/hellyeahrecordings
Hell Yeah Soundcloud: https://soundcloud.com/hell-yeah
Hell Yeah Instagram: https://www.instagram.com/hellyeahrecordings/
Love this? Check out more from Secret Soul Society here
Like what you hear? To help support LV Online buy us a coffee via Ko-FI. Click HERE
Secret Balearic Soul Worship Mix – Tracklist
Secret Soul society – In the city
Micatone – Where do you belong
Joao Selva – Na prisao
Anthonius feat sibusile xaba – A night in belice
Sorcerer – Raining coconuts
Secret Soul Society – Whoop whoop
Secret Soul Society – Thunder in the heavens
Secret Soul Society – Warm love
Rhabdomantic Orchestra – Almagre
Lapa Dula – Navigante
Bernardino Feminielli – O signe des temps (talking drums mix)
Bobby Cutchins – Let's face it (secret soul society edit)
Yin Yin – Declined by universe
? – Dujii
Tags:
Hell Yeah
,
Secret Soul Society