Barry & Gibbs – Le Visiteur Featured Artist & Mixtape 077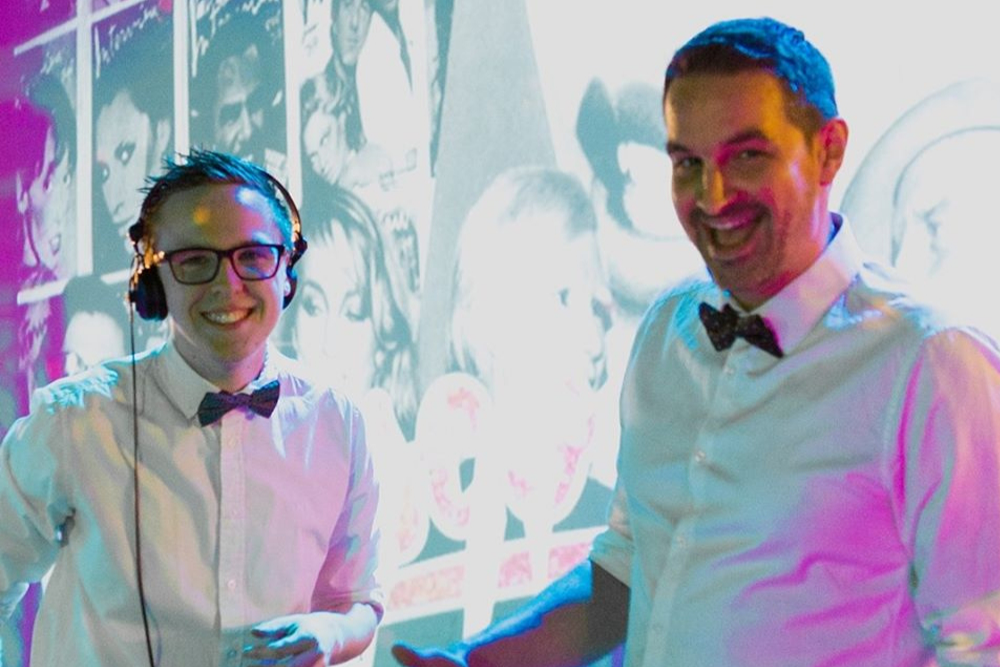 Barry & Gibbs – Le Visiteur Featured Artist & Mixtape 077
Cover photo by CHLOÉ DELATTRE
Hailing from Lille in France Barry & Gibbs have been friends for a decade but only came together as a production duo a couple of years ago. They are, however, a name who seem to have been around for much longer and have already had a prolific release schedule. The standard of their work has seen them earn a big reputation quickly with them signing to the Downtown Disco agency earlier this year.
Their music is an incredibly smooth combination of classic disco and Nu Disco. They have a knack of taking tracks and re-working them perfectly for the 2019 dance-floor. As such they are a regular feature on the Download charts and their free edit series is in huge demand resulting in building 14k followers on Soundcloud in super quick time.
Drawing inspiration from some of the legends of the scene including Joey Negro, Larry Levan & Dimitri from Paris they have lent their edit skills to the likes of Sister Sledge, Madonna and Michael Jackson.
With big name support from the likes of Dr Packer and a blossoming following we expect Barry & Gibbs to become one of the go-to names on the disco scene over the coming years.
We spoke to them about their whirlwind career so far, studio tips and their plans for the future. They also put together a very tasty mix for us which you can check below. If it starts your party please give it a share on Soundcloud and help spread the love! The full mix tracklist is at the bottom of this feature.
Hi there Barry & Gibbs,
Thanks for speaking to us today.
For our readers who haven't come across your releases before how would you describe the musical style of Barry & Gibbs?
Hi! First thank you for having us! Our musical style is truly disco, but we really like to keep it club oriented as our main goal is to make people dance of course!
Please can you give us 3 of your own tracks which are quintessentially Barry & Gibbs? 
Let Her Dance
This is our most club-oriented / dancefloor track.
We Are Family
This is one of the first edits that we did from the original multitracks! We had a lot of fun doing it, and every-time we play it, people go crazy!
La Groupie Du Pianiste
An edit of a French classic by Michel Berger. We play this as our closing track in almost all of our sets whenever we play in France. The original track is a French variety song and we really wanted to give it a disco feel and add some nice drums to it.
You have had whirlwind couple of years. How important has Soundcloud been to your career so far and what do you attribute your success on the site to?
We have gained a lot of followers on Soundcloud mainly thanks to the free downloads we gave to people. We got lots of reposts and likes and people started asking us for gigs via Soundcloud at first.
You have remixed everyone from Madonna to Pasteur Lappe. What do you look for in a track when you are starting out on a new edit project?
We have no limits. Whenever we like a track and we want to have a version we can play in our sets, we try to work on a B&G edit. Sometimes inspiration can come from just a small loop of an old track, like it was the case for LET HER DANCE.
Your style is super smooth, warm and engaging. What studio tips do you have for new producers looking to create their own sound?
We don't have precise studio tips. We just think new producers need to practice and practice a lot to find their own style.
You are one of the new names who have broken through on the Edits scene recently. What other new producers do you think is doing the business right now?
Mikeandtess and FunkyDeps! The French do it better 🙂
Please can you describe your production set up for us and what is the one piece of equipment or plugin that you couldn't live without?
So basically we are working on an iMac with Logic Pro X and a lot of plugins. We also have a Juno106 but almost never use it. We sometimes also work with real bass & guitars.
You have been influenced by the likes of Jellybean Benitez, Joey Negro and Dimitri. What have you learned from their productions and please can you give us three tracks which influenced the sound of Barry & Gibbs.
(Barry) I've been a big fan of JellyBean's productions as he was Madonna's first producer and I've always been a big Madonna fan, that is why we reworked Holiday. We both really like Joey Negro & Dimitri because they have their own style when it comes to reworking old tracks. They truly keep the original track's soul and give them big dancefloor vibes at the same time. They always find small elements you can't really hear in the originals and put them in front of everything else.
Whitney Houston – Love Will Save The Day (Jellybean / Morales Mix)
This is my Favorite JellyBean Benitez Remix
Sister Sledge – Lost In Music (Dimitri From Paris Edit)
The intro truly kills us every-time!
Horse Meat Disco ft. Kathy Sledge – Falling Deep In Love (Joey Negro Mix)
This one is amazing and shows how disco should sound in 2019.
What can we expect from Barry & Gibbs over the next 12 Months?
New free downloads, new original tracks and a lot of gigs we hope! 🙂
And finally, please can you give us 4 tips for a great day out in Lille. A place to buy records, a place to eat, a place to drink and a place to dance.
You can buy amazing funk/disco records at Urban Music shop, then you can go and eat a nice traditional dish at Le Barbier Qui Fume, drink beers and cocktails at Le Bar Parallèle and finally go to Le Bistrot De St So to end the night with a great dance!
For more info on Barry & Gibbs please check:
Facebook: https://www.facebook.com/BarryandGibbs/
Soundcloud: https://soundcloud.com/barryandgibbs
Barry & Gibbs – LV Mixtape 077 Tracklist
Bee Gees – Night Fever (Barry & Gibbs edit)
First Love – Don't Say Goodnight (FunkyDeps Edit)
Rose Royce – car wash ( mikeandtess reedit 4mix)
Madonna – Vogue (Barry & Gibbs edit)
Kapote – Delirio Italiano
Andy Gibb – shadow dancing (mikeandtess edit 4 mix)
Foreal People – Shake (Dr Packer Re-Shake)
Micky More & Andy Tee – The Beat Goes On (Extended Mix)
Micky More & Andy Tee feat. Angela Johnson – The Only One (Extended Mix)
Rafael Cancian – Ç'est La Douceur
Cotonete & Di Melo – A.E.I.O.U. (Dimitri From Paris Remix)
Michael Jackson – Working Day & Night (Barry & Gibbs Edit)
Tags:
Barry & Gibbs
,
Dimitri From Paris
,
disco
,
Downtown Disco
,
Jellybean Benitez
,
Joey Negro
,
mikeandtess