Billy Bass Nelson Worship Mix – Mixed by FSQ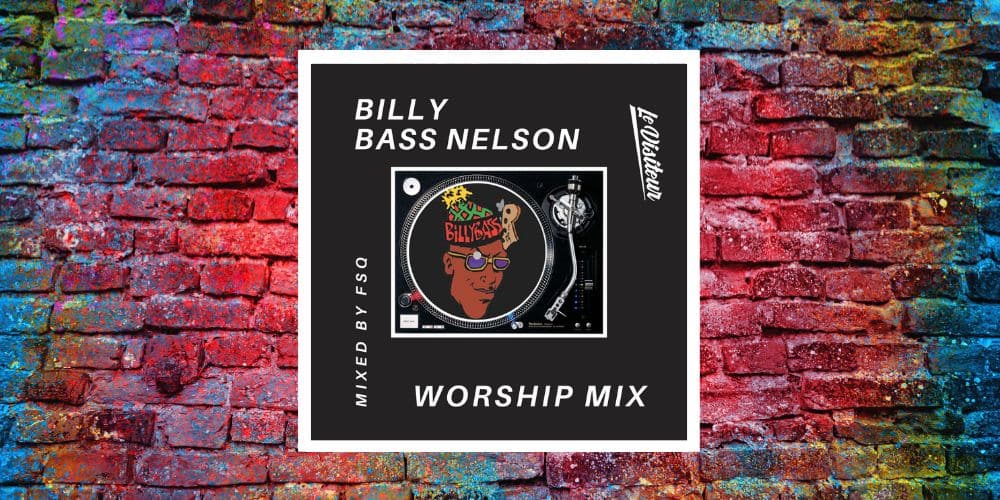 FSQ have a brand new remix album coming out this week via Soul Clap Records which see's some of the hottest producers on the planet including Ray Mang, Michael The Lion, Birdee, Tom Moulton, Dr Rubberfunk, Jitwam, DJ Rocca and Charlie Soul Clap reworking their ace 2020 album Reprise Tonight, aptly titled Reprise, Reprise Tonight. You can check out one of the remixes below.
To celebrate the album we asked FSQ's band leader Chuck "Da Fonk" Fishman to deliver a worship mix to us. Having previously delivered a rather stunning rare P-Funk mix for us we were seriously looking forward to this one and he has delivered the goods yet again.
This time Chuck has chosen to the craft a mix around the work of legendary bass player Billy Bass Nelson including his tracks with such luminaries as Parliament, The Temptations and Smokey Robinson.
The resultant mix is 🔥🔥🔥.
Here is Chuck on the background to the Billy Bass Nelson mix:
This is a FSQ tribute mix consisting of tracks that all feature guitar and bass work by Billy Bass Nelson. The mix barely scratches the surface of his immense recording career, covering selections from Billy's session work from 1967 to 2022. Billy got his start with George Clinton's Northern Soul vocal group The Parliaments when he was 16. Billy's first recording session was playing bass on a The Parliaments cover of Sgt. Pepper's Lonely Hearts Club Band, which has never been released but was obtained for this special mix for Le Visiteur.
Two years later, George started a funk rock group based around Billy Bass and his friend Eddie Hazel on guitar, which Billy himself coined "Funkadelic". Several early Funkadelic tracks are in this mix, and in about the same time period the duo were asked to lend their musical talents to the Holland Dozier Holland led record label known as Invictus, which resulted in their contributions to songs by the label's artists Ruth Copeland and Chairmen of the Board.
In the mid 70s, Billy followed Invictus record producer Jeffrey Bowen from Detroit to Los Angeles, where Bowen had landed a production deal with Motown's LA recording office. There Bowen added Billy (and Eddie) to many Motown acts productions including Smokey Robinson, The Temptations, Rose Banks (Sly Stone's sister) and Jermaine Jackson among many others. Another Motown production stalwart Norman Whitfield also moved to LA and put Billy on tracks by Rose Royce. It's difficult to know the entire scope of his session work without pouring over the liner notes of albums, and online sources like Discogs aren't the best or most reliable source of credits. But when you hear a Billy Bass Nelson bass line, you'll know it. All of the tracks presented here include confirmed contributions by Nelson and the overall mix is supremely bass heavy.
You'll also hear Billy Bass' late 70s work with Parliament-Funkadelic after he rejoined the group in LA for many more recording sessions, as well as some of his own solo efforts. Billy Bass is still actively recording today and there are some unreleased, upcoming FSQ productions in the mix where you can hear him adding his thunderous bass sounds. He has made many contributions to the FSQ remix productions over the past few years as well as to the music of Soul Clap.
Billy Bass Nelson Worship Mix – Mixed by FSQ – Tracklist
The Coasters – Disco Calypso
Parliament – Placebo Syndrome
Lonely C – True (Cake And Eat It Too) (FSQ Funkadelic Touch Remix)
FSQ – Pain and Beauty featuring Sa'd The Hourchild Ali
The Temptations – Sweetness In The Dark
Lenny Williams – Choosing You (12″ Single)
Alton McLain & Destiny – Crazy Love (Remastered)
Jermaine Jackson – Lovely You're The One
Funkadelic – Music For My Mother (Instrumental)
The Parliaments – Sgt Peppers Lonely Hearts Club Band
The Temptations – Miss Busy Body (Get Your Body Busy)
Life on Planets – Cold Front (Remix featuring Billy Bass Nelson)
Kraak & Smaak – I Think (FSQ Funkadelic Touch Dub)
Funkadelic – As Good As I Think I Can Feel (1969 Version)
Billy Bass Nelson – As Good As I Think I Can Feel
Bernie Worrell – Much Thrust
Chairmen Of The Board – Skin I'm In
Soul Clap – Future 4 Love featuring Nick Monaco
FSQ, Jack Priest – Low End (Revision)
The Temptations – Happy People (Instrumental)
Jermaine Jackson – Who's That Lady
O.G. Funk – Out Of The Dark
The Parliaments – Baby I Owe You Something Good (Instrumental)
Ruth Copeland – Don't You Wish You Had (What You Had When You Had It)
Rose Banks – It's Not The Season (It's The Reason)
Chairmen Of The Board – Morning Glory
Smokey Robinson – In My Corner
For more info on FSQ and Soul Clap Records check:
FSQ Facebook: https://www.facebook.com/fsqofficial/
FSQ Soundcloud: https://soundcloud.com/fsqofficial
FSQ Instagram: https://www.instagram.com/fsqofficial/
FSQ Twitter: https://twitter.com/fsqofficial
Billy Bass Nelson Facebook: https://www.facebook.com/BillyBassNelson
Billy Bass Nelson Instagram: https://www.instagram.com/billybassnelson/
Billy Bass Nelson Twitter: https://twitter.com/djaptone
Soul Clap Records Facebook: https://www.facebook.com/soulclaprecs/
Soul Clap Records Soundcloud: https://soundcloud.com/soulclaprecs
Soul Clap Records Instagram: https://www.instagram.com/soulclaprecords_/
Soul Clap Records Twitter: https://twitter.com/soulclaprecs
Love this? Check out more from FSQ HERE
Tags:
Billy Bass Nelson
,
FSQ