Dam Swindle Selects – The 2021 Essential 3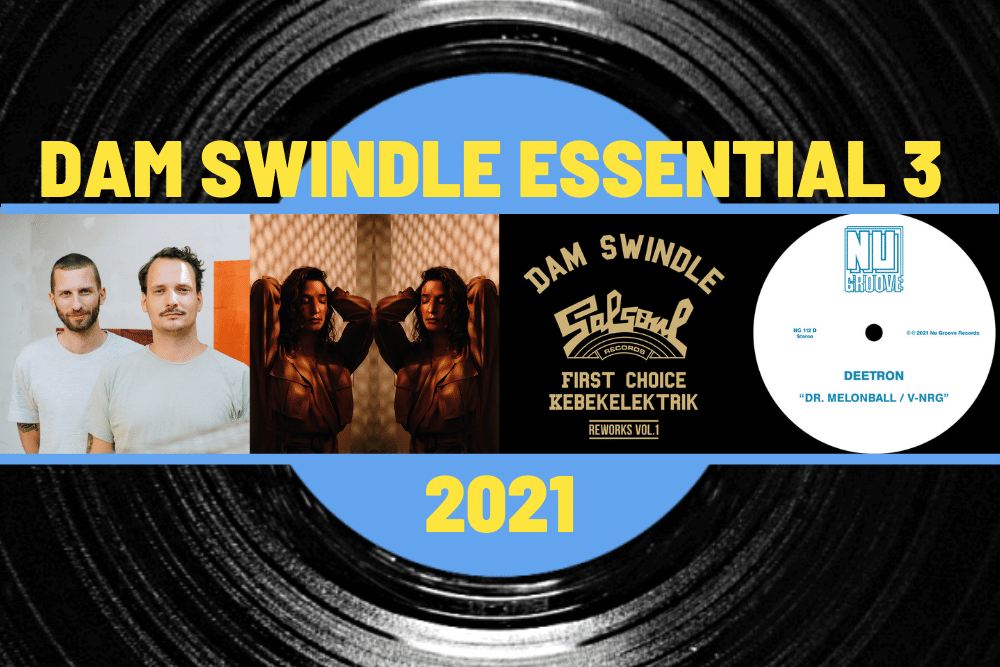 Dam Swindle Selects – The 2021 Essential 3
Like what you hear? To help support LV Online buy us a coffee via Ko-FI. Click HERE
It's been another landmark year for Dam Swindle. Their Label Heist Recordings continues to go from strength to strength with key vinyl releases from JKriv & Peter Matson, Felipe Gordon, Makez, Marina Trench, Fouk & Crackazat. They also had some outstanding digital only releases from the mysterious Lore of the Samurai, their always brilliant Round Up EP, now clocking up it's 7th edition and from Dam Swindle themselves in the shape of the Wrap Around EP. We covered many of those releases HERE. It's a label very much at the forefront of electronic underground music and a big favourite here at LV Online. Ahead of their Blue Steel EP Fouk put together a Heist Recordings worship mix for us, below, showing the wonderful quality of the label.
As artists in their own right on the release front they also had great EP's out on Aus Music and two superb Salsoul Remix EP's bringing a touch of real originality and quality to Salsouls re-issue series. We spoke to them at the time about their 10 favourite disco tracks which you can check HERE.
Not content with their own and Heist's output they also also launched two brand new labels 10 Questions and Transient Nature, focused on Italo & proto-inspired house music and Machine Funk and off kilter Techno respectively. They recently also launched their own DJ furniture line in conjunction with Robuust Amsterdam. Safe to say that they like to keep busy.
Making the best of the near endless lockdown's Dam Swindle have continued to inspire in 2021 and we very much look forward to seeing what they have in store for us in 2022.
We asked Dam Swindle to pick their three essential tracks of 2021 for us.
Dam Swindle Selects – The 2021 Essential 3
Ellka – Euphoric melodies
Elkka has been on our radar for a while and for us, it feels like this track was her step into the limelight of the dance scene. So well produced and with such an intimate sound, but immense power coming from that. It's not your middle of the road club track, but it's full on goosebumps material.
First Choice – Let no man put asunder (Dam Swindle remix)
When we were asked to choose tracks to remix from the Salsoul catalog, we knew we had to take our time and think about our approach to our remix EP. We ended up going for "let no man put asunder"; a track that has been so seminal for the development of dance music and club life in general. We found that,even though this track has undergone treatment by some of the biggest producers in the game, there was still a story to tell. We ended up recording a lot of new parts, used parts that were not in the original and the outcome is one of our 2021 highlights.
Deetron – Dr. Melonball
We haven't had a chance to do many shows this year, but if there's one track that has been bringing dancefloors to a climax, it's this one. So simple, but so well executed. Nothing but respect for Deetron!
For more info check:
Dam Swindle Facebook: https://www.facebook.com/damswindle
Dam Swindle Soundcloud: https://soundcloud.com/damswindle
Dam Swindle Instagram: https://www.instagram.com/damswindle/
Dam Swindle Twitter: https://twitter.com/DamSwindle
Heist Recordings Bandcamp: https://heistrecordings.com/
Dam Swindle Dj Furniture: https://www.phonicarecords.com/artist/dam-swindle-x-robuust-amsterdam/176663/all/latest/desc
Tags:
Dam Swindle
,
deetron
,
Ellka
,
Heist Recordings