Dames Brown – Le Visiteur Featured Artist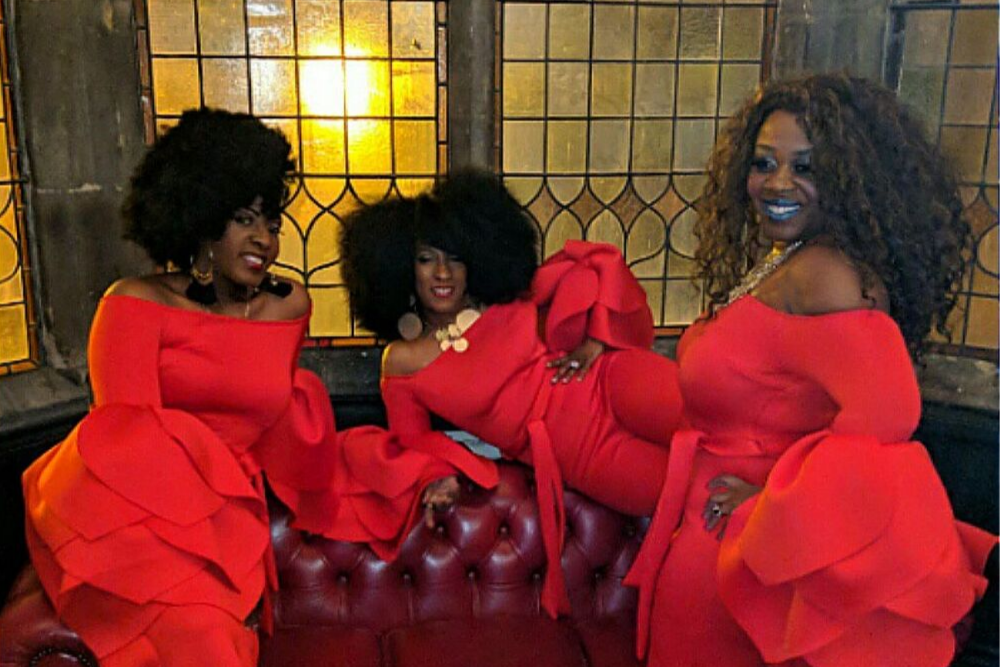 Dames Brown – Le Visiteur Featured Artist
Infectious, energetic, exciting, soulful and powerful are all adjectives which perfectly describe a Dames Brown performance. Having seen them recently at Defected Croatia they were one of the highlights of the festival for me with a non-stop fourty five minute feel-good vocal party. Following up a brilliant Sophie Lloyd set they had the crowd in rapture. Indeed it was with Sophie on her track 'Calling Out' which dropped via Classic last year that they helped create arguably one of the best house tracks of the last decade a track which has repeatedly sold out on 7" vinyl and dominated the Download charts via mixes from Danny Krivit, David Penn and Floorplan.
Hailing from Detroit Dames Brown, aka Athena Johnson, Teresa Marbury and LaRae Starr, are a trio of dynamic singers who have over the last few years featured on everything from Soulful House to RnB to Techno. They have been on a steady career ascent with regular appearances at Glitterbox, a performance at the Motown 50th anniversary dinner and vocals with some of the scenes biggest hitters including Amp Fiddler, Soul Clap and Meli'isa Morgan.
With another huge gospel-edged track 'Raise Me Up' just about to drop with Sophie Lloyd we though that it was high time for us to track down the Dames and speak to them about their career so far and plans for the future.
You can grab the track from: https://defected.com/raise-me-up.html
Hi there Athena, Teresa and LaRae,
Thanks for speaking to us today.
In 10 words or less how would you describe the musical style of Dames Brown?
Simply Beautiful! gospel rooted powerhouses of Soulful Funk to house!
How would you describe your latest track 'Raise Me Up' with Sophie Lloyd on Classic Music Company and please can you give us a bit of history about the release?
It lifts your spirit! An inspiration to dance to; it compels you to take to the dance floor. When it came to us, it felt straight from the soul!
How did the three of you meet and what was your journey to combining as Dames Brown?
We were hand-picked for a major concert Stateside and we automatically clicked and have been together ever since. Our name Dames Brown was given to us by legendary funk, neo soul, producer Amp Fiddler.
What would you say are the unique attributes that you each bring to Dames Brown?
Teresa – Ball of Energy , Athena – Joyful bubble of love, Larae – Powerful Happiness
Together – Funkaliscious pot of Gumbo Soulful Serenades! Hot Sauce, Ice, Salty!
Please can you give us a track each which you think is one of the best ever vocal performances on a house record.
Teresa – "Show me Love" (Robin S.)
It's so much power in the voice; gets your attention and you've got to hit the floor!
Larae – "Everybody Dance Now" (Martha Wash)
It commands from the opening riff to the last! Charges your mood instantly. No matter how old you are it's time to party when you hear it! Timeless
Athena – "Everybody" ( Black Box)
It's a rollercoaster of vocal melodies which make you want to dance. It makes you feel good inside and makes you want to go out and spread the love of music to everyone and everybody. No time for sadness only happiness!!
You recently played at Defected Croatia, what are your memories of your set that day, what was that like playing to such a great crowd and what were your favourite moments from that event?
The Fans!! One of them came to us after performing and said " You gave me life without parole". It was a rush of excitement, the outpouring of Love afterwards instantly. We left the stage on fire and it was instantly returned before during and after it was a mind banging experience nothing less!
A favorite moment was when a fan held up her heart-shaped hands and sang along with us; it touched our hearts to hear other people singing words to our Song, "Calling Out"
What are your first memories of the house scene and how did you get involved specifically in recording house music vocals?
Collectively as a group, "Motor City booty" with Amp Fiddler! It was unlike any other music we've ever done with tons of energy; riffs all night and you never sing the same one. Just the feels of music.
What would you say is your proudest career moment so far as Dames Brown?
Being on tour after our hit song "Calling out"! Then flying to Europe making the video and touring with superstar treatment. An absolute blessing to be on a timeless hit!!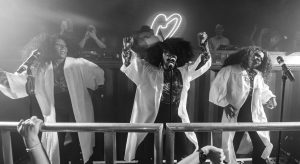 If you could organize a collaboration with anyone in house music today who would it be and why?
It's so super hard to pick just one! A dream collab would be: Idris Elba, David Guetta, Masters At Work, Kenny Dope Annie Mac, Barbara Tucker & Fatboy Slim
When people are coming down to check out a Dames Brown live performance what can they expect and do you have any upcoming gigs that you are really excited about?
Pure high electrifying energy that floods into the soul! You will be immersed into the magnetic flow. When we walk into a room it immediately draws you in from start.
Our next show is by popular demand coming back to a tribute to Aretha Franklin. It was a sold out production earlier this year.
What can we expect from Dames Brown over the coming 12 months?
You can expect mega hits and love in a forthcoming album a first for Dames Brown. We are currently in the studio as we speak recording the top producers such as amp Fiddler, Wajeed, Luke Solomon Chris Penn and more.
And finally, please can you give us 3 tips for a great day out in Detroit. A place to eat, a place to drink and a place to dance.
Eats- The Apparatus Room which can be found in the foundation hotel, Downtown Detroit. They have various organic teas and specialty foods! It is a place where we had lunch with producers and DJs such as Riva Starr and DJ K-Hand.
Drinks: "The Belt" an outdoor bar in which we had a fabulous time with some of the Defected records team when they came to town for the movement festival.
Dance: Inuendo Night Club and Mr. B's Gastropub. Pure packed house and dance all night.
For more info on Dames Brown please check:
Facebook: www.facebook.com/DamesBrown777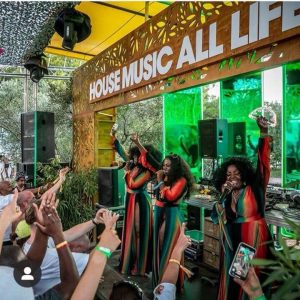 Tags:
Dames Brown
,
defected
,
detroit
,
glitterbox
,
gospel