Danny Russell & Ronald Christoph – Le Visiteur Influences Top 10 and Q&A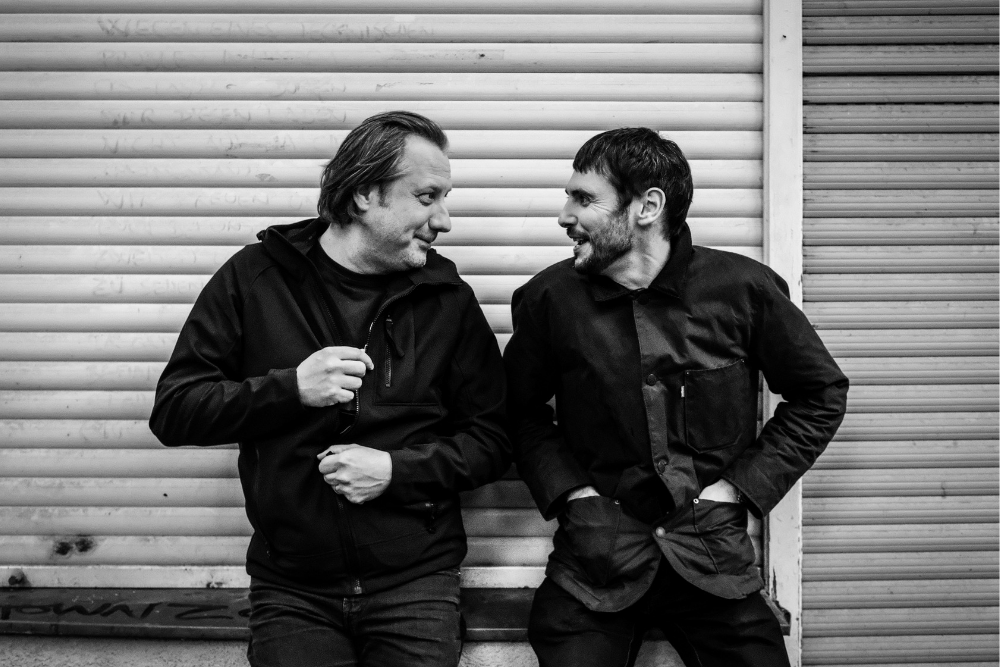 Danny Russell & Ronald Christoph – Le Visiteur Influences Top 10 and Q&A
Based in Berlin Danny Russell and Ronald Christoph coming together is a real meeting of like minded souls. Both with long backgrounds in electronic music they have both had success in their own rights as producers.
With a shared love of all things disco and in everything from Chicago House to Techno it was almost a given that when they got in the studio together that they would conjure up some serious club heat.
Their latest EP comes courtesy of Manchester's Sprechen label comprising two tracks of serious disco-edged house from the chunky looped up vibes of One Two One to the bouncy groove of Got To have Your Dub.
We spoke to Danny Russell and Ronald Christoph about the EP, their work together and their own personal influences. You can also check out our premier of One Two One below.
Hi there Ronald & Danny,
Thanks for speaking to us today.
For our readers who haven't come across your releases before how would you describe the musical style of Danny Russell & Ronald Christoph?
Ronald: Generally we love it when the disco feeling shines through. I would even call many of our tracks pure disco house, but it can also be a shaker or another sound in there borrowed from hip hop or techhouse. Our remix on Paperdisco for "Yam Who? & Jaegerossa" is very techhousy and we like that too!
Danny: I'd agree that it is somewhere between House & Disco, usually filtered with elements of fun.
How would you describe your latest EP which is out now on Sprechen Music and please can you give us a bit of history about the Release?
Ronald: Since I'm German, I probably don't have the correct English synonyms, but I'd like to try. Bouncy, driving, but also sensitive and impulsive. With both tracks you can bring nice colors into your set. The groove is well worked out.
Danny: As the native English speaker, lets see if I can try. One Two One is I guess your more quintessential filtered Disco track, lots of energy, not overly serious, just a little something to get the dance floor moving and make you smile. It was the first track that I made with Ronald and probably, for me, has the most cross over potential. Got To Have Your Dub is more a serious groovy House track for a little later after dark. My idea was to make something funky but with a solid backbone, a little loopy without hopefully being too chuggy.
How did you two meet and what would you say are the qualities you each bring to the production duo?
Ronald: First question: I became aware of Danny in 2018. I liked his music taste very well. That let me enjoy one of his gigs at Klunkerkranich in Berlin and I introduced myself to him. Secondly I think production skills and musical skills are my part. I provide technical environment, sit in studio after our sessions and work on the mix until it fits. Further I can empathize with other artists very well and so the result is almost always unique.
Danny: Ronalds right that we met in Klunkerkranich, I think it was the start of winter of 2018, I remember it was one of those totally freezing -10 Berlin nights that makes you want to get in the club as soon as possible. Ronald approached me and commented on my music and mentioned he had a studio and wondered if I'd like to visit and talk about maybe making some music together. I took a listen to his previous productions and collaborations and was impressed by how well engineered they are. Although I do come from a sound engineering background, Ronald really is next level so I leave the mix to him. I take care of the initial idea, samples, arrangement, and the rest we work out together.
What can we expect from Danny Russell & Ronald Christoph in the next 12 months?
Ronald: In the future we want to produce a lot of disco house and other electronic music too. The musical combination is perfect.
Danny: Right now we are in the process of finishing another EP, after that we will start looking for appropriate labels who we feel might be interested in our music. We already have a few records that are finished that I like to sit on as something unique for my DJ sets, but eventually we will certainly try and get them out there. I have also been asked to work on a number of remixes so perhaps you will see a few more of them from us in the future as well. DJ wise I will continue playing a number of venues throughout Berlin, I'm playing :// about blank on the 25th October and should be touring Dublin at the end of November and elsewhere in Europe in the new year. You can check my Resident Advisor page for dates.
Please can you give us 10 tracks (5 each) which you would say have directly influenced your style of production.
Danny
COEO – Like It Is
I love the Razor n Tape label, and what these guys from Munich have done editing Lutter Ingram's – Do You Think There's a Chance. Simple but so effective, adding some killer drums to the chopped samples, and It always gets such a big reaction when I play this in Berlin.
The Clash – The Magnificent Dance instrumental
I was given this record when I was 16. I knew the Clash as a punk band so it blew my mind to discover that they also made this funky Disco crossover which was inspired by New York Hip Hop. What can I say, Joe Strummer was a genius, I love the original but the hook for me is Norman Watt-Roy's bass line, so I tend to mostly play this instrumental version.
Jolly Jams – Promo Only (Track 3)
DJ Kaos has released a string of amazing records on his label, most interesting for me are his Mystery artists – Promo Only white labels. I believe this particular track was produced by Pete Herbert (half of Reverso 68 with Phil Mison). Absolutely rips the roof off every time with those pitched down cowbells.
Trevino – Backtracking
An absolute powerhouse of a record, I first heard DJ Harvey play this back in 2016. Sadly Trevino died in 2017, but he left us with some incredible House & Techno records, as well as Drum & Bass under his more popular name Marcus Intalex. A real Manchester legend, his music will certainly live on.
Teddy Pendergrass – The More I Want (Ron Hardy Edit)
Ron was the king of the tape edit. I really would give anything to have been on that dance floor at the Music Box in Chicago when he was in full flow. This for me really demonstrates the power of looping up disco records and playing with the RQ to alter the dynamics of a dance floor.
Ronald
LB BAD – I like To Move (1990)
Read the lines below 😉
Tyree Cooper Turn Up The Bass (1989)
I worked together with Tyree Cooper and DJ Good Groove and I still work today with Elbee Bad. They were the pioneers of Disco House with their hot Chicago and Hip House.
Herbert – 100lbs (1995)
The album 100lbs was a milestone for me. It was a real reference for mixing electronic music. In 1998 I worked on an Atari ST with a lot of Midi stuff and a modified 24-channel Allen & Heath mixer. I would have preferred a Pro Tools system back then, haha.
Emmanuel Top – Stress (1995)
You can not do it better if you want to lift your crowd into ecstasy.
Air Liquide – Let The Sunshine In Your Pants (1996)
I do not know why I just chose this song. Maybe because it has an ironic context with Love Parade, which impressed me at that time anyway. Air Liquide belong with the heroes of my first Techno influences.
For more info on Danny Russell & Ronald Christoph please check:
Danny Russell Facebook: https://www.facebook.com/danny.russell2
Danny Russell Soundcloud: https://soundcloud.com/dj-danny-russell
Ronald Christoph Facebook: https://www.facebook.com/ronald.christoph.7
Ronald Christoph Soundcloud: https://soundcloud.com/ronaldchristoph
Tags:
Air Liquide
,
Coeo
,
Danny Russell
,
Emmanuel Top
,
Herbert
,
LB Bad
,
ron hardy
,
Ronald Christoph
,
Sprechen
,
Teddy Pendergrass
,
The Clash
,
Trevino
,
Tyree Cooper