Delfonic talks Disco's most incredible year 1977, David Mancuso, Kraftwerk and his 2nd Edits EP with Nómada Records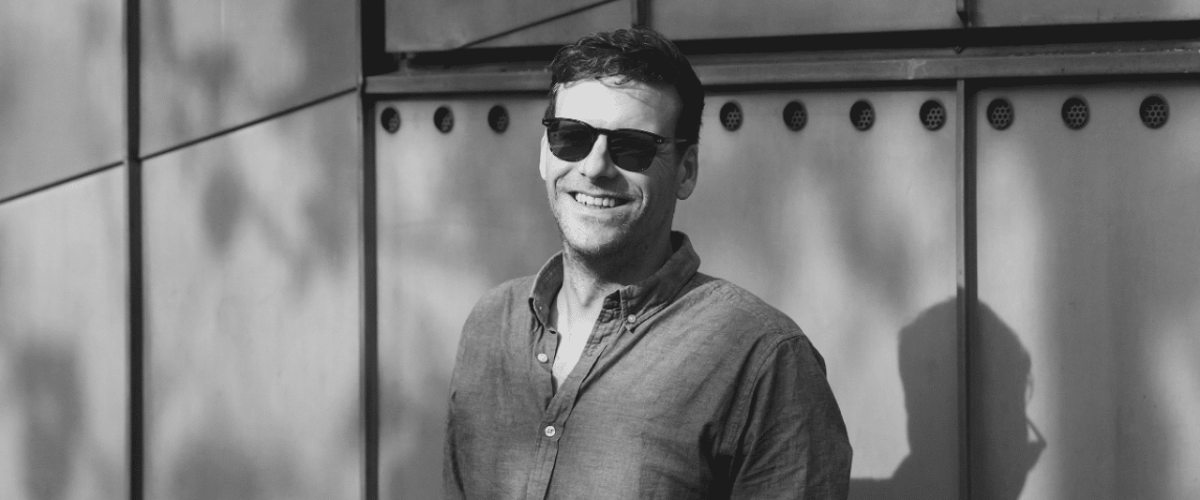 Berlin's disco wizard Delfonic is an incredible talent. Having just released his second EP of edits for Colombia's ace Nómada Records, following the double sell our EP one from last year, we spoke to him in depth about the EP, Berlin, working with Nómada and his favourite year in disco 1977. You can also check out our review of the EP HERE. He's a DJ who always lays down spellbinding sets, a product of some seriously impressive musical knowledge, indeed he's one of our favourite DJ's out there with both an ear for an incendiary dancefloor tune and an incredible energy behind the decks. Internationally a hidden talent of sorts he has started a very well deserved rise to prominence over the last couple of years picking up some serious plaudits for his own releases and his Illegal Jazz series with Toy-tonic's Kapote, as well as his renowned clubs sets.
Having already delivered one sublime mix for Le Visiteur we are very pleased to have tempted him back behind the decks for us this time delivering a worship mix for that most fabled of disco years 1977. Check it below and please give it as share over on Soundcloud and help us spread the love and with any luck we will be able to tempt him back for a 1978 mix 😉 The full tracklist for the mix is at the bottom of this interview.
Hi there Delfonic,
It's great to catch up with you again,
How have things been for you over the last 12 months since we last spoke?
Oh my… where should I start … basically a lot of ups and down to be honest.
First we had a great summer with the "Kryptox Sessions" in Berlin at Garden Aeden, which is a cosy outdoor area in the middle of Kreuzberg. We hosted a lot of great live bands such as Z.F.E.X. and also invited some DJs to play with us spinning the soulful music we love. It was a feeling about going back to normal, meeting a lot of friends again and making new friends in our natural environment: the music clubs!
Unfortunately we then went back into kind of a lockdown and to be honest from the end of November until beginning of January I had some tough days without any vision or positive feeling. Sometimes you have to go through bad times to appreciate the better ones more.
Since January I´m now way more motivated to do some stuff and I have some really nice music projects in the pipeline.
How is the disco scene in Berlin faring? Is it starting to bounce back after all the enforced Covid shut-downs?
Not yet, but I think they cant hold us back for any longer as otherwise the scene and culture economically will crash for good.
I hope, that they open the clubs and venues at the end of March without any big restrictions.
Delfonic Edits Part II
You have a brilliant new edits EP out on vinyl right now, Delfonic Edits Part II, on Colombian label Nomada, following up from your double sell out EP last year. What can you tell us about the new EP?
Glad you like it! I´m really proud about this one! The nice guys from the label especially Felipe Gordon asked me to do another one and I sent him my demo folder, which had grown last year up to more than 30 tracks 😉
The guys chose some really nice high energy tracks and also some classics. It´s not always about hidden gems or a secret disco hit, it´s more about the good vibes and positive energy I can hear in the reworks.
There is also a track from mid of the 90's with kind of a gospel feeling. It feels like I'm going step by step towards a better direction to work with my sounds and samples.
The heads behind the label are Felipe Gordon and Joint4nine who we love here at LV online. What were they like to work with when you were putting the EP's together?
It was done in 5 Minutes by Whatsapp 😉
Felipe helped me with the mixdowns and they also chose the final tracklist. They have some good experience one delivering records, so together it was quite easy to work out.
I always have some ideas about my EP#s and how the tracks should work together, but its always interesting to see how other people see your work and give you a vision from the other side. That's really helpful and at least one reason why there are Music Labels.
Disco 1977 Mixtape
Your mixtape for us from last year was hands down one of the most played here at LV HQ, so it's a pleasure to have you back on the decks for us again. This time around you have chosen to create a worship mix for us focusing specifically on the year 1977. What was it about that year in particular which has really inspired you to make the mix?
Oh, nice to hear! Thanks a lot!
During the COVID time, I had way more time to do research for music. And also I have a specific taste in Music. Let´s say I like it organic and dirty – but could be any kind of genre or style.
Every time I was listening to a disco track and I was blown away, I wanted to know the year it was produced or released. And it turned out, it was always around 1977-78. But there are so many great tracks, that I just chose the releases from the year 1977 to make this mix.
Otherwise it would be an endless mix.
So the next year it is 1978 ….
I guess these are definitely the strongest years in authentic Disco Music. And there are some reasons in my opinion:
1st, there were great producers and musicians in the studio. Patrick Adams, Nile Rogers, Arthur Baker, Tom Moulton, Patrick Cowley, Walter Gibbons are not only producers and composers. They also worked with DJs for the very first time. John Morales, who extended the music for his dj sets , Larry Levan, enough said about this legend, David Mancuso, who played all night at his own club/ venue "The Loft" for invited guests only, Nicky Siano (The Gallery) et al.
2nd, its the very first time, that the dancefloor had an impact on the billboard charts. That means, a track could´ve been be released for years, but entered the sale charts only because the DJs were playing the track in heavy rotation. So in history it was the DJ, who became really important to the production process and feedback on the music. E.g. Larry Levan played the 77 version of "Love is the Message" so many times at Paradise Garage, that it went into the charts even the original was released in 1973. It wasn't just radio hosts & stations who were responsible for the next big thing anymore, there were DJs too and they had a huge influence on the music industry.
Also the Labels realized, that their music wont be played in the club when they are not sounding "fat" and loud enough on the vinyl. So they also "invented" the "disco version", which means its mostly one track on one side of the record and sounds really good and loud. You still can hear that amazing production when you listen to the records.
3rd. The nightlife connected to disco was more wild and underground with it's links to the gay scene and it was totally open minded. People went to parties to dance like "the Loft" by David Mancuso. The dancing was really important for the scene and the style of djing changed as they were able to mix records and it sounded as an endless song the whole night.
When you put these 3 views together you get some picture about what was happening. It was an inner circle of DJs and music lovers, but a great playground for many legendary DJs and creative people. And also the peak time of disco was in 1977 when the movie "Saturday Night Fever" was launched, which is on the other side a sign of "we have to move on" because the peak is now there. But the synthesizers and drum machines can already be seen on the horizon
Even a quick look down the tracklist shows that it was a year where disco was really coming into its creative zenith. Which of the artists on the mix have been especially influential for you?
I would say that I was more interested in looking into the Labels who had their own creative producers and musicians. I'm really into TK Disco Records and one track which was blowing me when I heard it for the first time: "Ghetto Disco" by Ted Taylor.
Its quite a midtempo track, but the bassline and the breakdown in the middle are really intense.
And on the other hand you have the "Philly" musicians and producers, which had this unique taste in strings and harmonies. Or vocalists like Teddy Pendergrass – his voice is incredible!
You can definitely hear a Philadelphia Record when it turns on!
And fun fact: when I wanted to buy the 12" of Ghetto Disco, it was quite expensive as a 2nd hand record. But I also knew, that Above Board licensed the back catalogue of TK Disco and I wrote to them, that they should reissue this 12".
A couple of months later I was able to order this reissue for the Record Store I used to work for and the price was reasonable for me again.
Trans Europe Express
One of the albums which stands out from 1977, which I know you love, was Kraftwerk's Trans Europe Express. How do you think their minimalist approach on that album and their themes on the disparities across Europe still hold up today?
And that's crazy right? When you imagine, that Kraftwerks minimalistic European sound hit the streets and also Donna Summers "I Feel Love" as a new kind of genre "Euro Disco" with G. Moroder in the same year 1977, you can already feel and hear the changes in the music production and the creativity on a next level.
These two tracks are for me game changer and had a big influence on both the music industry and the DJs.
Its the evening before Drum machines and Synthesizer took over the music production.
This is all the preparation for (Proto) House Music and at Techno Music, when we go into the dance music world. I mean, when you don't understand "disco" you cant understand "House" or "Techno" music.
Musical Background
What was your own musical journey that led you to a lifelong love of Disco?
I have played almost every kind of dance music in the last 20 years, but Disco lasts forever. It was love at second sight. You can play it at a wedding, you can play it at Panorama Bar, you can play it at a big festival in front of 50.000 people.
The effect is always the same: smiling faces and shaking hips…
Let´s say it with David Mancuso´s own words:
"I can't program myself to what happens because it all gets so spontaneous. I don't plan it, I don't feel I have any control over it. I'm only a part of the whole, a part of the dance!"
Can you remember the first disco record that you personally bought?
I think it was "Saturday Night Fever" at a flea market for 2€.
Nothing really special, but to be honest, the style, melodies and groove of the Bee Gees production is really really good.
David Mancuso
If you had a time-machine and could visit any party in the world in any year to hear the dj laying down a disco set which club and DJ would you choose and why?
Hard to say, but I would go with "the Loft" and a DJ set by David Mancuso. One reason is, that he played the whole night and I think there would be some great tracks to discover during his warm up set. Quite jazzy and trippy.
Best Disco Record from 1977
Please finish this sentence. The greatest disco record made in 1977 is………. 
Unfair for a lot of tracks, but okay, today it would be:
Ted Taylor – Ghetto Disco
Now tell us why?
I really like the tempo: its around 108 BPM and that's a great tempo to dance to. The Breakdown is really long and has a nice upbuilding moment. And when the beat and bassline is coming back in – yes!!!
Also the bassline is this typical warm driving sound, which is the basement for the disco groove.
What I particularly love about this particular era of Disco is the way in which it is both intertwined with Soul music and also embracing the new sound of synths in a way it is both hugely reverential yet also futuristic. If you had to pick a track from from each ends of those spectrum that you regularly spin in your sets what would they be?
And also in my opinion the sound of "disco" until 1976 is way more soul or funk influenced, than the typical "disco" sound we already know.
On the soul side it would be Marvin Gaye. One of the best voices ever and his tune "Got To Give It Up" has this soulful vibe, but also has the disco elements. And the lyrics are so me!
"I used to go out to parties
And stand around
'Cause I was too nervous, baby
To really get down
But my body
Yearned to be free
I got up on the floor and thought
Somebody could choose me"
At the other side it would be easy to mention "I Feel Love", but I would choose Dexter Wansel´s "Disco Lights"
Actually he is a Jazz Musician, but all these guys realised, that they had to jump on the disco train and for me that's an amazing influence music wise. All these jazzy elements in a lot of disco tracks.
TK Records
One of the labels which features a few times on you mix is Henry Stone's TK Records along with it's sister label TK Disco which burned brightly from 1976 to 1980. The were hugely influential labels at the time, but which maybe don't get the same plaudits as the likes of Salsoul, West End and Philadelphia International. What are your own personal thoughts on those labels and do you have any real stand out favourites which maybe never made the mix as they fell outside 1977
As you mentioned TK Disco was founded in 1976 and the output until 1979 was immense. A lot of classics came out in this area. Sadly they bankrupt in 1981.
Definitely one of my favorite is Voyage – Lady America (Danny Krivit Edit).
It's absolutely high energy with the piano chords and the snare is really slapping into your face.
The Label was also responsible for the first "disco version" 12" for DJs, which was Wild Honey "Top Of The Stairs" in 1976.
Favourite Disco Party
Do you have a disco party which that you have personally attended which inspired you in you your own DJ career and if so what was the spark?
That was not too long ago, when I really get the idea and the spirit of a proper Disco Party. It was at ADE in 2013, when Lumberjacks In Hell hosted a Party with Kon, Maurice Fulton, Rahaan & Marcel Vogel (Jon Morales showed up as a guest). This was an epic night with a lot of inspiring Disco Music and when Maurice Fulton dropped a Michael Jackson song in the middle of his set around 4 in the morning was unbelievable. His timing as a DJ is exceptionally good. This party showed me how it is possible to sound fresh also when you play mostly "old" music, because this music is timeless and made for the dancefloor, but on the other hand its musical music made by musicians.
When it comes to djing out how would you describe your own DJ style right now?
I would say its "positive Dance Music with a soulful touch"!
Which are currently the best disco parties in Berlin?
Good question; ask me after this summer 2022 😉
Can we expect a Delfonic Edits Part III any time soon?
Let´s see. First we have Illegal Jazz Vol. 6 in the pipeline and Im working on Vol. 7 already. Check it here: https://delfonic030.bandcamp.com/album/illegal-jazz-vol-6
My digital EP on Kampana Records is out now on Bandcamp. Some really nice grooves over there with a jazzy touch. Check it here: https://kampana.bandcamp.com/album/classics-2
Next Steps
What else can we expect from Delfonic in 2022?
We are already planning an event for the XJazz Festival vs Kryptox in Berlin in May and I just confirmed that I will play at Melt! Festival in June, which is a really great opportunity. I hope to get some nice Dj gigs again and otherwise I´m working on 4 remixes now for Sonar Kollektiv, Belabouche, On The Corner & Toy Tonics. They are a nice challenge for me to step forward with my production skills. And I have a nice project with a Band from Berlin in the pipeline, but I can´t tell more right now…
Thanks again for speaking to us Markus, it's always a pleasure to chat with you.
Likewise! Thank you so much for the support !
Order the EP here: https://www.deejay.de/Delfonic_Delfonic_Edit_Pt_II_NMD039_Vinyl__985134 & here: https://www.juno.co.uk/products/delfonic-edit-pt-ii/860661-01/ 
For more info on Delfonic and Nómada Records please check:
Defonic Facebook: https://www.facebook.com/delfonic/
Delfonic Soundcloud: https://soundcloud.com/delfonic
Delfonic Instagram: https://www.instagram.com/delfonic/
Nómada Records Facebook: https://www.facebook.com/nomadarec/
Nómada Records Soundcloud: https://soundcloud.com/nomadarec
Nómada Records Instagram: https://www.instagram.com/nomadarec/
Love this? Check out more from Delfonic HERE
Disco 1977 Worship Mix – Mixed By Delfonic – Tracklist
| | | | |
| --- | --- | --- | --- |
| 1 | Bumble Bee Unlimited | Everybody Dance | Mercury |
| 2 | T-Connection | Do What You Wanna Do | TK Records |
| 3 | Love & Kisses | I've found love | Casablanca |
| 4 | Ted Taylor | Ghetto Disco | TK Records |
| 5 | Peter Brown | Do Ya Wanna Get Funky With Me | TK Disco |
| 6 | The Players Association | Love Hangover (12″ Disco) | Vanguard Records |
| 7 | Mighty Clouds Of Joy | There's Love In The World (Tell the Lonely People) | ABC Records |
| 8 | Bill Brandon | We Fell in Love While Dancing | Unidisc |
| 9 | Billy Paul | Only The Strong Survive | Philadelphia International |
| 10 | Dexter Wansel | Disco Lights | Philadelphia International |
| 11 | MFSB | Love Is The Message (M+M Mix) / Tom Moulton | Philadelphia International |
| 12 | Teddy Pendergrass | You Can´t Hide From Yourself (Dimitri from Paris Super Disco Blend) | Philadelphia International |
| 13 | Lorraine Johnson | The More I Get, The More I Want | Prelude Records |
| 14 | Jesse Gould | Out Of Work | P&P Records |
| 15 | Cloud One | Disco Juice (Original 12" Mix) | P&P Records |
| 16 | War | Galaxy | MCA Records |
| 17 | Melba Moore | Just Another Link | Buddah Records |
| 18 | Chic | Dance, Dance, Dance (Yowsah, Yowsah, Yowsah) | Buddah Records |
| 19 | Claudja Barry | Sweet Dynamite (Todd Terje Edit) | Salsoul Records |
| 20 | The Chi-Lites | My First Mistake | Mercury |
| 21 | First Choice | Doctor Love (12″ Disco Mix by Tom Moulton) | Salsoul Records |
| 22 | Loleatta Holloway | Hit and Run (Original Walter Gibbons 12" mix) | Salsoul Records |
| 23 | Ashford & Simpson | Bourgie Bourgie | Warner Bros |
| 24 | G. Lawani | Africa, Land Of Soul | BBZ Productions |
| 25 | Barry Bryson | Going To The Party | Sunjam |
| 26 | Philadelphia Brite | Never Leave Me & I'll Never Leave You | Spector Records International |
| 27 | Caribou | Californie | Eurodisc |
| 28 | Marvin Gaye | Got To Give It Up | Tamla |
| 29 | Crown Heights Affair | Dancin' (Disco Mix) | De-Lite Records |
| 30 | Roy Ayers | Running Away (Club Mix) | Polydor |
| 31 | Brainstorm | Lovin' Is Really My Game (Full Length Version) | RCA Victor |
| 32 | T-Connection | On Fire | TK Records |
| 33 | Jimmy Bo Horne | Get Happy | TK Records |
| 34 | Timmy Thomas | Stone To The Bone | TK Records |
| 35 | King Sporty | keep on dancing | TK Disco |
| 36 | Miami | Disco Weekend | TK Disco |
| 37 | Carol Williams | Love Is You (Original 12" Mix) | Salsoul Records |
| 38 | Idris Muhammad | Tasty Cakes | Kudu |
| 39 | Michele | Disco Dance (Patrick Cowley Mix) | West End |
| 40 | Cerrone | Sweet Drums | Malligator |
| 41 | Donna Summer | I Feel Love (Original 12 Versiion) | Mercury |
Like what you hear? To help support LV Online buy us a coffee via Ko-FI. Click HERE
Tags:
david mancuso
,
Delfonic
,
disco
,
Nomada Recordings
,
TK Disco