Divine Situation – Born Again & Soul Revival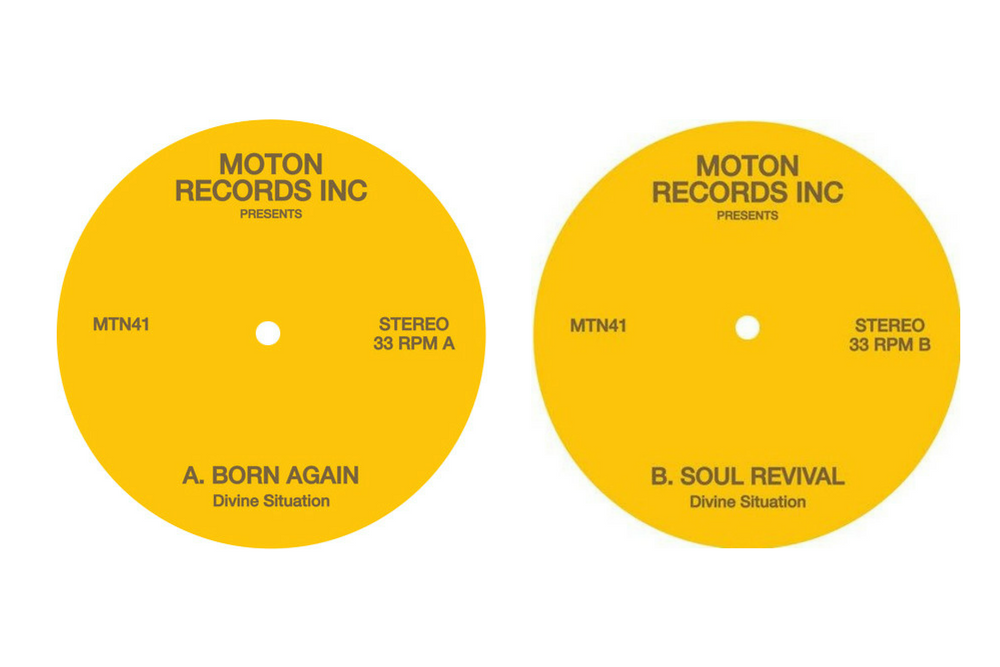 Divine Situation – Born Again & Soul Revival. (Moton 41).
This is truly superb release on the ever reliable Moton Records. Divine Situation are Greg Belson and Paulo Fulci and here they have crafted two superb gospel disco edits. A chance meeting at Glastonbury and a shared love of the craft of the edit led this knowledgeable duo to hit the studio to craft a slew of classy edits and this release is the first of those highly anticipated works. Many of our readers will recognise Greg Belson as the host of the excellent 'The Divine Chord Gospel Show' since 2011 on dublab.com as well as being a regular touring DJ meanwhile Paulo Fulci is a member of the veteran 'Situation' edit crew.
The A side 'Born Again' builds beautifully combining super solid drums and funk smothered bass with smooth percussion and lush stings, it's a powerful track with groove aplenty even before any hint of a vocal breaks and when it drops more than half way through the track what an incredible female vocal it is soaring over the track and providing a true feel good hands in the air moment. This is disco at it's absolute finest backed up with a top class edit which will take any dancefloor apart.
The B Side 'Soul Revival' is a little harder edged with more of a heavy funk lilt. The drums are punchy and combine with a shaker to drive the track along perfectly. This one is about the vocal from the outset and it's an other monster of a vocal performance. Meanwhile sitting in the back ground is an absolute peach of a guitar line which adds the special sauce to the track. Another sure fire club smash.
2 utterly compelling edits from producers at the height of their game.
You can buy the release HERE
Tags:
disco
,
divine situation
,
edit
,
gospel
,
greg belson
,
paulo fulci