LV Premier – Flair – Chasin The Rain [Heels & Souls]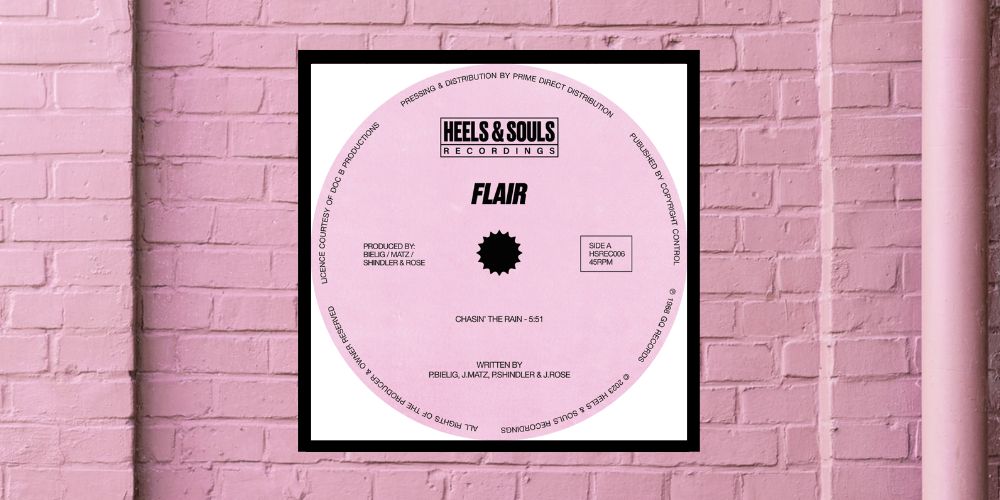 Heels and Souls are rapidly becoming a go-to re-issue label with recent classy releases for Pilgrims of the Mind, The Sound Stealers, Special Touch and Gold In the Shade.
Flairs Chasin The Rain is well worth a second glimpse of light. Despite being a UK Street Soul Classic from 1988 the track was actually heavily German in origin being mixed and mastered at the famous Jankowski studio in Stuttgart by three Germans with Janet Rose (aka UK Soul queen JB Rose) on vocal duties.
That aside it's stellar chunky bass, synth licks and UK synth-pop meets 80's Groove sensibilities make this a stand out of the genre. Originally released on UK imprint Champion this one never received the love it should have first time round from the label so it's a welcome return in 2023 and if there is any justice will definitely see some heavy DJ support across the globe.
The master tapes of this one were nowhere to be found, so hats of to Sean P who ripped and restored a mint copy of the record, with award-winning mastering engineer Cicely Balston giving it the once over in the studio for a lovely warm and crisp sound.
Check out the premier of the A side vocal cut here but also make sure you check out the wicked dub cut on the flip.
Make sure you grab the 12″ via: https://www.juno.co.uk/products/flair-chasin-the-rain-vinyl/956619-01/
For more info on Heels & Souls check:
Heels & Souls Facebook: https://www.facebook.com/heelsandsouls88
Heels & Souls Instagram https://www.instagram.com/heelsandsouls
Heels & Souls Twitter: https://twitter.com/Heelsnsouls
Love this? Check out more from Heels & Souls HERE
Like what you hear? To help support LV Online buy us a coffee via Ko-FI. Click HERE
Tags:
Heels & Souls