Flat White Chris – Le Visiteur Featured Artist and Mixtape 064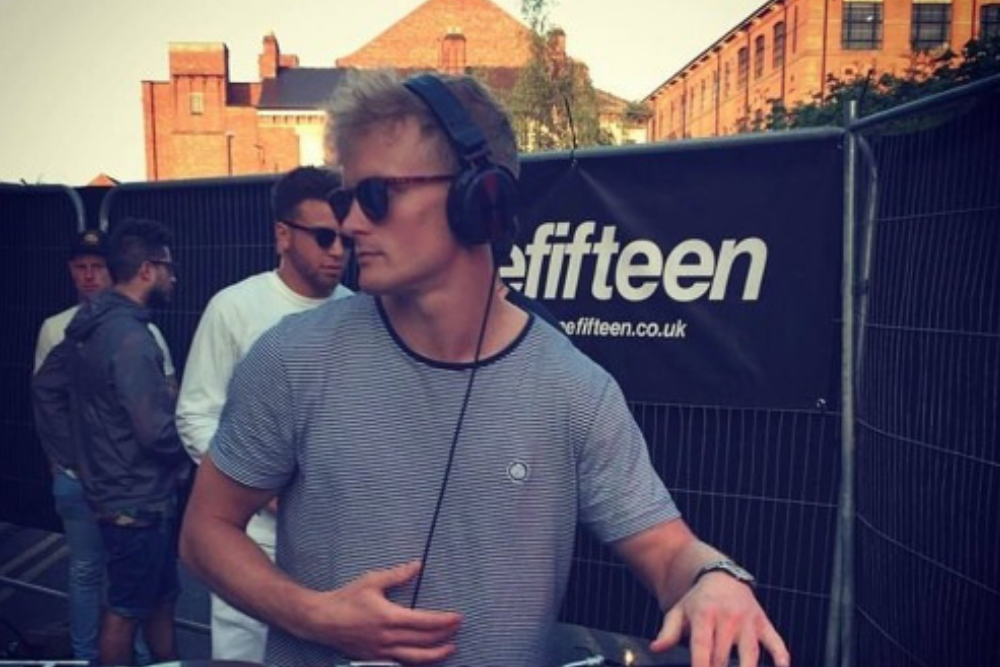 Flat White Chris – Le Visiteur Featured Artist and Mixtape 064
Flat White Records has been a bit of a revelation since its launch in early 2018 with stand out releases from Skygaze, Felipe Gordon, Paul Rudder & Hurlee, A Most Wanted Man as well as the brilliant new compilation Party Beans Vol 1. We have featured the label heavily on Le Visiteur Online with several premiers which you can check HERE so we thought that we would track down label boss Flat White Chris for a chat about the label, his own musical journey and his home town of Leicester.
Chris is an extremely talented DJ in his own right and put together a top class mix for us which you can check below while you are checking out the interview. Make sure you give it a share on Soundcloud and help us spread the love.
Hi there Chris,
Thanks for speaking to us today.
You are behind the Flat White records label which despite only being less than two years old has already had a string of superb releases. What was your path towards running a label and what is the ethos behind Flat White Records the label?
As is the case with a lot of people in the "industry", I'm here because I love music and want to contribute in some way. Whether that is by DJ'ing, putting on events, selling records or starting a label, I feel like each little contribution will help the scene grow somewhere, in some way. Since the beginning, the thought and motivation behind Flat White Records has always been to promote and share good music.
Which four tracks on the label are you most proud of and why?
Skygaze – Empty Dancefloor
With this being the first release on the label, it will always hold a special place in my heart. I was actually touring his native Spain for a month at the time and came across a Skygaze record in Riverette Records, Madrid (it was a release on their label actually). He's a very talented producer, and one that I'm happy to have on board.
Felipe Gordon – Deep Fried Banana ft. Vagabundos Club Social
Working with Felipe has been a very enjoyable experience. He's always open to explaining certain areas of his process, sharing ideas/feedback as well as being a very genuine guy. On the back of this release, I hosted Felipe in Leicester as part of his European tour earlier this year.
Paul Rudder & Hurlee – Les Belles Dames (Danvers Remix)
This EP did extremely well on the promo side of things, however it was the remix on here that does it for me. I am a huge fan of the brokenbeat sound, and this "UK" sound is something that I want to try and incorporate into the label where I can. Myself and Joe have remained in touch and he will be joining me in Leicester for an event as one half of his joint project, Kassian.
A Most Wanted Man – Johnny Bassline (Flat White Chris Remix)
All being that I have released it myself, this is my first piece of work that has gone onto vinyl. That still counts right?
You recently had a huge international viral hit with Hurlee and Paul Rudder's 'Got To Be' how did that come about and were you surprised at the success of the campaign?
It came as a huge surprise as the video they dubbed the music over hit nearly 1 million views! I work very closely with Jonna at Unveil PR, and it was through him that I was able to get a Mixmag premiere, however the video was an unexpected bonus.
What tips do you have for anyone thinking about launching their own vinyl record label?
Stop thinking about doing it, and do it! I can honestly say that I was thinking about starting a label for years, even before I started the shop in 2016. I think you just have to accept that it may be financially tough for a label that's just starting out, however as long as you're prepared for that, there's absolutely nothing stopping you. Oh, and make sure the music you're putting out is music that you believe in. That way you'll be determined to push it in all the right directions.
As you previously mentioned, before you launched the record label you started your own online record store which is also called Flat White Records. Please tell us a little about that business and what is the most expensive record that you have ever sold?
FWR starting selling online back in 2016. I had a website that I was selling through, I was attending fairs and my inventory was growing by the week. I actually got to the stage where it consumed a lot of my time which was tough to juggle with "real life". I now sell on Discogs mainly, along with the occasional fair and prearranged drop in visits. Collecting records has always been a passion of mine, and the dream initially was to work towards opening a coffee / record shop (hence the name – Flat White Records). This dream is still just a dream for now, however I'm hoping with the profile of the label increasing, everything is moving in the right direction. I sell a lot of brand new records so the mark up on those isn't exactly ground breaking, however I enjoy pushing new music and wouldn't change it. I did strike lucky around a year ago and came across a nice Northern Soul collection, of which a few of the records fetched a decent amount.
The record resale business is really buoyant at the moment, have you been surprised at the strength of the industry and what do you think keeps driving its growth year on year?
Yeah it's great for everyone involved and I really hope it continues to grow, however I wouldn't say that I'm surprised. My opinion is that people are maybe getting sick of spending money on music and not having anything physical to show for it. Records are all individual works of art, and people appreciate this more than an MP3 file that disappears into their iTunes library.
Please can you give us 3 tracks which you would say have directly influenced your own musical journey?
It's tough to pick just 3, but here goes…
Jaz Z – Can't Knock The Hustle
This Jay-Z album was huge for me (along with Nas – Illmatic). This song in particular had me hooked for years and sparked a real interest in East Coast Hip Hop for me. Through my research I was able to start recognising the art of sampling, which is ever present in a lot of house music.
The O'Jays – Back Stabbers
I remember going on a family holiday when I was young (maybe about 10/11 years old) and somebody leaving a CD in our hire car. It was a compilation that included this gem, and it has stuck with me ever since.
Cassius – Jack Rock
The Cassius discography is something that I will be able to constantly revisit and never grow tired of. This track in particular is one that really opened my eyes and pushed me into to exploring more electronic music. RIP Zdar.
You are based in Leicester which has a vibrant scene. What parties, venues and artists stand out for you at the moment in the city?
I have to start with my own event, Flat White Fridays. In October 2018 I gained a weekly residency at a new outdoor spot in Leicester, a combined space between Apres Lounge and Café Bruxelles. After months of hard work by myself, the owner, the Saturday collective (Superfly) and the staff, the appropriately nicknamed "Garden Of Dreams" is one of the best spots to hear good music in Leicester. If you're after a more "big room" club experience, the At One events are great for that, consistently filling out Dryden Street Social by bringing big names to the city such as Detroit Swindle, Horse Meat Disco and Ross From Friends to name a few. Other Leicester labels/collectives to look out for are City Fly and The Groove Stage.
It definitely does have a vibrant scene, and I'm glad this is getting recognized. Around two years ago we lost the venue that was the main outlet for underground and electronic music in the city, Sub8ten, or Sophbeck as it was known to most. After a period of panic and worry amongst promoters and collectives, we now have a lot of good guys, doing good things.
If you were asked to collate your perfect club night from artists that you have played alongside over the last few years who would you book and why?
I could happily pick a few of the Leicester heads for this one, as we are all very much on the same wavelength with our soulful Leicester brand of house music. HOWEVER, I'll attempt a less boring answer..
Kez YM – He has been a consistent figure on the Leicester scene with the City Fly boys flying him over from Berlin on many an occasion. The guy is a genius on the decks. His song selection keeps everyone guessing which makes for a very interesting experience.
Felipe Gordon – Following his Leicester debut earlier this year, it was evident that the guy has skills. Felipe's "feel good" vibes would perfectly fit with any lineup I was to curate.
Jeremy Underground – Last year as part of the Leicester based "The Groove Stage" collective, we booked Jeremy. A dream come true for most as we've spent years following him around. The 90's house sound that he quite often pioneers is what I take pride in collecting, listening to and playing the most.
When you are djing what is your 'if all else fails track'?
It depends on the environment, however recently I've been playing "Bob Sinclar – Gym Tonic" a classic that is always received well (to say the least).
What else can we expect from Flat White Chris and Flat White Records in 2019?
For the label there will be another two vinyl release before the end of the year (if all goes to plan). For myself, I will continue to push my weekly label night in Leicester as well as gigs elsewhere. I'll hopefully have some music of my own out by the end of the year too. There's also talk of an overseas "Flat White mini-tour" leading into 2020. Watch this space!
And finally, please can you give us 4 tips for a great day out in Leicester. A place to buy records, a place to eat, a place to drink and a place to dance?
With pleasure.
Wax – Aside from dropping in to FWR, there is a really good record shop called Out Of Joint. They've been open for just over a year and are definitely worth checking out.
Food – Look no further than Barcelonetta. Amazing Spanish Tapas restaurant that also do an outstanding brunch on the weekends.
Drink – I like a pint, so I'd recommend the Queens Road Tap if you're looking for some decent ales.
Dance – Look no further than the appropriately coined "Garden of Dreams". This is the home of "Flat White Fridays" and this ever developing spot is perfect for those who like to GET DOWN.
For more info please check:
Facebook: www.facebook.com/flatwhiterecords
Soundcloud: https://soundcloud.com/flatwhiterecords
Bandcamp: www.bandcamp.com/flatwhiterecords
Tags:
city fly
,
Flat White Chris
,
flat white records
,
house music
,
leicester
,
Sophbeck