Franz Matthews & Local Suicide present Larry Levant – Psychedelic Disco From The Eastern Mediterranean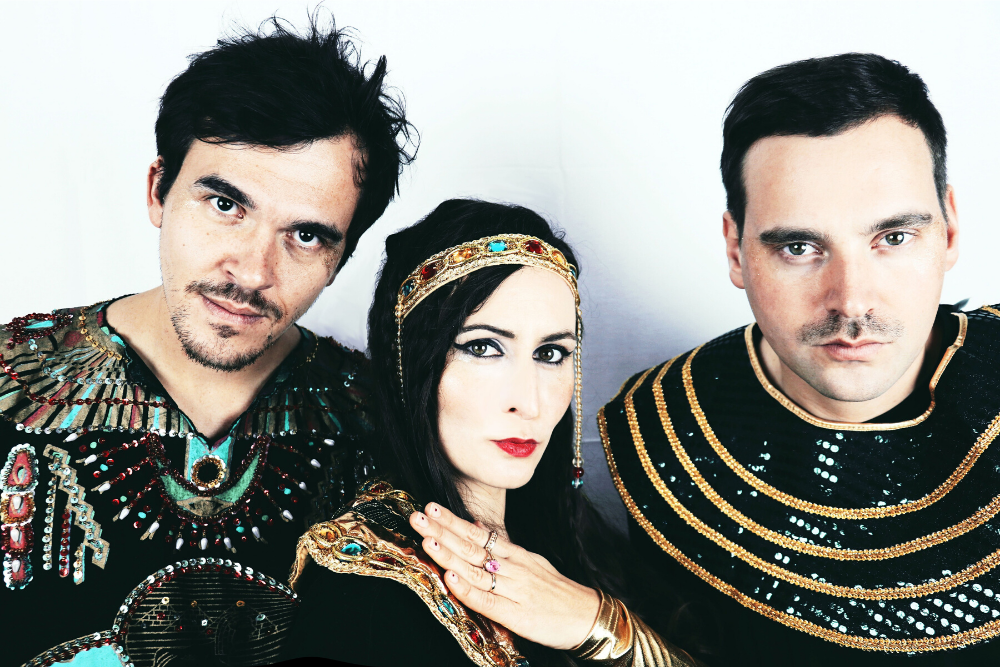 Franz Matthews & Local Suicide present Larry Levant – Psychedelic Disco From The Eastern Mediterranean
When their single Tutan Jamon dropped way back in March on Eskimo it was clear that that Franz Matthews & Local Suicide had a very singular musical vision combining heavy groove packed electronica with the enigmatic and psychedelic tones of North Africa. It was a vision which would see them catch the attention of the press and fans alike leading to a hugely positive critical response.
The clamour for the track has been such that Eskimo have revisited it bringing in a host of top class remix talent including Manfredas, Chaim and NTEIBINT. It also features The Oddness, who is just off the back of a very tasty Satin Jackets Remix.
The EP covers all bases from the straight to the dancefloor remixes of Chaim, to the indispenisble groove of The Oddness. Before moving swiflty onwards via Mandredas's Acidic tech to NTEIBINT's hypnotic deep groove.
It's a blissful package which has taken this great track onto an even bigger audience and a multitude of dancefloors around the globe. It's out now and you can check the remixes below and grab the remix EP HERE
To celebrate this excellent release we asked Franz Matthews & Local Suicide to put together a playlist for us of some of their favourite Eastern Mediterranean flavoured Psychedelic Disco tracks. Check out their 10 picks below!
Franz Matthews & Local Suicide present Larry Levant – Psychedelic Disco From The Eastern Mediterranean
Franz Matthews & Local Suicide – Tutan Jamon (Chaim & Ozart Remix)
Franz Matthews & Local Suicide: A massive remix of Tutan Jamon by Tel Aviv's Chaim and Ozart that adds even more Middle Eastern vibes to the original – to the point that you actually feel like you're in the middle of a souk looking at a snake charmer hypnotizing a cobra.
Erkut Taçkın – Sevmek İstiyorum (Mehmet Aslan Rework)
Franz Matthews: I love Memeth Aslan's work. I discovered him through this track and this one always gets the crowd in a funny & weird mood when I play it, funny and weird are always the best dance moves ever!
Acid Hamam & Nasiri – Black Harmala Disko Club
Local Suicide: We've been fans of Richard Rossa long before he did a brilliant remix for our 2014 debut EP 'We Can Go Everywhere'. The latest "Disco Harmala" EP of his side project Acid Haman with Nasiri is a masterpiece and comes with banging remixes by Leonor and Cornelius Doctor & Tushen Rai. Out now on Tom Tom Disco.
Nese Karabocek – Yali Yali (Todd Terje Edit)
Franz Matthews: This is kind of a classic, but it's also an absolute fave of mine and so it had to be included here. Actually, around the same time the remix came out, we went into a record shop with my pals from Club Bizarre who were in Berlin for a gig. Sam bought the original version without remembering that he'd heard the Todd Terje Edit.
Once we got back to my place, Sam plays us the vinyl and tells us "Guys, I think I'm gonna do an edit of this Turkish track, the voice is mind blowing". At that moment, Sam's music partner Phil starts laughing and said "Dude, Todd Terje just made an edit of it, I played it yesterday at our DJ set…" Cue much laughter from the audience!
Bendaly Family – Do You Love Me?
Local Suicide: Edward Bendaly and his twelve (!) children formed a band in the 70's in Lebanon and toured the world. The video for the song was filmed in 1978 by the beach in Kuwait when the family visited the country for the first time. Pure bliss!
World Wild Web – From Ruins
Franz Matthews: World Wild Web is a good friend, he always uses these weird and bold sounds. This track has a very spontaneous and, in a good sense, « childish » feeling. I love it! We're currently working together on the production of his upcoming EP which will feature psychedelic Indian Ragas from a great Indian singer. That should be out in a bit on my HIFI/LOFI label, so more on that very soon…
Franz Matthews & Local Suicide – Meditation (NTEIBINT Remix)
Franz Matthews: I first fell in "LOVE" with Greek producer NTEIBINT when I discovered his track of the same name, which also came out on Eskimo, a little while ago, so of course I was super excited when we got to have him remix 'Meditation'. As ever he's done an amazing job by bringing it into even more cosmic territories!
Acid Arab – Club DZ
Local Suicide: Acid Arab's debut album "Musique de France" blew our minds in 2016 and sparked our interest into the Middle Eastern disco-edit scene. Now they are back this autumn with a new album "Jdid" and we've already been playing many tracks from the it over the past few months. Club DZ is the first single and definitely one of our faves!
Red Axes – Ho Chi Minh (Beo Dat May Troi feat. HCMC Students)
Franz Matthews: This one doesn't just cross countries but an entire continent. This EP by Israeli duo Red Axes features only Vietnamese instruments and vocalists, and it is the bomb. I've had it ON REPEAT since it's out.
Nikos Papazoglou – Pote Voudas, Pote Goudas
Local Suicide: Written by Rasoulis and performed for the first time in 1986 by Papazoglou, two legendary figures in Greek music, the song is one of the most beloved "tsiftetelia" (a kind of music that evolved to a particular dance rhythm back in Ancient Greece and Turkey).
The lyrics are about life and how Koudas – a Greek football player who entered the Guinness Records for participating at 504 games from age 16 to 49 – and Buddha took life as a game.
Franz Matthews & Local Suicide – Tutan Jamon (Manfredas Remix)
Local Suicide: Finally I'm sorry but we had to include another track from our recent EP and here Lithuanian tastemaker Manfredas remixes Tutan Jamon. The result is just pure psychedelic epicness, a heady way to end this journey.
For more info please check:
Eskimo www: http://www.eskimorecordings.be
Eskimo Soundcloud: http://soundcloud.com/eskimorecordings
Eskimo Facebook: http://www.facebook.com/eskimorecordings
Eskimo Insta: https://www.instagram.com/eskimorecordings/
Local Suicide Facebook: http://facebook.com/localsuicide
Local Suicide Soundcloud: https://soundcloud.com/localsuicide
Franz Matthews Facebook: https://www.facebook.com/franzmatthews
Franz Matthews Soundcloud: https://soundcloud.com/franz-matthews
Tags:
eskimo recordings
,
Franz Matthews & Local Suicide
,
Todd Terje
,
todd TerjeTodd TerjeTodd Terje