FSQ & Dolette McDonald – Le Visiteur Featured Artists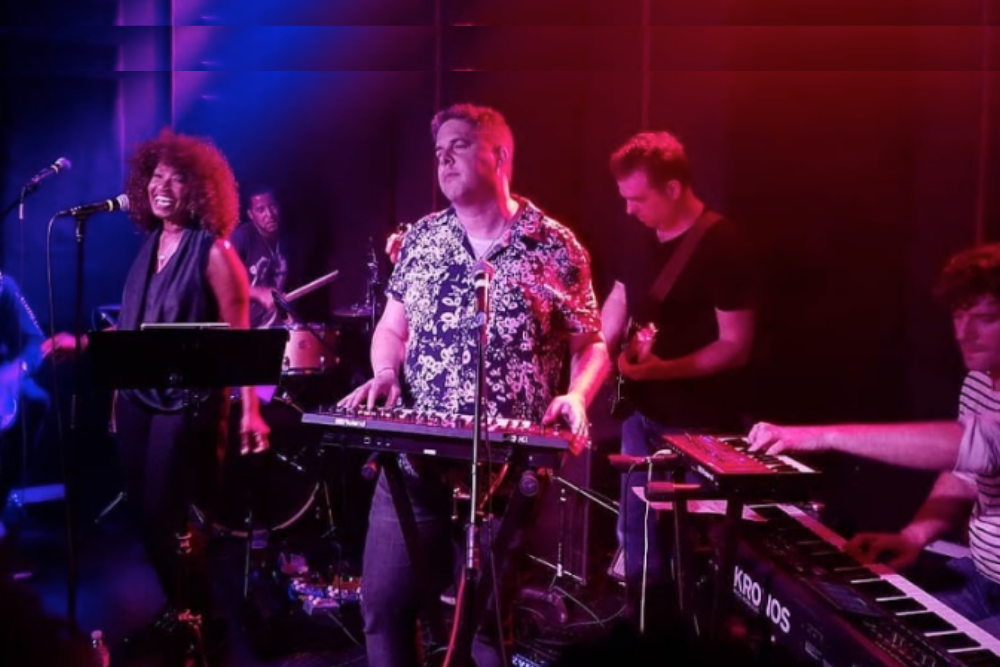 FSQ & Dolette McDonald – Le Visiteur Featured Artists
FSQ is a collaborative project originally formed by Chuck "Da Fonk" Fishman and the sadly missed Sa'D "The Hourchild" Ali in 2013. It features a large list of producers and collaborators with strong links to both Soul Clap and George Clinton's Parliament Funkadelic. They have just released a superb EP with Midnight Riot where they cover Talking Heads 1979 track I Zimbra, a track which they have made their own. Vocalist on the track is legendary singer Dolette McDonald who has sung with some of the greatest artists ever to grace the stage including The Police, The Rolling Stones, Chic and Talking Heads.
We absolutely loved this release so we tracked down Chuck and Dolette for a chat about the release, their careers, New York City George Clinton and to get some studio tips from them. It's a brilliant and in depth interview. You can also check out the premier of the excellent Alan Dixon remix of I Zimbra below. You can buy the release via Traxsource HERE
Hi there Chuck & Dolette, thank you for speaking to us today.
For our readers who haven't come across your music before how would you describe the musical style of FSQ?
CHUCK: We really put it in our name = FSQ stands for "Funk Style Quality". "Funk" is the root of everything we do – every track – whether it's an FSQ original or a remix production always starts with that.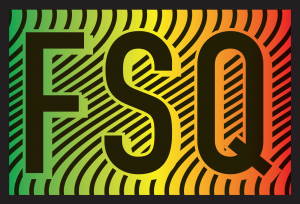 But there are many "Styles" of funk – you could go back to Northern Soul and do a lush Motown type production, which we've done in remixes for our record label mates like Nick Monaco, and Life on Planets, and other artists like World's End Press.
Most of our original productions stay on a disco funk style, but I would say we are emulating the music I grew up on – that post punk, funky new wave sound. I draw from some of my favourite bands from my childhood: Art of Noise, Duran Duran, Yello, Blancmange. Some people call it E-Funk, because of our association with our label bosses Soul Clap who coined the term.
Despite knowing our influences, the end result is harder to classify for today's listeners who have ears more attuned towards micro-genres. I have played FSQ for people and they say oh, "you guys are nu-disco" or "wow this is great deep house music". I wouldn't be surprised to see our "I Zimbra" cover land on the Afro-House charts. One thing we do to bring clarity: we guide people to our style intention in our productions, by actually listing specific genres in the FSQ track titles.
It's mad funny to me the process of describing music, if I had my way we would just call it all dance music, because in the 1980s when I was growing up, everything popular and beyond was all lumped together. Philadelphia, where I grew up, likes to dance and rock and that passion was reflected on the radio and in the streets. An African-American oriented R&B radio station in Philadelphia in 1983 could easily play Tom Tom Club, while the local college rock radio station WKDU would play George Clinton's "Atomic Dog" over and over again. And then mind you, after all that airplay, I'm thinking Tom Tom Club is an all-black funk band and that "Atomic Dog" is some wacky new wave song by Thomas Dolby. You had to go gut check where these things with visits to the record store and by reading deep articles from the overseas music press like The Face. Still, everything was mixed up, even in aisles of Sound of Market, my go to record store.
We think that it's one of FSQ's best superpowers – that we can easily flex various styles. For Nick Monaco's "Baby Face" FSQ produced an over the top disco remix with 40 tracks of an orchestra and string section and it clocks in at over 9 minutes. But we also remixed "Baby Face" in a reggae dub style of our own that we label "Caribbean Disco". We really love Sly & Robbie and how they crossed into the world of new wave in the early 80s so we draw upon their production style for "Caribbean Disco".
FSQ Caribbean Disco Playlist
Finally, in our name is the word "quality" and we stick to this ethos. Everything FSQ cuts needs to be fully produced, no out of the box drum sounds, live musicians, it's a very warm sound, fully mastered at 44.1 khz, 16 bit for AIFF or WAV. I hate mp3s, but alas that's where the industry has moved; regardless file format our music is going to sound great and of high quality. FSQ has a strict policy about not releasing anything before it's totally ready, no early listens, no demos. Everything has to be a finished product. I learned about this approach from FSQ's GKoop who used to warn me about sending outtracks before they were mastered and now it's baked into our process in terms of releasing music. If anyone in FSQ leaks music, they will get their head chopped (hahah Chas Bronz is still with us however).
How did you both start in the industry and what would you say are your best 2 moments so far in your careers?
DOLETTE:I started singing Gospel which morphed into session singing during the disco era and that eventually morphed into an amazing career performing and recording background for artists and bands like Nona Hendryx, Gang of Four, The Police, Talking Heads, Laurie Anderson, Sting, Steve Winwood, Don Henley, Chic, Rolling Stones and Tears for Fears to name a few.
My best 2 moments so far was probably my first gig with Talking Heads which happened to be at a festival in Canada in front of 80,000, being flown in by helicopter to perform. That was pretty heady stuff for a girl from Newark, New Jersey. The next favorite moment was when Sting allowed me to perform one of my original songs at the Wiltern Theatre in Los Angeles.
CHUCK: I was just drawn to music, and music videos were just hitting as a kid so I was really into how these groups were packaging themselves. I wanted to be just like Nick Rhodes (of Duran Duran) so decided on a Roland Juno-6 and Yamaha Personal Studio set up for my bar mitzvah, my 13th birthday present. I produced some albums as tapecassettes as a teenager, and it's crazy someone recently found me on Facebook and showed me they still had the tapes, they were very produced and organized. I was heavy into creating new wave music as close as I could get to what I was hearing. I collected every new wave 12" I could get out of cutting adverts from The Face and bringing them to another record store called Third Street Jazz and Rock.
As I moved forward from my teens in to my early twenties, my passion for new wave transitioned towards a fondness for late eighties and early nineties hip hop. Once I realized these rap tunes were all based on samples, I began an in-depth study of the real heavy funk of James Brown and George Clinton and Parliament Funkadelic (P-Funk).
When I was studying at university, I would go into Albums on the Hill, in Boulder, Colorado and buy every P-Funk import vinyl and CD that would be coming each week. P-Funk even had its own section in the record store and I wonder if that was created just to fill my demand for it. So, people were aware of my love of funk, and started calling me "Chuck Da Fonk" (with an o for extra funkiness). One day, Andy Schneidkraut, the owner of the store, told me he was picking up George Clinton at the airport for an in-store appearance. I joined Andy on the ride, and brought all my records for George to sign. By this point in my funk studies, I knew George and the P-Funk catalogue inside and outside, all the way back to Clinton's 1959 doo-wop debut as the Parliaments, a 45rpm record called "Party Boys". I talked George's ear off upon meeting him and discussed the ins and outs of his music. Right then, he exclaimed, "well you are 'the P-Funk Encyclopedia'". Something about this exchange brought on a brief spell of chutzpah and I told George I was going to sit in with P-Funk that night. He retorted, "yeah right, get the fuck outta here with that idea".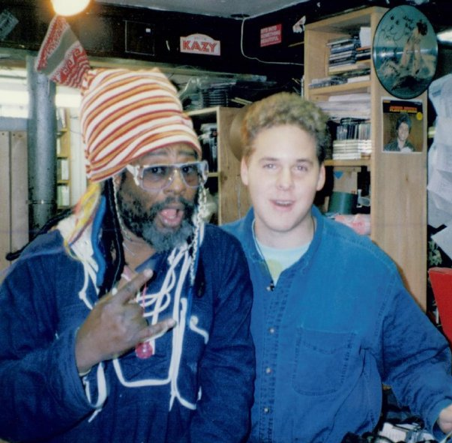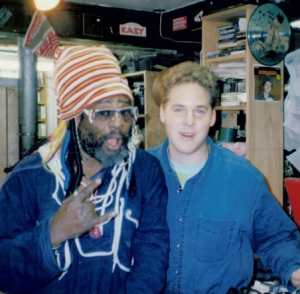 George Clinton and Chuck Fishman, 1993 @ Albums on the Hill Boulder
So that didn't happen on that date, but the next year, 1994, George came back to Colorado for a 5-nightrun at the Fox Theatre. I knew the staff at the Fox and hung out backstage and made several friends in the band from the 30 or so members of P-Funk. By the end of the P-Funk Boulder run, I had come on stage a few times to sing with the band. Ha, George just rolled with it and he loved my on-stage dancing antics. George's son Tracey Lewis Clinton, aka Trey Lewd, and I began working on a whole routine for the show together. And so, began a real focus on music for me. By 1995, I quit my job as a cartographer and was touring full time with P-Funk. You asked about best two moments in my career: I still try and get to perform with George Clinton and P-Funk whenever I can. It's always the best moment for me, it never gets old. Especially if we get time in the song where I can hold George's attention on stage and really go off, dancing and singing. He just grins from ear to ear. This usually happens ironically on that song from my childhood that I originally thought belonged to Thomas Dolby, LOL, "Atomic Dog".
P-Funk with Chuck Da Fonk on Atomic Dog, 2003:
My parents were a little bit concerned about me being on the road as a 23-year-old, so Sa'd "The Hourchild" Ali, George's nephew and road manager was assigned to ride along with me on the tour as my minder. Years later, Sa'd who I knew to be this quiet gangster type, had become the ultimate hype man, on social media and offline, so I recruited him to join FSQ in 2013 with this purpose in mind.
Little did I know, Sa'd had an important career apart from P-Funk as an DJ and producer in both the hip-hop and house music worlds. In fact, he road managed house legends Fingers Inc (Larry Heard, Robert Owens, Ron Wilson) on their first European tour in the late eighties. So Sa'd became much more than a hype man, he was my FSQ DJ partner and my guide to house music classics and rarities. Sa'd also ran radio promotions in the late 80s for Tommy Boy Records, which at the time was the prominent hip-hop record label.
Sa'd and I had many special moments together as FSQ before he passed away April 2018 of heart failure. Together we shepherded George Clinton, Sly Stone and Nona Hendryx towards collaborations with Soul Clap, which were no easy feats but came off sounding great on record.
Sa'd The Hourchild Ali Chronicles
Chuck FSQ is a real collaborative project with many producers involved. How do the dynamics work with so many people helping to create the music? Do you do everything online or do you often get together to flesh tracks out?
CHUCK: FSQ started just with me and seven-time Grammy nominated producer GKoop who's based in Oakland, California back in 2013 and grew from there. GKoop is mainly known for hip hop production but he can do so much on so many instruments.
GKoop Profile on Complex.com – Musicians Behind Favorite Songs Are Coming For Their Credit
https://www.complex.com/music/2018/07/musicians-behind-favorite-songs-coming-for-their-credit/
And now that we've grown in size, yes, it's a lot of back and forth. Ideally for 2020, I want to do a Kickstarter where we fund an FSQ trip to Eddy Grant's Barbados recording studio, Blue Wave Studios and get all the main FSQ members in a room: Chas Bronz, One Era, GKoop and myself, Chuck Da Fonk. I can't even imagine all that talent in one room! We are all multi instrumentalists and producers; Chas and Koop are Berklee College of Music graduates; One Era works at Steve Weiss Music, one of the world's premiere sellers of percussion instruments.
More producer / musicians in FSQ means more music and output, which is great for the fans. But it's not like FSQ is a collective of solo outputs, it is a true collaborative effort on each production. And no FSQ record goes out the door with at least two of us on the recording which results in a lush sound. Most records at the least have GKoop, Chas Bronz, One Era, and myself touching the work.
I'll give you a recent example: Charlie Levine (Lonely C) of Soul Clap recently asked us to remix "True" from hisdebut album "Charles and Tribulations". I started the production in New York with Morgan Wiley who is also part of FSQ among other groups, even Lonely C's live band. We call Morgan the "band slut" but he's a true mastermind studio engineer. Morgan is known mainly for his role as a co-founder and keyboard player in the disco troop Midnight Magic. For the FSQ "True" remix work, Morgan and I brought in original Funkadelic / P-Funk / Motown bass player Billy Bass Nelson and we wrote a new bass line and guitar parts around Lonely's C original parts.
I sent the remix session myself, Morgan and Billy worked on, to GKoop in Oakland and he came up with an extended and adventurous spaced out remix with Koop's own soaring guitar and synth solos above Billy Bass's more straight-ahead funk lines. And the icing on the cake is GKoop brought in P-Funk vocalist Kim Manning to accompany Lonely C's vocals with new operatic singing.
Charlie was blown away by the result which we called the "FSQ Funkadelic Touch Remix" as a nod to Billy Bass's participation and its overall vibe which does harken back to early Funkadelic records.
Meanwhile, as much as I loved what GKoop had done, and I knew Charlie was beyond impressed, I felt like we needed another pass at the remix that would take Lonely C's "True" towards a more club friendly vibe.
So, I brought in drummer Andrew Marsh for a disco back beat, and sent our work onto FSQ's One Era in Philadelphia. I asked One Era to take this in a Caribbean Disco direction, and he added
staccato percussion, rhythmic and bright synth lines, and brought Billy Bass' funk guitar chords up in the remix. Oh, and the remix has that ever important Arp Solina synth which is a trademark in our sound.
The end result is we have two FSQ remixes for Lonely C's "True". We spin the "Funkadelic Touch Remix" in dark rooms in the East Village NYC when we are presenting a more old school and moody funk feeling. The True "Caribbean Disco Remix" has been getting a real reaction in clubs; we've played it in DC and Miami, and of course New York City to packed dance floors. I think "True" remix is a great example of the FSQ process and how we work together. Chas Bronz even participated in the work, but ultimately his amazing additions didn't make the final cuts. That's one downside of having so many players ready to participate, not every effort makes it to fruition.
Dolette what is it like working with Chuck?
DOLETTE: Working with Chuck is pure joy. We have a great relationship and I think that comes across in the work. It's not tedious. He allows me a creative freedom that I haven't experienced until now. Don't get me wrong, he's VERY involved, but in a way that allows a certain artistic freedom. We also just enjoy each other that has developed into a friendship. That's rare for me and pretty cool which allows our collaborations to feel less like work and more like fun.
Chuck what are the qualities that Dolette brings to FSQ as far as recording and playing live are concerned?
CHUCK: In advance of the "I Zimbra" release I spent hours studying Dolette McDonald catalog, in a way that goes deeper of what I already knew of Dolette. I knew her particular performances like "I Zimbra" live with the Talking Heads, or "Smoke Rings" live with Laurie Anderson where you can really hear Dolette come through as she's almost a featured vocalist.
In my review, I combed through over 100 vocal credits using Discogs.com as my guide, and looked up and listened to every song. This takes "ear focus", because on many of these productions, Dolette's voice is mixed in a group of other background vocalists. I will say you will find her voice set in a higher register than most soul singers you may be familiar with, but she also has a great range.
It also blows my mind that Dolette McDonald was singing on many of my favourite new wave records. I maybe didn't realize at the time I was listening to Dolette on a Blancmange or Cabaret Voltaire 12" (she appears on both). In my research, I found Dolette's first ever recording, a gospel soul record from 1972 called "Add A Little Love" by Gerri Granger. Dolette wasn't sure about her participation as a background vocalist on such a record, but because I now know the qualities of her voice, I was like "yes Dolette, wait until you hear this, it's you it's you it's you!"
"Add A Little Love" by Gerri Granger
So how do I describe that trademark Dolette vocal quality? I wrote an essay called the "Incomparable Dolette McDonald" in tribute to her and here's what I said in reference to Dolette's first solo outing "Xtra Special" a 1982 release, that is actually a cover with the original by UK funk group Atmosfear.
People really associate Dolette with this track which is just a wonderful showcase for her crisp, ultra-clear soulful, and well enunciated vocals. She sometimes applies the slightest vibrato to her voice without bending the words, and you can hear that trademark style on "Xtra Special". To me that's really her thing — you'll never ever mishear lyrics sung by Dolette. The words are important: Dolette is going to sing you a story and totally own any song.
Dolette McDonald -Xtra Special
In 2014, I brought Dolette a very unique set of lyrics to sing for FSQ's "Shaking My Damn Head (SMDH)". She was in Florida and I wasn't in the studio with her when she recorded. How would you arrange such lyrics? I had no idea, I was relying on Dolette! And the lyrics are out there: SMDH is a song about online social media harassment and politics!! Yet she just sung it so effortlessly. SMDH turned out getting 10/10 on Mixmag and Disco song of the month. Alas, this is Dolette – beyond capable, a world class talent. She recently repeated this feat singing a song for FSQ called "What They Don't Know" which is about "those who party way into the after-hours to escape their problems at home". Again, she nailed it! This song appears on the upcoming FSQ album, "Reprise Tonight" (Soul Clap Records)
FSQ featuring Dolette McDonald -Shaking My Damn Head
Dolette sings very specific lyrics by likes of those farther afield than what you may know – Jerry Harrison (also Talking Heads), Youssou D'Nour, Yukihiro Takahashi (Yellow Magic Orchestra), Michael Zager Band, Afro Cuban Band, Tim Scott, so many other ones. And on Busta Jones' 1980 album, Busta Jones! Busta is the bassist who also performed with the Talking Heads is the person that helped Dolette's career grow in the very beginning.
To capture "The Spirit of Dolette", FSQ compiled a playlist of her works across scores of artists. This is a Spotify playlist of what's commercially available there, and it's about 4 hours' worth of the specific selections from her large catalog. Now many of her works are more rare, so I had to resort to YouTube to find and curate those songs, and that will be part 2 of this playlist.
The Spirit of Dolette McDonald – A Spotify Playlist by FSQ – Click HERE
Dolette is fantastic to work with beyond the studio. Live – every note from Dolette is on key, and each word is delivered into the mix, precise and clear. You see why so many top tier artists rely on her to carry out their lyrics with both exactness and soul. For instance, I forgot that recently before his death, Dolette toured with Mexican superstar Juan Gabriel.
We've had FSQ parties where Dolette's performing against our recorded productions, e.g. track dates, and she sounds great in this forum. Dolette delivered the goods at FSQ club performances, presenting our songs at world's famous Cielo (RIP) in New York City, and also at Miami Music Week for Soul Clap's House of EFunk party at the Electric Pickle. We hope to perform FSQ's "I Zimbra", "Shaking My Damn Head", and more from her catalog at Miami Music Week 2019 and beyond. Dolette also joined FSQ's live backing band, known as The SQ's (The Supreme Qualities) to perform FSQ songs as the featured vocalist, with "FSQ and The SQ's featuring Dolette McDonald" last taking their turn together at Soul Clap's winter residency at CMon Everybody in 2018.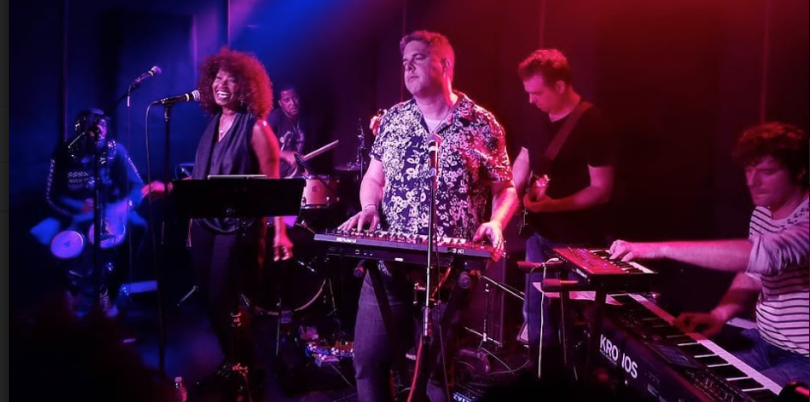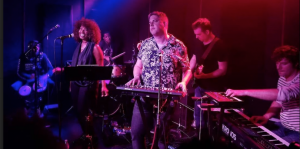 Dolette McDonald perfoming with FSQ and The SQ's -Soul Clap Records winter residency, Brooklyn, 2018
Please can you give us 3 of your tracks which are quintessentially FSQ
FSQ – Zulu Congo Call (One Era Caribbean Disco Remix)
"Zulu Congo Call" is a revision of jazz master and Coltrane acolyte Prince Lasha's 1963 song "Congo Call". A kicker here is that much like our cover of "I Zimbra", FSQ's "Zulu Congo Call" features a member of the group that produced original version of thesong. On "Zulu Congo Call" FSQ delivers new saxophone and flute recordings by Lasha himself, recorded in Oakland at GKoop's Fuzz Deluxxe studio shortly before Lasha passed in 2008. When we repackaged the jazz funk number with a more dance music oriented bent under the name FSQ for our Soul Clap Records debut, we commissioned a few remixes. I had just lost a remix competition with the Philadelphia based band Work Drugs, to a producer named One Era. I then became aware of One Era's work via my loss, and I thought why not have him work on Zulu Congo Callif he's so good. His remix for our EP I dubbed "Caribbean Disco" style and it became the blueprint of our entire sound: percussion laden, afrobeat infused guitars, with new wave super moist synths to round outsound. One Era's remix here has all of that plus still reflects the light on some of Prince Lasha's amazing and last ever work.
Nick Monaco -Baby Face (FSQ Disco Remix)
It's weird, this is a Nick Monaco song, but we've adopted it as our own through this nine minute plus FSQ remix for him which is almost like a mini disco opera. I would say Baby Face FSQ Disco remix is our signature FSQ song. We first dropped it at Soul Clap's House of EFunk at Movement Festival Detroit 2014, and from then on, it's been in every FSQDJ set, we will always make room for it. We also perform it live with FSQ and The SQ's. Dolette sung "Baby Face" in 2018 live, and this year 2019, we had Nicki B, Escort's lead vocalist, performs it with me as Chuck Da Fonk, at Brooklyn's C'Mon Everybody. So, we can play Baby Face as a live band or the remix for Nick Monaco in a DJ set – it doesn't matter, either way – as soon as you hear the opening hand claps and hi-hats, you know FSQ's "Baby Face" remix is coming, even before the meaty bass line drops.
Nick Monaco -Feel Like A Woman Would (FSQ Revision)
In making another remix for Nick Monaco, this time the lead track from his 2016 album, "Half Naked", we over extended ourselves in terms of production. Let me explain: our remix of "Physical Therapy" from that Nick Monaco album we started with One Era, who took the jangly chillout love song from Monaco into more afro house territory. Then we brought in Funkadelic's Billy Bass to put some muster on the low end and and funk chank on guitars. When we got to our final FSQ take on "Physical Therapy", I heard that One Era had written a new dramatic hook at the very close of our remix. An uplifting coda now was here, but only like one minute to close on our FSQ remix, so I said you know what, we need to extend this and make this part its own thing.
The closing vocal vamp on the coda goes "with you, with you, I feel like a woman would". I sent it on to GKoop who developed this coda into a four-minute sunset burner, complete with his effortless, liquid jazzy guitar solos that carry the jam from start to finish. Also Koop added that ARP Solina I always ask for but the week he produced this final result he also had just gotten a bunch of Roland Boutique series synths and he really experimented with them in this rework, you can hear them space out near the close of the jam. This is one of the FSQ best collaborations between myself, One Era, GKoop featuring Billy Bass; more quintessential FSQ perfect for any Balearic trip.
Your music is incredibly warm and positive. Given the incredibly uncertain times that we see ourselves in at the moment how important is it for you to make music which is packed full of hope and inclusivity?
We appreciate that!!! I've never thought about it any other way than this: Dance music is supposed to be fun! For the artists we remix – we don't control their lyrical message, but we try to make it fun, which sometimes means cutting out words and editing their lyrics to keep the song themes more upbeat. A good example, David Marston's "Giving up on You" featuring vocalist Brigitte Zozula, seemed to me to be very despondent, and about a failed relationship. So,for our remix of that tune, we really cut her lyrics down and made what she was conveying more obscure. Then we turned up the sexiness on the instrumental sounds, added Latin percussions, and a Joey Bataan like flavor to make it more of a Spanish Harlem vibe. That's an example of us keeping "it warm" … so we are glad you picked up on that.
When we record our own original songs, most times I'm writing lyrics about my own experiences. And those are not always positive, but maybe the music is always so funky you'll miss the hidden message or feeling. FSQ songs are supposed to reflect both the pain and pleasure that comes with the "funk";that what "funk" really is as a feeling. If you can't make something work out, sometimes you just have to "funk" it.
Our upcoming "Reprise Tonight" is a concept album, telling the story about a guy who thought it was totally over for him, once and for all, and he's stuck suffering in an abusive relationship. That's how the album starts. Through the course of the album and reflected in the songs, he gets the chance to escape that, redeem himself, and totally go off the hook, celebrate freedom and party.
As far as being inclusive, George Clinton has a song titled "if you've got funk, you've got style". These are two elements in our FSQ name and we really just gravitate to anyone that exhibits either. You could be funky, and that's your style. Or you could totally own a style, and that's your funky power. We just keep an eye for those unique people that need a forum to say what they need to say, are motivated, and love the funk. Vibe usually just brings them into our sphere, and we feel blessed to work with so many loving and talented people. We called Sa'd "The Hourchild" Ali because he was always "right on time" and would find these people right out of the crowd at our parties. Literally he would just roll up on people and strike up a friendship with them, and then they were then in the FSQ circle, no questions. Sa'd was especially focused on including women in our circle and that's how we came to DJ with talents like Wendy Escobar and Miss Sabado.
Your latest release on Midnight Riot 'I Zimbra' is a cover of Talking Heads lead track from their landmark Brian Eno produced 1979 album 'Fear of Music'. Please can you tell us a little bit about how you came to choose this particular track and how you have made it your own?
FSQ was performing with Dolette McDonald at Miami Music Week 2017 for Soul Clap's House of E Funk show at the Electric Pickle club in Wynnwood. Dolette and FSQ had produced one original song by Miami Music Week 2017, called "Shaking My Damn Head". So,we needed a few other tunes to round out our set with Dolette at the House of E-Funk.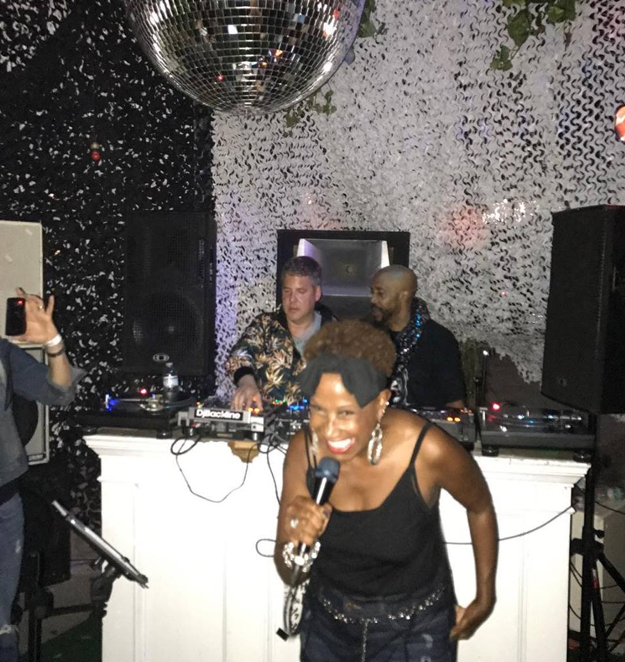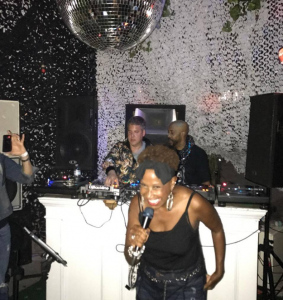 FSQ and Dolette McDonald Performing "I Zimbra" Live at Miami Music Week 2017
We chose "Burning Down The House" by the Talking Heads because everyone knows and loves the tune and there's an instrumental version of it available to sing over. There's also an instrumental of Dolette McDonald's "Xtra Special", a 1982 boogie funk favorite. Dolette used this to perform "Xtra Special" that night at the Electric Pickle. This left us with one more song to perform for our set so we needed to choose one. When we think of Dolette's time with the Talking Heads, one of our favorite performances of her's with the band is their Rome 1980 Live concert, which has 1 million views and counting on YouTube
Talking Heads – I Zimbra – Live, Rome 1980
You'll see Dolette here in the purple jumpsuit. Her voice is absolutely incredible on "I Zimbra" live, delivering the vocals in a high register with operatic flair. Dolette is really the lead vocalist on this with David Byrne following slightly behind her in a much lower register. Since there was no instrumental version of "I Zimbra" for Dolette to sing over, One Era and I went to work in early March of 2017 just weeks before the Miami show to come up with our own instrumental version for Dolette to perform over. We really followed this 1980 live version as a guide for our cover versus the 1979 studio version. Busta Jones takes the bass lead here and is more staccato with his bass line while Tina Weymouth moves from bass on the original, over to the two little high plucked notes on a guitar here live. We replayed Tina's live guitar part in our remix and made it prominent. There's also more interplay in the rhythm guitar lines on the Rome 1980 live version — you can clearly hear David Byrne's slinky chords lock in against Jerry Harrison's single note afrobeat guitar line. Then there's Adrian Belew who carries some lead guitar solos that are like absolute lightening through the track. I'm not sure we could replicate any of Belew's shredding in our FSQ cover without veering off too far into rock territory. But we could draw from P-Funk keyboardist Bernie Worrell who joins the Talking Headson this tour and several others. Bernie plays some single note keyboard riffs that give this live rendition a bit more of an angular funk than the heavy throbbing studio version. We certainly put some of that Bernie spirit into our cover. Rome 1980's "I Zimbra" version was clearly our inspiration for our FSQ cover.
The Talking Heads studio version of "I Zimbra" has four different movements. In our cover, we cut the number of movements down for the sake of the dancers and instead only offer up an A section and a bridge.
When we performed our cover FSQ version of "I Zimbra" with Dolette at Miami Music Week it seemed to work well and we figured we should release the production. So eventually we recorded Dolette's vocals to the cover and brought it to our friends at Midnight Riot Records. Dolette nailed the cover and by the way the lyrics of the song are not easy to remember!
We thought "I Zimbra"'s lyrics were written in some African language. It turns out the lyrics are an adaptation of Dadaist Hugo Ball's poem "Gadji beri bimba", basically a whole lot of non-sensical made up words.
Dolette you actually performed with Talking Heads between 1980 & 1983, what was it like touring with them, did you know at the time what a crucial band they were going to be for the development of electronic music and what tips have you used in your career that you learned from David Byrne?
DOLETTE: I had no idea how important TH would be to music. Prior to TH, I had not been on a real tour. I had done gigs aways from home, but not a proper tour. It was a learning experience for
me and I spent a lot of time observing. I tried to be a student, learning how to maneuver all that was coming at me that I had never experienced before. It was fantastic. I actually learned more from Tina Weymouth than David Byrne. She is strong, intelligent and classy and she was a wonderful person to share that female "on the road" bond with. That was very important to a novice like me at the time. It allowed me to make less mistakes. We are still in contact with each other.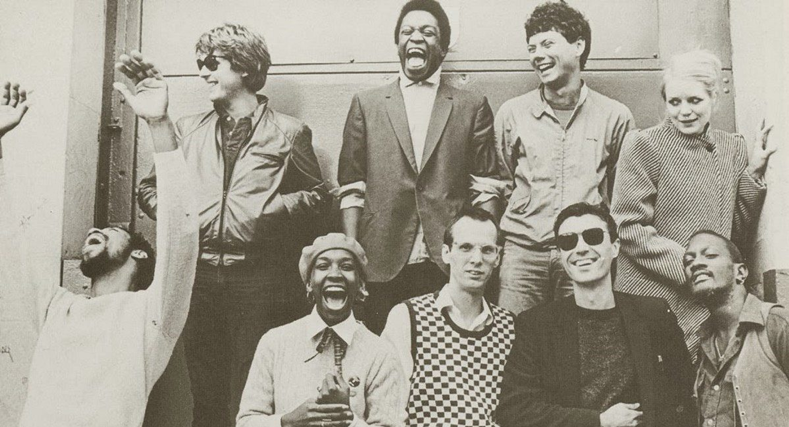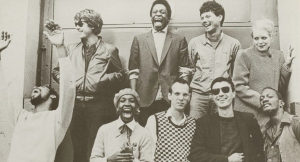 The Extended Talking Heads Circa 1980 -photo credit unknown – From jambase.com
Dolette how would you say the way that you approach and perform the track differs to that of David Byrne?
DOLETTE: I believe it's not my approach to the performance that makes the track different. It is the way the music was produced that changes it. There's not much you can do to change a song that has nonsensical lyrics. What I tried to do was to make it like a mantra. I'm totally into meditation and yoga and I tried to add some of those spiritual elements to it.
Talking Heads are one of the finest acts ever to come out of NYC. Please can you give us your 3 favourite tracks from New York.
CHUCK: This is like a damn trick question, it would need a lot of research. And I'm from Philadelphia, which I feel is totally overlooked musically. But ok, I'll keep it New York City. But you have 1000s of tracks to choose from. Here's the vibe I was feeling at the time of writing this …
Joe Bataan – Mestizo
I mentioned the "Joey Bataan" sound earlier. I love his track "Mestizo" because it totally has the 1980 funk but with some tropical flair, and inspirational lyrics too. The jam winds up representing the many diverse Latino communities here in New York City. And the irony is not lost on me that Bataan is actually Filipino and African American, not Latino at all, though he ran with a Puerto Rican gang out of East Harlem before turning to music. New York is so diverse, if you like the community's cultural flavor, you can get down with them, and I think this song relates that feeling of inclusion. We have a Puerto Rican parade, a Dominican Day parade, a West Indian Day Parade – you can get into whatever Caribbean or Latin culture you want here on their specific day, or any day really. Just go to Brooklyn, the Bronx, or Queens and have some local food and conversation.
Escort featuring Fonda Rae – City Life
How about something very new, just released, to represent New York? Fonda Rae and New York City based disco band Escort just teamed up to release "City Life". I love the music video for this because it captures the essence of Nicki B, Escort's lead vocalist who we recently had sing with us as FSQ and The SQ's. Nicki has a tremendous persona, I can't even write about it concisely. So, I'm glad this video captures Nicki's real-life vibe so perfectly as she and her friends embark on a night out across New York. Later in the video, the crew the wind up at one of our favorite intimate night clubs, Black Flamingo, where the rest of Escort -Eugene Cho and JKriv – are behind the DJ decks playing the track to a room packed full of skilled disco dancers. We also get the cameo from the queen Fonda Rae who earnestly sings the chorus.
Bohannon – Take Country to New York City
This track is recent discovery of mine. Bohannon is a Georgia, USA born drummer who had quite the run as a 70s and 80s funk artist. I love this song because ok, so Bohannon is from the south, and then you have guest trombonist Fred Wesley who is from Alabama, and saxophonist Maceo Parker who is from North Carolina. Well the title of the track is right – they are taking the "country" to or really more accurately "the African-American south" to "New York City". Fred and Maceo together were James Brown's band, and later the horn section for P-Funk and Bootsy's Rubber Band. George Clinton also put them out as "Fred Wesley and The Horny Horns featuring Maceo Parker" on several albums. But I am still always flabbergasted to find there are still uncovered records Fred and Maceo play on, like this amazing Bohannon jam right here.
Chuck what are your favourite pieces of studio equipment and please can you give our readers a couple of production tips on how to get the FSQ sound.
CHUCK: Shhh then everyone would sound like FSQ! Ok that's not fair -first let's start with the production tips because they are easy
First we do not use any sound kits – everything is analog – from synthesizers down to the live drums. Our backbone on our songs usually includes strong bass hooks, surrounded by 2 to 3 guitar lines. That's a great approach because we can have GKoop, Chas Bronz, and One Era each contribute their own guitar part and unique sound.
Then we make sure to wash that funk rhythm section in plenty of warm synth pads and interlocking keyboard lines. These then syncopate and do call and response with the guitar parts. That's a funky and angular approach to pocket. We may quantize the drums and loop certain parts of our works, but we don't rely on Ableton, etc it's all cut like the old way, straight to tape, except now, straight to ProTools, which allows us to edit and copy the sections we like. We don't use sequencers, etc.
Second, if we are doing a remix, our ethos is always to take riffs from the original version of the song, and add new instruments doing the same riff. We don't just wipe out all the music that is there on the original. Then we extend and highlight riffs from the original that were maybe not emphasized, but sound great; we find the really daft parts. We can take a 30 second section of an original tune and make that the whole melodic basis of the remix.
These two production approaches are really instrumental in the FSQ sound.
We like working with different engineers and studios to get access to different gear, for example we recently started cutting at Andrew Raposo (Midnight Magic)'s new studio recently and he's really big on synth midi modules. We used his Waldorf Streichfett String Synthesizermodule to get that ARP Solina sound we love on a new FSQ remix for Australia's Planetself (Inskwel and Miss Umami)
Meanwhile, each of us has our favorite weapon. Billy Bass' thick sound comes from the Warwick bass serieshe's endorsed since the mid 1980's. We all espouse using Fender Stratocasters and sometimes Telecasters for our guitar work. Chas Bronz uses a Fender custom HHS midi guitar. Chas also can't get enough of his Moog Little Phatty and Roland TR8 drum machine.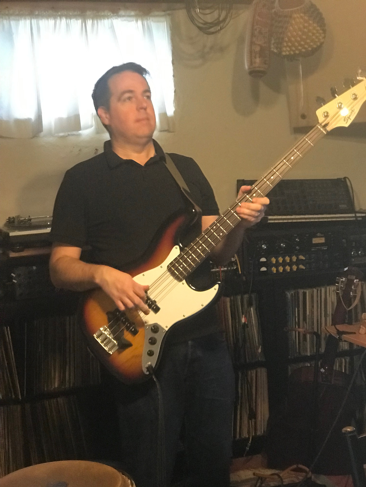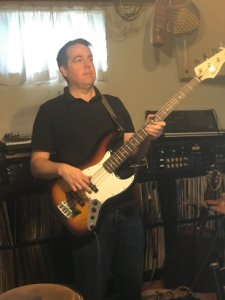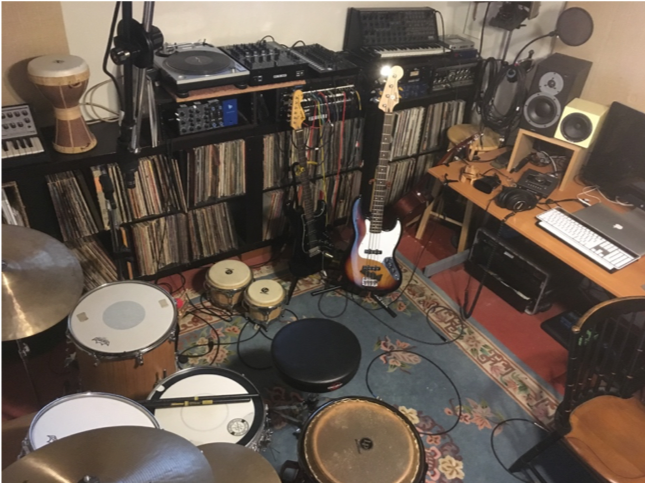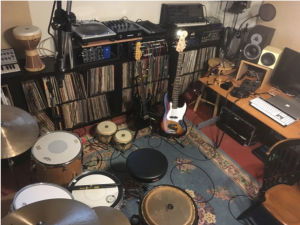 Matt Coogan aka One Era's home studio in Philadelphia, and on his Fender Jazz bass
I'm drawn to that old Roland Juno 6 synth I've had since 1984, and if I need to bring that same sound to the stage I can use the Roland analog – digital combo synth JDXI – it's more portable, brand new, and has the same classic Roland sound. The Roland Boutique series is really great, and I have a Juno 06 module that sounds almost as good as my original 61 key unit. Again, I probably leaned on Roland so much because I saw Duran Duran and Blancmange using it on stage when I was a kid, so I'm very partial.
GKoop and One Era's respective studios in Oakland, California and Philadelphia, Pennsylvania, are awash in gear, especially synthesizers and various keyboards, and I can't wait to go back to either. There are also pieces of equipment in each of them that just you'll hear standard on our recordings. Like I love One Era's Wurlizer 200a it's all over our tunes. GKoop has this blue Fender Jazz bass that I'm very fond of. When recording "Peel Back" our collaboration with Nona Hendryx, I asked GKoop if he had a glockenspiel onhand, he did, you'll hear that on the recording. I made One Era bring home a bell tree chime for "Baby Face" disco remix, from his work Steve Weiss Drums.
Whatever specific sound we need, we are going to go get it, and sometimes that's not about equipment, it's about people. That means we will bring violinists like Shaina Evounik (Cosa Nosa Strings) and Mario Gotoh (Escort, Hamilton Musical) to lay down orchestral arrangements versus just using dial up patches. Rudy Crichlow of the Caribbean Splash Band is our go to steel pans player.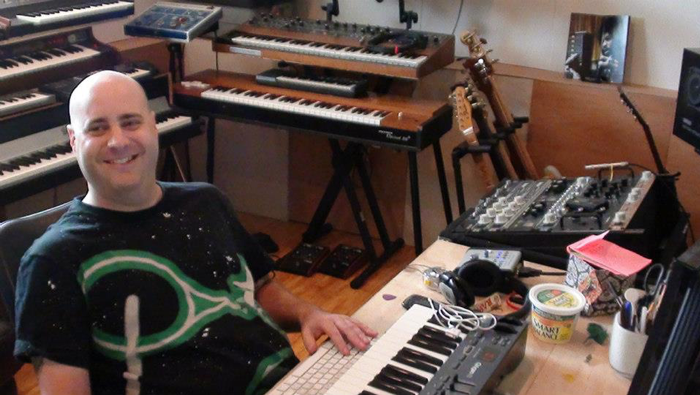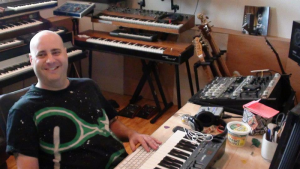 Rob G Koop Mandell at his studio Fuzz Deluxxe Oakland California
My music workstation at home in the West Village NYC was designed by fellow Soul Clap Records record label mate Slow Hands, who happens to also be a furniture designer. I've got Vermont built wooden keyboard stands and a desk, both built into my walls. The units showcase the Roland Synths, Casio Samplers, and Korg, Novation, and Yamaha Mini Synths.
The desk is pretty clever, I can sit here and type, but if I lift the hood on the desk, there's a Pioneer XDJ RX2 unit under it, and I can do an impromptu DJ set. I love the XDJ unit – it's basically 2 CDJs built into a 2+ channel Pioneer mixer. As I look to more unconventional places to DJ that may not have a Pioneer rig on hand, this allows me to come and do a DJ set. I even have an Odssey Cases fold out DJ booth with a shelf, so I'm really looking forward to going mobile in the summer and playing more rooftops around the city with my mobile battery powered Roland PA BA-330 and XDJ.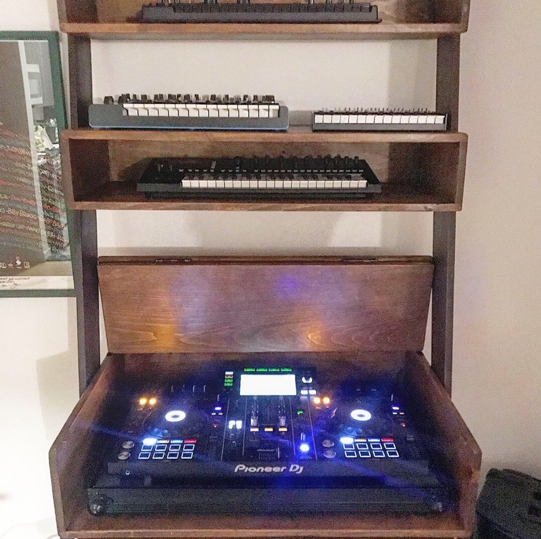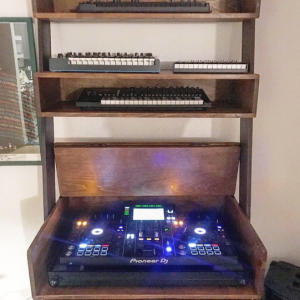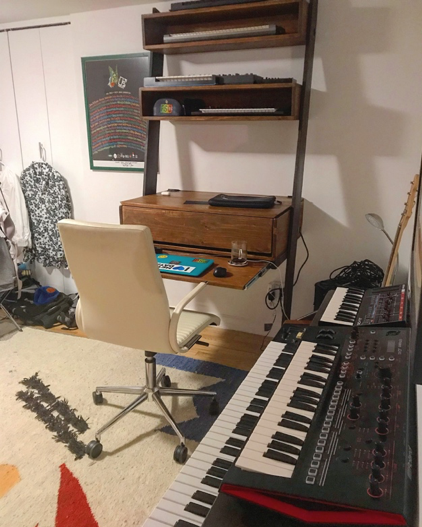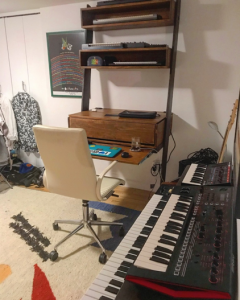 Slow Hands – a fellow Soul Clap Records artist – helped design a workspace for Chuck Da Fonk that keeps in mind New York City's need for functionality in small spaces
You are shortly to release an album 'Reprise Tonight' on Soul Clap records. Are there any plans to embark on a tour in support of the album? If so what can we expect from the live shows and when can we expect to see you Europe?
CHUCK: Please call Sharron Elkabas at MN2S booking agency and ask him to sign us up, at least for DJ appearances! And we will bring Dolette too – I told you she's great at the track date performances! I would love to see FSQ at Glitterbox this summer with Dolette on stage surrounded by their incredible dancers. But yes, we need EU representation that would help.
We would love to bring the world our extended DJ sets which draw from our vast musical knowledge: from post punk new wave funky kind of tracks, deep into the rare George Clinton / P-Funk catalog, to reggae tinged disco cuts that border on calypso. Again, everything starts with that root of funk, an FSQ DJ set is going to be funky and have you on the dance floor. I dance my ass off in the booth while DJing and sometimes I feel inspired and leave the booth for the floor to dance there!
Meanwhile with all of our FSQ productions, and our individual solo works, we have enough music to do at least a 6 hour all FSQ music DJ adventure. But we usually mix it up – you get to hear FSQ productions right in the pastiche of various funk styles we put together in our time behind the decks. But some people have also called us Balearic, and on that note, we were lucky to do a sunset set at Hostal La Torre on the white island at the invite of Pete Gooding of Secret Life Music; it was quite something to watch the sunset over the Mediterranean at 10:15pm at night while playing Navid Izadi's "Hard 2 Say" FSQ Remix.
Navid Izadi – Hard 2 Say (FSQ Remix)
We also did a 7-hour set at Oslo Hackney in London last spring at the invite of the Locomotive Disco crew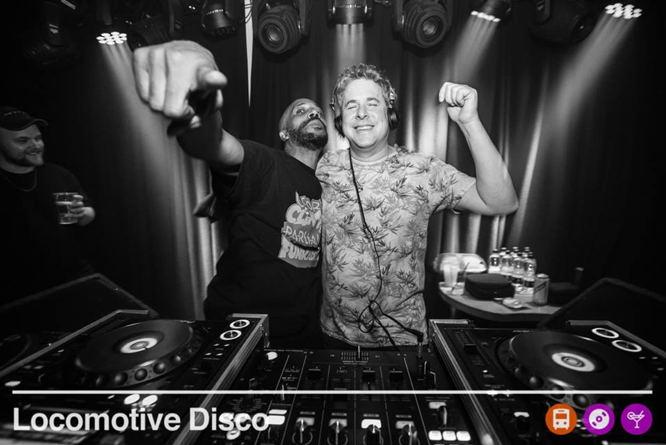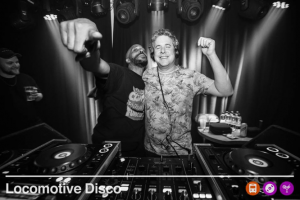 I semi joke with the call for booking representation (yet, are you listening MN2S?!), but with Facebook messenger and some music analytics data you can do some of the booking elbow work
yourself. For instance, a French musical artist named Bon Entendeur recently added one of our songs to their Spotify playlist. Our Spotify for Artists dashboard showed a 2000% increase of FSQ streaming from Paris as a result of the exposure. I can take this data, say to Cotonete, a really great French jazz funk band, and say "hey you see this fan base, let's bring FSQ and The SQ's over, let's team up on some live funk." There are great funk bands and parties in so many cities, with enough lead time and persuasion you can make it happen. This is going to be my approach going forward.
Last fall 2018, I went to Saint Petersburg, Russia and started hunting around the music scene. I was a little late to discover via Facebook that there's this wonderful producer Krill Sergeev who has a few funky projects, one called Kito Jempere Band, the other the aptly named Saint Petersburg Disco Spin Club. I travel a lot and I need to keep in mind the funk is everywhere. I'm going to Mexico City in early April and I want to spin some FSQ records there. I've already reached out to a few people including Djeko & K'you, who happen to be disco producers on our other record label, Midnight Riot Records.
Music to me is the vehicle to drive connections with people all across the globe, and a platform to use to travel. Tell us where to come, we will come there! Travel goals this year include Norway, Switzerland, Malta, Ibiza, Japan, Ghana, just to name a few for example.
Chuck when it comes to the dynamics of putting together an LP what trickshave you learned from working with George Clinton that you put into use for the FSQ album and what recommendations would you give to artists who are thinking about creating their first LP?
CHUCK: Look, a lot of people say the LP album format is dead. Maybe I'm old school, but I am trained to listen to albums, I eat them up. I think albums are very much alive. But there are less and less cohesive albums these days, they feel more like dance music singles with a bunch of filler tracks between the hits. Nick Monaco's latest album "Heroin Disco" I listened to from beginning to end – it stayed consistent with its vibe and it felt like I was reading an intimately written novel by listening to Nick's songs.
First thing for a new artist to consider is – do I have songs that belong in a collection? Am I telling a cohesive story? Do the songs belong together, do they flow? If you are just producing individual songs, consider releasing EPs with a few remixes from other artists that are in your circle or that have some additional draw and fan base. The remixes may also help you get heard, because they can take your music into different style territory. It's better to have a few hits on EPs than albums that flop because they don't hold up as a collection.
George Clinton is the king of concept albums, complete with stories and characters that are illustrated in sound through individual songs on the LPs. And P-Funk albums have detailed cover art, cartoons and photos of spaceships and underwater concepts, ha! even sometimes P-Funk comic books are inserted in the vinyl record jackets. Clinton's latest album as Parliament is called "Medicaid Fraud Dogg" and the physical product, the CD and vinyl, come in the shape of a pill!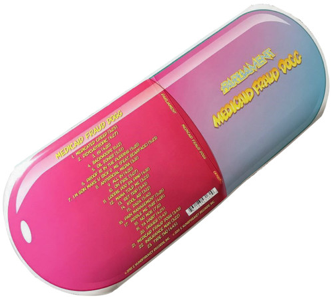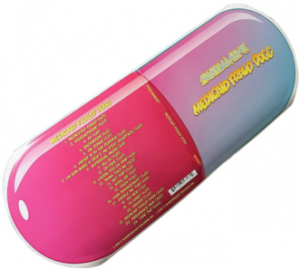 The Parliament album is about the abuses of the US medical system and the opioid crisis. There are songs like "Ya Habit", "Pain Management", "Insurance Man" – George is telling a story and there's a theme here about addiction and healthcare (let's not forget George is 78 now, so it's relevant to his generation and ours too). GKoop produced a few tracks on this Parliament album.
I mentioned that FSQ's "Reprise Tonight" very much follows this model of a concept album. Ronald Stozo Edwards, one of the cover artists for P-Funk, will be doing a comic book that tells the story of "Reprise Tonight".
Chuck as we mentioned FSQ is a real collaborative project and indeed the album features a long list of incredible guests including George Clinton & Parliament Funkadelic, Nona Hendrix & Fonda Rae. If there was one artist that you could work with in the future who would it be and why?
CHUCK: Let me give you two, ok? Because if I mention these potential collaborations, they will likely manifest themselves. I really believe that!
We produced a tribute song to Yello, called "Shades of Yello". Boris Blank is an incredible producer and sound designer and I love Dieter Meier's ability to tell stories. Ironically, we gave the "Shades of Yello" track to Boris and he said our "guitar tone had too much rock feelings" so I think we have to go back to the drawing board to get with Yello.
FSQ – Shades of Yello (Jack Priest Extended Mix)
I know Wendy Lassiter, Duran Duran's manager, she's absolutely fantastic and has given her time and advice to help FSQ develop. I said look, "Wendy, we may not be able to get in the room with Duran Duran, but give us whatever new tracks they produce for their next album, let us do an FSQ remix." I'm closely tuned into Duran Duran's twitter feed, awaiting news of their next album so I can push for this remix opportunity.
Some more advice to younger artists: don't force a collaboration, but don't be afraid to explain yourself, your vision, etc to artists you admire and why you want to work with them. At least ask so you can get to a "yes" or "no", if not you'll regret it later on.
Some legends may have crazy appearance fees and can be absolutely terrors to work with! But don't be intimidated.
If I hadn't reached out to Dolette and been patient, none of this would have come about. I was coming cold at her, and wow it still blows my mind, it was done electronically at first, but I didn't overwhelm her. I showed admiration and told her specifically what I was trying to achieve. I'm touched that she took the time to pursue this collaboration but to be clear it unfolded over about 6 years since we began exploring it together.
Dolette you have had an incredible career so far, who was the most inspiring person that you have worked with and why?
DOLETTE: That's a difficult question because I have been inspired by every single person I have worked with. However, if you had a gun to my head and I had to choose, it would be Nona Hendryx. This is a woman who has had such longevity in the business and is constantly doing new and different things. She seems to always stay relevant without trying. She's amazing and one of my sheros. Now if you had asked me who was the most inspiring that I have never worked with, it would be Alberta Hunter. She was a jazz/blues singer, who after her career slowed down, became a nurse and then returned to singing at 80 years old and was a darling of the NY club circuit and TV variety shows for many years after. I had the opportunity to see her at a NYC Supper Club in the 70's called the Cookery and I fell in love. Since then, she has been my ultimate inspiration.
Chuck you also DJ under the FSQ banner. What is your 'if all else fails' track?
If I get really lost, it's always James Brown for me. Shouldn't that work? Shouldn't it?
Honestly, when I get stuck in a real pickle and I'm at "all else fails" point, I turn to my DJ partner Chas Bronz who seems to be able to get us out of any situation and into a better place. Chas has records in his bag that I just never grew up with or really knew, but they are classics -like Hardrive's "Deep Inside" or D-Train's "Keep On". Chas has really stepped up since Sa'd Ali's passing to play "the yang"to "my yin" which really helps us have a diverse and broad sound that's adaptable to many DJ situations.
Also I'm not sure it's about an all else fails track for us – but we listen to requests, we don't brush people off just because it's our FSQ set time. I hope other DJs stop being so snobby. And mind you a lot of people now attending smaller dance music nights are coming from bigger club environments where there are open format DJs who play very popular music. At Eaton Workshop DC recently, someone asked us for A-HA "Take On Me", instead I played a tune some people also know from Gwen Stefani, "It's My Life", by Talk Talk, the extended mix because that is what I had that could at least match. That went over well with the requestees and the whole room. I'm glad I played that because Mark Hollis, Talk Talk's lead singer passed just about a week later.
Talk Talk -It's My Life (12″ Extended)
People are always asking for hip hop. Right now Toribo from New York, has an edit of Q-Tip's Manwomanboogie via Soul Clap's black record label "Gator Boots".
Q-Tip -Manwomanboogie -Toribo Edit – Check it HERE
This edit gives the people the hip hop they desire, but I can work it into the set effortlessly it fits better with our FSQ sound.
Chuck what else can we expect from FSQ in 2019?
CHUCK: Beyond our "Reprise Tonight" original album for Soul Clap Records, our remix production engine is in full swing, expect FSQ remixes soon for Mr Twin Sister, David Marston, Planetself, and Lonely C. We also have an FSQ remix for our very own Sa'd The Hourchild Ali who's posthumous solo record "No Couture" will come out on Soul Clap's new imprint called "House of EFunk Records".
We also think the volume of music being released byother like-minded artists is too tremendous. To keep up with the greatness and remind ourselves of what's current, we are curating an FSQ Top 10 Chart each month on Spotify, YouTube, and Traxsource to. We hope you stay tuned to those charts. Then we usually throw these FSQ selections into our monthly mix for ParadiseULTD. Making these mixes each month is so fun – they are mixes exclusively of brand-new music.
FSQ Selections Mixes for ParadiseULTD
We really appreciate you all reading this lengthy article and we imagine by now MN2S is calling back with all the dates for our 2019 European summer so I will list them shortly. I kid, I kid, but we do want to be out DJing more and playing live too for the peoples. Dolette is part of the package too, besides she says she "wants to travel more".
Dolette what does the future hold for you?
DOLETTE: Besides travelling as much as I can, I'm not really one of those people who plan. At this point in my life, I just allow the Universe to plan for me. I stay prepared and when opportunities come up, I pick and choose what will be fun to do. I'm grateful that I still have opportunities.
And finally, please can you give us 4 tips for a great day out in New York. A place to buy records, a place to eat, a place to drink and a place to dance.
CHUCK: New York is like a musical Disneyland – the ultimate theme park for this kind of stuff. I could go on and on, but here are 4 tips.
For the real digger: Superior Elevation Records. It sits out in Brooklyn at the intersection of the East Williamsburg and Bushwick neighborhoods and its run by funk DJ extraordinaire Tom Noble.
I'm not a crate digger, I like music books, magazines, and musical instruments so Rough Trade Williamsburg has me covered. It's a huge store with a 250-person concert venue inside too.
I mentioned Black Flamingo earlier – it's a club that Eli Goldstein from Soul Clap helped start. Well across the street from Flamingo is a dining institution amongst us musicians and DJ's – it's called Wei Williamsburg. Chef Wei Weipang makes the cleanest, most delicious and authentic Chinese food I've found in Brooklyn. And I love all the DJs that pop through, you know Louie Vega comes out for Wei's. The Robbins brothers – Jeff and Will – legendary and kind guys in New York nightlife -run the place with Wei himself. On Tuesday night, Francis Nishida has top shelf DJs come all night for his party at Wei's called "Cool Runnings". Wei's closes very late way into early morning hours sometimes, so why not make the after party a Chinese meal?
I'm super particular about my cocktails. The FSQ drink of choice is a Mai Tai, and you need all the right rums, additional liquors and particular syrups to make it. So, I need a proper cocktail bar. I'm going to stay in Brooklyn for this recommendation but you can find bars by the legendary mixologist Sasha Petraske, across the 5 boroughs of New York City. The closest Sasha Petraske bar to Wei's is also in Williamsburg Brooklyn and is called Fresh Kills Bar.
I'm going to keep things in the general area of Williamsburg Brooklyn for dancing – but let's move it up to neighboring, Greenpoint Brooklyn. The Good Room has two rooms – the Good Room for larger acts, and Bad Room for even more underground and local talent. They cover all kinds of dance music. Lauren Murada and Josh JDH Houtkin do an absolutely amazing job curating world class acts. Also, I love the Good Room party posters – they are designed by the amazing New York based Portuguese artist Braulio Amado. The vibe there is totally welcoming and it's a place you can cut loose and party at with no pretensions from anyone. Also recently opened in Greenpoint down the street from the Good Room, is the wonderful Ponyboy which is getting rave reviews from the likes of New York Times. It's a sushi / cocktail / dance party spot all in one, with its main music room having a total late 50's early 60's vibe through its decor.
For more info on FSQ check:
Facebook: https://www.facebook.com/fsqofficial/
Soundcloud: https://soundcloud.com/fsqofficial
Tags:
Chuck Da Fonk
,
FSQ
,
George Clinton
,
Midnight Riot
,
Nick Monaco
,
Sa'd "The Hourchild" Ali
,
soul clap
,
Talking Heads