FSQ & George Clinton – Le Visiteur Featured Artists & Rare P-Funk Worship Mix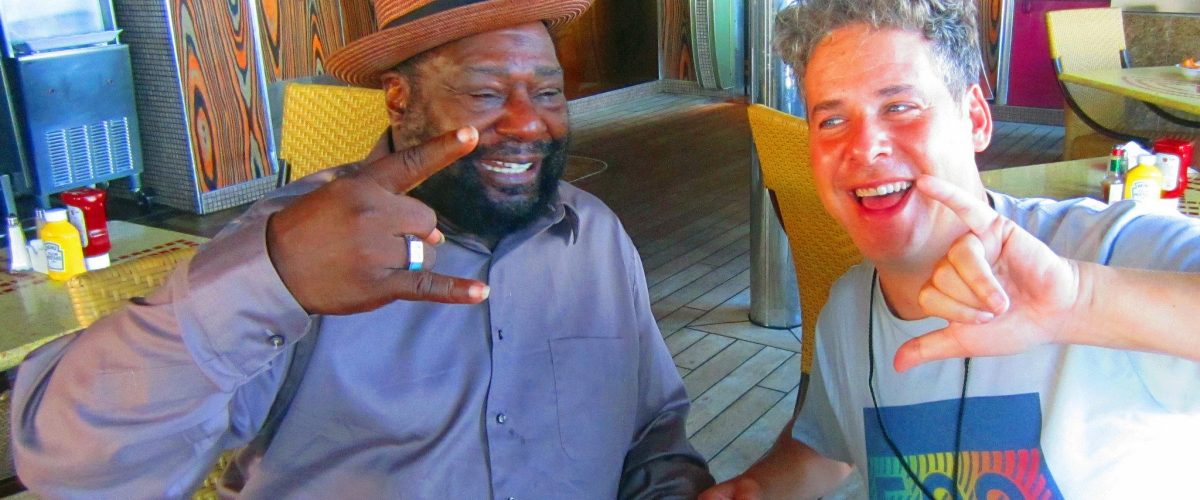 Established in 2013 and led by Chuck Da Fonk 'FSQ' (Funk Style, Quality) is an incredibly talented 6 piece production team which also features seven-time Grammy nominated producer GKoop.
Formed under the watchful eye and guidance of legend George Clinton of Parliament / Funkadelic FSQ have previously released with Soul Clap and Midnight Riot. Along the way they have developed a sound which is very much their own fusing Northern Soul, funk and Caribbean Disco with dance-floor percussion. They have also become renowned for their energetic live shows.
Their latest release sees them re-join Midnight Riot as part of their summer compilation Balearic Heasdspace Vol 4 for which they have reworked Balearic legend Afterlife's Give It Up from his recent String Theory album. In come funk guitars, and slap bass to compliment the Afterlife trumpets and strings. Add in their trademark percussion and it's a track which will cross over into many different DJ sets.
We spoke to Chuck who is close friends and a long-time collaborator with the inimitable George Clinton, about the project, their tours and their history together as well as his thoughts on the current music climate. Chuck also put together a superb P-Funk themed mix for us. Check it out below and please give it a share via Soundcloud and help spread the love. The Full Tracklist is at the bottom of this feature.
FSQ will be part of Soul Clap's House of EFunk at Elsewhere NYC on September 27th. For more info click: http://bit.ly/houseofefunk
Hey Chuck. Thanks for speaking to us today!
How would you describe your latest track 'Give It Up' which is out now on Midnight Riot and can you give us a bit of history about the track and why you chose to rework that one for the compilation.
In 2018, FSQ, we were eager to repeat the remix feat with Afterlife again so we asked Mr. Miller if we could remix something from his next album, "String Theory". We chose the opening track "Give it Up" because it has this wonderful spiral of trumpets that build throughout the track that are also anchored by descending melancholy chords and a chugging bass line.
It took us a while to finish the remix because of all the additional instrumentation we added. In the meantime, Afterlife released the "Give It Up" single on 12" with two great remixes by Medlar and Christophe from Futureboogie. So we missed the boat on the release! Every year Midnight Riot Records offers a summertime compilation called "Balearic Headspace" and the past few years FSQ has contributed tunes to the annual album. Riot label boss Yam Who? is extremely supportive of FSQ so we thought "Balearic Headspace" would be the perfect home for our Afterlife remix.
Chuck how would you say your sound has developed since you started working with George Clinton.
Up until about 2005, I was purely producing music straight to analog tape. So you try to get the best rhythm section to play straight funk – drums, bass, guitars, keys on the first take – all locked in together. From there, you can do vocals, and get fancy with overdubs and "punch in" and "punch out" aka fix mistakes on the analog tape. To get a dance music sound, you had to play the same riffs over and over again, but hey that's the funk and that's the way someone like James Brown and most funk bands of the 1970s and 1980s recorded.
My first album, released under as "Chuck Da Fonk" in 1996 is a cult classic among P-Funk fans because it features Billy Bass Nelson of Funkadelic, drummer Gabe Gonzales also of P-Funk and a bunch of other session players from uber producer Bill Laswell's recording studio. That studio was located in Greenpoint, Brooklyn. We recorded this album when I was touring with P-Funk.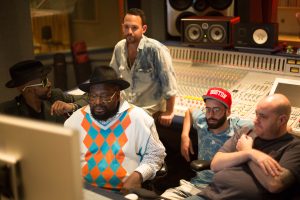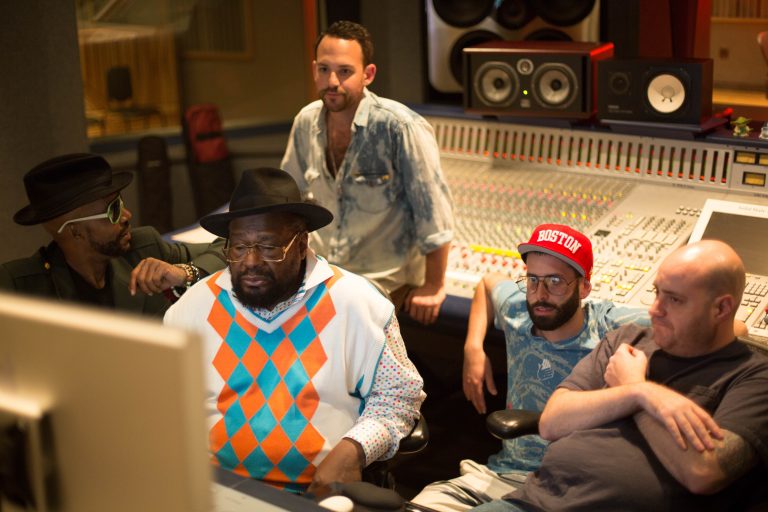 George Clinton, Soul Clap, GKoop & Sad One (CREDIT – BILL KENNEDY PHOTO).
Today we can be much more experimental because it's not tape, it's software – ProTools and you have amazing engineers in FSQ like Morgan Wiley, GKoop, and One Era who are patient with me and can execute some of my crazier ideas. These three are also the fastest engineers I have ever seen work in the studio. For our new FSQ album "Reprise Tonight" there is a song called "The Infinite Reprise". On this particular production, I had GKoop record 40 tracks of orchestral strings, 30 tracks of a marching band, and then do weird effects like reverse bass and guitar parts.
Ok technology has changed since I started with George in the mid 1990s, but the point I am trying to make here is about people and relationships, not tech. George and Parliament-Funkadelic changed the sound of FSQ via people. P-Funk's connections across the music industry are incredible we made many new ones through the group.
Without P-Funk we would have never formed a bond with Nona Hendryx who is on our upcoming FSQ album and she also collaborated with Soul Clap through this relationship. So the connections that P-Funk provided for FSQ have led us to amazing collaborations and productions, and brilliant new sounds.
Conversely, I would say FSQ's relationship with P-Funk has had an impact on George Clinton's sound. GKoop co-wrote and produced "Ain't That Funkin' Kinda Hard On You" the lead single on Funkadelic's 2013 album "You Gotta Shake The Gate". Sa'd Ali, an original member of FSQ who passed away last year, knows everyone in dance music. Sa'd got Louie Vega to remix "Ain't That Funkin Kinda Hard" This remix then appeared on Vega's grammy nominated album Louie Vega Starring…XXVIII.
Soul Clap also appears on this same Funkadelic album "Shake The Gate" and the duo handled an EP of remixes from that same work. FSQ brought Soul Clap to George because we knew they love him so much and asked us if we could help them affect a collaboration, but we believed they could add to George's sound and make it lean more towards the world of electronic dance music.
Glen Han from Brainfeeder, Flying Lotus' record label, kept running into me and Sa'd in parties in Los Angeles in 2012 and 2013 and was asking about collaborations with George. We pushed that idea forward and today you have Clinton on both Lotus' album and his own solo George Clinton release to come on the label.
Chuck if you had to pick one George Clinton album which has been most influential for you what would it be and why?
Let's keep in mind that it's a big giant band – Parliament / Funkadelic – and while George is the ringleader, it's a band, not about "George Clinton Albums"! And this specific same band, technically has about 50 album releases across different artist names so it's almost impossible to say which one is the most important to me. They are all amazing!
That being said, George Clinton has been cutting solo records since 1982 so if I want to be technical in answering your question, I can focus on those albums. I already talked to you about 1982 hit single "Atomic Dog" and how I thought that was a new wave record and had no idea who was behind it and how it just changed my perceptions about genres.
A few years later, The Face Magazine in 1986 did a big profile on George Clinton and Thomas Dolby's collaborations so I rushed out to find out about that. I wore the hell out of this record, "Dolby's Cube"
That mixing of the raw funk sound with new wave synth pop, you can hear that today in FSQ's library of sounds. The first George Clinton album I owned is called "Some of My Best Jokes are Friends" – the album features most of Parliament / Funkadelic band and the title track is also a collaboration with Thomas Dolby
I recently re-discovered George's 1987 solo album "R&B Skeletons in the Closet" which is really a house music record with cuts like "Intense", "Electric Pygmies" and "Mixmaster Suite". It was pretty cool to hear he was already up on these electronic music sounds way before hitting the studio with Soul Clap. I think I shunned this record when it came out because it was a little too electronic for me then.
Beyond Clinton's albums, I really encourage people to explore the entire Parliament-Funkadelic and related projects catalog. Wikpedia has a chronological list of P-Funk projects Check it HERE
There's also a site called "The Motherpage" which has been around since 1993 – it's a great guide to the vast P-Funk music catalog. Check it HERE
I made this exclusive mix for Le Visiteur to feature some of the lesser known songs – my personal favourites – from the P-Funk catalogue. It's almost 2 hours long and I'd say it's only .05% of the P-Funk catalogue. Just imagine how many more mixes I could make like this.
Chuck what lessons have you learned from how George's leads his band on stage and also about the business side of running a band that you have brought into how you work with FSQ?
When FSQ first started, and it was just me and GKoop, I was pretty much asking GKoop to execute all of my song writing and production ideas. He was engineering for me, but I wasn't letting Koop be a real member of the group, which is foolishness because he's so talented. Now that FSQ has expanded to 6 people, I have learned to let everyone contribute their own riffs, melodies, sounds, ideas. That's what George is so adept at – building a big team of talent – almost like a sports team – huge bench of talented players. And the game is long, so everyone eventually gets to play. That's how we are running FSQ now, just like P-Funk. If GKoop, One Era and myself work on a remix, don't worry Chas Bronz, Morgan together will do the next one.
On stage, if you're leading a band, you have to listen to what each player is doing. Does it all stack up? Is it time for someone to take a solo? You need to be able to give each of the players cues, and you as a band member need to watch and listen to the band leader. It's so funny because when I first started with P-Funk, I was an excited kid, I would run out on stage and just do whatever the hell I felt. I remember the band wasn't very happy with that, but George tolerated it. Today, when I make a cameo with P-Funk, I pay very close attention to George's cues, which are subtle, "come over here, grab the mic" he doesn't say it but if you'll watch him you'll know when it's your turn to play.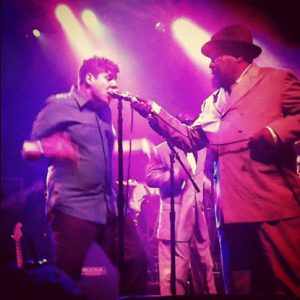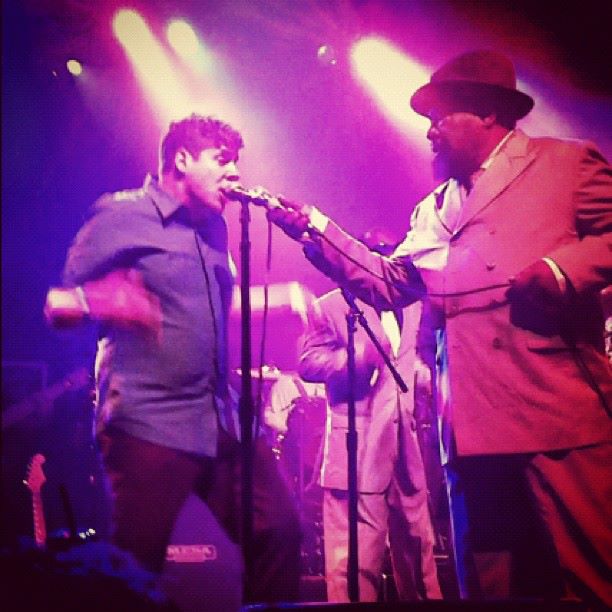 George Clinton and Chuck Live 2012
Chuck what is your favourite Parliament / Funkadelic track that you love to play live?
P-Funk always expects me to perform on "Atomic Dog" when they come to town, or I run into them on the road. I usually get a little vocal solo here, and dance. That's what I am known for. It's just the one tune I always would dance and sing on. Sometimes I would perform with George's son TreyLewd on his songs "Yank My Doodle" and "Booty" https://youtu.be/mb-yfpOBq2A?t=120
That's just me with P-Funk. As far as FSQ and The SQ's live we mainly play music from the FSQ catalogue, which could tangentially be considered a wing of the P-Funk family because Billy Bass Nelson plays live with The SQ's as a featured member. We recently had Nicki B, Escort's lead vocalist, sit in with The SQ's and perform two Funkadelic songs, "Friday Night August 14th" and "You and Your Folks".
Chuck George Clinton is one of the true masters of the concept album. Do you have any plans for an FSQ concept album at any point?
"Reprise Tonight" is a concept album coming out later this year on Soul Clap Records. It's roughly telling the journey of FSQ members through a single night, from early in the evening, pre-gaming before a party, to the morning of the next day. The final track is called "11AM" and features Fonda Rae. That is really a song about me and Sa'd (of FSQ) leaving a Soul Clap halloween party in 2013, dragging ass at 11AM. We don't necessarily put ourselves in the lyrics, but thematically that's what the whole album is about: the excitement of a party, and the aftermath after you've been all the way through it – whether you had a good time, or an awful end.
Do you know what can we expect from Parliament / Funkadelic in the coming months and when can we expect to see you both back on tour in the UK?
I know you wanted to talk to George about our relationship but he's been relentlessly touring the U.S. on his final tour and finding time with him has been difficult. Here's an audio clip of George and I talking about my early days with the group in the mid -1990s that should add some more context to the stories I've been telling.
One thing to keep in mind is that the P-Funk band will keep on touring once George leaves the road. His grandchildren are out there really moving the band right now and some of the new P-Funk related acts helmed by his grandkids include Kandy Apple Redd and Trazae.
Guitarist and lead vocalist Garry Shider, a huge part of the P-Funk sound, passed away in 2010. His son Garrett Shider has been taking his place in the group since then. Garrett just released an album called "Regurgitated Youth" which is brilliant. Some big features on the album from Fishbone, Flea of Red Hot Chili Peppers, Doug Wimbush (of Sugarhill Gang, Living Colour, Rolling Stones). It just proves that the P-Funk catalogue will keep on expanding into the future.
Our FSQ album "Reprise Tonight" features George Clinton, his son TreyLewd, and original Funkadelic bassist and guitarist Billy Bass Nelson. So I like to think even FSQ is contributing to this P-Funk proliferation.
For more info on FSQ and George Clinton check:
FSQ Facebook: https://www.facebook.com/fsqofficial/
FSQ Soundcloud: https://soundcloud.com/fsqofficial
FSQ Instagram: https://www.instagram.com/fsqofficial/
FSQ Twitter: https://twitter.com/fsqofficial
George Clinton Facebook: https://www.facebook.com/georgeclintonpfunk/
George Clinton Soundcloud: https://soundcloud.com/george-clinton-official
FSQ Rare P Funk Worship Mix Tracklist
This mix is all songs featuring P-Funk members or songs from a P-Funk offshoot group, or P-Funk Solo Act
Some of my most favorite selections from 70s, 80s, 90s, and right now (FSQ cut in here 😉
Malcolm McLaren featuring Jeff Beck and Bootsy Collins – House of Blue Danube
George Clinton featuring Thomas Dolby – Some of My Best Jokes are Friends
FSQ featuring George Clinton, TreyLewd and Billy Bass Nelson – Dancefloor Democracy
Jimmy G and The Tackheads – Clockwork
Sweat Band – We Do It All Day Long (Reprise)
Bootsy Collins – Jungle Bass (Jungle One/Long Form)
George Clinton – Electric Pygmies
TreyLewd featuring Garry Shider – I Can't Stand It
Bonnie Pointer – Free From My Freedom (Single Edit)
Lenny Williams – Running (Album Version)
Fred Wesley and The Horny Horns – Half a Man
Brides of Funkenstein – Birdie
Jimmy G and The Tackheads – Family Funk
George Clinton – One Fun at A Time
Space Cadets – You Make Me Wanna Do It
Godmoma – Hands Up (Punk Funk)
Funkadelic – By The Way of The Drum (Extended Version)
Fuzzy Haskins – Things We Used To Do
Jeannie Reynolds – I Came Here To Party
Temptations – China Doll
JS Theracon – Buckets of Duckats
The House Guests – What So Never The Dance
Junie – Suzie Thundertussy
Mutiny – Romeo (Hope You're Feeing Better)


Arthur Baker, Novena Carmel, Chuck Da fonk, George Clinton & Sad 2013 SXSW
Love this? Check out more from FSQ HERE
Tags:
FSQ
,
George Clinton