Gina Breeze – Le Visiteur Featured Artist and Mixtape 041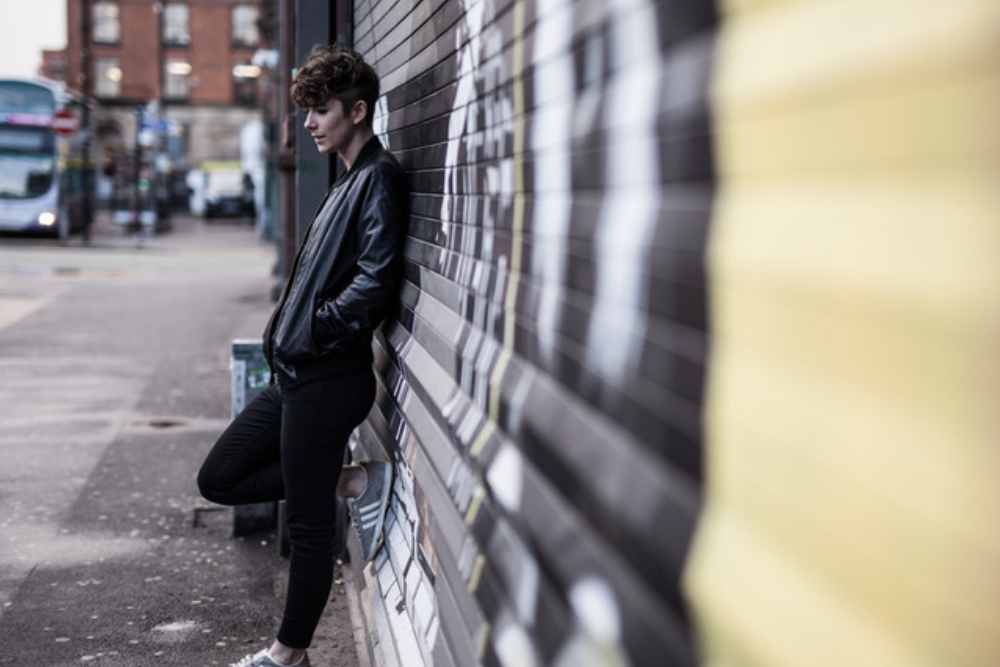 Gina Breeze – Le Visiteur Featured Artist and Mixtape 041
Based in Manchester Gina Breeze is a DJ / Producer who has been making some serious waves over the last couple of years with a series of superb releases on Classic, Defected and Viva Music. Her latest release, the 1AM EP has just dropped on the super hot Manchester label Sprechen and it's another fantastic selection of club focused tracks.
We caught up with Gina to discuss the EP, Sprechen, her love of classic drum machines and synths, Manchester and her HomoElectric residency. Gina also put together a brilliant mix for us which you can check below.
Hi there Gina,
Thanks for speaking to us today.
For our readers who haven't come across your releases before how would you describe the musical style of Gina Breeze?
I would say I make music for the dance floor. My tracks are usually drum heavy, featuring my TR8 & plenty of energy. I also think the music I make is lighthearted, nothing too serious.
I prefer the darker side of house music so feel this usually comes through in my productions and definitely in my DJ sets. I love playing the closing set at HomoElectric as this time is perfect for my style.
How would you describe your '1Am EP' which is out now on Sprechen and can you give us a bit of history about the EP?
I think the 1AM EP is probably the most diverse package I have released so far. You have 1AM – peak time acid track, deep tribal sounds with trippy vocals in Mantra & Hypnotic takes you on a whole other journey.
The 1AM track started as an unfinished track I made a while back, we revisited this track with KimoKal who were over in Manchester from Jakarta. We had some studio time booked to work on other music, then had a bit of free time to collab on this. Kallula laid down the vocal & we added some chords to the break. This really brought the track to life. Kallula is speaking about a night out at Joshua Brooks in Manchester. This was all done tongue in cheek, but we were all so pleased with how it worked out.
What was it like working with Chris at Sprechen to release the EP?
I've been working with Chris, pretty much since I became resident at HomoElectric. We have DJ'd together plenty of times & I have made a few other tracks / remixes for Sprechen. Chris is so easy to work with, we really bounce off each other & have each others back music wise, feeding back on tracks & helping each other with ideas etc. Chris is so hard working, it's cool to have a good relationship, we have had some nice gigs to promote the E.P.. we did a Sprechen takeover on Melodic Distraction Radio, and will be playing in the basement at HomoElectric as a launch for the E.P. All good fun.
Which 3 tracks you have produced would you describe as quintessentially Gina Breeze?
Gina Breeze – Make Me Feel
This was one of the first tracks I released on Sprechen and it went out on tape (edgy) which you can grab HERE
I love the classic house bass on this track and filtered stabs. Summer time track.
Hannah Holland – Japonica (Gina Breeze Mix)
I got the chance to remix Hannah Holland's Japonica track recently. Hannah is someone that really inspires me with her productions, so this was an honour to get involved with and a slightly different sound for me. Probably the fastest track, tempo wise, I've made to date.
Gina Breeze – After Dark
This is part of my EP with Classic Music Company and is my favourite track because it is so dark and sultry. I love the hypnotic vocal stabs and sleazy acid line. So proud to have the EP with Classic too.
How would you say your sound has developed since you started producing?
My sound is a little more polished than when I started, of course. I used to make tracks under 'MissB' and I think they were a little more tech house than the stuff I'm making now. Tech house in a good way. Bugged, one of my older tracks, on Get Up Recordings still bangs. Just not really the music I play in my sets anymore.
Manchester has a real musical buzz about it again at the moment, what do you think it is that makes the city so special and which Manchester parties do you enjoy checking out as a clubber?
Music is at the heart of Manchester & I think that really shows with the amount of real quality club nights we have on offer. As I clubber, I enjoy Meat Free. These girls are pushing the techno scene and playing some amazing gigs internationally too. Pretty much all the nights at the White Hotel are pretty cool and worth checking.
Supernature is a free Sunday afternoon rave that is a real hidden gem, expect all things disco and house, with a super friendly crowd.
What other artists from Manchester should we be keeping and eye on right now?
Of course my fellow HomoElectric residents Jamie Bull & Will Tramp. These guys are part of the furniture around Manchester. Both top DJ's with completely different styles.
If you're into Techno, Blasha & Allatt are where it's at.
You have a real passion for drum machines and synthesisers, please can you describe your production set up for us and what are your favourite bits of studio gear.
My production set up is pretty small & consists of Roland TR8-S, Korg Minilogue, Moog Sub Phatty, Roland VT3 Vocal Transformer. I have used the VT3 to record vocals on so many tracks. I also have a few guitar pedals that I run my drum machines / synths through. Boss CS-3 Compressor, TC Electronic Echo Brain. I run Logic Pro X an iMac
My wish list for production gear is pretty extensive, it never stops!
As well as playing all over the UK and further afield you are resident at the hugely well regarded HomoElectric club night which is based in Manchester but hosts events as far afield as Croatia. Please can you tell us a little about the vibe of the club and what makes it so special?
HomoElectric is a Queer Party for all! What makes it so special is the diverse mix of people, no VIP treatment, no airs and graces. Our party is in the grungiest venues & our soundtrack can be anything from the gayest disco, to the hardest techno and everything in between.
The party is run by Luke Unabomber, who has been in the music business for years. His love for the music & the people is also what makes the night as special as it is.  Being an all round sound person & keeping the night authentic and as stripped back and raw as when it started, is testament to its huge success. I am so so proud to be a part of the HomoElectric team.
Please can you give us 3 tracks you would play at HomoElectric which sum up the musical spectrum of the club.
Marie Davidson – Work (Soul Wax Mix)
I think this is my track of the year already. I can't stop playing it. I also loved the original. The sound of this track is definitely HomoElectric. It reminds me of my first visits when the club was at legends. You can expect to hear this with me, downstairs in the basement.
Jamie 326 & Cratebug – Hit it n Quit it
This track could be played by all of us actually, diva vocal. Very HomoElectric.
Barbara Tucker and DJ Spen – Think (About It) (Spen & Thommy's House Party Mix)
I think this was Jamie's opening track on Boiler Room, this brings back great memories and captures the vibe of Homo.. Main Room or the Loft when we do 3 floors.
What events do you have coming up that you are particularly looking forward to?
Festival season is coming! Looking forward to being back at Parklife Festival, playing the Palm House Stage, warming up for Crazy P & Peggy Gou. We're heading straight off to Eden festival that weekend for a Sprechen Takeover.
Back at one of my favourite UK festivals, BeatHerder this year,. I'll be playing in the magical Toil Trees and also closing the Church with Chris Massey, for another Sprechen takeover, Saturday night / Sunday morning.
We also have our HomoElectric Boat Party at Love International Festival in Croatia in July. This is a magical festival in Tisno, had so much fun the last few years.
Few other super exciting unannounced gigs coming in the next few months.
What else can we expect from Gina Breeze in 2019?
After my 1AM EP, I have a few other tracks programmed for release soon. Other than that, all my free time is spent making music. This summer is going to be a busy one but have some cool collab projects lined up and concentrating on my original productions too.
And finally, please can you give us 4 tips for a great day out in Manchester. Aplace to buy records, a place to eat, a place to drink and a place to dance.
I'm a fan of Eastern Bloc Records in the Northern Quarter. I don't buy records as much as I used to but they have some cool events on there & it's lovely sitting outside when the weather's good.
One of my favourite places for a quick bite is Northern Soul, this place is everything grilled cheese, it's to die for! Would recommend the Mac & Cheese will pulled pork. My mouth is watering now!
If you're looking for something a bit fancy, The Refuge is the most stunning hotspot. Beautiful building, and delicious small plates by Volta.
For drinks, I like the vibe in Cottonopolis, this is good as a pre rave meet up. Always has decent DJ's / music. I also love Jimmy's next door for some old school indie realness.
To dance, definitely some of the club nights I mentioned above. Refuge also has night time events, sometimes taking over the basement club.
Albert Schloss can also turn into a place to dance some evenings, the food at Schloss is mega (Sunday roast is insane) Will Tramp plays on Sunday's with Paulette, this is always a top day / night. Maybe even dancing on the tables later on.
For more info on Gina Breeze please check:
Facebook: https://www.facebook.com/ginabreezemusic
Soundcloud: https://soundcloud.com/ginabreeze
Website: https://ginabreeze.com
Tags:
Gina Breeze
,
house music
,
manchester
,
Sprechen